Four things you need to know about buying camper awnings
Lindsay, who owns Quirky Campers with her husband David, shares what she learned about camper awnings when she decided their van Bella (pictured) needed one.
As part of Bella's refurb, we wanted to extend her usable space by purchasing an awning. Since our family has expanded to five this has become a necessity for us. And we figured as with everything, if we find it useful, then there will be some customers who will make use of it too!
Awnings were not something I had ever looked at before. So I had to spend a large chunk of time with about 25 tabs open on my laptop (naturally while tandem feeding the twins) in order to even start to get my head around it. I learnt a few essential things about buying an awning and thought it would be worth sharing them with you.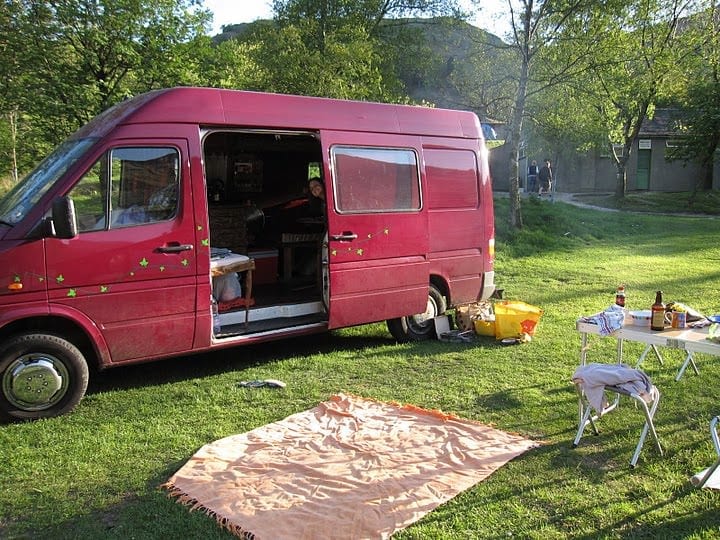 1. There is a difference between a caravan awning and a campervan awning
The first thing I did was to get carried away looking at spectacular camper awnings with multiple rooms that came in all different sizes colours and styles. I then quickly realised that the majority of these were in fact for caravans not campervans. It's not always clear on an eBay listing which it is for so always go on the website of the awning brand to check.
2. There are very different types of camper awnings
A driveaway awning is like a very large tent. You can use them for eating in, sleeping in (most of them require you to purchase an additional compartment), storing stuff in etc. They are enclosed on all sides and will protect you from wind and rain as well as excessive sun (not my first concern when I was thinking of purchasing an awning). The other cool feature is that you can leave them erected while you drive off in your van for the day. They do obviously require putting up, which some people might feel detracts from the ease of using a campervan. But I reckoned it would be worth it for those trips when you're settling in the same place for a few days. Especially if the weather is bad, which let's face it is not a rare occurrence on this lovely island of ours. Driveaway camper awnings are either erected using inflatable poles and a pump, or traditional tent style poles.
A sun canopy is an awning which is permanently attached to the side of your campervan. It can be pulled out and held up by two poles and a couple of guy ropes. It provides, as you may have guessed, shade from the sun and would provide some protection from the rain depending on what angle it was coming in at 😉
I knew I was looking for additional space. Space which could be used regardless of the weather for small children with cabin fever to crawl around in. So a sun canopy was not going to do the job. However, I don't like the very functional, modern look of many of the driveway awnings. I knew I wanted a retro style of awning with poles.
3. You get what you pay for
Well this is probably a lesson for life 🙂 I quickly realised when buying camper awnings you could spend anything from £50-£1500. As this awning will be used by customers as well as us, it's essential to get something that we know will do the job, be totally reliable and last. So sadly, that excluded a 1950s awning bought off eBay. But it also excluded other apparent bargains which I knew would have poles that may bend or break and fabric that may turn out not to be waterproof or would get ripped in strong winds. But I also wasn't looking for another house – you do want to still know you're camping after all. So I figured around the £500 mark would probably be about right.
4. As with everything, it's all about the accessories!
Once you've got your awning, you don't need to stop there. You can add awning carpets, awning coat racks, awning tidies and curtains, to name but a few. I could see this was going to be fun. But other than the carpet, I wouldn't be buying these items from that camping shop – where's the creativity in that? Nope, I would use this as inspiration, but do it my way.
We will certainly have sheepskins and cushions galore. I'll probably use some of my beautiful old leather suitcases as storage. We already use meat hooks hanging from a copper pipe to hang our coats in the house. So I will borrow a few of the extra hooks and hang them from the tentpole. Finally, I have been eying up some beautiful solar fairy lights. These will clearly be an essential part of awning life. In fact, I can see that we are going to need to put together a full awning kit which can be added as an optional extra when hiring Bella. Photos to follow!
And the winner is…
I decided I wanted a brand-new but retro style driveaway campervan awning. And that seemed to leave me with only one option, the Just Kampers retro awning. But when I followed a link to the listing on their website, it wasn't there! Turns out I was too early and they hadn't yet released the 2016 model. We reckon it'll be worth the wait though.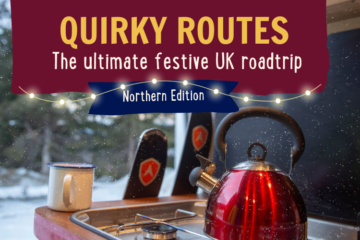 Are you a festive fiend or a grumpy Grinch? This season no matter what mood you're in, escape the normal and take yourself and …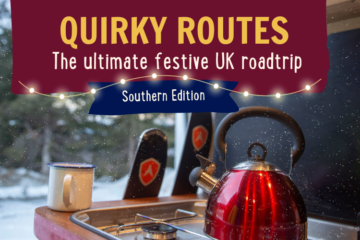 Are you a festive fiend or a grumpy Grinch? This season no matter what mood you're in, escape the normal and take yourself and …