7 tips for quirkifying your campervan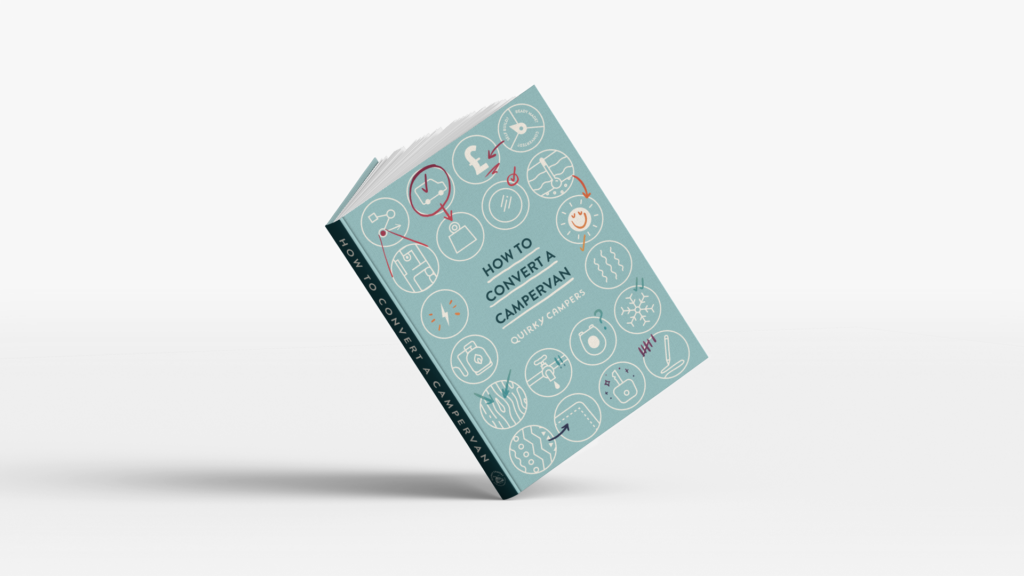 20 chapters from 16 experts + The Quirky Campers Team sharing 300+ pages of tips, how-tos and VANspiration!
There are many ways to convert a campervan, and more and more people are recognising this.
There is no reason it has to look like every other melamine-faced, grey carpet-lined campervan or motorhome out there! But even if you do have a standard conversion, there are many ways to 'quirkify' to your own unique style. Incidentally, yes I am aware that quirkify is not actually a word, but can you think of a better adjective?
So, in no particular order, here are my top tips for quirkification as illustrated by Quirky's stunning collection of campers…
Tip one – Soft furnishings
There is a very specific look to motorhome or caravan upholstery – you know the kind with the insipid colours and vague floral pattern. Believe it or not, these fabrics are not mandatory. There are in fact loads of colours, patterns and fabrics out there to choose from!
Obviously you will need to select something that is hard-wearing and suitable for upholstery (hardwearing and not too stretchy) but that leaves you with plenty of options from mustard cord to zebra print.
Take a look at Bonny's tropical print fabric, Eric's purple disco sheen, Duke's simple grey and Saffiyah's bright orange velour to give you an idea of just how diverse the options are…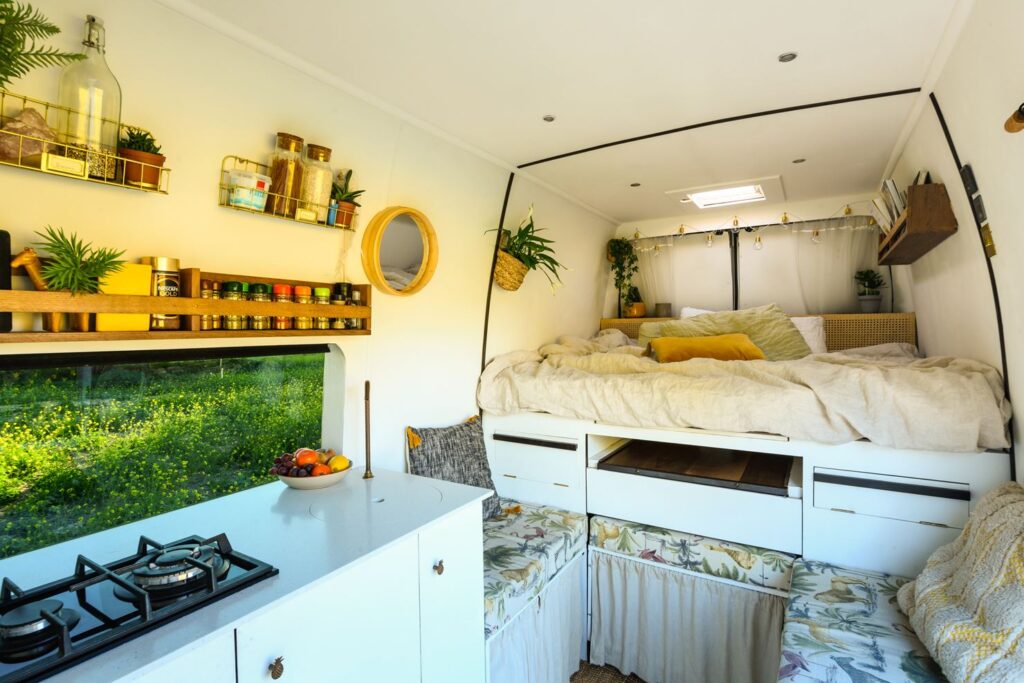 It's something you can do yourself with the right skills, but if you don't know your bobbin from your zipper foot, leave it to the professionals.
Something people often miss as a great quirking opportunity, are the front seats. These are generally dull and sometimes downright tatty. A bright colour, some contrasting piping or a beautiful fabric choice can really bring your campervan to life. Just look at these wonderfully comfy and homely looking seats in Sassenach.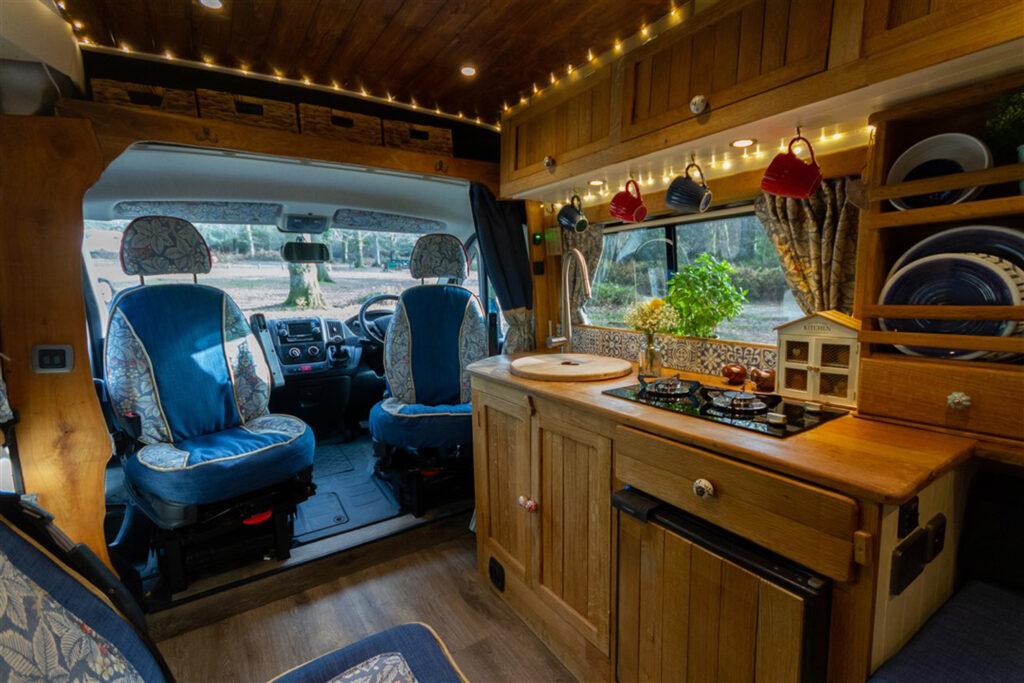 Check out Catupholstery for Bristol-based campervan upholstery.
Curtains vs blinds is one of the campervan-interior conundrums. I like curtains because there is very little to go wrong with them, they give it a more homely look and also help with general warmth and insulation. These geometric print curtains in Mo, go perfectly with her skandi-style yellow and grey interior.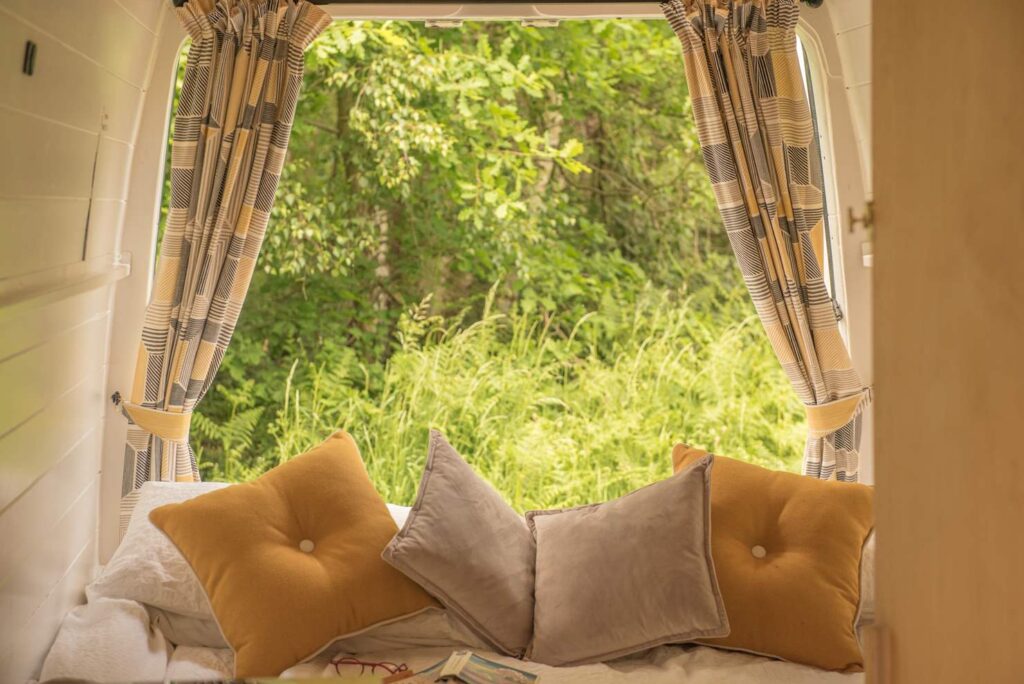 For the final touches to your beauty, you can use beautiful throws and scatter cushions. We are a bit obsessed with this brilliant rainbow giraffe cushion.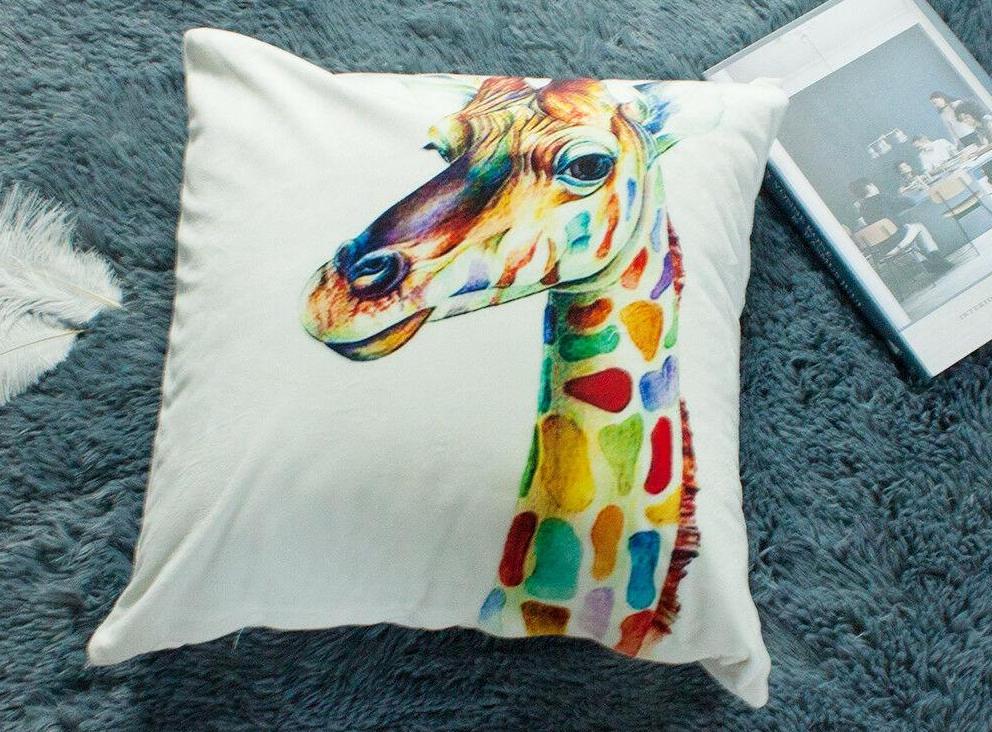 Choose what you love, but do be sure to have a unifying theme or it will end up looking like a jumble sale!
Tip 2 – Splashbacks
There are so many ways to create a beautiful splashback, and we have been blown away by the creativity of the Quirky Campers owners. You don't need to find something specifically made for campervans, just make sure that whatever you're attaching them to is flat enough and strong enough to hold them.
Rosie's exquisite tiles perfectly complement her carved wood and copper kitchen.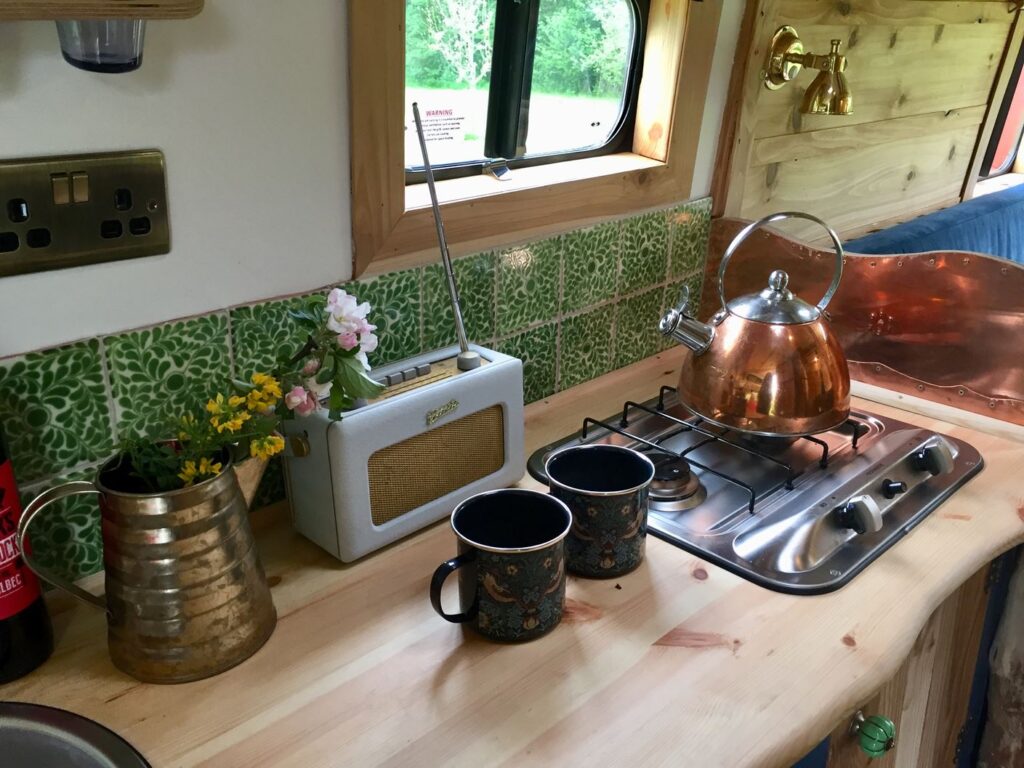 How's this for inspiration? K9's splash back is pure beaten copper glory…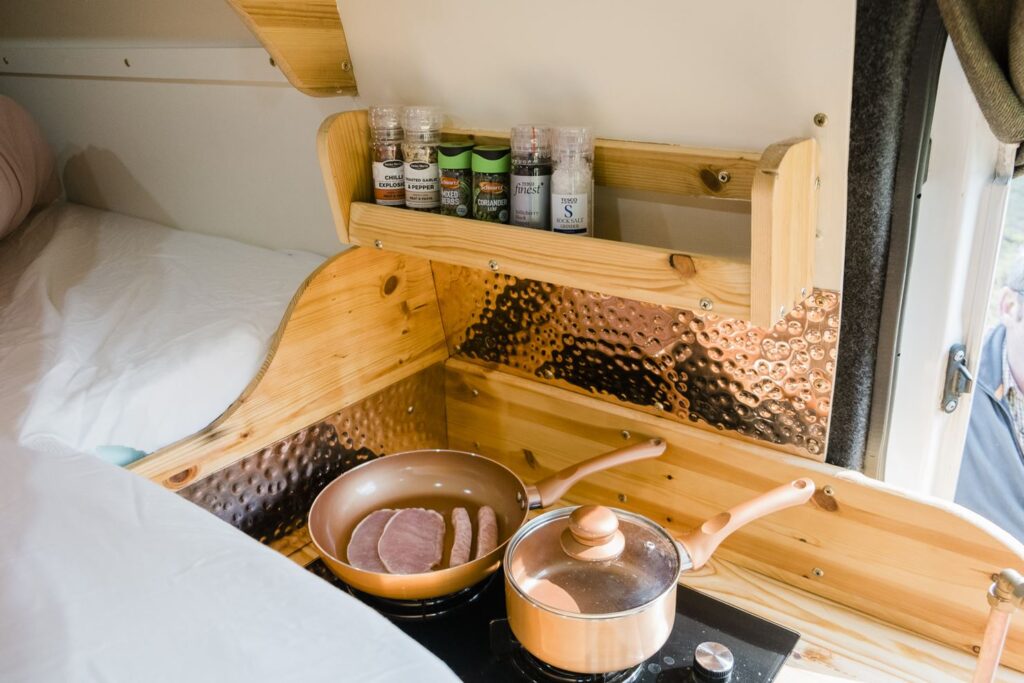 For something quick, cheap and light (an important consideration in a camper), why not try out these tile stickers?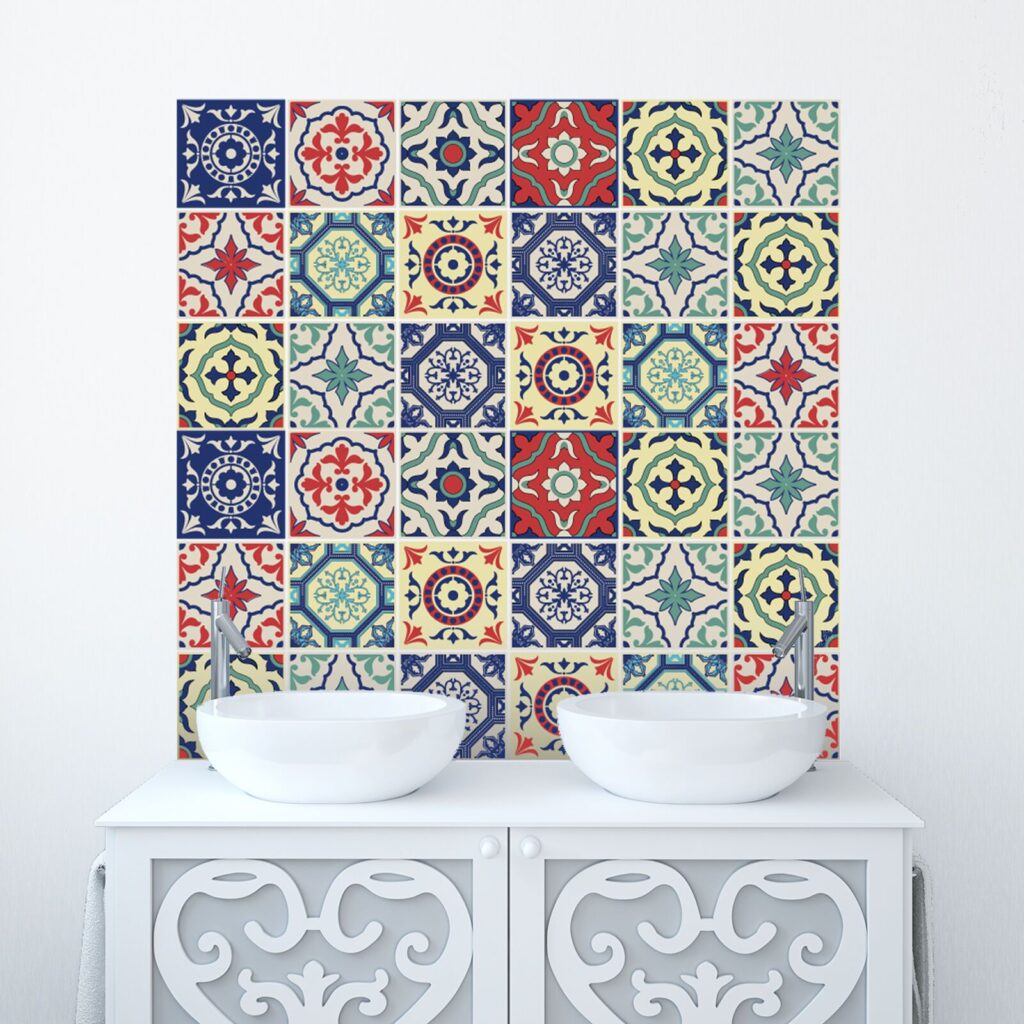 Tip 3 – Exterior decoration
We obviously cannot talk about exteriors without sharing this stunning external paint job on Saffiyah, executed by the very talented Peaceful Progress. Stealth van she ain't, but if you like to stand out from the crowd then this will certainly do the job.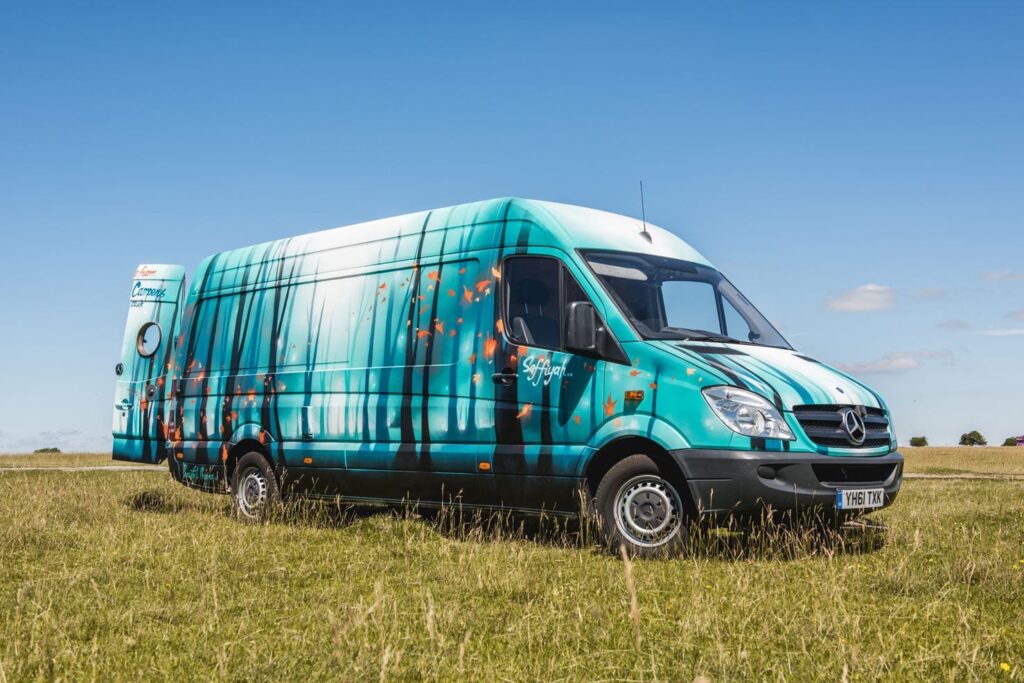 We love vans that are sprayed in bright, bold colours, like the glorious golden Maya.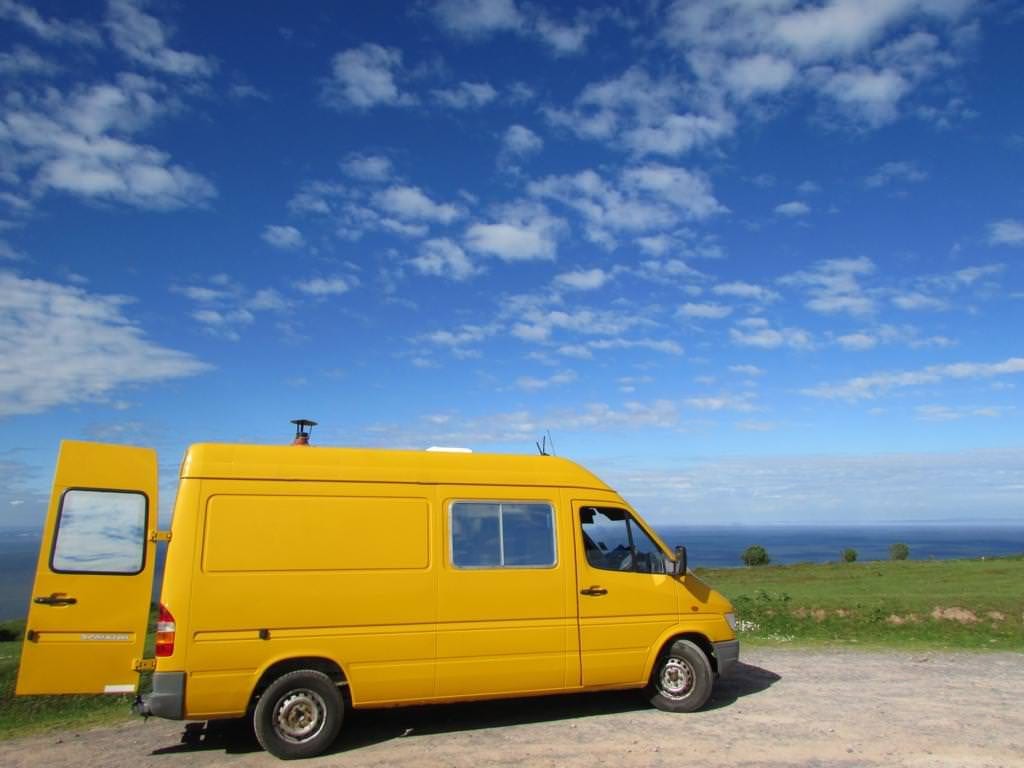 However, even if you can't afford a respray, you can jazz up the outside with some decal stickers – these are very affordable, easy to apply (and remove if required), long-lasting and come in endless colours and designs…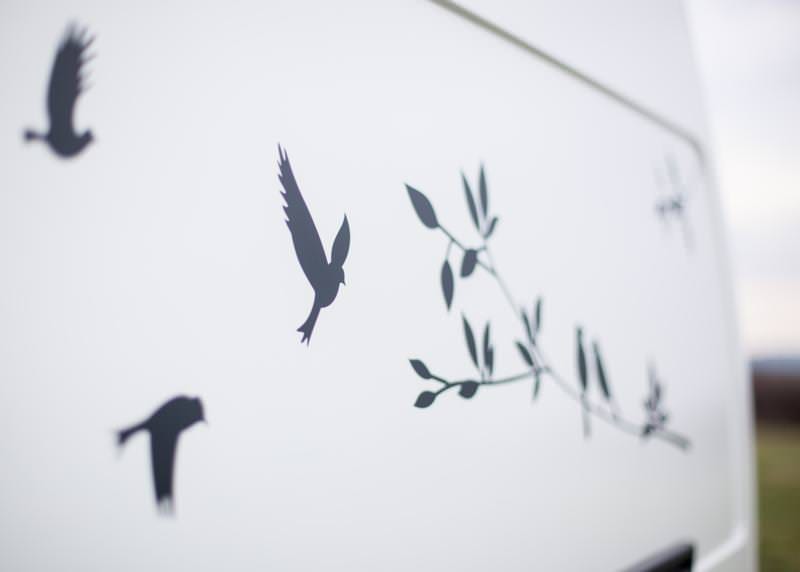 Tip 4 – Windows
Perhaps you already have windows in your van but want to add a 'feature' window, maybe you have a panel van with no windows at all. Again, this is a frequently overlooked chance to add your own unique touch to your conversion. Whether it be a washing machine door (take your time to find a lovely round one) a la Bella…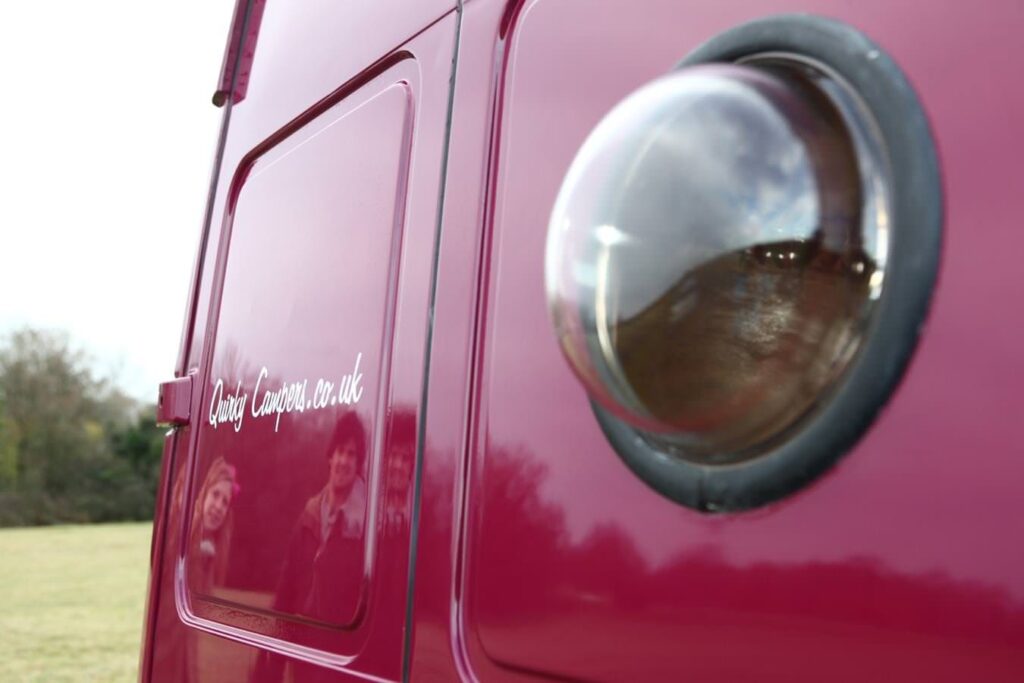 Or a beautiful porthole like this one in Vera…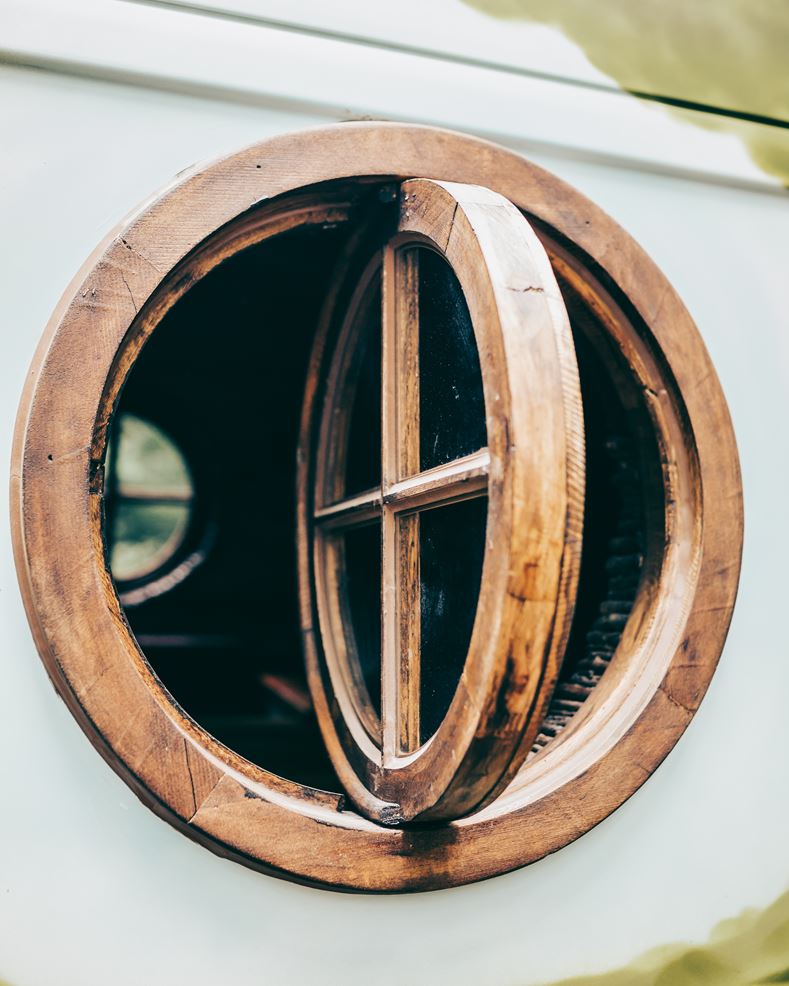 Check out Magic Mike's incredible cut-out window at the back, allowing you to fling open the back doors whilst retaining some privacy
Windows like this are great fun to look out of and seriously eye catching to passers-by.
Tip 5 – paint
You're probably getting the gist by now, but as with everything else there is no need to be limited by what you typically see on the inside of a camper. As with a home interior, paint is one of the easiest and cheapest ways to give your van a unique look or change the look when the mood takes you!
Paint everything white and add in some touches of copper for a clean and classy look like Cooper.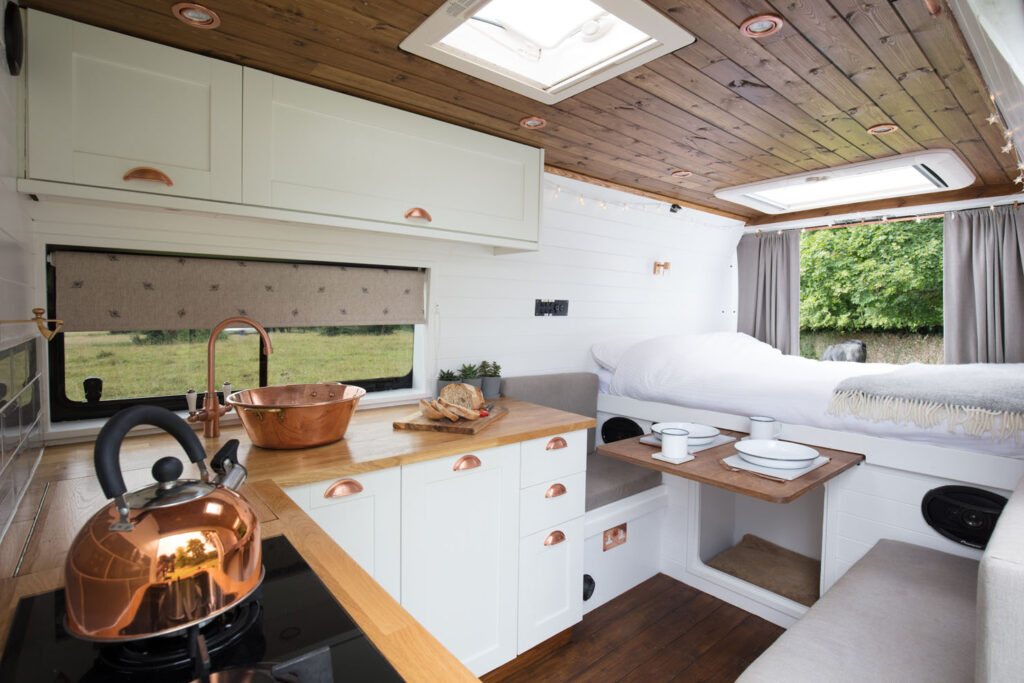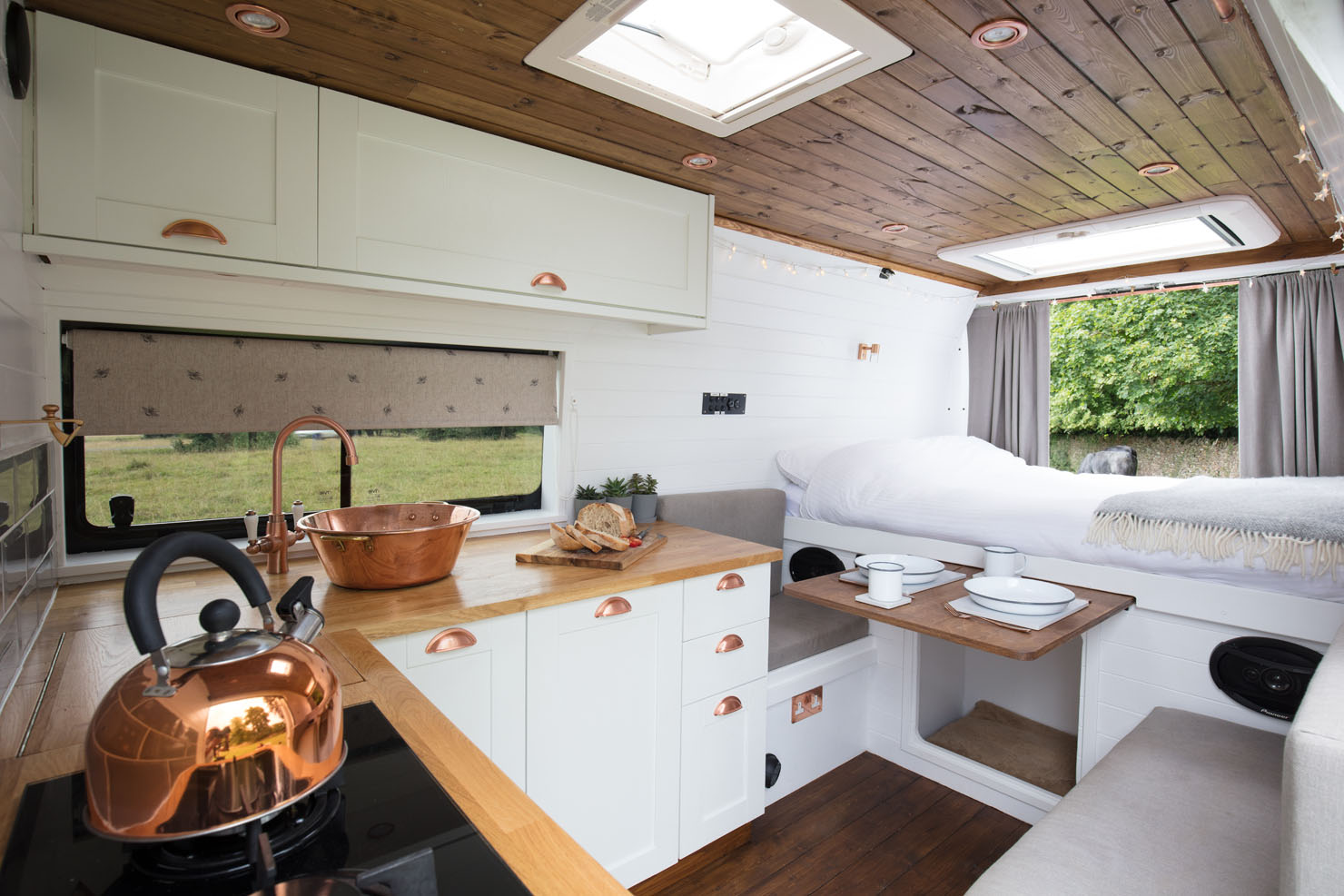 Or use two contrasting but complementary colours for something bright and striking like Honeybee.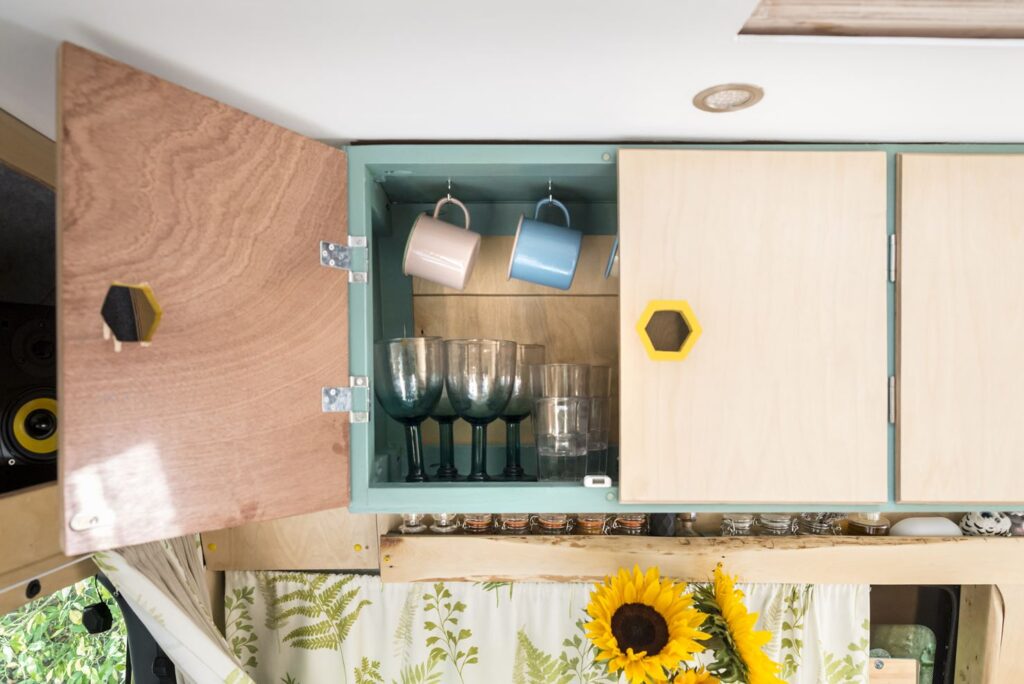 Quincy's combination of painted and unpainted cabinets is simply stunning.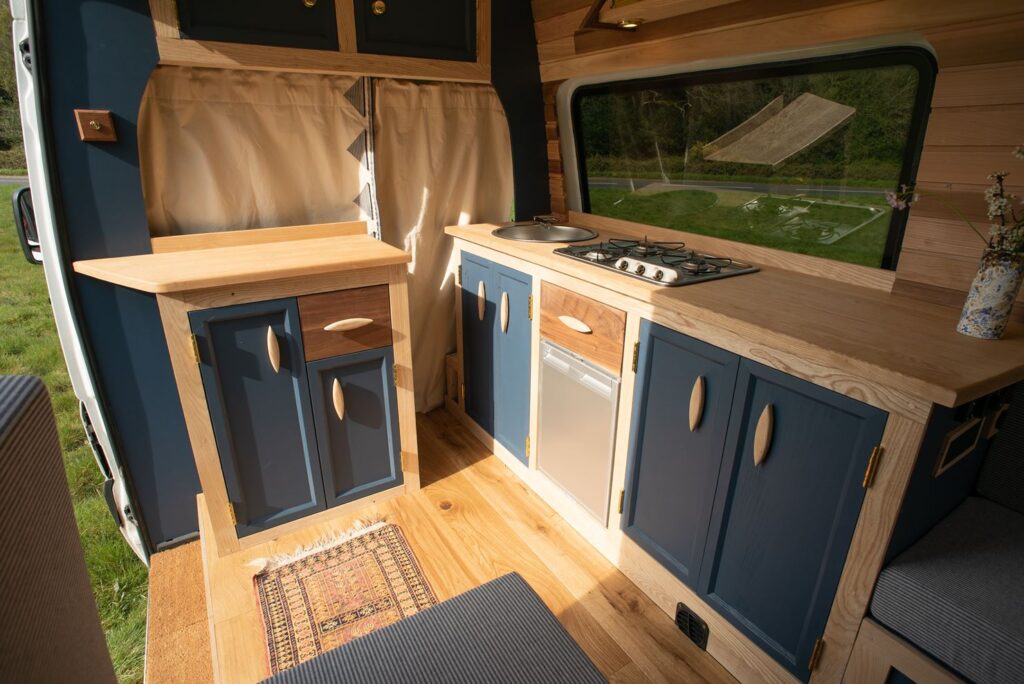 Tip 6 – kitchen equipment
One of the easiest and most effective ways to make a splash is to choose beautiful crockery and kitchen equipment. Take a gander at Finn's ceramic porridge pot and elegant kettle.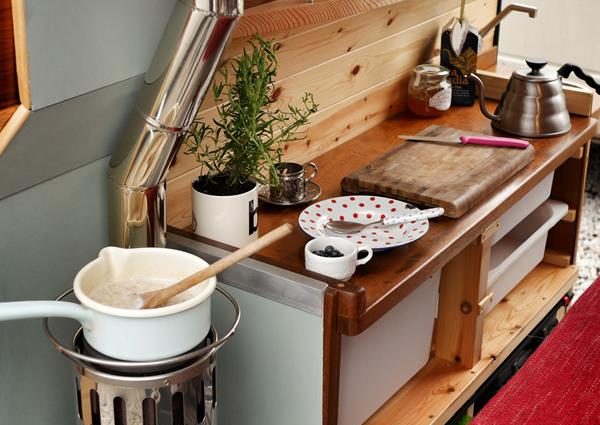 Any kitchen would be improved by this rainbow nesting bowls set from Joseph Joseph. They're super space efficient too with mixing bowl, pouring bowl, colander, sieve and measuring cups all in one! (can you tell I love rainbows yet?)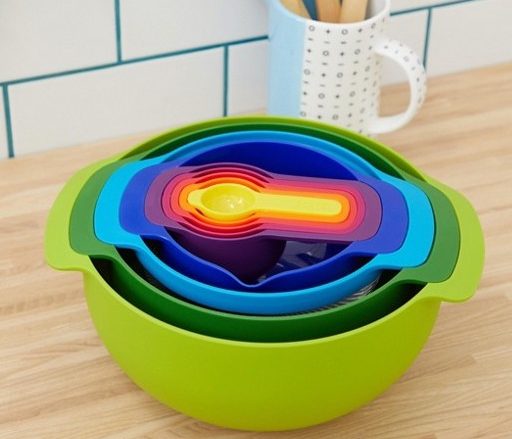 Maya's owners came up with this ingenious idea for a herb/spice rack – the lids are stuck on and you just twist the jar. Very practical, especially in a van, and it looks great (especially with the hand-drawn labels).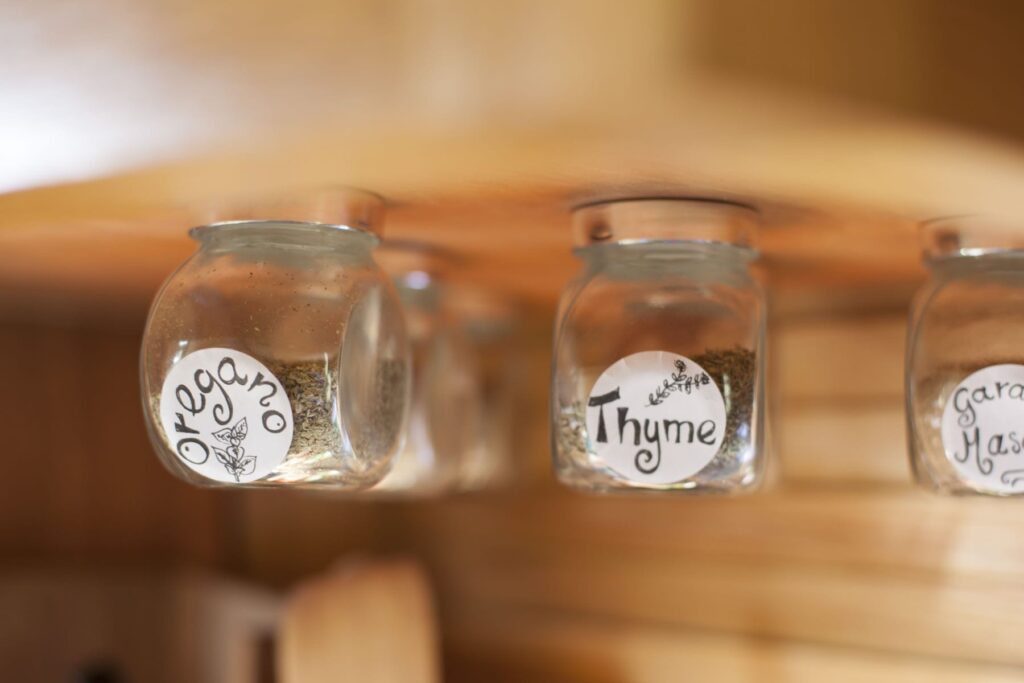 Tip 7 – Decorations
Regardless of what the rest of your campervan looks like, you can always inject it with life, colour and personality with the finishing touches. Whether it be a framed picture, an antique or a handcrafted object, don't feel you have to hold back on ornamentation just because it's a vehicle!
Morris combines William Morris motifs with reclaimed ship's objects like these beautiful clocks.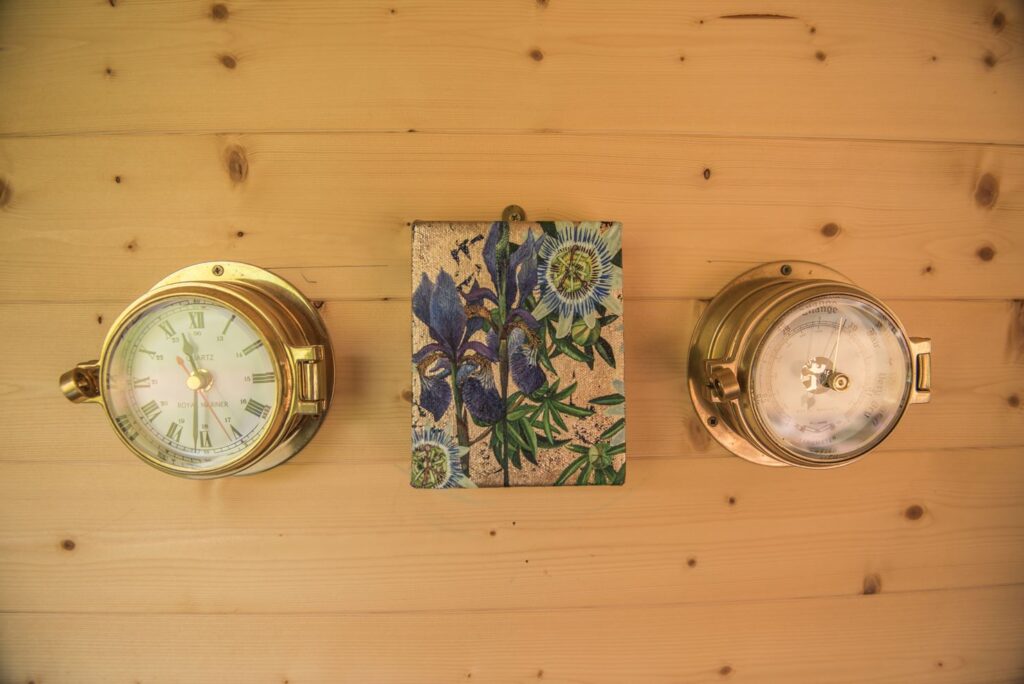 Orion's stunning colour scheme is further enhances by a handful of beautiful objects; the coordinated hanging storage pouch, the decorative stars and the combination of implements and plants in the kitchen.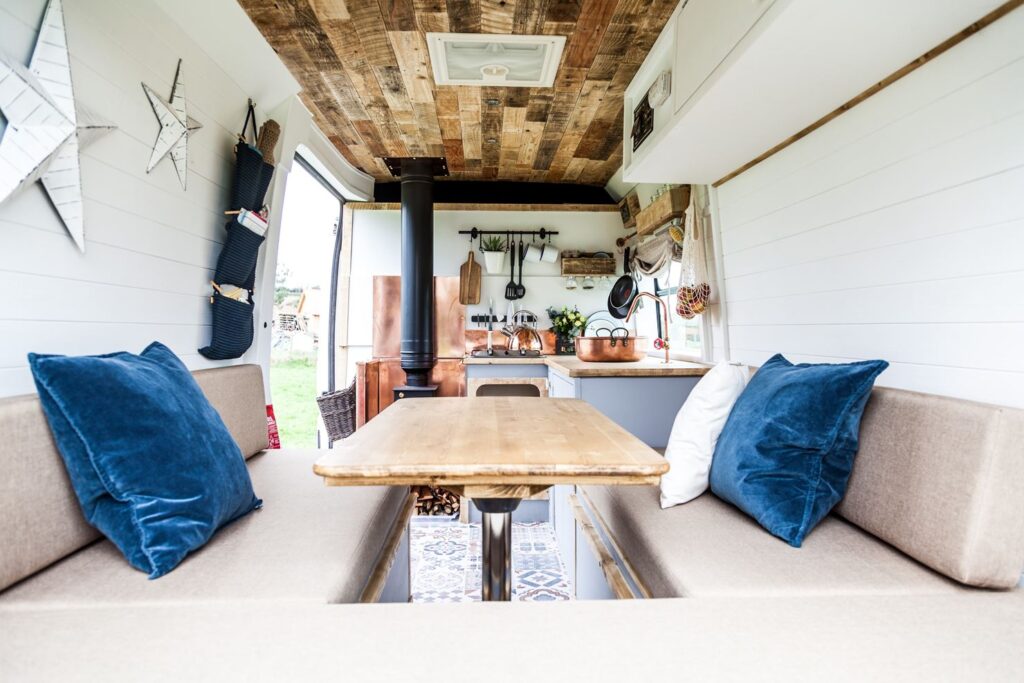 Have a rummage in a car boot or a cheeky peek in a charity shop to see what unusual gems you can find.
In conclusion
Whether you are converting a van from scratch, buying something pre-converted or own a factory fitted motorhome, the options for making it beautiful, quirky and a reflection of your unique style and personality are limitless. These are the things that make it truly feel like a home on wheels
Check us out on Pinterest.com/quirkycampers for more quirkspiration!
NB: this post contains affiliate links, which means we may receive a commission if you choose to purchase through links we provide (at no extra cost to you). We only ever recommend products or services that we think are great and our audience will love.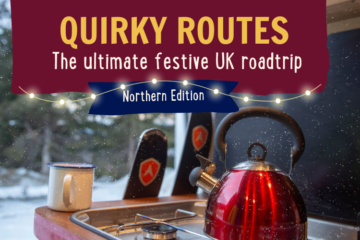 Are you a festive fiend or a grumpy Grinch? This season no matter what mood you're in, escape the normal and take yourself and …