The Best Ways To Cook Food When Camping
Making food when camping can be done with a variety of different equipment.  You can have options ranging from a kitchen home from home to a more rustic set up.  This blog will talk through different camping cooking ideas and detail the pros and cons for each.  Hopefully, this will help you to decide the best option for your campervan conversion or holiday.
For Luxury Dining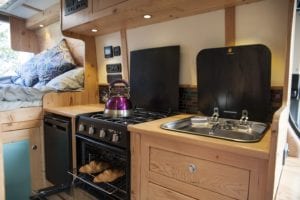 For ultimate home from home comforts you can have a gas fired oven installed in your campervan. Having an oven will really enable you to be cook everything you cook at home, especially when combined with a hob.  Imagine being away in your favourite spots and being able to cook a roast dinner!
Pros:
You aren't limited by what you can easily cook;
Will suit people who enjoy cooking and for whom it is an important part of their holiday;
Great for longer trips or full time van living – no more pining for a pizza or your mum's ultimate mac'n'cheese recipe.
Cons:
They aren't cheap.  A Thetford standalone oven/grill will cost you about £250 whilst an oven/grill combo might be upwards of £400;
They will take up more space and weight than a sole hob/ring burner will.
Getting Toasty!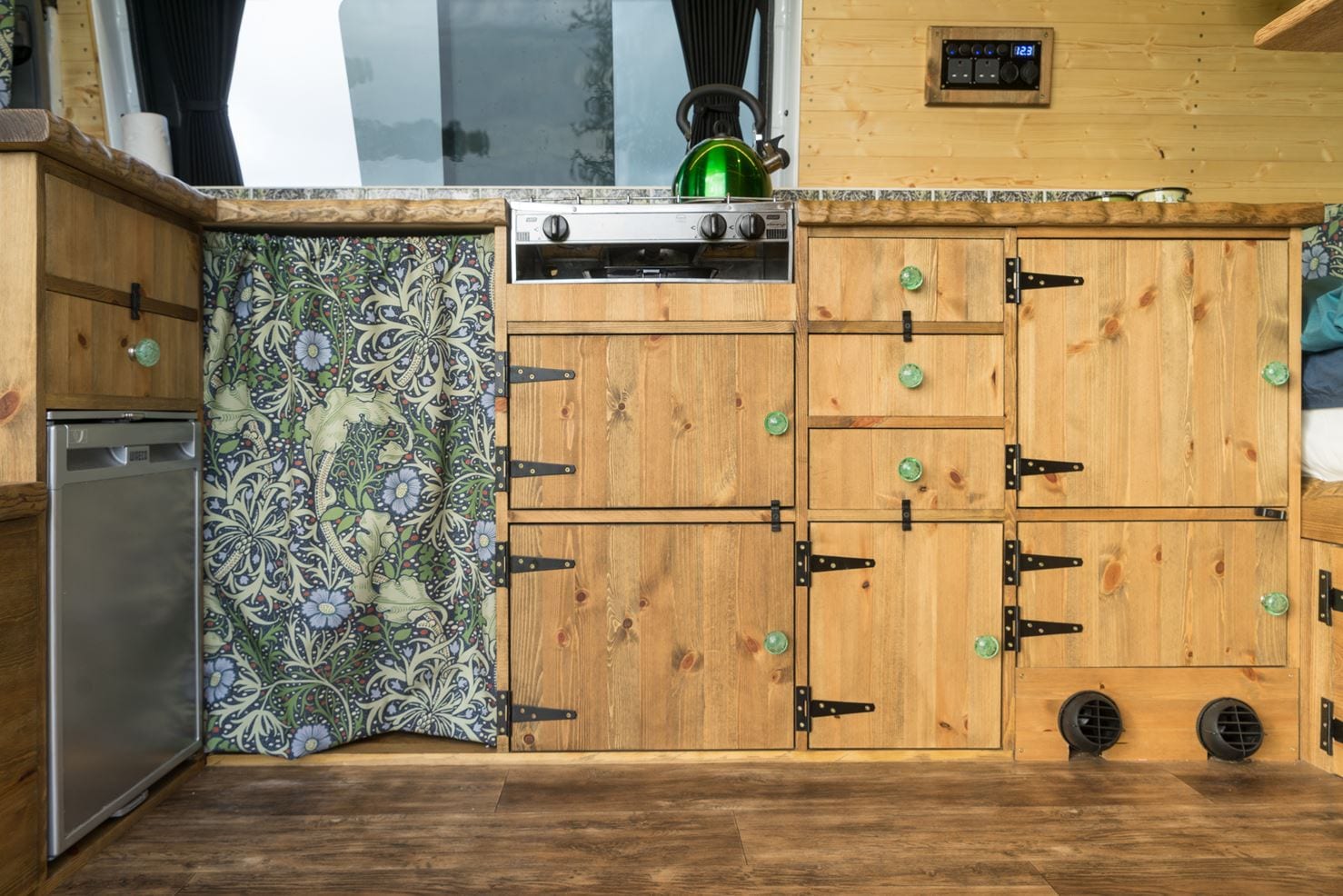 If you are short of space but still want to have a bit more flexibility in what you cook, then a grill is a good compromise.  You can easily cook smaller cuts of meat and, most importantly (according to my wife) Welsh Rarebit in a grill.
Pros:
Significantly cheaper than an oven – a Smev grill will cost around £200;
Takes up less space while still giving good flexibility on what you can cook.
Cons:
No pizza, bakes or cakes!
Portable Luxury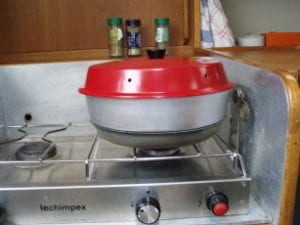 There is a relatively new piece of kit on the market which enables you to oven cook portably; the Omnia oven.
It is made up of 3 parts and creates top and bottom heat using heat from the stove.
When placed on a heat source, the heat spreads along the base of the container then rises and goes over the top due to its specially made lid with ventilation holes.
Therefore, this is a great way to cook bread, cake, lasagne, pies without spending the money or taking up the space of a traditional oven.
Pros:
Affordable – costs from £55 depending where you purchase from;
Lots of accessories to broaden the food cooking potential!
Cons:
Can be tricky to learn the gas flame to oven temperature relation.
Let's Get Sociable
Let's face it, there's nothing quite like eating outside around a fire with your friends and a good bottle of wine to hand.  There are all sorts of different BBQs you can use from large swanky gas BBQs to tiny fold up charcoal versions that you can take in the most compact of campervans.
Cooking with fire is undeniably satisfying, there's something about it that harks back to "ye days of olde".  However, it might not be the most full-time practical of options as you need to take into account the British weather!
Importantly, you will need to think about storage for all the components – charcoal/kindling/lighter fluid if you're cheating on the fire starting!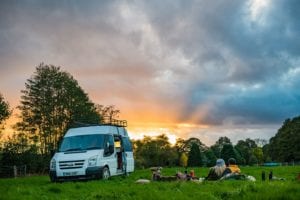 Pros:
There are so many options that there will be something suitable for every budget;
Feels like 'proper camping'.
Cons:
Requires organisation to have it set up and hot in time;
Weather dependant!
Keep it Simple
Virtually all campervans will have some form of gas hob. It may be a more basic portable gas stove or it could be a built in 2 to 4 burner hob.  You can cook so many things on a hob, you might be surprised how many one pot meals there are and how good they are!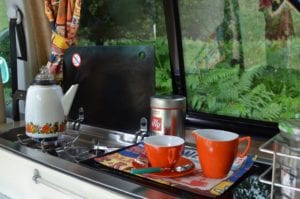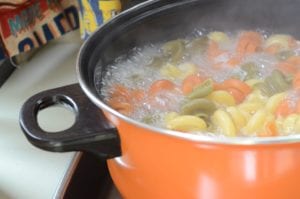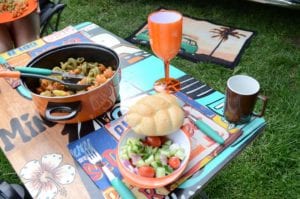 You can cook up wonders on Minty's hob!
Pros:
Cheaper options available (although you can also get top end burners including induction hobs|);
Takes up less space;
Cons:
More limited on what you can cook at the same time;
It's a good idea to get different sized burners for different foods.
For the wilderness:
If your campervan is a vehicle for transporting you into the wilds of the UK or further afield, the JetBoil is a phenomenal option.  The Jetboil allows you to cook wherever you want; on top of your favourite mountain, or in that remote place you can only access by foot.  Additionally, it also gives you both an added hob in the van and a back up emergency cooking device should you run out of gas or your hob stops working.
The JetBoil MiniMo is a 1 litre capacity cooking system that packs up super small, complete with burner and fuel stabiliser.  The burner has a regulator so you can simmer as well as boil.  This means it is more versatile than some of the other JetBoil systems.  Furthermore, you can add accessories such as a coffee press or larger skillet so it could well prove a cost effective system to have in a campervan.
Pros:
Easy to transport and doesn't take up a lot of room;
Good as a backup for the van or a portable exploring option.
Cons:
The full setup is a bit pricier than you might expect at £120 (Flash Model);
Unlikely to work for most people as their only cooking option.
Wanda's owners took a JetBoil MiniMo on a climbing trip to the Peak District.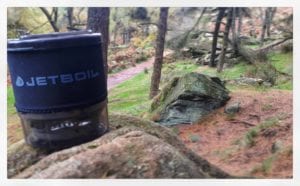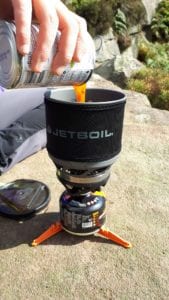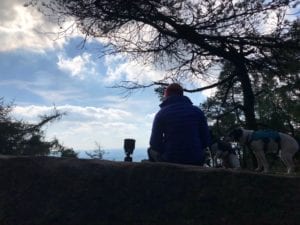 Get Cooking!
With so many options and ways to cook up a feast in your camper van, there's absolutely no excuse to stick to tins of beans and Smash!  Above all, it's important to have fun and take the opportunity to try out new things, or new ways of cooking you might not otherwise do.
For more camping cooking ideas check out our amazing selection of campervan recipes from professional French chefs Radius Ulna here.