How to fund your campervan honeymoon
Campervan Honeymoon: Crazy or Clever?
You had the big day, you said I do, your friends and family were all there to witness the magic and now after all the excitement and chaos, it's just you, your true love and two weeks of romance and bliss. Now, where are you going to go on your honeymoon and how will you fund it?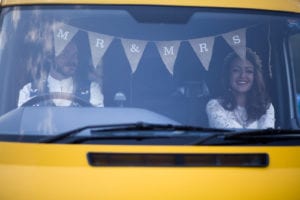 Whilst some couples fly out to a 5 star retreat in Bora Bora, there is a growing interest in adventure style honeymoons. Yet whatever style you fancy, based on a survey of 4,000 brides in the UK, the average honeymoon costs £3,630. Pricey right? Yet with a quirky camper honeymoon you can combine luxury and adventure whilst cutting only the cost. We can't guarantee the weather of Bora Bora but that's not the most important thing in a honeymoon right?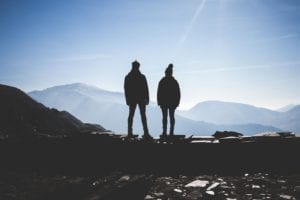 Where to go?
We have dozens of unique campervans for you to choose from. Each is handmade with love and has its own personality and facilities to suit the atmosphere you want to create and the needs you have. All are based in the UK with many available to be taken to Europe, meaning the number of destinations you can visit on your honeymoon is endless. From wild camping in the Scottish highlands to waking up on a Spanish beach; touring old English castles to exploring the Fjords of Norway. With a 200 mile a day limit, you could even get to Rome and back if you wanted.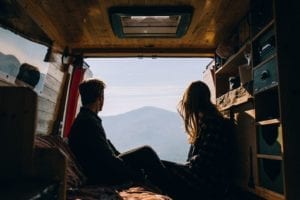 Campervans and honeymoons are not all about staying indoors though, even though you might want to, and our campervans are filled with everything you need for a cosy getaway. But, if you're out in the world, you may as well explore it! Many of our vans come with additional features, like surf racks, bike racks and extra storage which mean you can go out on your daily adventures before returning to a cosy home-from-home. Ever wanted to surf the French coastline? Or cycle through Holland?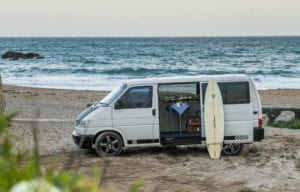 Where to sleep?
You might be thinking after all that adventuring, where will you sleep? Campsites can be pricey in high season, they might be at capacity or full of family getaways or teenagers celebrating exam results – neither of which is conducive to a romantic honeymoon. Don't fret though, many of our campervans are fully 'off-grid' with solar powered systems. These campervans are perfect for secluded lakeside spots, sleeping below the stars and hearing only the silence of nature.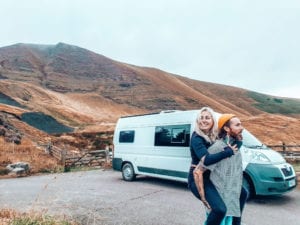 Who to hire?
Hygge for example, would be the perfect campervan to take on any of these adventures. Picked up from London, Hygge has easy access to the rest of the UK and Europe, ample space for two people, bikes, surfboards and luggage, he is also prepared for wild camping with his own shower, toilet and solar charging system. To rent him out for 2 weeks in high season, it would cost you £1,736.
Costings
On top of that fee, other costs might include:
Campsite fees for 7 nights (estimated £25 a night) £175 (the other nights would be spent wild camping)

Food/drink/meals out £520

Fuel costs for 1000 miles £204

This would bring your total to £2,635
That's almost £1,000 cheaper than a conventional honeymoon and comes with so much more freedom to make those two weeks your own.
Funding your honeymoon
When thinking about how to fund your campervan honeymoon, there are several options to consider.
Use a group sponsoring platform. Instead of asking for gifts, ask your guests to sponsor experiences, from petrol, to campsite entry, to meals out, beers and firewood. Your guests can contribute to whichever part of the honeymoon they want to.

Patchwork

is a group funding platform that allows just this. We are partnering with patchwork and they are offering 0% commission to our customers using the code QUIRKY!

Do a DIY version to present at your wedding and ask for cash contributions.

Cut down on wedding costs. By having a smaller or simpler wedding, you will save money and can put this towards your honeymoon.
Sell your wedding dress! You could save it for 100 years in a special box or you could swap it for memories instead. Some canny brides have even managed to make a profit on their wedding dress.
If you have any questions or need help choosing your perfect camper, get in touch.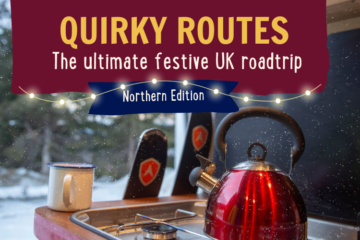 Are you a festive fiend or a grumpy Grinch? This season no matter what mood you're in, escape the normal and take yourself and …