7 Tricks to Keep Clean in a Campervan
How to Stay Clean in a Campervan
How to stay clean in a campervan is a common concern. But it's really not so very difficult.  We are so used to hot water on tap and the luxury of a machine that washes our clothes for us that it takes a small adjustment. But of course it's the fact that it is different to our everyday lives that makes it so fun!
Washing clothes whilst travelling sometimes just needs a little out of the box thinking. Keeping squeaky clean does not mean cold showers and soggy towels!  A Quirky Campers holiday, does not require you to embrace your inner Bear Grylls.
Some campervans have an inbuilt shower and toilet. This can be an added convenience but does require emptying waste in a designated facility and topping up the water more often. For this reason they are not always suited to wild camping. Plus it will either be a larger vehicle or you will lose some other space/functionality. That's why so many of our owners choose not to include them in their conversion. Whatever campervan you choose, the following tips will be useful to you.
So, how do you wash both yourself and your clothes in a campervan without unlimited hot water or a washing machine?
1. The Sink Wash
My mother always used to say it was amazing what I thought passed for a proper wash!  I was an adventurous child always to be found with dirt on me somewhere so there seemed little point exerting much effort in keeping clean!  An over the sink wash with a flannel is vastly underrated.
Boil a kettle.  This way you can carefully conserve the amount of hot water you use.
Put towel on floor.
Add soap to flannel.
Scrub away with wild abandon.
You can wash your hair over the sink too.  If you have long hair, make it easier by using a space saving collapsible bucket to rinse off in.  I have to say, I'm very proud of mastering the art of a two-beaker hair wash!  You can also hand wash your clothes in the kitchen sink.  Whilst this can be a little bit messier for larger items, depending on the size of your sink it's a good interim solution for your smalls.  Make sure you use environmentally friendly detergent if you don't have grey waste (and it's better even if you do :-)).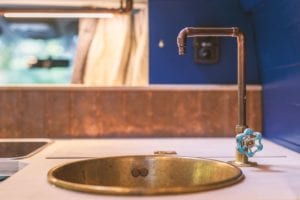 2. Do a Dot Cotton and Get Into Your Nearest Laundrette
Laundrettes exist outside Albert Square!  Most van lifers will probably rely on using these around once a month to wash and dry their bigger items.  It's really handy to be able to use them on rainy days too.  If you need to wash and dry your duvet, this is a relatively hassle free way of doing it if you aren't travelling around hot countries.
It will typically cost between £5 – £7 for a full load of washing and then £2- £3 for a tumble dry. It's not the cheapest option, but it's a good quick fix, especially for those looking for a longer getaway.
3. Scrub a Dub Dub
A brilliant way of keeping your clothes clean in a campervan is to use a portable washing machine. No, I haven't gone crazy, such things do exist!  Scrubba is a genius invention which means you can wash your clothes anywhere.  It is basically a drybag with an integrated washboard.
You can experiment with the washing detergent you use, but you don't need to use very much.  It's portable, lightweight and also offers a handy solution for drying your clothes afterwards.
Fill up the bag to 20 – 40% its volume with clean, hot water and cleaning liquid;
Add clothes!
Remove any excess air, much like a compression sack;
Roll the top down a few times and click the straps together to secure;
Deploy elbow grease and rub vigorously for between 30 seconds to 3 minutes dependant on need;
Swap your now dirty water for some cleaner stuff (it doesn't have to be hot) and rinse the clothes;
Remove and dry.
You can get a dry kit with the Scrubba set which is a lightweight towel; wrap each item of clothing individually in the towel and twist dry.
4. Get Clean Au Naturel
You might find yourself parked up near to a lake, stream or duck pond.  Well, I wouldn't recommend the latter, but the first two are excellent places to take a wash.  And it's free!  The main benefit is you'll probably get a fantastic picture for Instagram.  The downsides…. it might not be 100% clean and it is likely to be cold!  I recall a Nordic fjord wash in September that was refreshingly brisk if I'm being generous and unbearably freezing if I'm being honest!
You must make sure that you use environmentally friendly shampoo/cleaning products so that you don't upset the ecosystem or wildlife.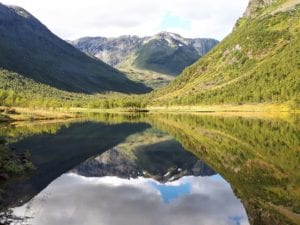 5. Make the Most of a Night in a Campsite
There are many different types of campsites across the length and breadth of the UK.  Some are, admittedly, a little cramped but some are quiet, uncrowded and located in some of the best spots in the countryside.  If you are staying in one of these, you might as well make use of the facilities on offer such as the showers and laundry room.
We have stayed in campsites where the toilet block has underfloor heating and there's complimentary shower gel.  We've stayed in some where you buy tokens for a spurt of lukewarm water!
You might pay an average of £25 per night for a pitch with hook up so it's not a cheap option if you do have to pay additional costs for water.
Unlike a laundrette you have the benefit of being on site in your van whilst the washing is being done, so you don't have to hang around watching the machine do its thing.
Campsite facilities are on the whole a really great way to keep clean, and depending on your budget you could find yourself using facilities to rival many hotels!
6. Get Down With the Beach Vibes
Keeping clean whilst camping doesn't need to be limited to within the van!  Many beaches have free shower facilities that you can make use of.  You might not fancy stripping off and hosing down under a cold tap; some beaches have warm shower facilities you can use for a small fee.
If you have a small trug, you could wash your clothes in that.  Simply fill up at the beach tap and scrub your clothes clean whilst taking in the sea air and the fabulous view!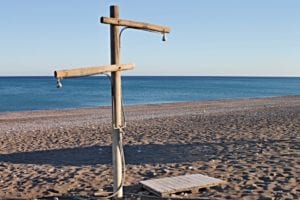 7. The Pure Glamour of The Service Station
Keeping clean in a campervan need not be limited to a static place.  Whilst on the move between locations you are likely to come across a service station.  Most service stations have showers that are free to use; you simply need to ask for the key!  On the whole, these showers are little used and are kept very clean.  Therefore they are a great speedy and convenient way to keep clean whilst travelling.
Stink Free and Loving It!
There are many, many ways to ensure you don't spend the entire duration of your campervan holiday a little bit whiffy!  Whether you want a luxurious hot shower, a quick strip wash, all the facilities of a laundrette or a swift clothes refresh, you can do it all in a camper van!
Lindsay, who owns Quirky Campers with her husband David, shares what she learned about camper awnings when she decided their van Bella (pictured) needed …