The best campervans for… festivals
Looking for festival campervan hire? Here is a round up of the quirkiest, most festival friendly Quirky vans for you to consider.
---
The great British summer festival: clean toilets, warm, dry beds, comfortable seating, quiet when you want to sleep, valuables locked away securely when you go to see bands… what's that? You're saying that's not always what they're like?! Well, they are if you go in a Quirky Camper! You can take almost any of our vans to festivals but here are an especially festival-friendly five…
So What's the Perfect Festival Campervan Hire for You?

Hard to believe that this is not a cafe, it's a campervan! Saffiyah has a spacious bed that converts into a table/seating area big enough for you – and guests – to hang out on.  With her full size fridge, wine rack and 3 hob stove, she is perfect for hosting the best festival (after) parties. With her capacious waterfall shower and optional toilet, everyone will want to be your new best friend! And all dressed out with industrial chic scorched pallets and exposed copper fittings – simply gorgeous.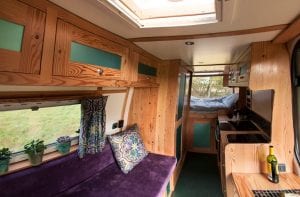 Being a festival-lover doesn't have to mean slumming it… With Angel you have a comfortable fixed bed to stretch out on, a sofa bed for chillaxing, a fully equipped kitchen and a toilet and shower! With bags of overhead storage for all your gladrags and a built-in awning to keep off the excess rain or sun, this is the campervan of creature comforts. And all in beautiful surroundings with outstanding craftsmanship.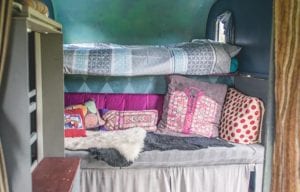 Be the envy of your fellow campers with Freya. Quirky and unique Freya most definitely is, you'll have no trouble finding her at the end of a long day dancing. And to flop into that cosy bed full of cushions and textiles – oh how lovely! Both on the outside and inside she is the ultimate festival companion.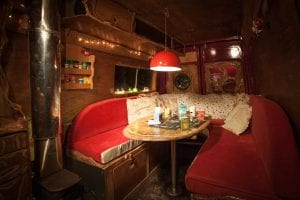 Bella is loved for her sociable seating area, quirky wood carving and handmade woodburner, but festival-goers know another secret about her. With fully lined curtains and wooden window blinds, Bella provides an almost blackout experience even in the daytime. Her sheepswool insulation stops you getting too warm in the sun and her super-comfy super-king-size bed will help you catch up on some much needed shut eye before the partying commences again.
Click here to see our full list of campervans
Take at look at our other collections: