Finisterre travel Scotland with Baloo
Our friends Finisterre travel Scotland with the wonderful Baloo. Able to sleep 6 and located in Derby, he was the perfect van to collect on route to Scotland from Cornwall. 
We set off in anticipation of perfect waves, empty beaches and camping spots slightly off the beaten track in our blue van named Baloo.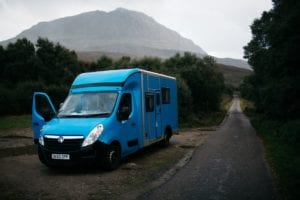 Our journey mapped out ahead to explore the northern highlands of Scotland, cruising the coastline for a week in late September. There were 9 of us, some had tents and the others planned to sleep in Baloo.
What I didn't expect was the vast empty beaches and perfect patches of free overlooking these to be so unpopulated. Who knew Scotland's oceans were so clear, I could see the sand beneath the water from the van.
Waking up was easy, making tea and coffee for everyone whilst others simply packed away the double beds to make space for breakfast. We felt free.
Taking the winding roads along edges of cliff tops, lakes and lochs. Soaking up the scenery. When we spotted a perfect place to take some photos, we would brew up fresh coffee and serve it through the hatch. Joking that we were a coffee shop or on other occasions the hatch served as our bar. Handing beers to those outside whilst soaking up the sunset/environment.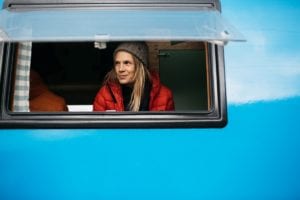 On rainy days we'd drive to waterfalls and wait for a break in the weather to climb to the top. Luckily showers seemed to last a few minutes until the sunshine reappeared.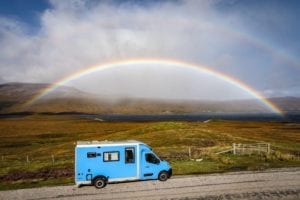 One night during a cosy dinner in Baloo, the winds picked up. We knew bad weather was coming so we shut the windows and played some cards. Unaware of how wild the wind + rain had got, we made our beds and settled down to sleep as the others went to their tents. Tired from the long days and night, I barely noticed the door flinging dramatically open as the others left for bed.
By Poppy France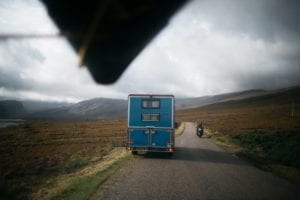 Want more? Read this 5 day Scotland road trip 
See more of Baloo and his availability or check out our campervans for hire in Scotland.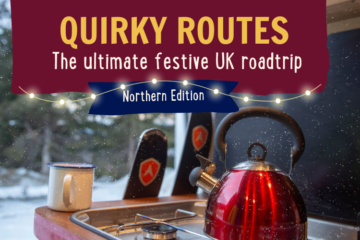 Are you a festive fiend or a grumpy Grinch? This season no matter what mood you're in, escape the normal and take yourself and …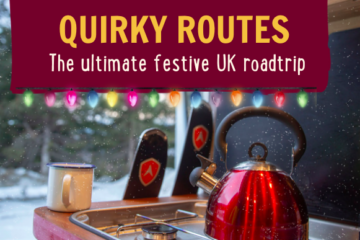 Are you a festive fiend or a grumpy Grinch? This season no matter what mood you're in, escape the normal and take yourself and …