Mercedes Sprinter Conversion: The Glorious Saffiyah
Why did you decide to convert a campervan?
Ever since I first stepped into Bella many years ago, I fantasised about doing up a van sometime in my life (preferably a Mercedes Sprinter like theirs). But the time wasn't right as I already had too much going on in my life.
A few years later my partner and I (at the time he was just my friend!) decided to do a camper van trip to Ireland. We scoured the Quirky availability calendar for a suitable van and when we couldn't find one, I decided the time had come! I was just about to retire and could see myself spending a lot more time campervanning around the UK.
I didn't have the time or skills to do it myself so knew I would have to commission a professional converter to do the job.
How did you go about finding a professional campervan converter?
Lindsay was very helpful, and introduced me to several converters who all had very different ways of working.  I was totally smitten with House Box but they were pretty booked up. And their attention to detail meant that there was no chance of it being ready in time for my trip. Ashley of Supertramped also had some beautiful work but similarly up to his eyeballs in conversions. Then she told me about Shred and Butta, who thanks to being a larger outfit normally specialising in much larger conversions, had the manpower available for my crazy timescales!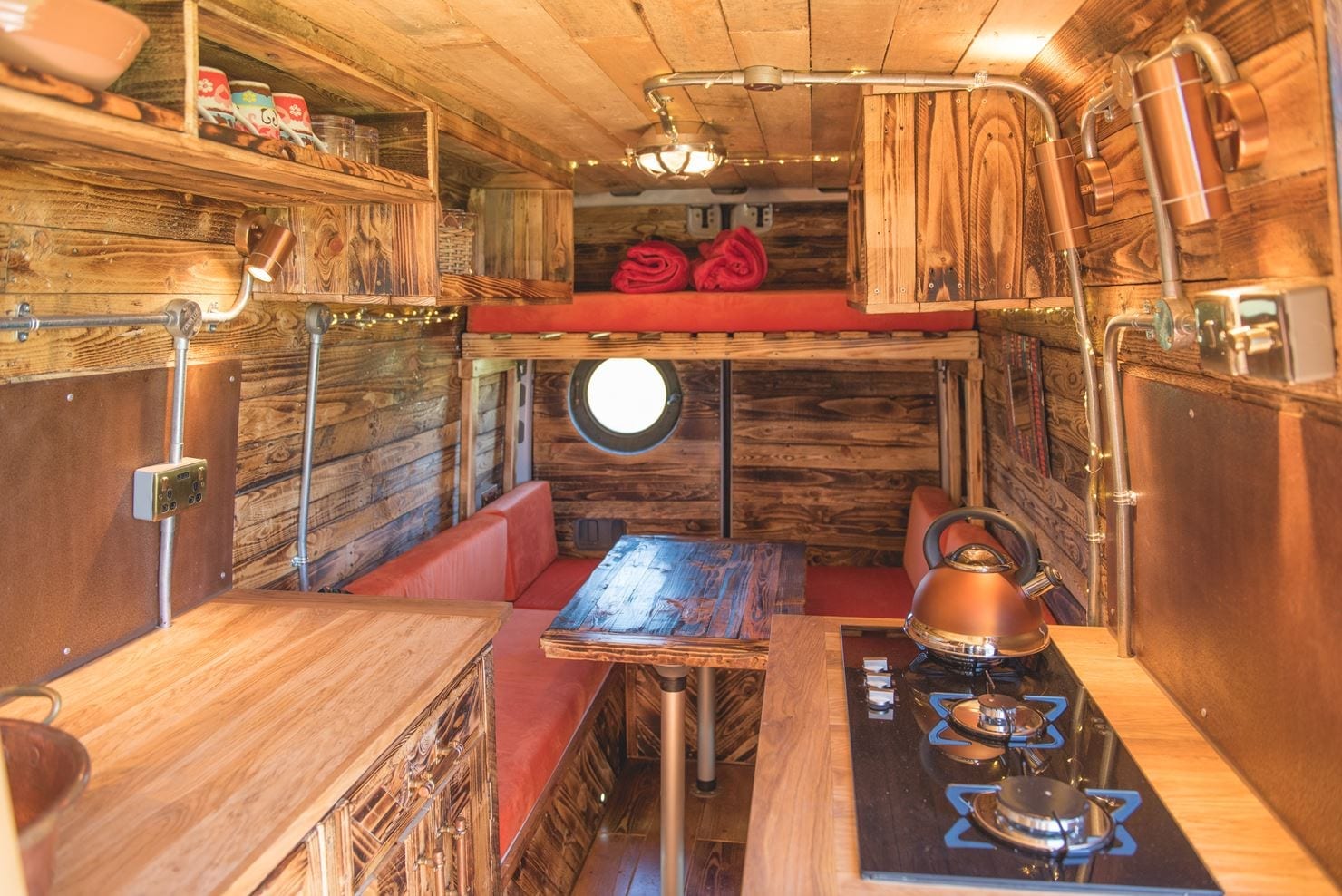 How did you source your base van?
The first challenge was to source a van – something I didn't have a clue about.  After a bit of research I came across a specialist Mercedes van dealer in Bristol. Given the reputation of used car dealers I initially found myself rather wary of the amiable and super-helpful boss Dean. But all my anxieties evaporated when he put me in touch with a couple of his happy customers (of which I am now one!). Dean sorted me out with a lovely ex-DPD Mercedes long wheel base Mercedes Sprinter with only 37k miles on her clock. I got her checked out by RAC who gave an excellent report. And Dean sorted out the few little problems that showed up.
The conversion took three weeks longer than the rather ambitious four weeks I was promised. But it was worth the wait! The general design and materials spec was mine. But I was happy to give them lots of creative scope around the specific layout and details.  The upholstery, electrics and plumbing far exceeded my expectations.

Why did you name it Saffiyah?
I had been so struck by the photo of Saffiyah Khan who had stepped into a far right demonstration to defend a woman who was being insulted by demonstrators and was caught on camera smiling at the ranting crowd. The image still captivates me and I am honoured to name the van after her.
And that paint job! How did that come about?
David at Quirky had recommended a graffiti artist in Cardiff, Peaceful Progress. They painted the outside of the van using a picture I had sent him as inspiration.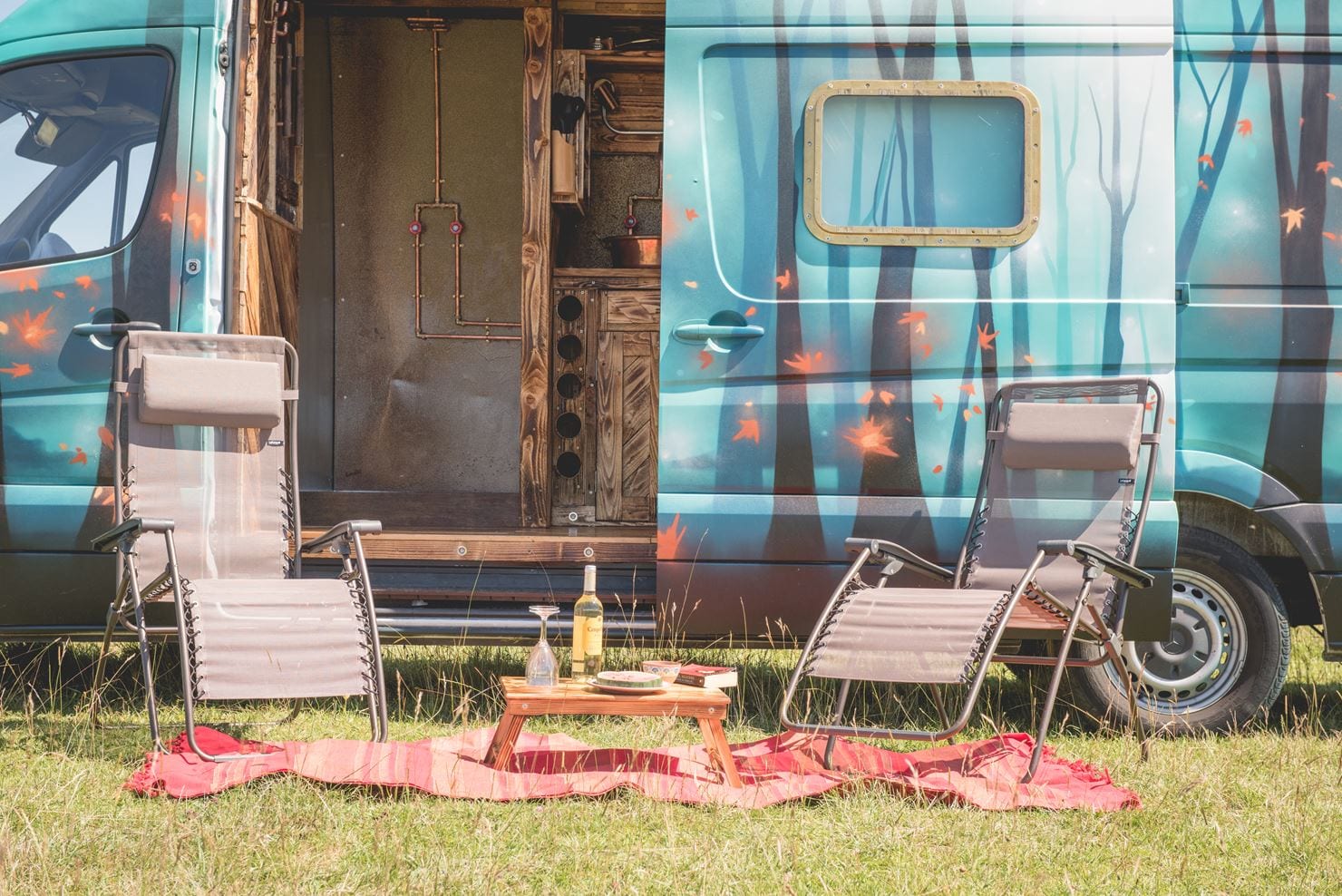 The first trip in Saffiyah did not disappoint! I spent 2 weeks traveling across Ireland and we learned how to identify great wild camping spots and how to maximise the number of showers to get from one tank of water (5!)
Since then she's served me beautifully at weddings and festivals and always draws in lots admiring looks and comments. Now I'm really looking forward to sharing her with the world.
Commission your own bespoke campervan through our conversion matchmaking service.