An adventurous Winter getaway in a Land Rover Defender Campervan
If you're looking for adventure holidays uk-style why not a Quirky Camper in the snow in the Lake District. That's exactly what David McConaghy did over the New Year in George (ex Quirky Camper). Read on to hear about his adventure.
---
In 2017 I went about exploring more of the UK. And finished the year off by venturing up to the Lake District with a friend in one of Quirky Campers' home-on-wheels.  We picked up "George". An ex-army ambulance converted into a camper from Bernie and Sarah in Norwich and set off on a long drive to the North!
On arrival late that evening on the shores of Windermere, snowflakes started to settle. It became very cold, we parked up, cooked up some pasta, drank some tea and nestled up in our sleeping bags.  When we woke the next morning, peeking through George's curtains we could see nothing but snow everywhere. It was cold, but how often do you get to see this much snow in England! And how often do you get to drive around in a Land Rover Defender Campervan. We were certainly well equipped for the weather!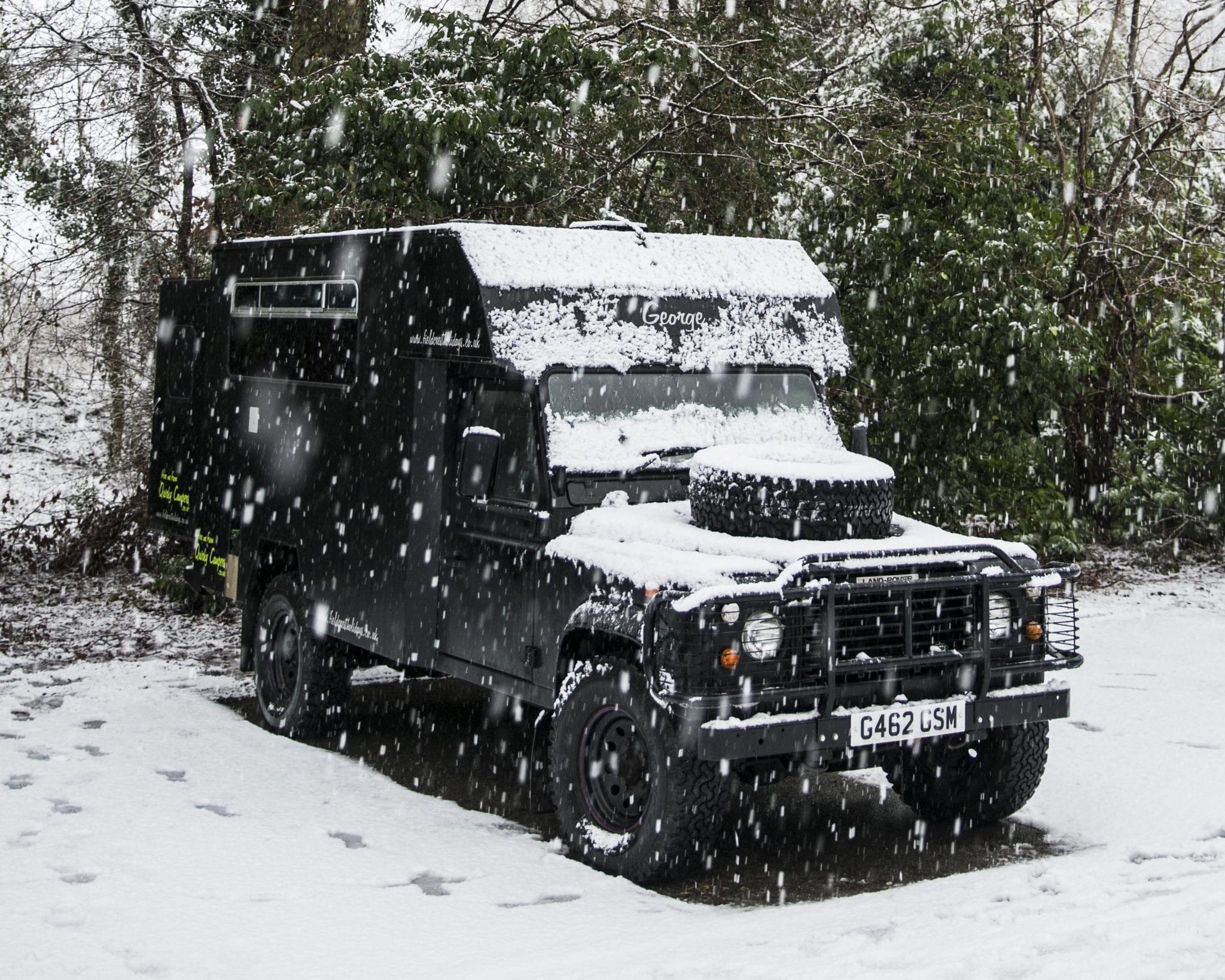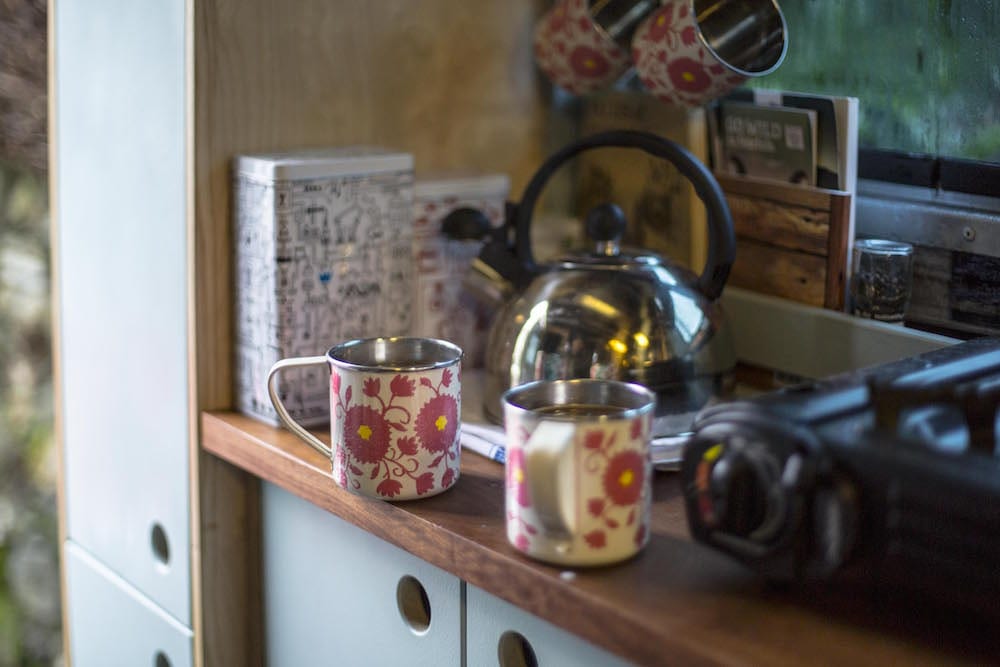 After a coffee, some breakfast and blowing steam (smoke) rings with our breath we were ready to go off for a walk to explore the Windermere lakeside.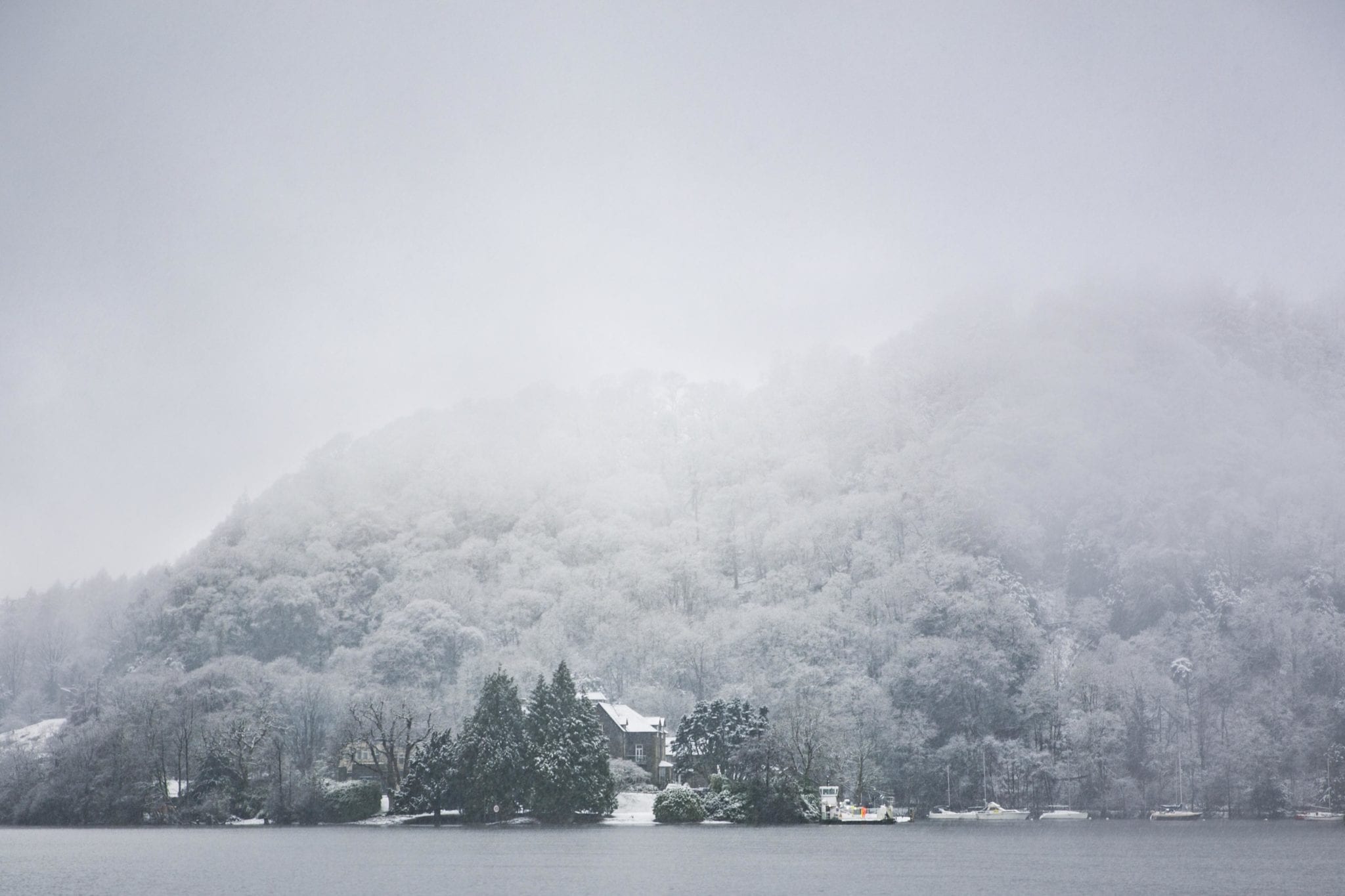 Back in George, with snow covered roads I wanted to take him to his natural habitat. So headed for the the mountains; specifically the Great Langdale valley. We drove around the tight roads, regularly stopping to take in the landscapes and to allow sheep to cross the road.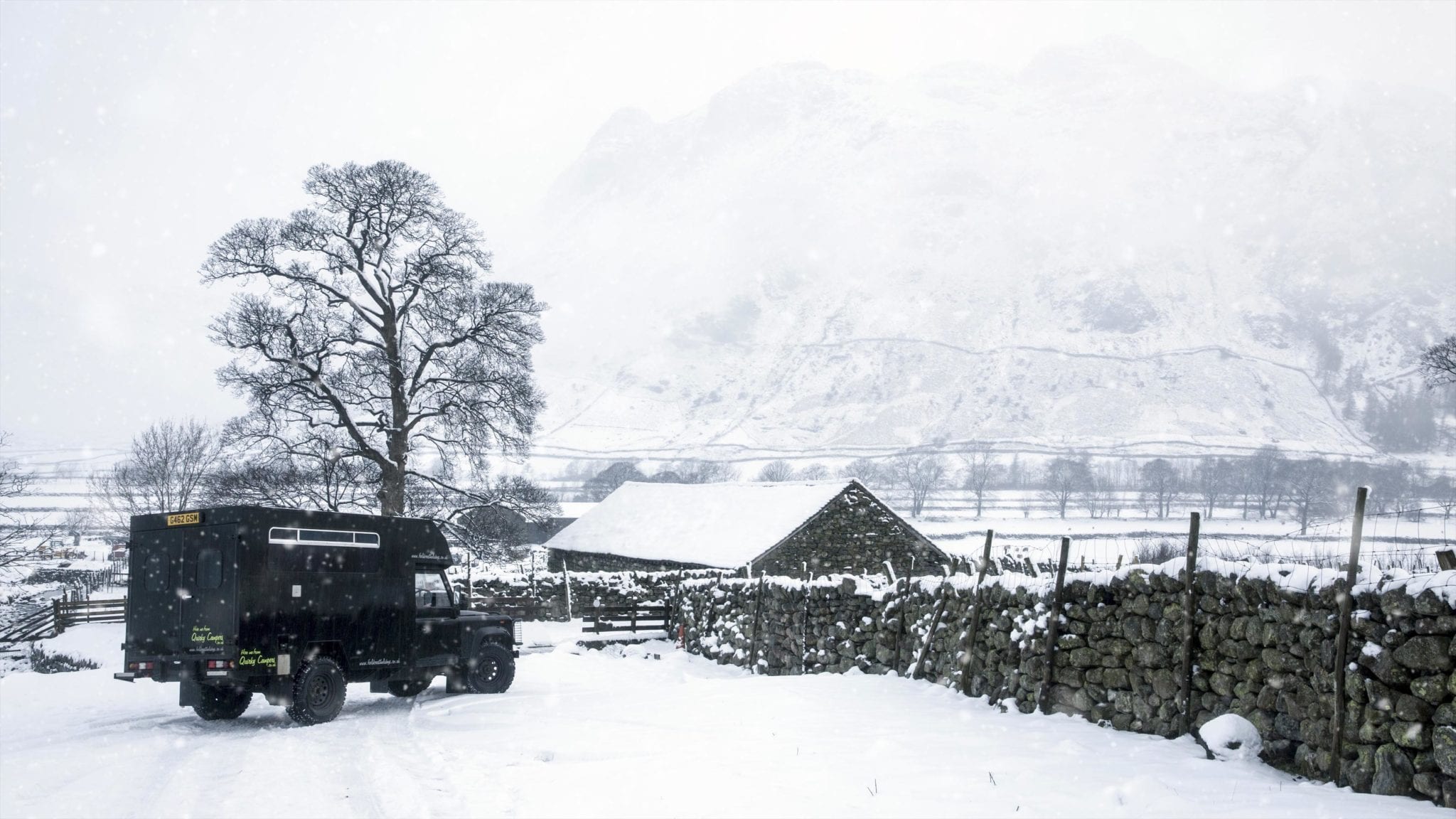 We took that road and drove round and a long way up to the Wrynose pass where only we and another couple 4x4s ventured. George was built for these conditions, and at this time, we were very grateful to have him. As I am sure other campervans and even cars could not have made this journey.  Because of his weight, 4×4, and thick tyre tread he was perfect!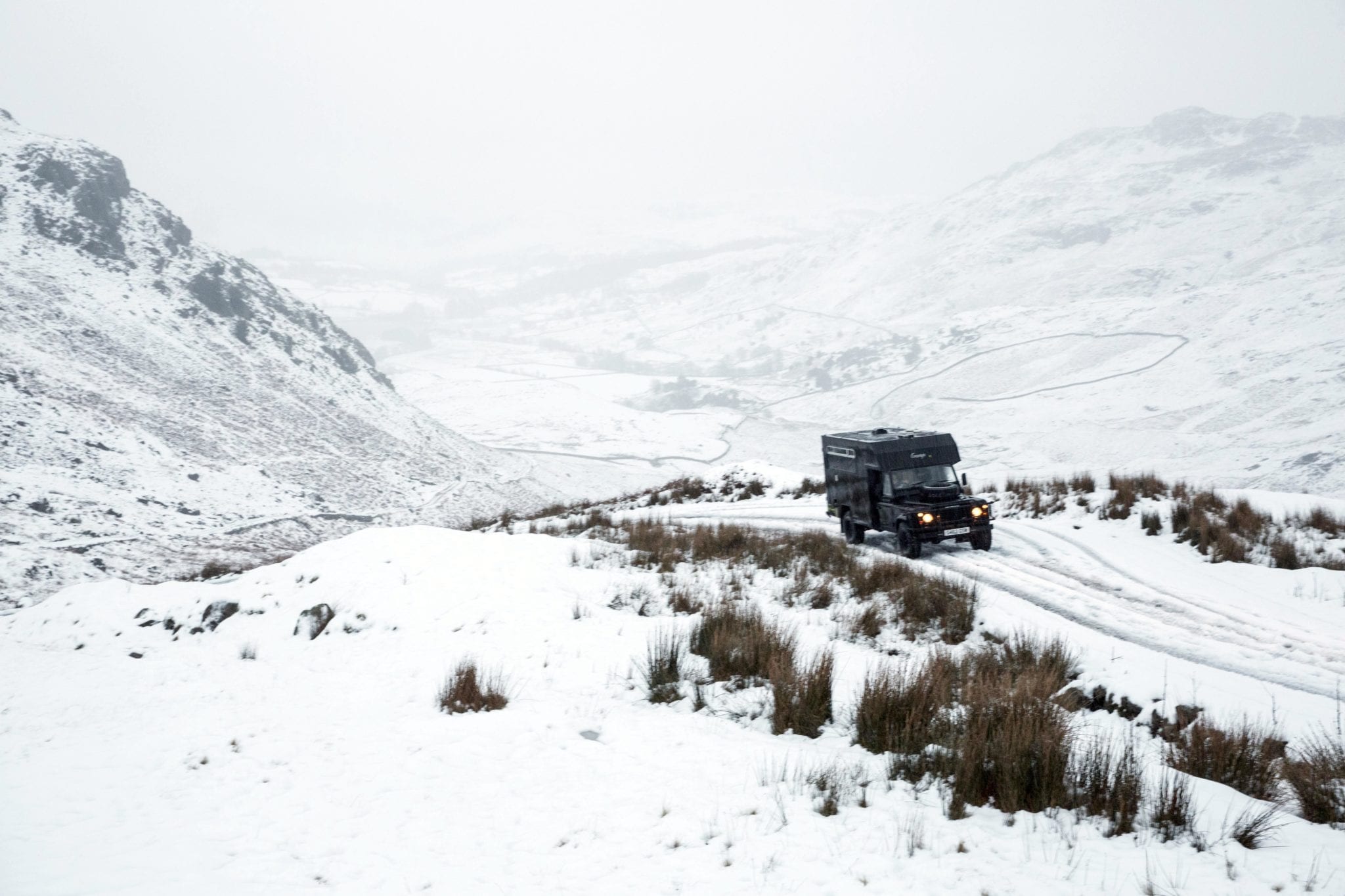 That night we stayed in a small town called Coniston, also on the side of a lake. Here we cooked up a curry, and found a nice local pub for a few beers and to dry off/warm up. The next day we headed for Buttermere lake via the Honiston pass. Unfortunately all the snow by this time had melted which made it a lot easier to drive.  We headed North towards Keswick, then along Derwent Water stopping off at a Ashness Bridge.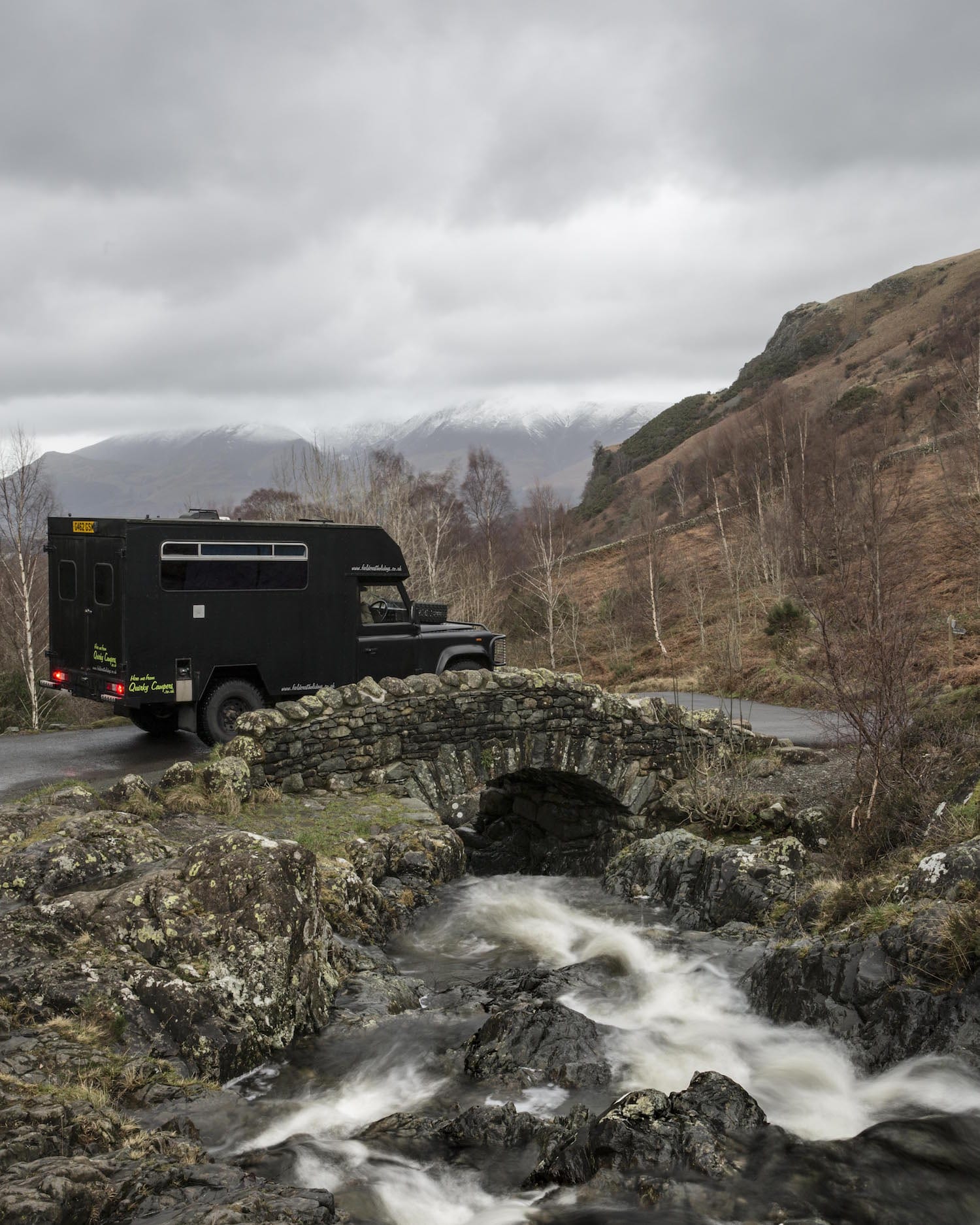 When we arrived in Buttermere we had a short walk then stopped off at the pub for a couple of drinks before cooking up a pasta dinner and playing cards and Jenga.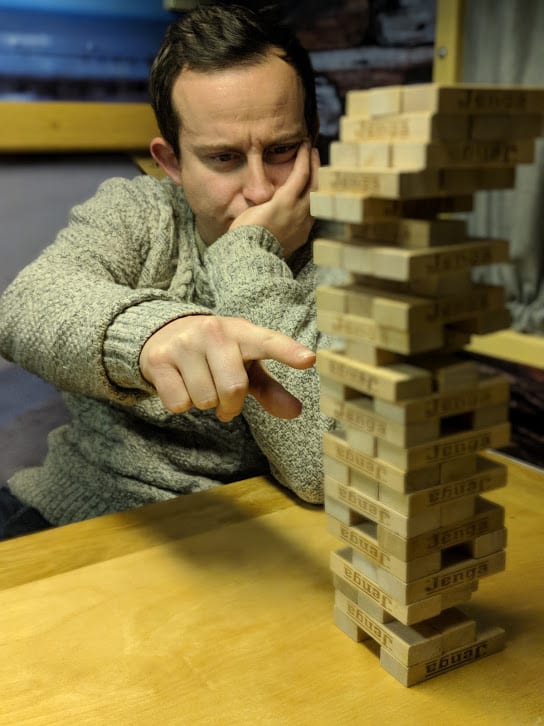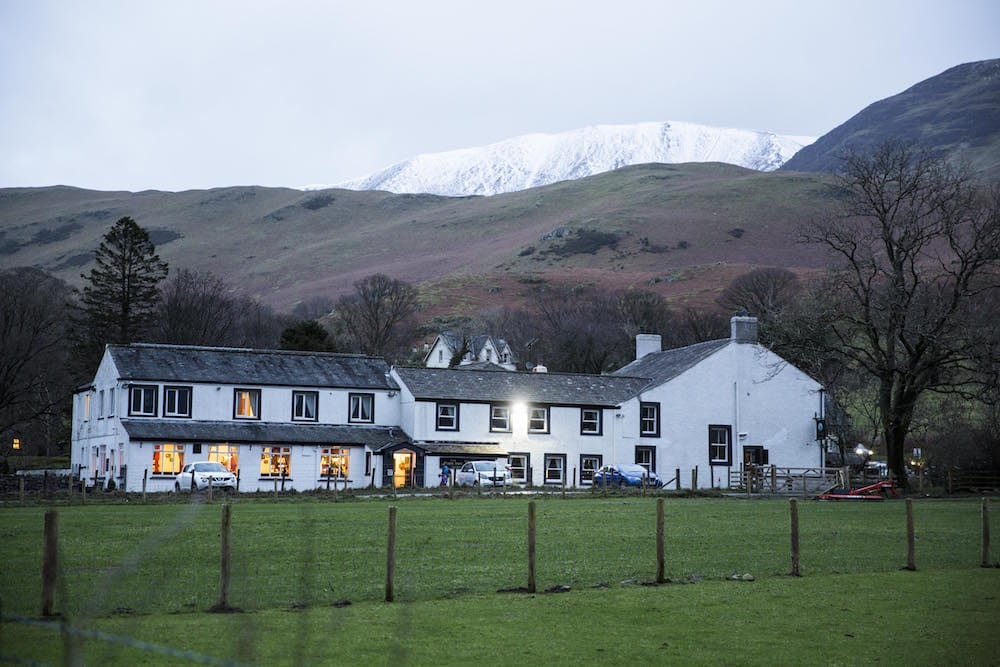 In the morning (of New Years Eve) we went for a long walk around Buttermere lake, exploring the area further. It was quiet, we only saw a handful of other hikers.  Buttermere is a really special place which I plan to go back to for a week or longer just to stay there and hike. The lake in the Valley and pretty much in all directions hugging the lake are beautiful large dramatic looking mountains with stunning waterfalls.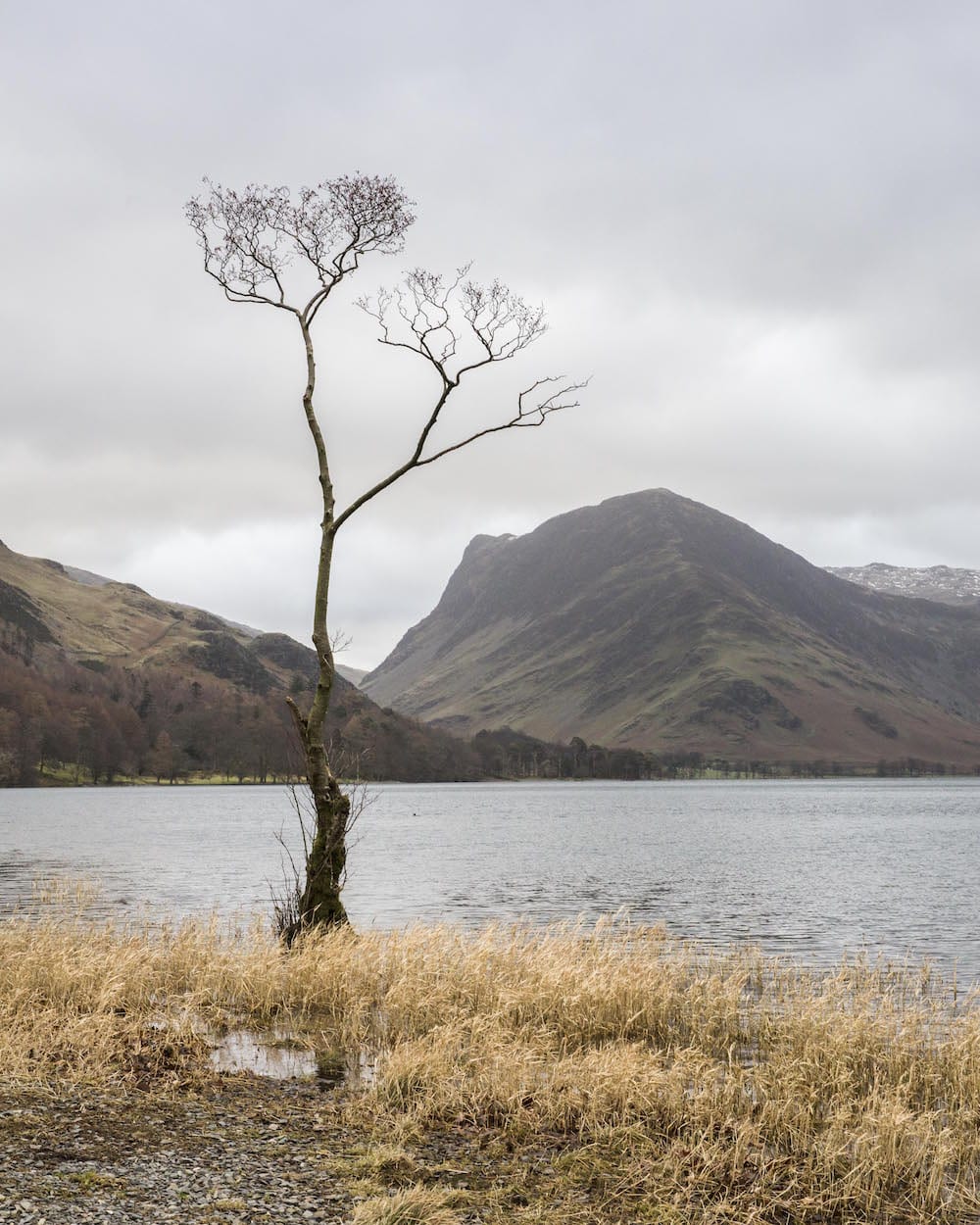 When we got back to George we took him up along another pass headed towards Keswick. Pulling in to explore the Moss Force Waterfall at the top.  Here you could see back towards Buttermere in one direction, and along another valley towards Keswick in the other.  No man made structures stand in your eyeline, just mountains, rivers, rocks, grassland and a road.
New Years Eve we spent in Keswick – the largest town in the Lakes. A really nice quaint town, full of climbing shops, pubs, fish and chip restaurants and independent shops. Again also on the side of a lake which offers great walks which we did on New Years day. But not before a good new years bacon sarnie!