11 Delicious, Off-the-beaten-track, Camper Van Pit Stops
The UK's motorways whip us past some breathtaking countryside and gorgeous villages merely glimpsed through the crash barrier. Many of them have delicious cafes, cosy pubs and honest, local food to match, making them great alternative campervan or motorhome stopovers and sparing the intrepid from the grim inhumanity of motorway service stations.
We think slowing the journey down a little and making time for exploration of those bywaters is simply a better, more princely way to travel, injecting some adventure back into road trips. We wrote the Extra Mile (www.theextramile.guide) to uncover some of the best spots, mapping out places within 15-minutes of the motorway where you can get a warmer welcome and finger-licking food.
If you're camper van inclined you'll already know the joy of the open road, the superiority of the path less travelled and the thrill of unplanned pit stops, so here are some of our favourite places to park up, all with bags of room for vans, some with pitches for overnight stays.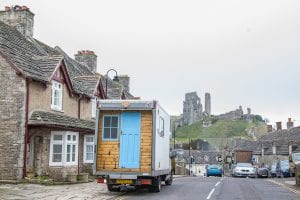 So, what are the best campervan/motorhome stopovers out there?
Like Paddington Bear, Dalemain House is famous for marmalade and has an annual festival and awards ceremony dedicated to the stuff. Perched at the fringe of the Lake District it's a beautiful stop to pull in. Find a spot then wander through the estate to the dinky village and castle at Dacre before tucking into scones in the medieval tea room.
It's almost criminal to think that Samlesbury Hall was on the verge of being scrapped for timber in the 1920s. Thankfully it was gallantly rescued and its glorious black-and-white frame saved. Take a trip back through history with one of the tours of the house (often led by Gruesome Jane), play in the marvellous, galleon-themed park then refuel in England's only wafflery.
Leyland's Worden Park was once a grand manor, but after the main house was destroyed by fire in the 1940s, it's now a popular park, with bags of parking and acres of woodland and meadows for picnicking and stretching the legs. There's even a dog wash in the car park for sluicing off muddy pooches before they get back in the van. The Folly Tea Room and Deli, set in the middle in what was once the stable block, is a brilliant lunch spot, run with finesse by two local sisters.
Once a Little Chef in the Worcestershire countryside, Teddington Stores has been transformed with a wave of owner Deb's wand into a fantastic food hall championing the very best local produce. Grab a coffee (and charge your phone if you need), then stock up in the aisles, where tables sag with freshly baked goodies, local fruit juices, English wines and intoxicating lavender toiletries.
For a quick stop on your way to or from Cornwall, Quicke's Farm is unbeatable. Swing into the farm yard from the A377 and feast at Cakeadoodledo, a brilliant café decked out like a glamping tent serving equally fantastic food, with a firm focus on Kate's wonderful cakes. Don't forget to pick up some of Quicke's famous cheese before you leave.
There are few quirkier or more mouth-watering places to pause for a bite than this 1880s railway carriage-turned café in the lilting Somerset hills. Decorated in muted, 1940s style, it serves stellar, organic and frequently vegetarian meals. Wander over to the adjoining double-decker bus (converted into additional seating) or picnic benches outside to enjoy fresh salads and sandwiches overlooking the countryside. Don't forget to stock up on organic car snacks at the fantastic Trading Post farm shop before you depart.
Rumoured to be the place where England's first pineapple was grown, these walled gardens near Eton's rowing lake once supplied the grand house at Dorney with fresh fruit, vegetables and flowers. Today they're open to the public with wonderful gardens to wander around, a well-stocked plant nursery, fortress play area and modern, oak-framed café with a menu is led by whatever is ripe outside.
Burn off some energy in acres of Rutland meadowland, swing in the playground, watch birds wheeling overhead and browse the handicrafts for sale in the larch-clad cabin. Food is honest and uses local and Fairtrade suppliers, and it's run by a charity providing support and training to adults with learning difficulties, some of whom you might meet behind the counter.
If you're a member of the camping and caravanning club, you can pitch up here too; the perfect motorhome stopover.
A real treasure trove of Yorkshire produce, three-quarters of the produce sold in Blacker Hall Farm Shop is produced or prepared on the farm. Browse the field-fresh vegetables and deli goodies in the farm shop, raid the bakery, pick up some flowers in the courtyard florist and feast on proper farmhouse food in the beautiful old barn-turned-café.
Cycle hire, camping, glamping, bar and café, it's hard to drag yourself away from Elm Farm. Pitch up the van, hop on a bike and explore the glorious North Cornwall cycle paths that fan out from the door. If that sounds too energetic, stroll to the beach or grab a homemade icecream in the relaxed café.
Discouraged by the disconnect between town and country, Sacrewell set up in 1964 to provide visitors with an opportunity to enjoy the beautiful Cambridgeshire countryside as well as an agricultural education. Today there are animals to meet, workshops to enjoy, great food to tuck into and a number of pitches so you can soak up the country calm long into the night.
This blog was contributed by Laura Collacott, co-author of The Extra Mile – buy the book here.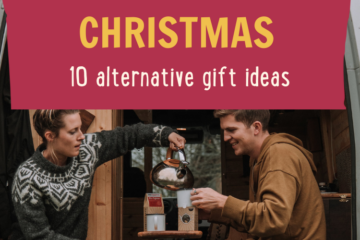 Are you looking for a different way to approach Christmas this year? Updated for Christmas 2023 The season of giving is upon us, and …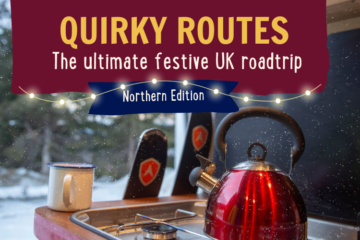 Are you a festive fiend or a grumpy Grinch? This season no matter what mood you're in, escape the normal and take yourself and …