It's all about Cleopatra's conversion story
Building your own campervan? Our new Conversion ebook provides a start to finish guide on building your very own campervan
Polly and Jamie, Cleopatra's owners, share their Citreon Relay conversion story
Why did you choose a Citroen Relay for your conversion?
We did a lot of on-line research about the best vans to convert and narrowed it down to four vans that are basically all the same model. We knew we wanted something reliable with relatively low mileage that would not be too costly to fix. Although we loved the idea of a Luton with a cosy bed above the cab, we thought that the high fuel consumption might make it too costly for us to enjoy lengthy trips. We were also worried that some customers might be put off by the thought of driving a vehicle that size or have a close encounter with a low bridge. Although lots of people told us a white van was best in the sunshine, we wanted something a bit more individual. We love the sleek black exterior of Cleopatra and have never found it too hot because of the excellent insulation.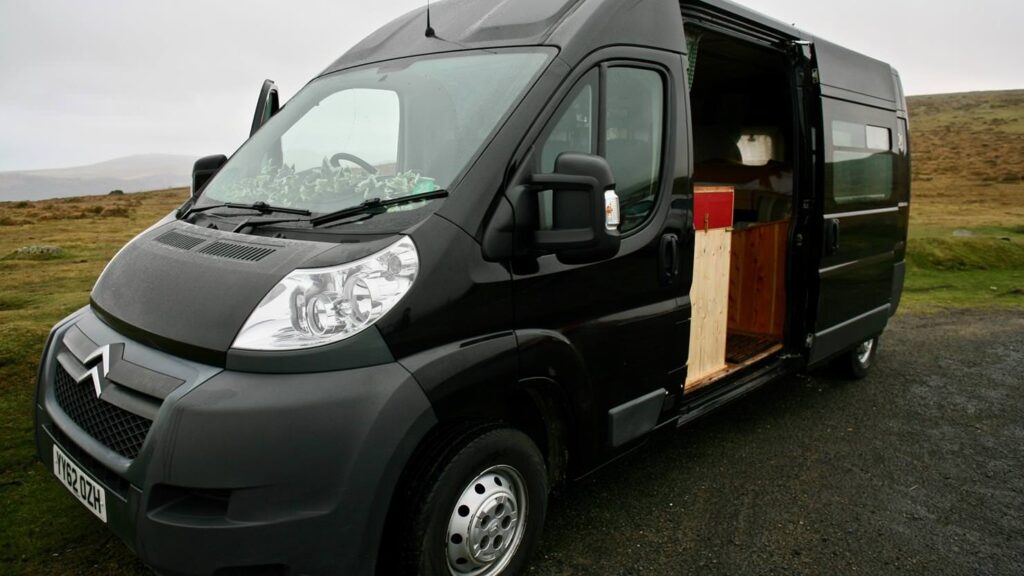 Jamie spent hours on the computer looking at vans for sale all over the country and we were seriously considering a trip to Oxford. Then I was off work one day and went for a stroll. On a whim, I called into our local garage. Asked if they had the kind of van we were after with the mileage we wanted. The answer was 'yes, up the road!'. One look and we were hooked – we had found our vehicle less than 500m from our front door. This has been a great bonus. The same garage does all our servicing and will quickly sort out any minor repairs needed in time for the next customer.
Why did you choose the name Cleopatra?
Majestic, impressive, hard to forget. We like to think of her as 'Queen of the Tamar'.
What materials did you go for for your Citroen Relay conversion?
Our vision was of a room on wheels that felt like a mixture of a canal boat, showman's wagon and railway signalman's box. We wanted straight lines, wood panelling and (initially) chrome. We spent ages trawling reclamation yards but never bought anything there – it was all so pricey! After one frustrating trip searching for a stained glass window, we stopped off to visit a friend. He promptly produced our lovely window from behind his greenhouse – where it had been sitting for 27 years, just in case it came in handy.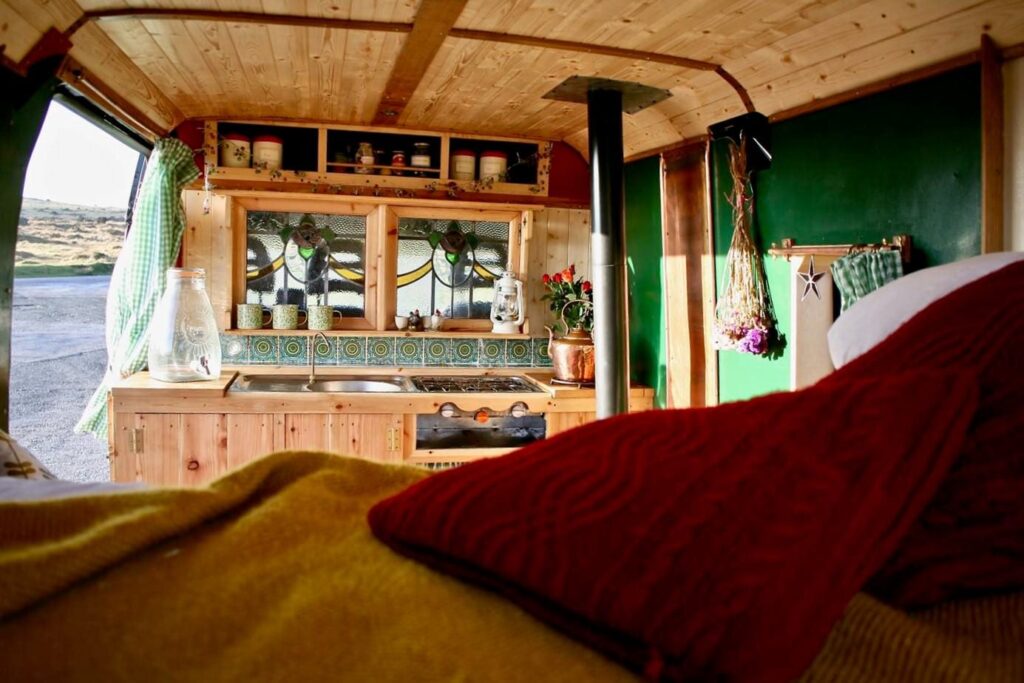 Someone we know rescued our sink and cooker from an old caravan – the hob is really good, boils the kettle in minutes. We knew that a comfy bed was a priority. So lots of visits to bed shops and time spent lying on mattresses. The one we chose is better than our bed at home! We used bed slats from IKEA so it has a proper base. The flooring took some thought – we did not want it to show the dirt and knew that it might get wet on rainy days. As it is such a small space, we could afford to splash out on high quality wood laminate and we have not regretted it.
The van then went over to Chris and Phoenix who had new ideas
Chris and Phoenix were recommended to us. They live in a beautiful van which was parked on the edge of Exmoor at the time, in remote and muddy farm yard. Their workshop was a fantastic treasure trove. It was a challenge for them to take on our van part-converted – they usually do the whole job from scratch and have a distinctive rustic style. We wanted straight lines! We could not have been happier with their work. They checked every single step of the job and kept within budget and timescales. They brought brilliant ideas to the task, but also listened to what we wanted. Phoenix is a jewellery maker and she added all the beautiful copper touches. Including a reclaimed water tank behind the stove and copper pipes for curtain rails – we love them. We spent a long time looking for the right tap, but in the end Phoenix made one out of piping – perfect.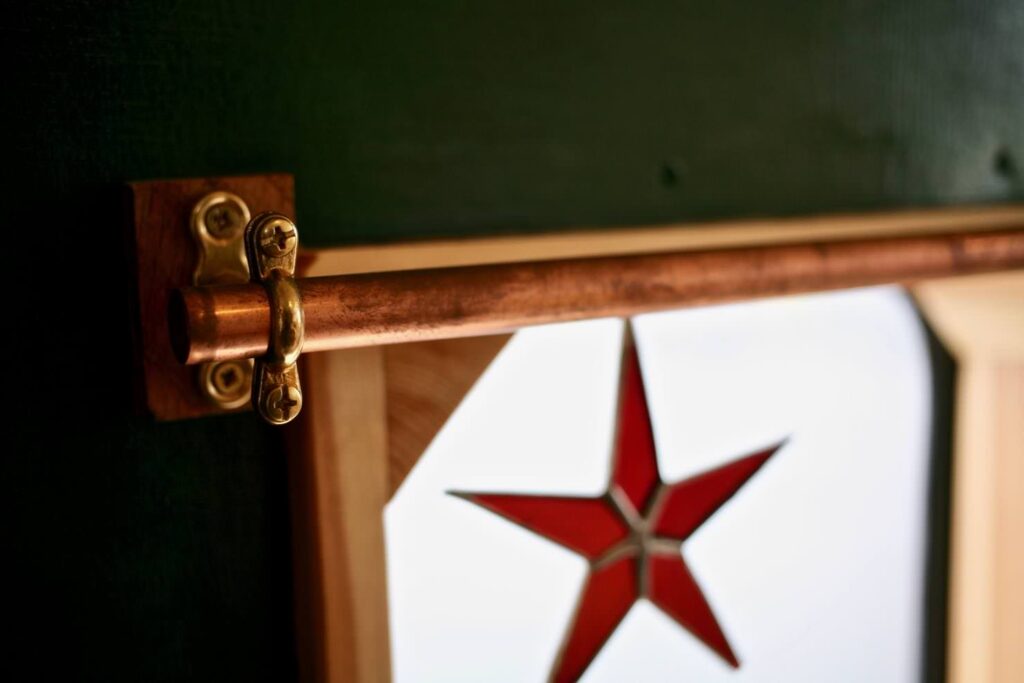 Chris and Phoenix are both master crafts people with wood and they brought their love of natural materials to the design. The pine ceiling lining means that when you open the van door, everything smells natural and cosy. Like an indoor forest. There are touches of larch and oak and every screw has been chosen with care.
We love the colour in Cleopatra, tell us a bit about your inspiration
We found the tiles on-line and fitting them was my first ever tiling job. They go perfectly with the window. It took a long time to choose the paint for the walls – we bought lots of little pots and tried them out. We chose cream for the back of the van to give the bedroom area a peaceful feeling and mark it out from the living area. Then red and green took us back to the signal box feel, perfect with the copper. Jamie spent many hours crawling about painting inside every cupboard. We used an environmentally friendly wood stain on the shelves.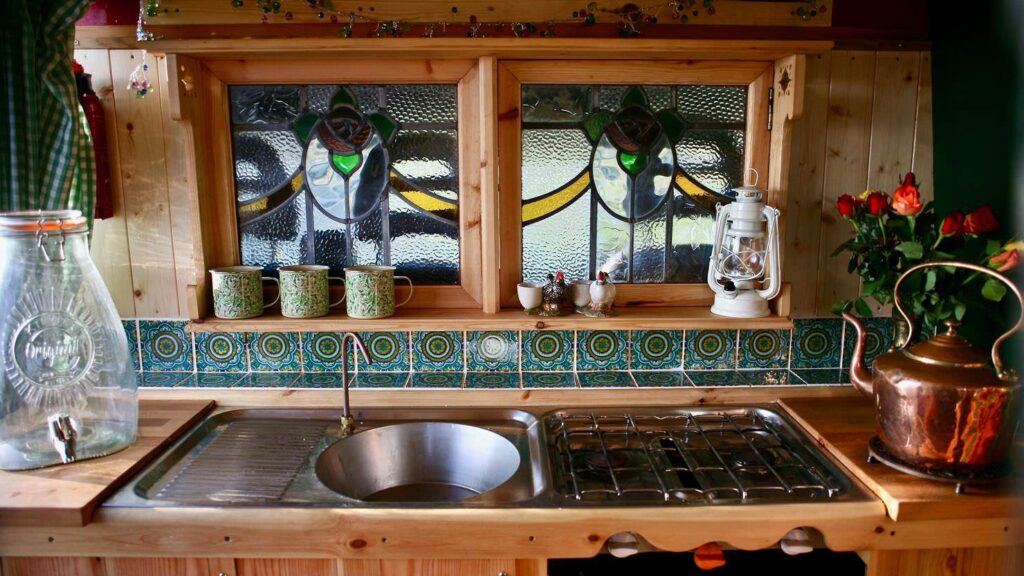 Then the real fun started and we chose bedding, enamel plates, a kettle and a log basket. Kitting out a van is like having a doll's house – everything in miniature. When the van was done, there was a moment when we wondered if we could really bear to rent it out. We loved it so much. But all of our customers are so appreciative and friendly, it makes it easier to say goodbye.
Our first few trips away helped us fill a basket of useful things for customers – packs of cards, a crossword book, a torch, an apron. We really enjoyed thinking about what would make this a lovely place to stay. One of the best parts of renting out the van is seeing the delight on people's faces when they first open the door. Especially when the holiday has been arranged for them as a surprise. We like to give people some eggs from our hens if they are laying and always look forward to hearing about where they have been. Our van has been all over the UK!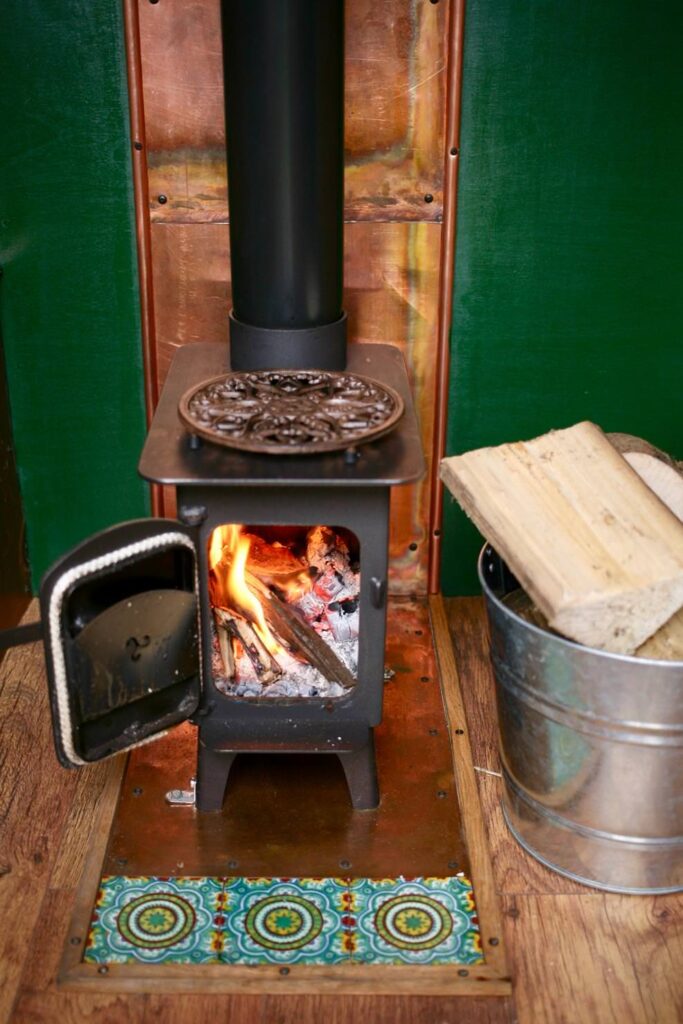 Tell us a bit about yourselves…
Jamie and I both work from home and our jobs bring us into contact with people in very difficult circumstances. Renting out the van is a totally different kind of work. Cleaning and preparing the van is practical and outdoors – a nice change from sitting at a computer. Customers are happy to be on holiday and excited about the van.
We have always wanted a campervan, but couldn't afford it and did not want a sterile melamine cupboard type of van or an old banger. When we rented Ashleigh at the last minute a few years ago, we were hooked. We loved the freedom of being away in a van, especially parking up off sites. The stove made it possible to use the van all year and we liked the interior. Our daughter had spent three years working with a travelling circus and was living in a van at that time. We had seen a lot of beautiful van interiors and had our own ideas. Being able to rent the van out meant we could afford to buy a good quality vehicle. One that would last for years – really important because neither of us has any mechanical skills. For several years, we had been volunteering as hostel wardens for the YHA each summer. So we knew how much fun it could be working with people who were on holiday. I am self employed and realised that I already knew how to run a small business. It was easy to fit the pick ups and drop offs around our other work. It has worked out perfectly. Most of the time, it doesn't feel like work at all.
What was the most fun thing about your van conversion?
Making a lovely place for customers (and ourselves) to enjoy – going away in the van!
What was the least fun thing about your van conversion?
The final tasks – gas certificates, insurance etc. Admin, basically!