Our European Campervan Family Adventure
Sand, sea and sizzling bbqs. It's true, the UK has so much to offer but sometimes dipping a toe abroad is just what the doctor ordered. Whilst sitting by the pool in an all inclusive resort can be relaxing for a day or two, you may start to feel slightly…crammed in. For those seeking a greater sense of adventure, a campervan is the perfect way to experience as many places as you'd like without having to fork out for multiple flights and hotels.
Back in May, Lindsay and David (co owners of Quirky Campers) hit the road in Quirky Campers' Frida with their three children and nothing but a ferry ticket and a vague notion of a route in mind. 
We've sat down with Lindsay to chat about the trip, the good, the bad and the unforgettable, along with some top tips for families looking to hit the road in a Campervan.
Before we dive in, can you give us an overall visual of where you went?
Of course. So we made brief stops in Germany, Austria and Slovenia, then spent more time in Croatia, Montenegro, Albania and Italy. On our way back we stopped off in Belgium to visit my sister.
So cool! And who did you travel with?
With my husband David and three children aged 8, 6 and 6.
What inspired you to take this trip?
I wanted to reclaim the sense of adventure that I experienced backpacking in my teens. Seeing new places, meeting new people, trying different food. I wanted to recapture the excitement that comes from making up your own adventure as you go along and share that feeling with my kids.
I also felt time passes way too quickly and my children who I swear were babies just five minutes ago were growing up so fast, so I wanted to experience a slower pace of living by being in unfamiliar environments, removing other distractions and being totally immersed in something together; whether that be swimming in a lake or walking round an albanian town.
That sounds wonderful. But how easy was it to organise?
It couldn't have been easier! I can't think of another way to travel where you can plan *literally nothing* before you go. We had a very rough route in mind and booked our eurotunnel three days before we left. However, there are a few things you may want to consider or might make your plans a little more complicated:
Schengen
You can only spend 90 days of any 180 day period in the Schengen area. Many people are under the impression that the 90 days resets any time you leave but that is not the case. It didn't affect us on a 6 week trip but is really important if you are planning any more than 3 months.
Covid
At the time of this interview, a vaccination certificate is still required to cross the border to France – there were no other borders we crossed where this was required but you should check the countries you intend to travel to.
Time of year you are travelling
We went late May to early July, as we got deeper into summer and were travelling South we struggled with the heat. We ended up heading west to Italy rather than further South in Albania. I would have loved to get as far as Greece but we would either have needed to leave earlier in the year or start towards the end of the Summer so it gets cooler as you head further south.
Some brilliant tips. What aspects of Frida were really useful to you during your trip?
The triple bunks
Each child having their own permanent space is so valuable when you are squeezed in together for an extended period. Plus mummy and daddy love that they can put the kids to bed, close the curtains, then continue to hang out in the van.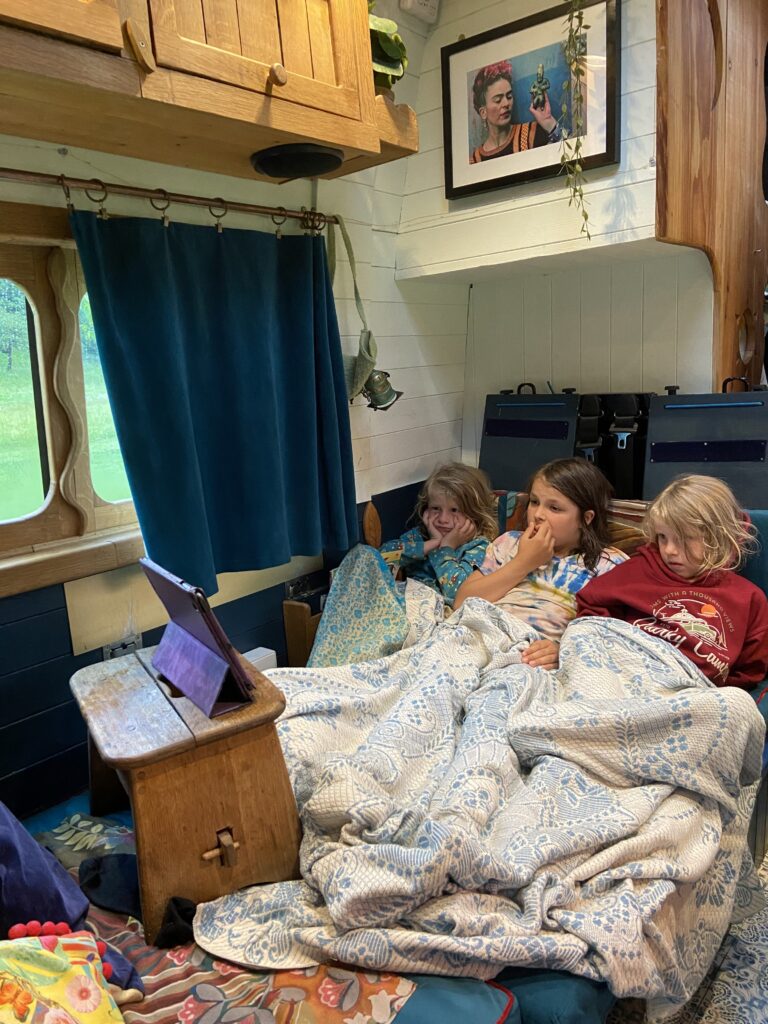 Our 'sofa mode'
This is a great place to chill in the shade, listen to audiobooks or even have a daytime snooze.
Train style seating
They can eat snacks and do colouring on the move. What's not to like?
The foot switch for the tap
A bit of an obscure one but hear me out. The tap only runs while you hold your foot down, So it's super useful for water saving, which is essential when you're off grid.
Clothes baskets
It's great that the kids can reach their own clothes storage. At home they are not great at getting themselves dressed so this has been a great opportunity for developing that skill!
(You can see all the pics I used to illustrate these here – https://www.instagram.com/p/CfCBnrKsIxe/)
Anything you struggled with or any lessons learnt?
We had not accounted for heat and mosquitos! Whilst we had windows and skylights, we didn't have a fan or any fly nets to cover the windows. To avoid getting covered in mossie bites we had to shut all our doors and windows every night which meant we were often too hot. The first thing we would do before another trip would be sorting mossie screens for the windows.
Another challenge was solar power. We have a complete off grid solar setup and a lithium battery which in theory means we never run out of power. However in European campsites the temperature is such that pitches are always in shade. The fridge was having to work really hard to keep up with the high temperatures and eventually we realised we had to make two changes – give up trying to use the freezer (sad to give up the homemade lollies!) and make sure that we spent a portion of each day in the sunshine.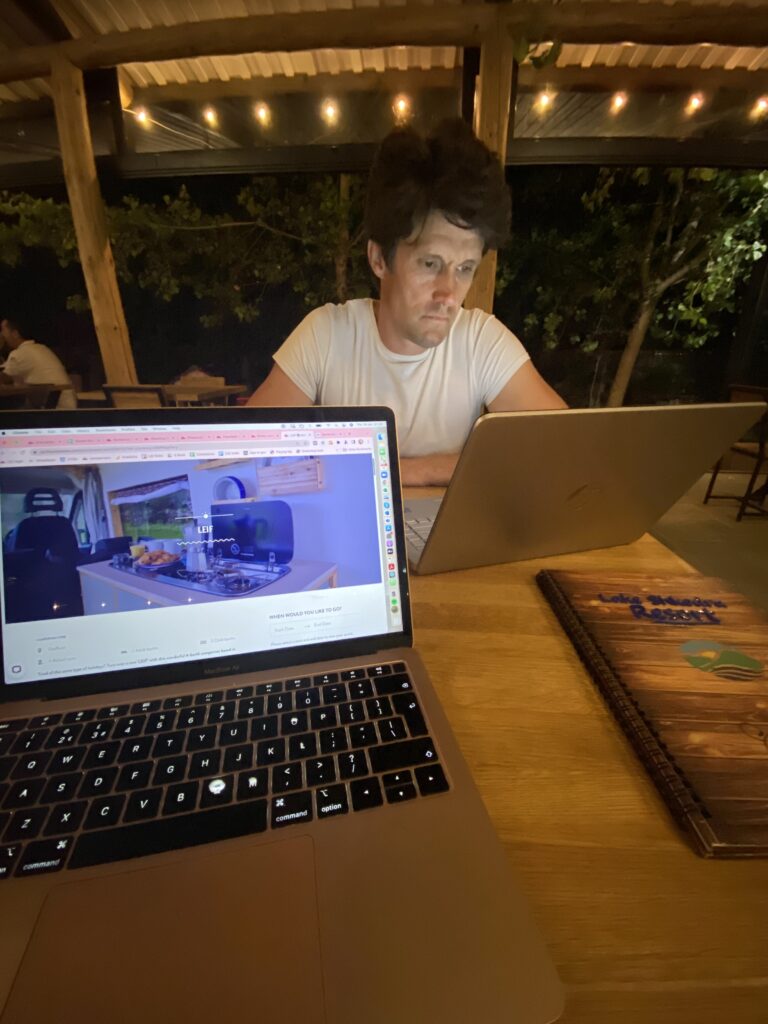 The last challenge we had was the internet. We ran out of data on our phones and found that campsite wifi systems were generally not good enough for the video calls we needed to do for work. Knowing this now, next time we will spend more time figuring out a reliable and affordable internet system. If you're not working on the road, then this isn't likely to be an issue.
Sounds like a few lessons learnt but great you know for next time. And did you eat out a lot or cook meals in the van?
As it was an extended trip we mostly cooked for ourselves for budget reasons. The exception was Albania, which was amazing and incredibly cheap and we treated ourselves to eating out almost every night!
Was there a daily budget you stuck to?
Our rough daily budget was £85 which included accommodation, fuel, food and activities for the five of us.
The main ways that we saved money were by not doing loads of sightseeing (the kids would prefer to spend all day swimming anyway), cooking our own meals and mixing up campsites and free parkups.
You could definitely do it for less by covering fewer miles and saving on fuel and by using exclusively free park ups or using something like Agricamper in Italy.
Wild park ups or campsites?
We found some beautiful park ups by lakes and sea (our number one criteria for anywhere we stayed). One of the most memorable spots was in a forest by the coast in Croatia, miles from the nearest other spot in complete peace and tranquillity. We made dens in the forest, fashioned a stool from fallen pine branches and foraged samphire.
However as time went on, our kids became keen to meet up with other kids; this drew us to campsites where we were more likely to bump into other families. This also allowed us to settle in for longer than a night or two which is always easier at a campsite.
Wow, sounds beautiful. What was your favourite part of the trip?
So many highlights! A huge part of the trip for all of us was spending so much time in water. I loved swimming before breakfast, after dinner and everything in between. Our older child really mastered his swimming technique including teaching himself butterfly stroke, while our girls went from using armbands to diving and swimming underwater.
The waterfalls in Krka national park were stunning, although we found it hard looking at all that beautiful water and not being able to get in!
We had an incredible 24 hours in Italy where we visited the Ancient Greek temples in Paestum, the Colosseum in Rome and the Leaning Tower of Pisa. Finished off by eating pizza in Pisa and a very late night walk back to our campsite! That was very memorable.
What were the children's favourite part of the trip?
Their highlights included befriending 3 kittens in the campsite in Krka national park (the waterfalls don't get a look in), traditional dancing in Albania, the Leaning Tower of Pisa and a campsite in the Black Forest of Germany which had two swimming pools and pony riding.
Fantastic! And what would your top tips be for families looking to do a similar trip across the pond?
Don't stress about packing – there is very little that you can't buy or hire if you really need it. You won't use 90% of the toys you take. We had paper and pencils which got lots of use and an emergency lego stash and that really was enough.
Plan for the children you have, rather than the children you see on Instagram. Our kids are basically interested in animals and swimming. They are not hikers or sightsee-ers. Of course you have to do the things that you love too, but trying to spend six weeks walking round museums and ruins would have been a recipe for misery!
Use the Park4night app to help you find park-ups and campsites. The functionality is great for helping you find stops along a particular route, all reviewed by people in campervans. Also look for similar park up apps/websites in the country you're in like Agricamper.
Plan around the weather – if it's due to rain it might be a good time to do your driving or for a city visit. If it's looking sunny, head for water.
Are you considering taking a European trip? Our bespoke handcrafted campers make the perfect travel companion. Browse our full collection of home on wheels here.