Rainy Day Activities in a Campervan
No matter what time of year you choose to getaway, travelling in Britain comes with the possibility of rain. The weatherman(or women!) could predict clear blue skies but when it comes to it you're caught out in nothing but a pair of shorts and flip flops. That's why campervans make the perfect travel companion in all weather conditions – you're never too far from a homely shelter.
There's also something deliciously satisfying about being snuggled up in a campervan when it's chucking it down outside. It could be the sound of raindrops smacking against the ceiling, being cosied up in a small space or the comfort of knowing you can spend the day in your pjs drinking copious amounts of tea without judgement.
So next time it's raining cats and dogs, don't fret – here are 10 fun things to do in a campervan when it's raining.
Board games
Whether you're into the classics like monopoly, cluedo and dominos or the wild new kids on the block; exploding kittens and cards against humanity – playing board games is arguably one of the most entertaining and easiest ways to pass the time when stuck indoors. Just remember to rein in your competitive side, it's all fun and games until someone flips the board (and maybe move all the breakables out of reach, just to be safe).
---
Read a book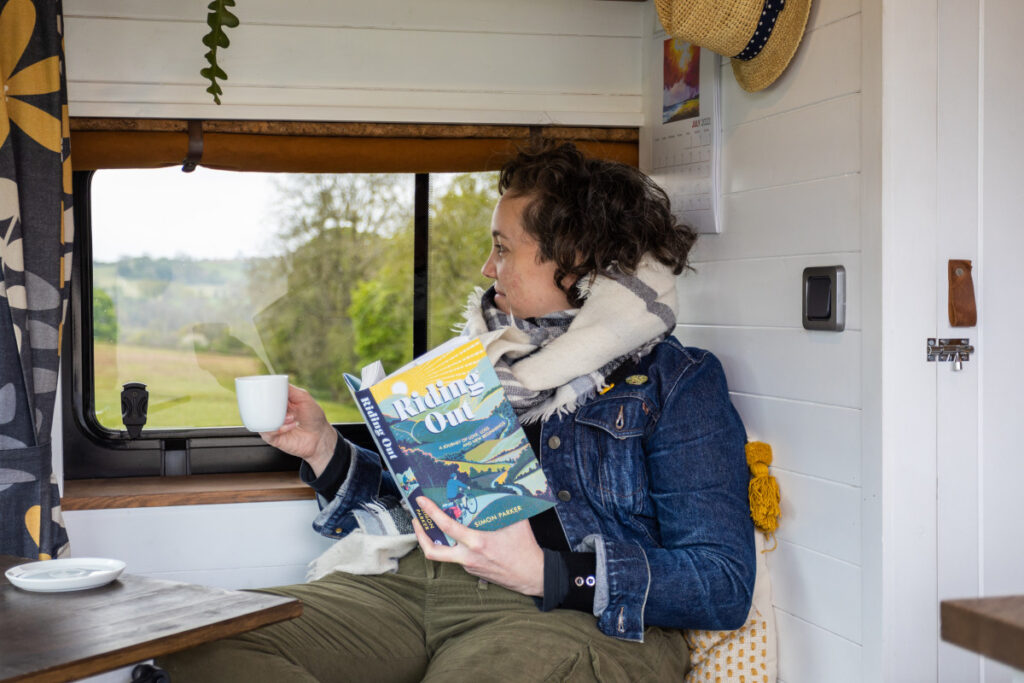 Don't want to head outside? Why not live vicariously through the adventures of your favourite characters? There's nothing more relaxing than sinking your teeth into a good book. And whilst it's still to be scientifically proven, the feeling of relaxation intensifies tenfold when you read during a rainstorm (fact!)
---
Baking
Cake baked in an omnia in Dolimoti by Brown Bird and Co.
Mary Berry, eat your heart out! Curling up inside with hot drinks calls for sweet treats. Baking is a great way to pass the time, plus there's nothing quite so lip smackingly satisfying as the scent of a freshly baked cake. All of our campervans come with fully equipped kitchen facilities; some even have a fridge to store leftovers.
---
Film night
Projector setup in the glorious Emilia.
Draw the curtains and pop that corn! A movie marathon is a fantastic way to spend the day when it's wet and cold outside. Many of our campervans come with an impressive projector setup, so you can get lost in your favourite movie wherever you go.
---
Campervan yoga
Don't let the rain hold you back from finding your inner peace. Simply roll out your matand make the most of your space, you can even incorporate work surfaces in your routine. Some of our campervans have awnings, so you can extend your yoga practice outdoors no matter the weather. Take a childs pose on your bed, practise your forward folds against the door, or use the counter top to stretch out the muscles of your back and shoulders, perfect post drive stretches! If you're stuck for ideas, check out this short video which demonstrates how to best use the space you have.
---
Arts and crafts
Children enjoying arts and crafts in Frida. 
Unleash your creativity in the world of arts and crafts. Painting, colouring, sewing – the possibilities are endless. Not only is it guaranteed to keep the kids entertained, it's something for you to lose your mind in too. Fridas' owners gift a colouring book and pencils for each and every hire – perfect for long journeys.
---
Listen to a podcast
Relaxing on the swivel seats in Wensley.
If you're feeling physically exhausted after a huge hike or you've spent your week staring at a screen for work, then listening to a podcast is the ideal rainy day activity for you. It doesn't require much brain power and won't strain your eyes. Simply kick back and listen. For those travelling with little ones, check out our favourite podcasts for children here.
---
DIY
Full time vanlifers, this ones for you. You know those little jobs which keep getting pushed to the bottom of your to do list? Or perhaps you have a zillion creative ideas that you've never had the time to do, like building in a bookshelf? Well a rainy day is the perfect excuse to lock yourself inside and crack on.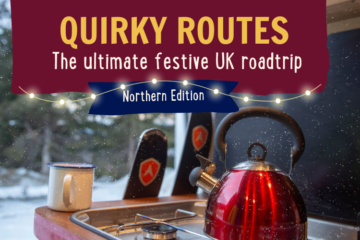 Are you a festive fiend or a grumpy Grinch? This season no matter what mood you're in, escape the normal and take yourself and …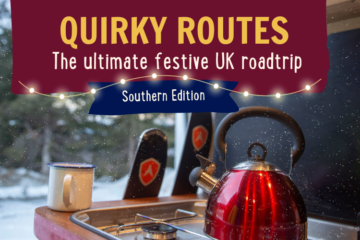 Are you a festive fiend or a grumpy Grinch? This season no matter what mood you're in, escape the normal and take yourself and …