The Ultimate Guide to the NC500
Welcome to your ultimate NC500 travel guide. In this guide you will find the answers to all your questions, including the ones you didn't know you needed to ask. From the best time of year to going to driving tips and rules of the road. Read on to become a NC500 expert.
What is the NC500?
The NC500 is a 516 mile stretch of stunning coastal scenery, rugged landscapes, jagged mountains and sandy beaches. Beginning and ending in the capital of the Scottish Highlands, Inverness, the circular route takes you across 6 regions: Inverness-shire, Black Isle, Sutherland, Wester Ross, Caithness and Easter Ross.
Originally created in 2015 to encourage visitors to this remote part of the country, the NC500 is now one of the most well-known road trip routes in the world. Touring the route via campervan / motorhome has become increasingly popular over the years, giving people the freedom to cruise the route at their own pace.
---
How long does the NC500 take to complete?
Some may argue the answer to this question is similar to 'How long is a piece of string?' as there are a number of factors that will influence how long it takes including how you plan to travel, who you are travelling with and how much you want to see.
Technically, you could complete the route in as little as three days but this is without stopping to take in many of the wondrous sights the NC500 has to offer. This is a route that was designed to be explored slowly!
We'd recommend setting aside a minimum of 5-7 days to get a true reflection of the experience and 10-14 days if you'd like to fully immerse yourself in the culture, enjoy the route at a more relaxed pace and maybe take a few detours.
If you're travelling with children, we'd recommend that you give yourself a minimum of 7 days as it's likely that they will require more frequent stop offs and activities to keep them entertained.
---
When is the best time of year to go?
The majority of people plan their trip between May and September. It's between this period that you'd find the most attractions and restaurants open, not to mention it being school holidays and the time of year where beautiful weather is much more likely than if you were to go in Winter.
If you're not attached to the expectation of dry days and sunshine and would much prefer the route to be quieter and more peaceful, we'd recommend planning your trip in early spring or winter as this is when the roads and park ups are most likely to be quieter.
Driving the route in a campervan eliminates your need for restaurants to be open as you have your own rolling restaurant on wheels. However, you will need to take into consideration that finding places to dispose of waste or freshen up may be more difficult because many campsites are closed during winter.
Now, let's talk about the elephant – or should we say midge in the room. Most people are under the impression that the peak season for midges is towards the end of summer, but locals will tell you July and August are the months where midges are at their worst.
Here is a breakdown of pros and cons for driving the NC500 in winter vs summer:
Summer
Pros:
Most attractions, campsites and restaurants are open
Greater chance of sunshine
Warmer water for wild swimming
Prices tend to be higher in peak season
Roads easier to drive on
Cons:
High season for midges
Busier roads, restaurants and hiking trails
Tends to be more expensive due to peak season inflation
Winter
Pros:
Tends to be a cheaper time to visit
Quieter roads
Fantastic photography opportunities of drastic climates
Less midges
Cons:
Rain is almost guaranteed
Less attractions open
Most campsites won't be open
More maintenance required on cars/campervans such as frozen windscreen, tyres etc
Roads may be harder to drive on due to ice and snow
---
Clockwise or anti-clockwise?
Perhaps the greatest debate of the NC500 is whether or not you should drive the route clockwise or anti-clockwise.
Being a circular route, most people's instinct is to complete it clockwise. However, once they've completed the route their main regret is not completing it counter clockwise starting from the East coast and heading down the West Coast.
The main reason for this is that the scenery gets increasingly impressive along the way which means you can end your trip with jaw dropping views and avoid an anti-climatic ending. If you're a less confident driver, going anti-clockwise will also avoid you driving the Bealach na Ba Pass on the first day.
It has been said that it is the passenger who will benefit the most from completing the route clockwise if you're driving a right handed vehicle. This is because the coastal views are often on the left. However, in our opinion the views are spectacular from all angles, so don't let that sway you too much.
Verdict: From research and experience, we'd say anti-clockwise is the way to go. Still unsure? A tip would be to check the weather forecast just before and decide on impulse. 
---
10 points of interest on the NC500
Applecross Pass – also known as Bealach na Bach – is a 5 mile long, single track mountain pass. Rising to heights of 2053ft, you can enjoy magnificent views over Loch Kishorn whilst taking on thrilling hairpin bends. Perhaps one to give a miss if you're driving a double decker bus!
Expert backpackers rejoice! The NC500 is home to one of the most challenging long hikes in the UK. Taking around 15-20 days to complete, the Cape Wrath Trail is not a hike to undertake lightly. Just bear in mind you will need compass and wilderness skills to complete.
Whilst shorter in distance than The Cape Wrath, Roggie Fall offers spectacular scenery. Descending through a mile of epic forestry to Blackwater River, this hike only takes an hour to complete making it a great trail for novice hikers.
Strathy Point Lighthouse is located at the tip of the peninsula between Cape Wrath and John O'Goats. There are a number of walking routes close by including a hike along the cliffs and rugged terrain. Or you can choose to dig into a picnic whilst partaking in a bit of seawatching – you may even spot a seal!
Nestled on the shores of Lochpool, Ullapool is a picturesque village bursting with pubs, shops and community spirit. From high street to beach in a mere 5 minutes, you will be spoilt for choice when it comes to finding a relaxing place to spend the afternoon. There are also a number of excellent hikes nearby.
A photographer's haven, the Duncansby Stacks are some of the greatest in the British Isles. April through to July is the best time of year for birdwatching, with the potential to spot Kittiwakes, Guillemots and even puffins!
Smoo Cave is a natural sea cave located in Durness. The cave itself is accessible free of charge 365 days a year via a walkway into the waterfall chamber. Guided tours are available from April through to October for those who would like to learn more about the natural and human history of the cave.
Tucked away in one of the most beautiful places in the world, the Three Sisters – also known as Bidean nam Bian Mountain – resides in the Valley Glen. There are also a number of beautiful walks nearby.
A must visit for anyone with four legged adventurers. Balnakeil Beach is a wide stretch of white sand and dunes, ready to be explored. On a clear day you can spot the Cape Wrath Lighthouse in the distance.
No NC500 trip would be complete without a obligatory photo in front of the John O'Groats signpost. Originally installed in 1964 to mark 'Journeys End', the very tip of mainland UK, it is a must visit spot along the route.
---
Fill up on fuel
A typical campervan will average around 20-35 miles per gallon which equates to about 4.39-7.69 miles per litre. This means that for the whole trip you would be estimated to spend £118.96-£206.87 on fuel, however, we recommend you setting aside an extra £50-£100 in your budget as the NC500 features a wide variety of roads and rough terrain which may equate to a lower mileage per litre.
Here is a list of some petrol stations en route in order of your journey (clockwise):
Tore Service Station (LPG available)
Applecross Community Filling (Card only)
Laide Post Office and Filling Station
---
What to bring
Whatever season you travel in, Scottish weather can be unpredictable and it's important that you prepare for rain in summer and sunshine in autumn.
Here's a list of essentials to remember:
Extra towels
A fleece
Waterproof gear
An umbrella
A map
Waterproof hiking boots
Suncream
Wetsuit
If you plan to travel in the height of winter, we'd also recommend packing extra socks, gloves, thermal wear and plenty of hot water bottles if your campervan doesn't have heating facilities.
---
Driving tips and rules of the road
Make sure your trip goes as smoothly as possible with our NC500 driving tips.
Plan ahead
The NC500 is made up of predominantly narrow country roads which don't allow much room for manoeuvring so it's crucial that you plan ahead. Familiarise yourself with your van measurements and check for passes that have a weight or height limit. Phone signal is intermittent in the highlands which is why we recommend being prepared with a plan B and C to avoid getting lost in the middle of nowhere.
Passing places
When driving on a single track road, it's even more crucial for you to be aware of upcoming traffic. Along country roads there will be a number of passing places, usually signed like the image above.
One of the main things to remember when it comes to passing places is this: if a vehicle is approaching you and the passing place is on your right hand side, do not cross over. Instead wait on the left hand side and allow the oncoming vehicle to enter the passing place.
There are times where two vehicles may meet in the middle of a road. If this is the case, it's the person closest to a passing place on their side of the road to reverse into it.
Follow the rules of the road
Watch your speed! – while the maximum speed limit on a single track road is 60mph, it's not recommended you drive at this speed.
Keep to your side – always drive on the left or as much on the left as possible.
One drink could hurt – drink driving limits are enforced more strictly in Scotland than the rest of the UK. We'd recommend not touching any alcohol until driving is done.
Mind the sheep – you're likely to encounter wildstock and wildlife on your travels. When you do come across them, be patient, slow down and give them plenty of room when passing.
Approach with caution – there are many sharp corners and blind summits along the NC500, so make sure you approach at a low speed.
And last but not least, be friendly!
---
Campervans to hire in and near Scotland
Now you have all the information you need, it's time to choose how you're going to experience it. Quirky Campers have a campervan to suit all types of NC500 adventures from an action packed family holiday to solo expedition.
Location: Glasgow | Berth: 2
What better way to immerse yourself in Scotland than with the Scottish princess herself, Merida. Her impeccable style and charm is bound to make your instagram feed come to life. Just picture pulling up by a loch, lighting the fire and enjoying a glass of your favourite wine.
Location: Glasgow | Berth: 2
Taken straight from the pages of a Scottish fairytale, Fauna is prepared for many types of adventures whether it be a solo wanderer looking to escape the hustle and bustle of city life or a couple seeking a romantic base to return to after a day exploring everything the NC500 has to offer.
Location: Edinburgh | Berth: 4
Don't go breaking his heart, pick Elton for your NC500 adventure. Sleeping two in a rock 'n'roll bed and two in a pop top, Elton is the epitome of versatility and is the ideal choice for people with mini explorers in tow.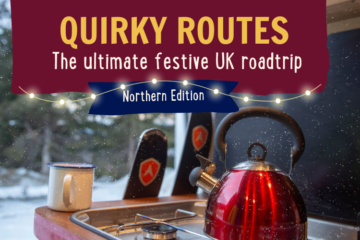 Are you a festive fiend or a grumpy Grinch? This season no matter what mood you're in, escape the normal and take yourself and …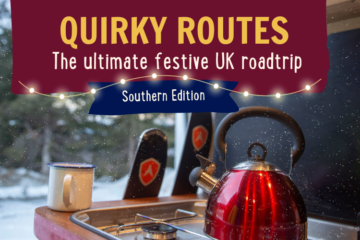 Are you a festive fiend or a grumpy Grinch? This season no matter what mood you're in, escape the normal and take yourself and …