Travelling Europe in a larger Campervan
'Are you sure we'll get up there… is it too tight for us? Watch the pothole!'
With thanks to our guest bloggers Jessica and Tyler.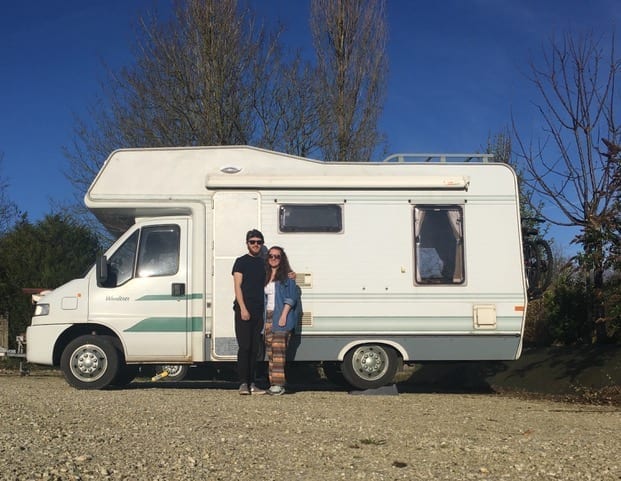 Our vanlife started with a much smaller van
Living on the road is very new to us. We are learning every day – from others around us and by following in the footsteps of fellow van friends. One thing makes us a little different to many other vanlifers our age… we don't have a campervan as such.
Our travel dream started with a Talbot camper, we loved her. We took her on in an absolute state, gave her much needed TLC and nursed her back to health. But we realised that our much-loved van was just not practical enough to take on the road for our 9-month travels. Hamlet was bought – our 23-year-old motorhome – it was perfect for us. So we set off on our tour of Europe!
So far we have visited Northern and Western France, Northern Spain and the coast of Portugal. France by far has been the best place for finding amazing places to stay. There are loads of Aires that are easy access for all vans; but we love that there's much more freedom to wild camp in Portugal, although not all have easy access. We are 3 months into our travels now, so still very new to the life… but from our little experience, we have gained some handy tips for touring in a larger campervan or motorhome!
One thing we love about vanlife is finding new places to explore and finding amazing things to see and do. Discovering new cultures and experiences is what travelling is all about right… but when you're new to the country and area where do you start? Our favourite way is simply learning from everyone else! Filled up from dinner, we sit and search through blogs and Instagram pages of fellow young people living life on the road. Often getting into contact with people to ask for recommendations and ideas, but in a bigger and older van, some places aren't as accessible for us; there are just a few things we have to consider differently from our fellow vanlifers.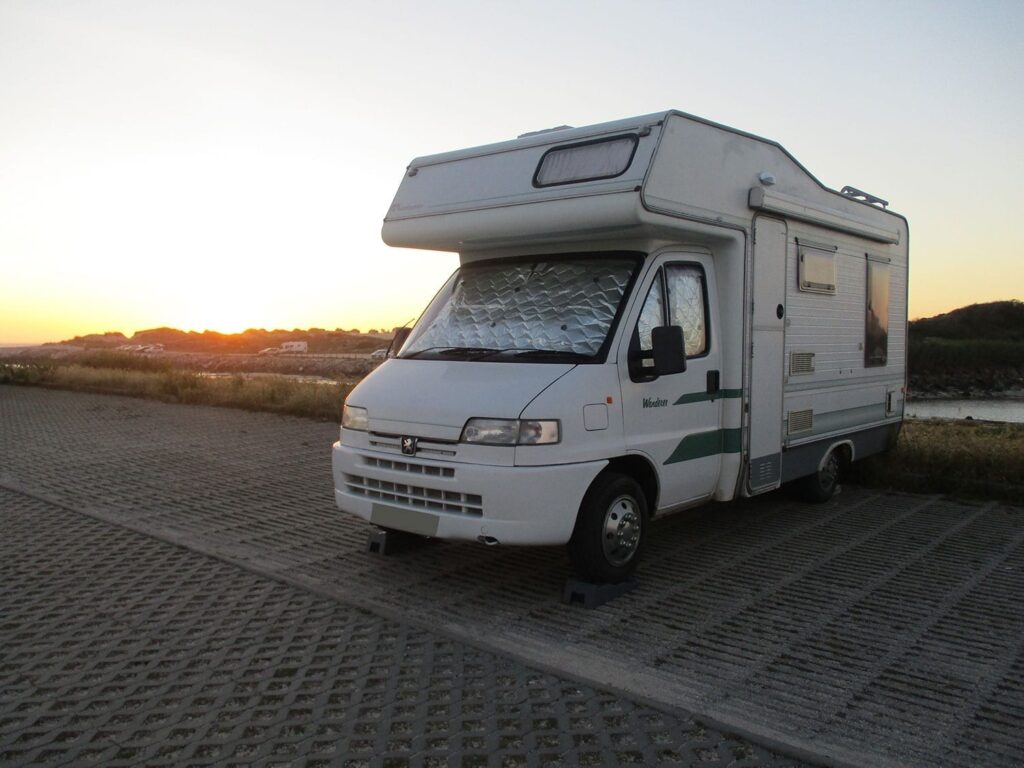 Pick locations our van can handle
Maybe a weird one – or self-explanatory to people who are hot on geography (not us) – but the first thing you really need to consider is what the area is like. What we mean is, don't visit Andorra for example, when your van can't easily drive up mountains. Knowing your surroundings is a massive help. A quick search on an area can give you a rough idea of the roads leading to and from where you want to visit; getting you out of those squeaky bum moments.
Our van is 3.5 tonne, so not heavy at all, but due to the age and only having a 1.9 diesel engine; hills/mountainous areas are a struggle for us. Northern Spain was not great; as many of the roads were long, steep hills… driving in 2nd gear for 5km is not fun at all! Although we do love being up in the mountains, and have successfully visited some very steep areas; it's not a pleasant drive, so we pick wisely.
Beware the road conditions
Road conditions matter a fair bit when you're a larger van; something we didn't really think about before our trip. Again, it's good to bear in mind what landscape is around the region you wish to visit. We're not city people and like to visit less 'tourist' focused places to see the real area; we have not driven on a toll road yet. In France, we found this was fine, as roads are well maintained. But in some places, they quite clearly don't have a local pot hole police moaning to the council! So, often any road other than a motorway feels like you're driving over a million Lego pieces; which doesn't make a pleasant drive. Sticking to main roads is best if you've got a larger (or an older) van like us.
When we're going to a particular destination, we like to know as much about the access road, as the destination itself. There's nothing worse than being excited to visit somewhere, turning up and not feeling comfortable enough to drive the van down. If there's a place we really want to visit, but aren't sure of the access, we will find a safe place to park and walk the road to make sure we're happy to drive down. There's been times when we've just risked it for the most beautiful spots, but like you're all told… pick your battles. There's no point getting yourself stressed out when there's always somewhere else that's just as good!
Rain, hail or shine… but no wind please!
Now us Brits love to hunt for a little bit of sunshine… just as long as it's not too hot; because we'll moan about that. But travelling Europe, whatever the time of year, sunshine is not always on the menu. Give us sun, rain, snow, hail, thunder, lightning… anything but wind!
Wind is the worst thing for us in our van. Our suspension is very spongy due to its age, meaning we feel every little bump and definitely every bit of wind. Knowing the weather conditions of where we want to stay is an absolute must. We have had far too many sleepless nights because of the wind swaying us about; it's not nice at all and at times quite scary. Crossing bridges can be an awful experience too, if it's windy; stopping the wind from pulling you on to the other side of the road is not ideal. We've also seen stories of vans that are tipped over by the wind and we really don't want that to happen to us; I'm sure it's not something you would want to experience either!
We always make sure we know a week in advance the weather predictions of where we are or where we're travelling to; making different travelling decisions if needs be. When we first started travelling, Storm Gareth was hitting. So we made the decision to make a rather large detour further into the centre, to miss the 70mph wind; but we still got 40mph gusts! We found somewhere we were completely sheltered and battened down the hatches for a few days. It was the best decision; it's not good for us and it's not fair to put the van through it either. Sometimes the best thing to do is just avoid it. Getting a good weather or wind app is a great help, it will tell you the exact direction of the wind and you can park the van to avoid it a little. We've found it best to park with the wind hitting the front or back.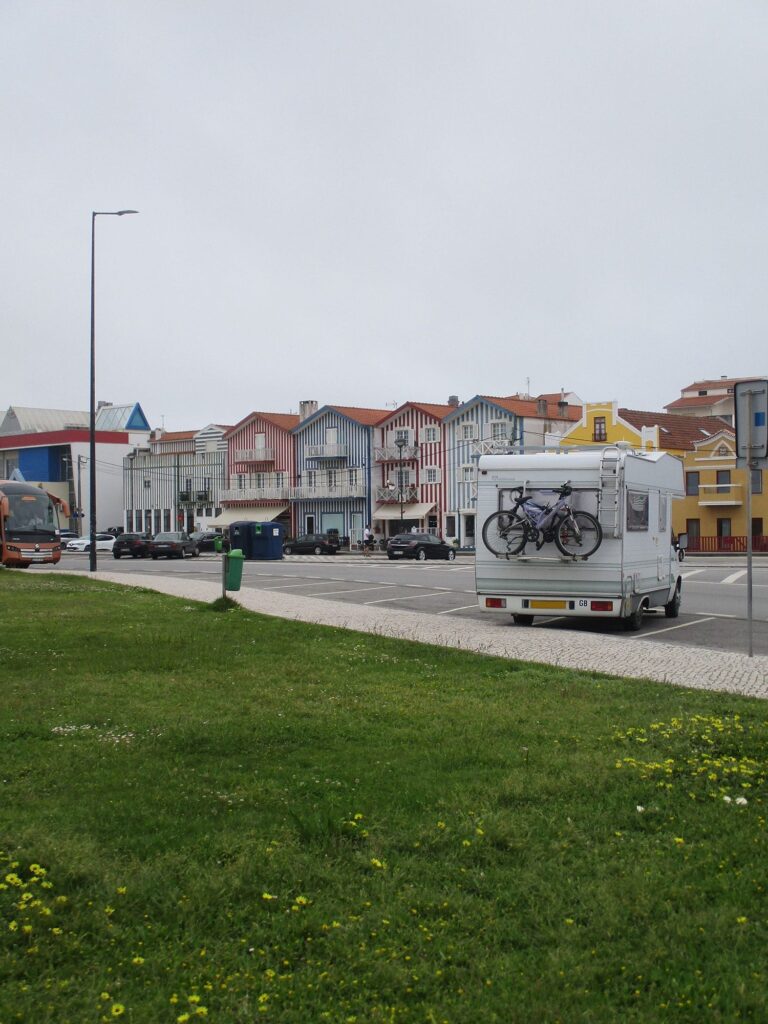 We love our sat nav!
Never in our lives did we imagine how much we could love our sat nav. Honestly, we couldn't be without it. Travelling has been so much easier and a lot less stressful.
We were very lucky that we have a family member who used to be a lorry driver, and they kindly gave us their TomTom lorry sat nav. With the lorry sat nav, you are able to create a profile for your vehicle and input all your dimensions. It will then avoid all roads that are not suitable for your size; including bridges and narrow roads etc. We've also set it to avoid toll roads.
Another plus is the sat nav will let you know speed limits and make you aware of any restrictions. This is great in some areas that aren't the best at letting you know the speed limits. While we were in Spain there was a worldwide update on the satellites, which stopped our sat nav from working and we had no computer to update it! We had to use Apple maps to get us places and it was such a struggle. So the best thing you could do is buy a lorry/camper sat nav! It might be a little pricey, but will 100% be worth it.
Think about where you're going to sleep
It's a little bit weird thinking where to sleep when most of our lives you don't have to! We make our bedrooms pretty to look at, so your mobile bedroom has to be just as pretty right? Nothing worse than waking up somewhere that makes you feel rubbish as soon as you open the curtains.
Our parents bought us the "All the Aires" book for France, Spain and Portugal. This was such a fab start for us to get settled into finding great, free and paid for places to stay. In France, the book was absolutely great; in fact we used nothing else. There are such amazing places in there from city stops, beach sites, to tiny rural villages. Really, we were spoilt for choice. There are free stops everywhere, that are all designated stops for campers and nearly all have water filling, grey and black emptying points. We even found an Aire that had all free services and free electricity points!
In Spain and Portugal there are significantly less official Aires, so our new best friend has been apps! We have always had them as a backup to check reviews of a place, but in Spain and Portugal, we have completely relied on them. There is a lot more freedom to wild camp in Portugal, because of the lack of official Aires; but in season and in certain areas, the police do not allow overnight parking. Without using the apps to check if others have been able to stay there, it could mean you have the police moving you on at 1am; or worst case, an on the spot fine… something nobody wants!
We use both Park4night (P4N) and Searchforsites (SFS) and have paid for their yearly subscription so we can use them offline. We find that P4N is better, as a lot more people use this and update regularly with reviews and new camping spots. But SFS is very useful too, and we like to try and look at reviews from both apps when choosing places to stay. Also, on P4N, it is much easier to see if other large vans have been to the spot, to see if it's suitable for yours. As a rule of thumb, we never attempt a spot where only smaller campervans have left reviews, and head for where at least high profile motorhomes, or A Class motorhomes have attempted. There is no such thing as too much information; so go to places that have easy access, great reviews and are out of the way! And most importantly… always leave a review!
We hope that although small, our tips will help you to have stress-free and safe travels. Enjoy every minute of it, it is the greatest decision we ever made. Take your time, enjoy every place you visit and fill yourselves with new and exciting experiences.
Safe journeys and happy travels in your campervan!
Wondering if you'll need a small or large campervan? Read why Naomi thinks small is the way to go or check out our collection of campervans.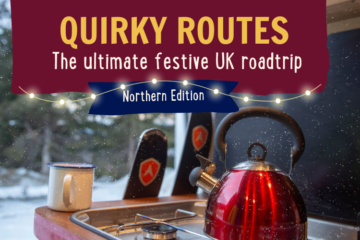 Are you a festive fiend or a grumpy Grinch? This season no matter what mood you're in, escape the normal and take yourself and …