Wales road trip itinerary by campervan
I am taking over the blog today, to talk to you about my experience with the wonderful Asha and to share our Wales road trip itinerary. But before I begin, who am I? I'm Max Cantellow, a 24 year old London based photographer, who recently moved back from reading a Master's at the University of Amsterdam. I have spent the past 7 months travelling around our glorious planet and documenting my adventures on my Instagram channel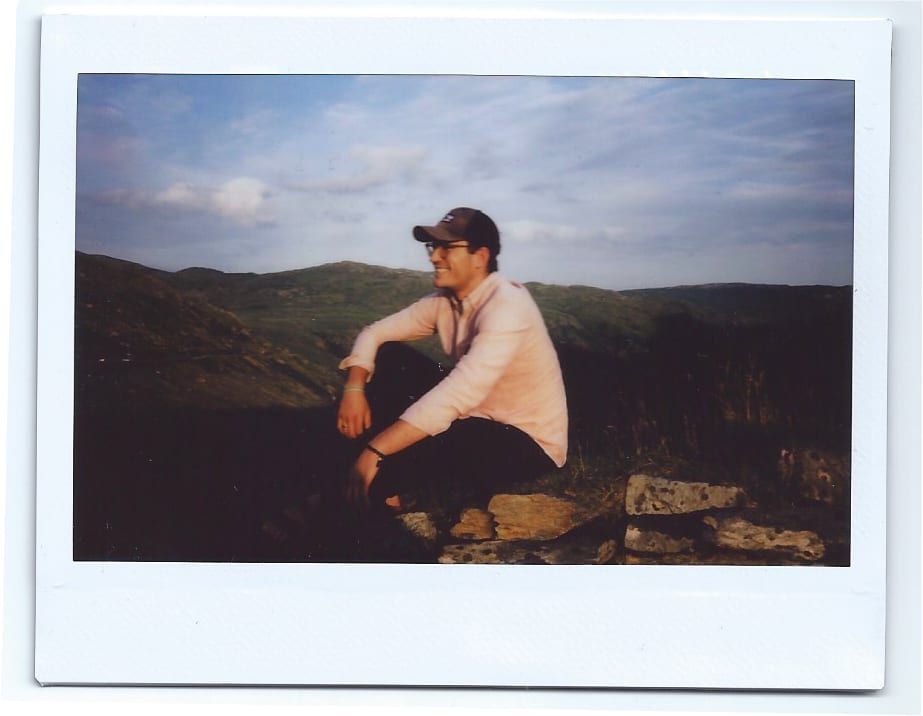 I approached Quirky Campers after being intrigued by an article about them in The Guardian and was in complete admiration of their concept, the array of campers their site offered and genuinely inspired by the creativity & passion that drove the design features of each quirky campervan.
"Travel Wales!" They said, and oh did I.
---
Now let's get into the nitty gritty of our road trip to Wales and our itinerary.
I was honoured to be part of the first guest group to adventure in Asha. We took her over 1,000 Miles across the UK from Norwich to travel Wales, in particular exploring the beautiful landscape North Wales has to offer. Originally a delivery van, Asha was transformed by its owner – John – using recycled materials and nearly 2,000 painstaking hours. I was impressed by John's creativity and passion to repurpose the van using recycled materials. From its wooden floor, old school desks for tables, to housing the drinking vessels in what used to be a clock face. Not to mention its wood-burning heater for the unpredictable UK weather!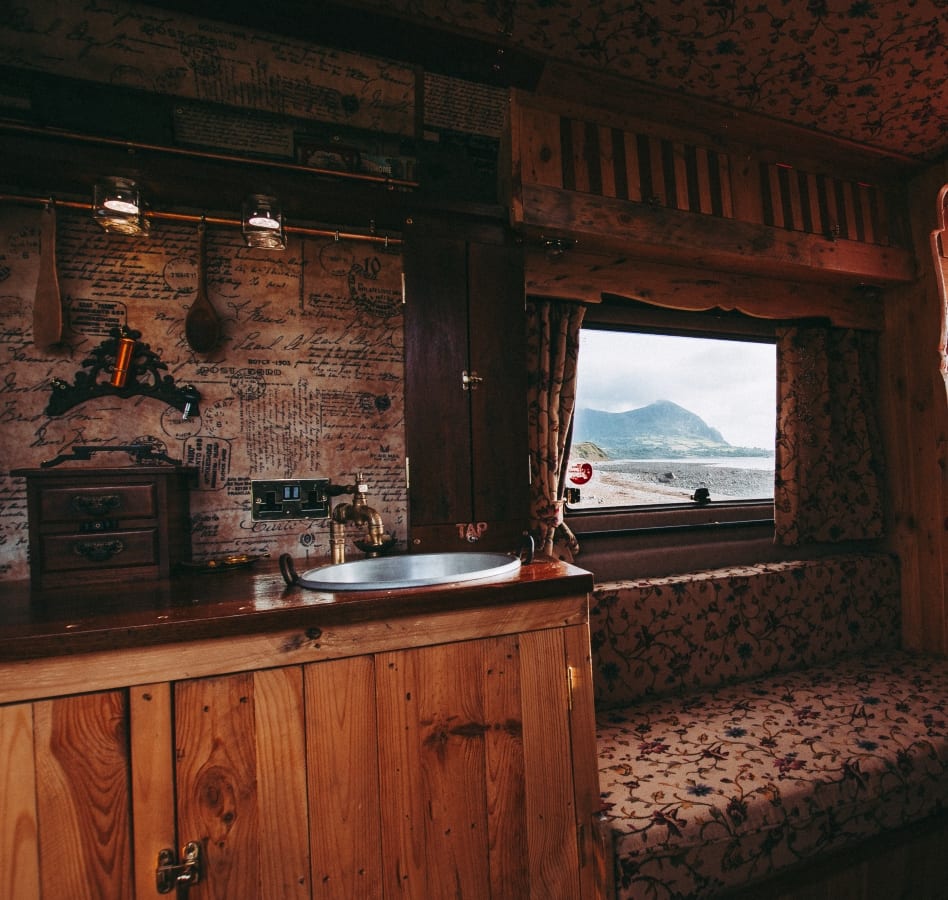 WALES ROAD TRIP ITINERARY
DAY ONE:
The Journey Begins
We departed from London ~ 116 miles to Norwich to meet John, Sue and Asha for the first time. When we picked up the van, John and Sue were a dream. They were super helpful in answering our queries (as we were all new to this!) and concerns with the van. From how to get the log fire on, to how to use the compost toilet, to the best ways of driving the rather large vehicle that is Asha. Honestly – they were great! Answered all our questions with detail and provided their experience with Asha and camping around the UK in general.
I mentioned that I wanted to venture across the width of the UK, to travel Wales and the beautiful scenery that Snowdonia National Park has to offer. Already day one had put a fair few miles into our journey, so Sue and John suggested we stayed at Abbey Farm Campsite. This would allow us to cover enough ground to ensure that we could wake up in Wales and head straight up into the mountains in the morning.
DAY TWO:
Exploring Snowdonia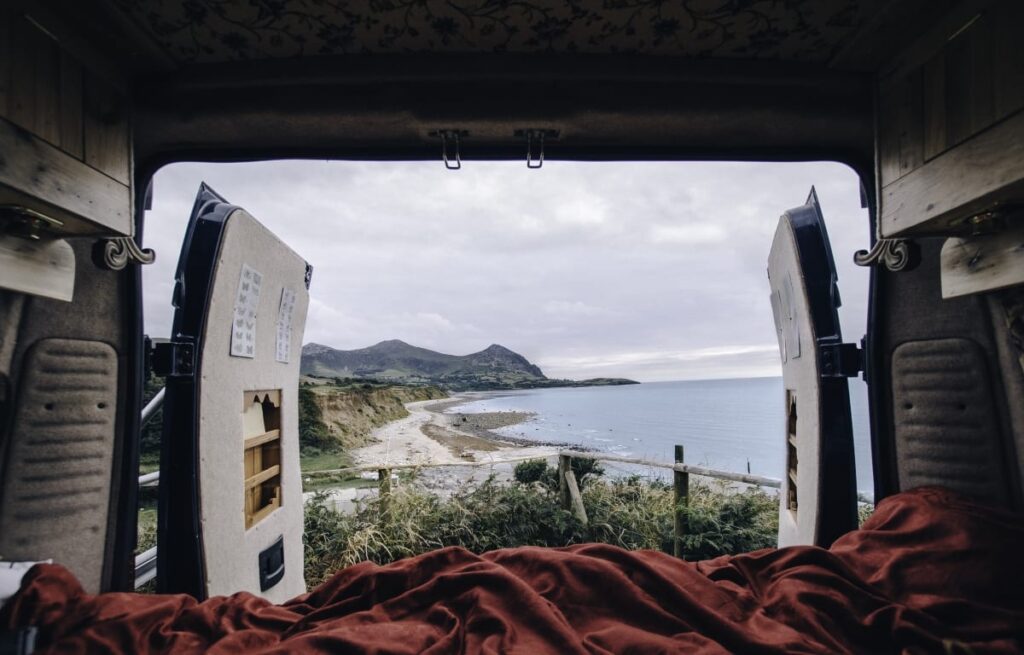 We all woke up rather sprightly after our first night glamping in Asha. Excited for the day ahead, we nipped across the field to the Abbey Farm  campsite café for a full English breakfast and a cuppa. The best way to start the day. We headed to Nantcol Waterfalls, while aimlessly taking detours and roads that took our fancy on the way. Trying our best to explore Wales, while also pushing Asha to her limits, I can assure you some of the roads were incredibly bendy and tight – she performed wonderfully! Through some on the road research and 2G phone signal, we managed to find an ideal campsite. Something a bit less 'campervan structured', and something with a coastline view to wake up too.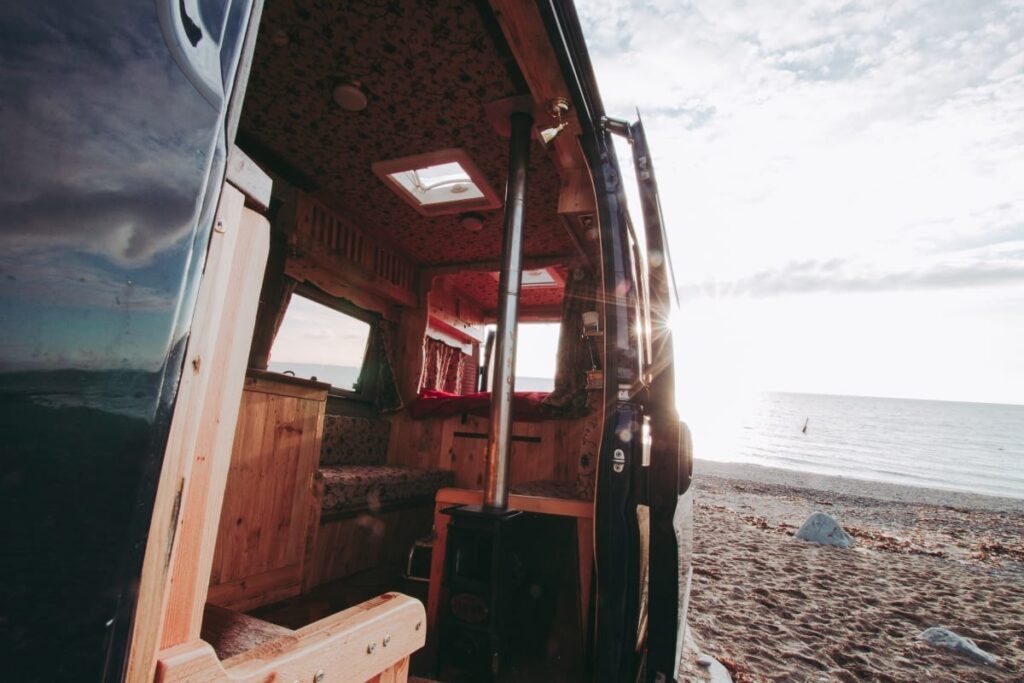 Thankfully we found it, a beautiful campsite called Aberafon Camping and Caravan Site, which allows you to drive your camper right up to what feels like the waters edge. Upon pulling in, we slid open the delivery van doors, got the tables and chairs out. A glass of red wine in hand and the sun setting in the background.
What more could a man ask for.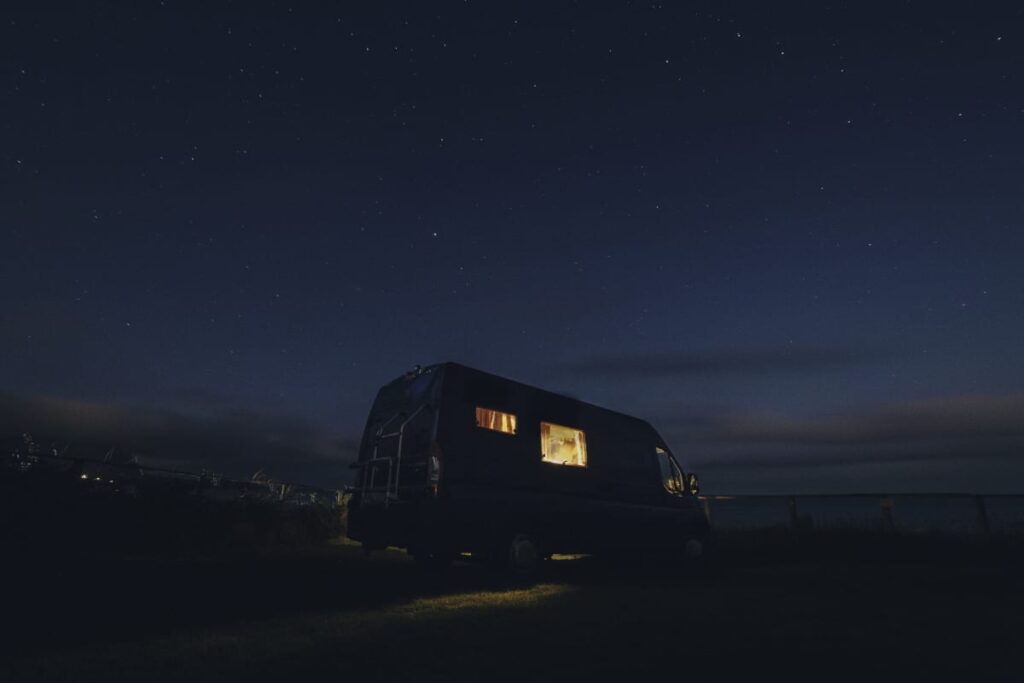 DAY THREE:
We don't want to leave!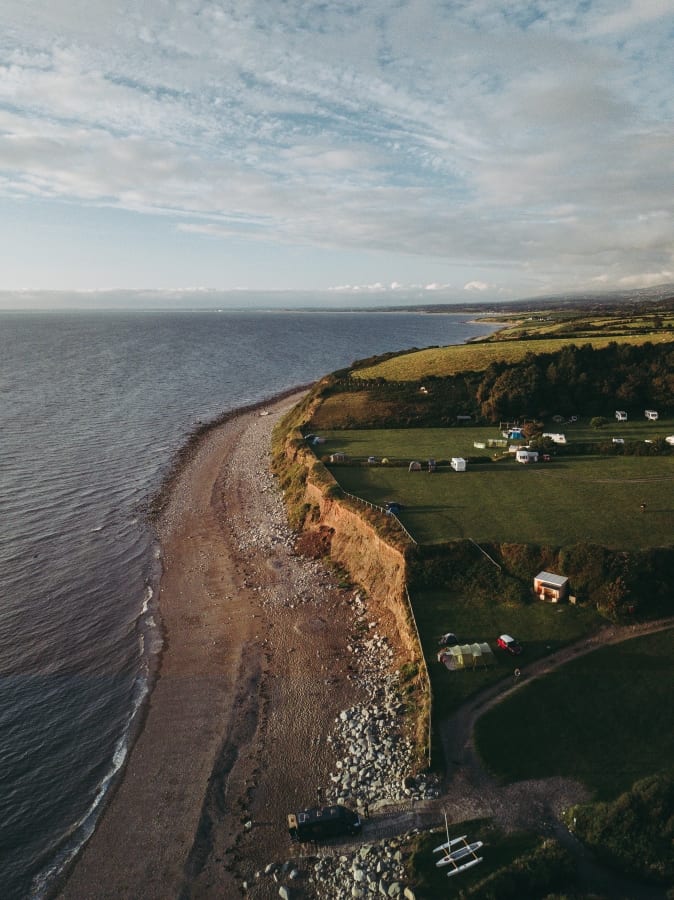 After waking to the beautiful coastline scenery of North Wales, we faffed around with our morning, with a slow breakfast and pack up, allowing the British summer rain showers to hit us. Perhaps, that final glass of red wine wasn't really necessary…
Unfazed, we all sat in the van, looking out to the rain streaming down the windows. Chatting and waiting for the rain to calm down before venturing further into the National Park and North Wales.
Finally we managed to get Asha (or our selves) into 1st gear and climb the steep, country lane. We left the tranquillity of Aberafon in hunt for a traditional Welsh meal. After some more relatively efficient 2G phone research, we came across the Black Boy Inn. A pub situated in the historical town of Caernarfon in North Wales. The late lunch brought us perfectly into the sun setting across Snowdonia National Park. Golden hour had hit us, with full bellies and not a rain drop in site – we headed out for a few photo missions.   
We captured some beautiful light from the sunset with Noah, my trusted drone. Then decided we enjoyed our stay at Aberafon so much so we returned for a second night!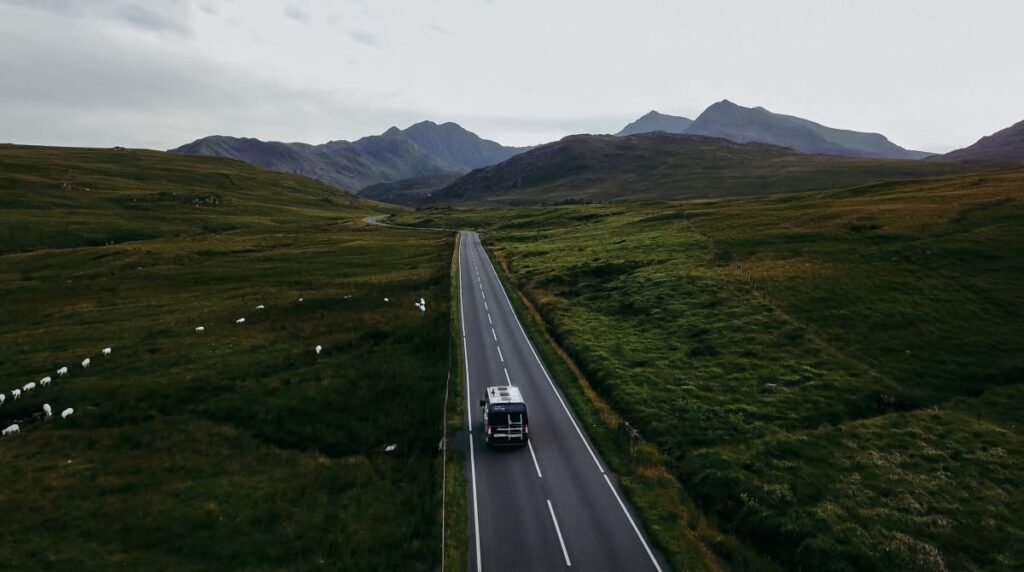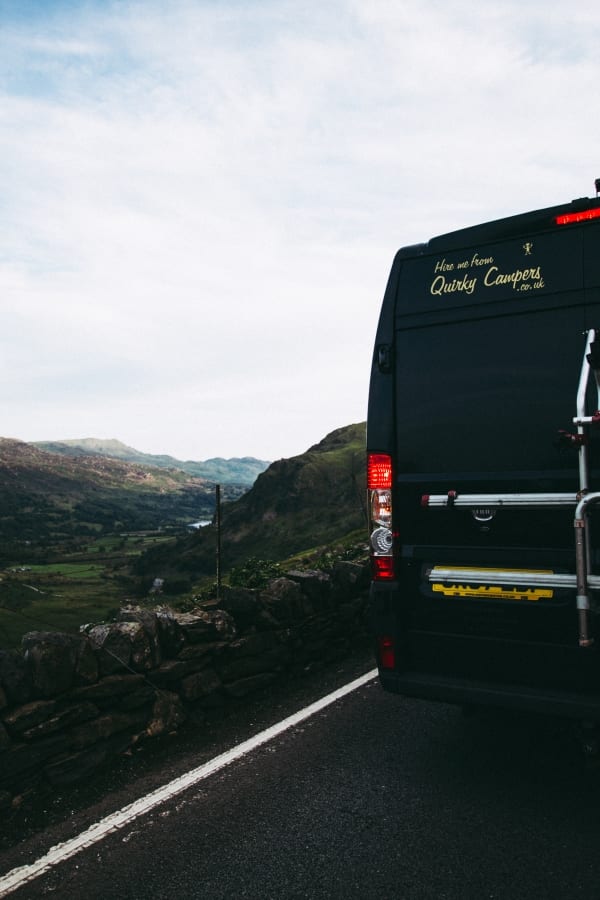 The evening was then spent with the log fire on, perhaps another bottle of red wine, 'home' / van cooked food, a game or two of chess and not to mention great company & conversation.
DAY FOUR:
The Big Slog
We decided to minimise the stress of returning Asha back before midday. So we planned to drive for as long as we could to get as close to Norwich as possible. So, from the coastline of Wales at the Aberafon campsite, we went East for hundreds of miles. Until about 9pm, we realised we still hadn't organised a campsite for our evenings stay. I had my co-captain James frantically calling places to see if they could squeeze us in, with a late check in and early start. We found a campsite we are happy with, and rolled into their gates at around 1am. Slightly tired, perhaps a bit more grump with one another than we initially intended, we set about to enjoy our final evening in Asha. Food was made, corks were popped and our typical Asha evening was in full swing.
DAY FIVE:
The Return
A comparatively early morning rise to get Asha back to John and Sue. After so many miles in Asha, it felt truly like home by the end of the trip, and were all sad to say goodbye. It was a once in a lifetime experience, that I know myself and my friends will cherish. Asha gave us a truly liberating experience, ultimate freedom to explore the UK's fantastic scenery – in absolute comfort & style.
Asha is truly a home with a thousand views, expertly crafted and maintained by John & Sue, would highly recommend this experience to anyone.
So, get out your comfort zone, travel to Wales, or anywhere, and go explore!
Many thanks to John, Sue and Lindsay from the Quirky Campers team for helping organise the trip.
From, Max