Your Campervan Spring Clean Checklist
Can you feel that? It feels like spring! Sunshine seeping through your skin, that gentle floral breeze brushing past your nostrils and burning red sunsets setting the sky alight. There's something about this time of year that just makes you feel all shiny and new. Doesn't your campervan deserve to feel the same?
As you prepare yourself for a new season of sunshine induced adventures, it's a great time to dust away any cobwebs the Winter months left behind. We get it, not everyone is a natural Monica Geller and you may be asking yourself, 'Where do I even start?' That's why we have created your very own spring clean checklist, with everything you need to get your campervan looking fresh as a daisy this Spring!
Reorganise your food cupboards and clean your refrigerator
This is one of those jobs that you may find yourself regretting as soon as you start, but it is also one of the most satisfying tasks you can do. It also gives you a handy perspective on how much food you have in (Imagine rediscovering that lost tin of beans at the back of the cupboard – you can finally fulfil your craving for beans on toast!)
---
Clean out your water tanks
Clean water tanks are a must before hitting the road in your camper. The water from your tanks is used to wash vegetables and fruit, clean you in the shower and supply you with water to drink, which is why it's vital that the tanks and pipes are clean and free of bacteria. Also don't neglect the waste tank; whilst we don't consume the water that goes in there, if left, the stench when emptying is enough to make your stomach turn. So it's definitely a good idea to give it a spruce every once in a while.
---
A lick of paint goes along way
Chipped paint marks, greasy fingerprints, and dirt splodges kindly brushed across your cabinets by your furry friends – these things are unavoidable, but it's nothing that a lick of paint can't fix. This is something that will visually make a huge difference and may only take you 5-10 minutes to complete.
---
Reorganise your cupboards and storage spaces
Space is one of the biggest hurdles you can face when owning a campervan, each and every square inch is precious. Reorganising may also inspire you to find some new space saving hacks, in the words of Blue Peter, here's some we prepared earlier on our previous blogs!
---
Put your cushion covers and blankets in a hot wash
Cushion covers can be deceptive; whilst they may appear on the surface to be devoid of dirt marks, grime can live deep within your fabric. Sometimes it can only be fully removed when given a long soak or taken for a spin in a washing machine. Just make sure you follow any washing instructions on the label to avoid colours fading or fabric shrinkage.
---
Scrub your solar panels
Power doesn't grow on trees and if you're wanting to get the most out of your solar panels, you need to keep them shiny and clean. Make sure there are no obstructions such as dirt or dust stopping your solar panels from working to their full potential, and generating you as much energy as possible.
---
Treat your campervan to an exterior wash down
Whether your campervan spent the colder months tucked away on your driveway or splashing through muddy puddles on the road, it's bound to have lost some of its sparkle. Washing away any grime, dirt and loose leaves allows your camper to shine from the outside in and reduces the risk of mould and rust.
---
Clear and hoover your cab area
The cab area is often also referred to as a dumping ground, a place to hide away things that you don't use on a frequent basis. When out of sight, these things often stay out of mind and you may be hanging on to things you no longer need. There's no better time to empty everything out. Why not take it one step further and treat yourself to a new air freshener? You've earned it!
---
Quirky's Top Tips
Turn the music up
'ALEXA…Volume up!' Blast your favourite tunes or search for a cleaning playlist on spotify. Music is a vital part of any cleaning spree.
Take regular breaks
It's important to remember it's a marathon not a sprint. Spring cleaning is not something you want to shortcut or skimp on. The more you put in the more you will get out.
Reward yourself
For those who find it difficult to stay motivated when cleaning, putting a reward system in place can be very helpful. Even if it's just a cuppa and a biscuit between tasks.
Open all doors and windows
Sunlight is nature's energy bar and will keep you going when you start to flag. It's also a chance to air out any unwanted odours.
Four hands are better than two
Not every friend will jump for joy at the idea of cleaning but you'd be surprised. There's usually that one friend who loves organising, so why not give them a call? This will not only save you time, it also makes spring cleaning much more enjoyable.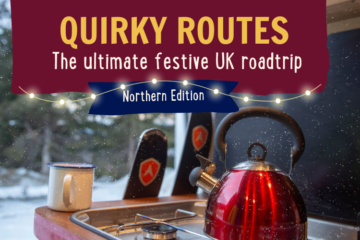 Are you a festive fiend or a grumpy Grinch? This season no matter what mood you're in, escape the normal and take yourself and …