If you're thinking of having an alternative wedding, questions such as where you will sleep, get ready and travel to and from the venue will certainly cross your mind. We think we have the answer: wedding campervan hire with Quirky Campers! Why? Here are just 5 reasons:
1. Getting ready on your wedding day
Whether you're considering an outdoor or festival style wedding, one thing to consider is where you will get ready. A campervan is the perfect solution. Providing a place to hang your clothes, have your hair and makeup done and even have a shower! It gives you a sense of luxury and privacy, without having to leave the rest of your guests and go and stay in a hotel.
Quirky Campers has a wide selection of options available – vans with heaps of storage, seating and space to accommodate your wedding needs.
2. Campervans are the best accommodation
Campervans are versatile. They enable you to travel comfortably to and from the venue. And it goes without saying that they are cosy and romantic for your accommodation for before, during and after your wedding. What is more, the size of our fleet means that you could also offer Quirky Campers as the accommodation for your guests, family, bands or people who are playing a special role in your wedding. If you are booking multiple vans then it's likely we'll be able to offer you a discount.
3. Kids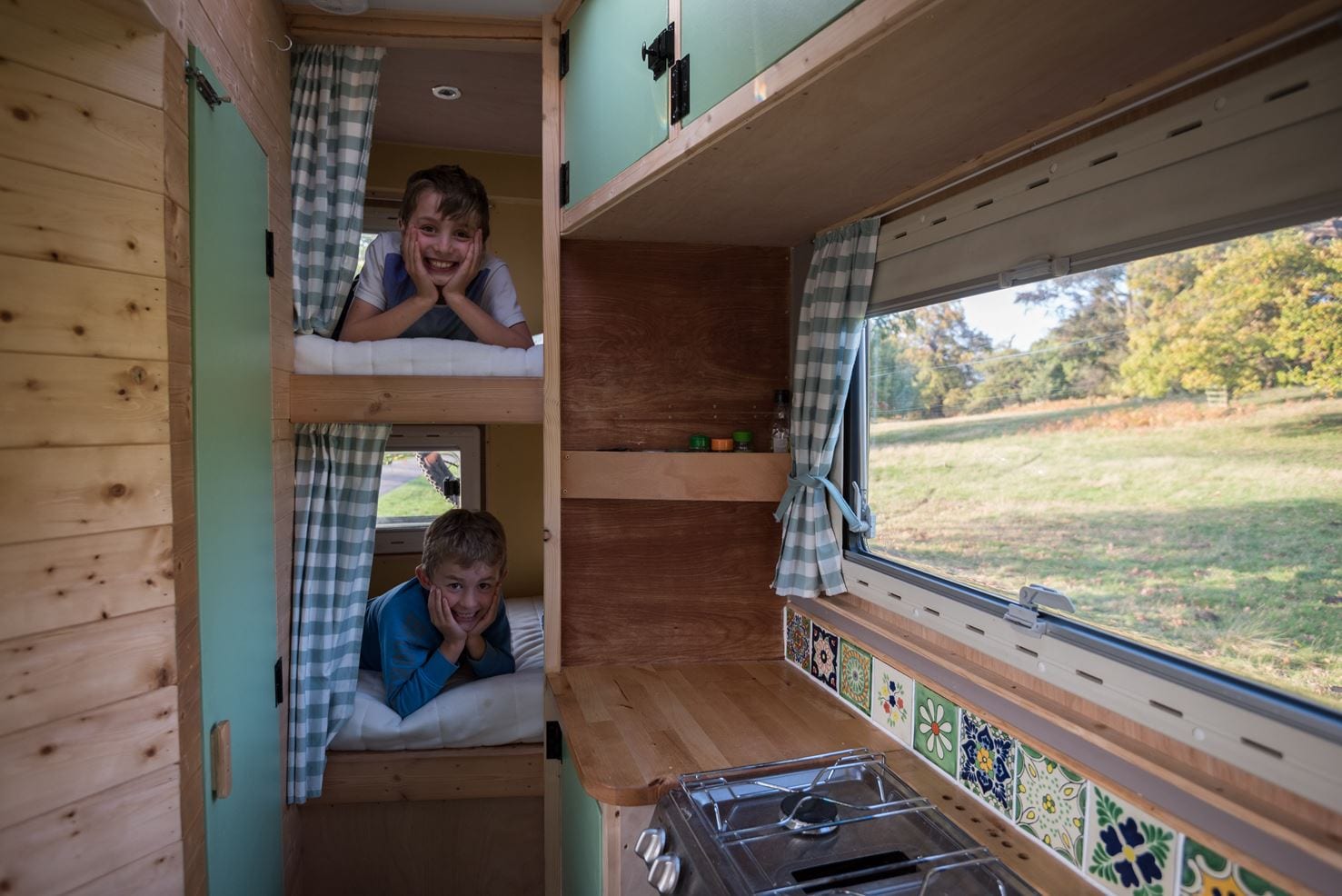 Kids love campervans. Those who have travelled with kids in a Quirky Camper always come back saying how much their little ones loved it. So whether you are looking for kids bunks or hanging cots, a TV or kitchen with oven, en-suite toilet or hot running water, one of our campervans will have just what you need!
4. Sneaking away
Having a campervan at your wedding provides you with the perfect space to grab 5 minutes. To yourself, say hi to your loved one or grab your best friend for a quick chat (or moment of quiet!).
At their wedding Liza and Peter (pictured) headed back to Priscilla for 20 minutes: "We loved every minute of our wedding, don't get me wrong, but we really needed a moment to be together just as a family, to make the whole experience feel so much calmer and more manageable."
5. Photographing your alternative wedding
Our unique one-of-a-kind campers make a pretty special backdrop for photos. Whatever your personal taste and no matter what the style of your wedding, we'll have just the campervan for you.
Please don't hesitate to contact us if you have specific requirements you need and would like our advice. In the meantime and to get you thinking, take a look at the vans we think are perfectly designed for couples and romance. And take a look at our wedding page for more information about Quirky Campers wedding campervan hire.