Our Most Romantic Campervans
Light those candles and pop the fizz. With Valentine's Day just around the corner, it's time to break out all the stops and treat your partner and/or yourself to a special type of getaway. Our handcrafted campervans set the perfect scene for your very own romantic novel. Having the freedom to go completely off-grid and escape reality in a love nest on wheels, provides a feeling like no other. Forget slipping into something less comfortable, there are plenty of other ways you can show love to yourself or that special someone, such as a sunset hike to the top of a mountain or snuggling up in a blanket under the stars – the possibilities are endless.
Every inch of this camper oozes romance, from the pale calming tones to the bundles of blankets. Spend your days exploring a forest and your nights curling up in a hammock – pure bliss!
---
Far from a conventional camper, Lara is truly one in a million. Her off-grid capabilities means that you can go further than ever before. So strap in and get ready for the ride of your life.
---
Ola is the epitome of a cosy camper. Boasting plenty of windows, you can enjoy panoramic views all day, everyday. Just picture snuggling up in a king size bed, looking out over rolling hills.
---
Ever dreamt of hiring your own french boutique hotel? Well now you can. Experience breakfast in bed like never before; simply open up the backdoors and cook with a view. We promise, by the end of your trip you will be declaring "je t'aime Scottie!'"
---
Travelling with children does not mean romance is off the cards. Triple bunk beds all equipped with curtains means once the children are tucked in bed, you can enjoy a romantic dinner for two.
---
Nestled in the glorious Brecon Beacons is this stunning 2 berth campervan. Surrounded by some of the most famous UK wild swimming spots and walking routes, this is the ideal choice for any couple seeking adventure.
---
When people refer to the pot of gold at the end of the rainbow…They're referring to Floki. Located in one of the most popular campervan destinations in the world – you can explore Ireland in style without compromising on those lovely home comforts.
---
There's a reason this camper comes with her own love warning. Not only is Ida aesthetically pleasing, she's functional too. Fitted with an outdoor shower, you can experience what it's like to truly be at one with nature, all that's left to do is pick your backdrop.
---
Say hello to your very own tropical paradise on wheels. Park up by the beach and be transported to your own remote island. Complemented with decorative lights and floor cushions, Captain's Rest creates the ultimate atmosphere for couples.
---
Looking to add a dash of luxury to your wild adventure? Then Floyd is the campervan for you! With crisp white and solid wood interiors, this campervan is bound to stand out on your instagram page. There's even a projector, so you can cuddle up and watch a film on the big screen after a day of exploring.
---
Is the NC500 on your joint bucket list? If so, Dune is raring and ready to go. Decorated with buntings, colourful soft furnishings and potted plants, Dune is bursting with personality and is the perfect companion to accompany your scottish road trip.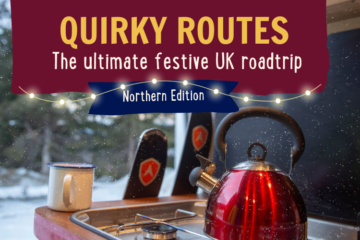 Are you a festive fiend or a grumpy Grinch? This season no matter what mood you're in, escape the normal and take yourself and …