BGH: My Campervan Holiday with Quirky Campers
Oge Ejizu, London Regional Leader of Black Girls Hike reflects on her first campervan holiday in Roaming Delilah.
What a wonderful 'van' life!
We all have a bucket list. Sometimes there's that one item on the list that feels like it's stuck there inevitably. Ever since I started hiking in 2018, I've curated a bucket-list of places I want to explore and experiences I wanted to try. Looking through Instagram, I've started to see and hear more stories of people converting to #vanlife, opting to either convert their van or hire a van for their expeditions. After spending hours looking at vans, seeing how cosy and comfortable they looked, the need to do a campervan holiday became insatiable. It was set; 'explore the great outdoors in a campervan' was added to the list.
---
Before the trip
As this was my first time using a campervan/going on a campervan holiday, I didn't know what to expect. I'm used to exploring with my tent or being tied to a B&B or hotel, the thought of being in a campervan was a little bit daunting because of how unfamiliar it was to me. Even though I'm used to a variety of accommodations when I'm out hiking, I still like to feel cosy and comfortable. When choosing a camper I wanted the combination of both. As I would be exploring at the coldest time of year, I wasn't sure what type of weather I would be greeted with, I wanted a camper that had the same amenities on board that I would find in a usual B&B/hotel was important. Searching for this on Quirky Campers was easy. I picked the facilities I was looking for and made the decision to go with Roaming Delilah. [Picking something on the luxury side]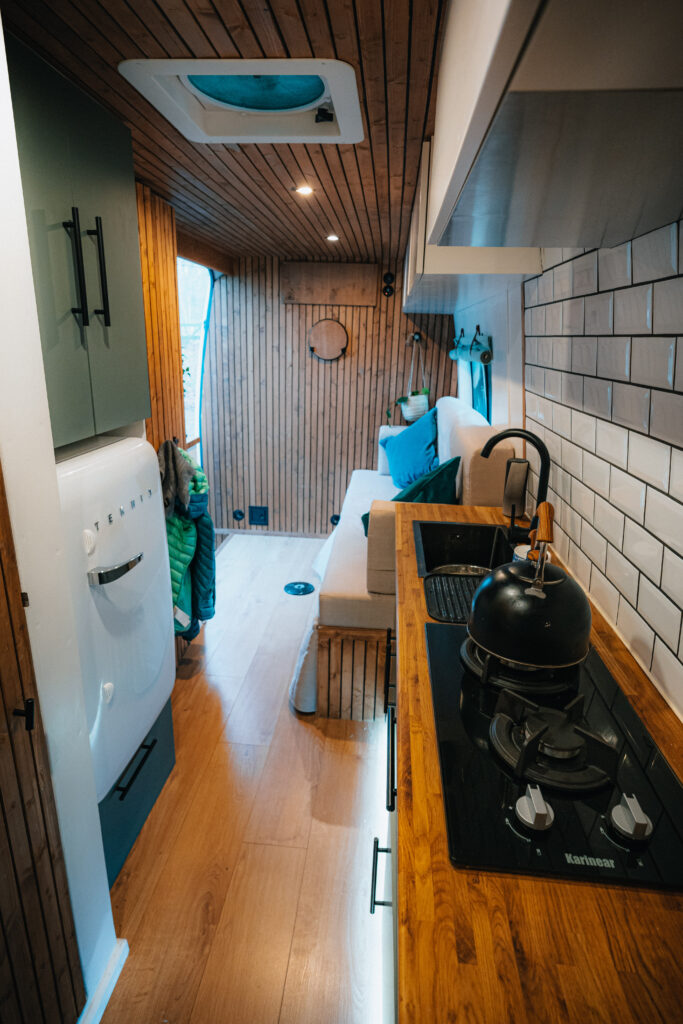 Roaming Delilah came fully equipped with all the trimmings including a state-of-the-art toilet, power shower and underfloor heating. She also came with a well-maintained large fridge, all the crockery and cutlery and even a BBQ for a cheeky winter campsite fire. What more could I ask for? The booking process was simple and straightforward as was the handover with the owner of Roaming Delilah. We had a quick tour of how she works and what was on board. I was able to ask all my questions and have all my worries assured. With everything in hand, we set off on our great mini adventure! The journey was smooth, and Roaming Delilah drove like a dream.
---
Getting on the road
Then it was time to hit the road. As a hiker my thoughts are always to go where the hills and mountains call and where better to take the camper than to one of my favourite hiking places – Wales. We took Roaming Delilah to the Black Mountains, Penderyn to explore the Four Waterfalls Walk and explore surrounding areas.
On a trip like this I would usually book a B&B or hotel but sometimes this can be restrictive. You're 'stuck' in one location especially if you're planning on doing a multi-day hike, there have been times when I didn't want to go home yet but wanted to explore somewhere different. Being in a camper gave me the ability to do just that. On the first night of being in Roaming Delilah I wouldn't have known the difference with being in a B&B, hotel or the camper. The bed was extremely comfortable and felt so secure and the camper stayed warm throughout the night that it was hard to believe it was 1 degree outside. I also didn't have to think about running out in the cold during the night to use the bathroom as this was only a stone's throw away.
---
What I loved most
Although this was my first campervan holiday, it didn't feel that way because of how easy it was to navigate. We opted for a campsite where we had electric hook-up, meaning we could conserve our gas if we wanted to go off grid for a couple of nights. What I found surprising about going on a campervan holiday was how flexible campervanning is and the freedom it offers to explore more and in different ways. We wanted to try something different for our last night in the Roaming Delilah so we decided to go off-grid halfway between Wales and London. We parked in a lovely pub car park in Lacock that allowed us to park overnight if we dined at their restaurant. This was a great deal seeing as the food was affordable and ended up being delicious!
I loved that we could change our plans and we had a camper that allowed us to do that seamlessly. Being in Roaming Delilah was like experiencing home away from home.
---
What I've learnt
Once upon a time, I used to think that going on a campervan holiday was inaccessible and complicated but reflecting on my trip with Roaming Delilah this was far from what I experienced. For any newbie who feels like going on a campervan holiday either solo or with a friend(s), my top tips would be to start by knowing when you would like to go, renting a camper in Winter will have different considerations than in Summer. For example, it's best to choose a camper with heating, which most vans on Quirky Campers do.
Second, decide if you want to venture solo or with others. As this was my first time, I opted to go with my friend, but I could definitely see road tripping solo. Another top tip is to write down all your questions to ask the van owner in the handover process.
Lastly, be prepared to have fun! It's not as complicated as it seems, and Quirky Campers have a lot of resources and support to get you ready for your great campervan adventure. No matter your campervanning level, this is an absolute must experience which I can now successfully tick off my bucket-list.