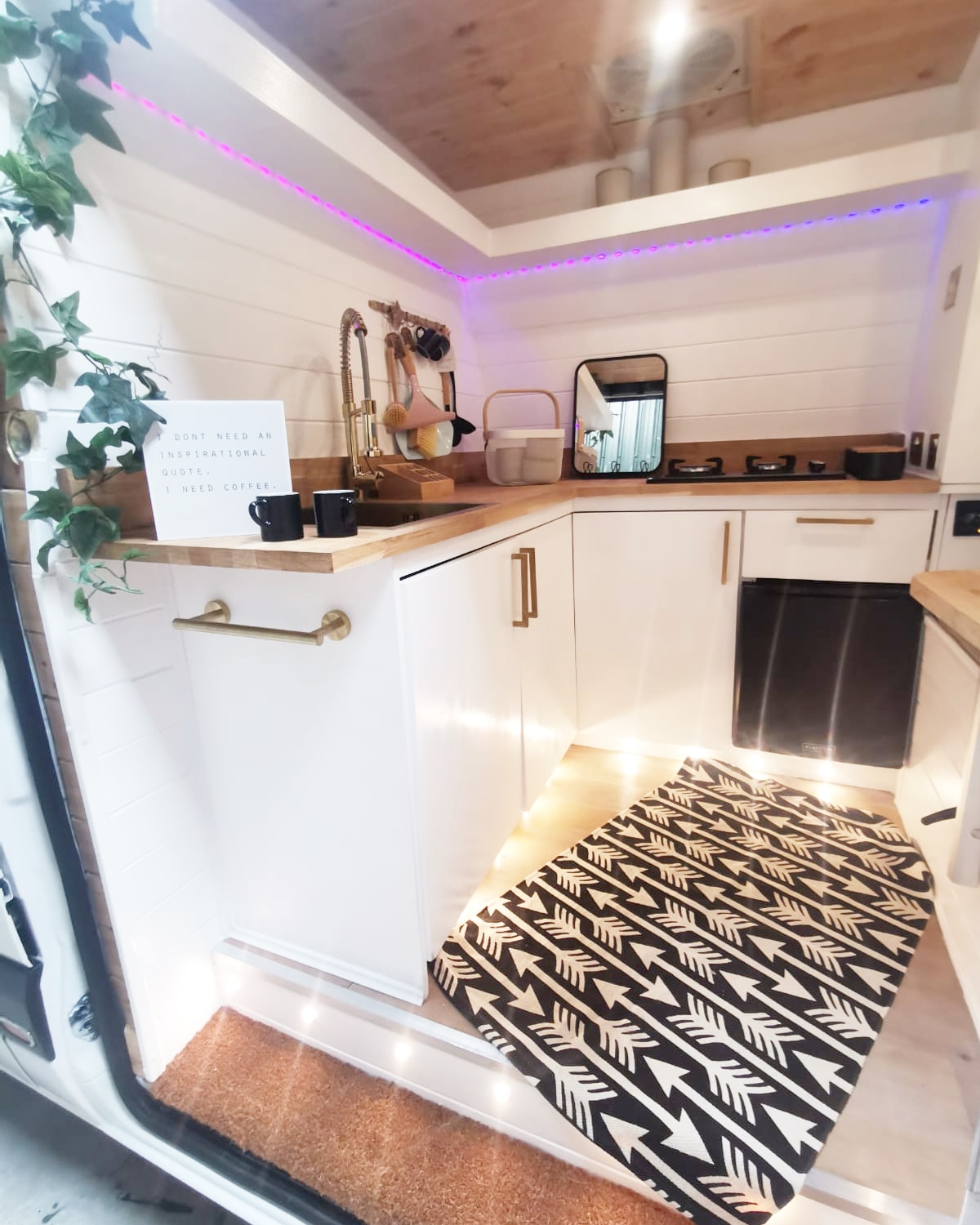 Vehicle Description
Say hello to IVORY | Isn't she beautiful?
BRAND NEW and professionally built
This is a professionally converted Mercedes Sprinter campervan by a qualified and experienced tradesman. It has been designed to be beautiful and photogenic with your snaps in mind so that you can keep your camper memories forever. Incorporated in the design are quintessential English features such as the oxford stitched bench area, real oak worktops and ivy decorations (ivy decorations are all removable if you like).
Sink and Tap: Hot and Cold tap powered by the water pump and boiler at the back of the van. The large gold sink features a metal gold plug with a food catching basket. A large deep sink was chosen so that there is no splash back from washing the dishes. The gold tap has different modes depending on whether you want a light spray to save water or an intense jet to clean grime.
Bed: This Camper has been designed with a fixed bed for those that want to choose comfort while they are camping. It's 10" thick memory foam and could be replaced with a thinner one if you wanted more headroom.
Paintwork: The wood has been spray painted with primer and then acrylic eggshell paint which is very durable. All the white painted wood has then been sprayed with clear lacquer so it is completely wipeable and waterproof.
Storage:
The kitchen has lots of storage space as well as the larder unit for clothing etc and the bench area also acts as a storage compartment. The main storage area is under the bed and is large enough for bikes with the front wheel attached etc. The roof rack has ample storage for any equipment you need.
Roof rack: Converted to a lookout with composite decking for picnics or for the view. Made of stainless steel. Lots of areas to attach equipment such as kayaks or bikes.
Shower: The shower and hot water for the tap are all powered by the Camplux boiler. The shower water comes out at the perfect temperature and by having it at the back of the camper it means the van won't suffer from damp which it would probably with inside showers. There is a clothing and shower curtain line that extends from one back door to the other which means you can hang a shower curtain for privacy or you can hang up wet clothes for drying.
Fan: There is a fan positioned above the hob for air intake or outtake. The side door window also has an option to open it half way for air intake and outtake.
Worktops: Real oak worktops from Howdens, have already been oiled.
Table: The table swivels into different positions and is super comfortable when sat on the bench and using a laptop. The table arm can be removed from the bracket if you want to store it out of the way.
Bench: Underneath the bench cushions is a large storage area. You can also access the inverter and fridge plug.
Fridge: 40L fridge and can be run off 12v or 240v.
Hob: Gas hob with 2 rings
LED lights: LED lights can be changed to a lot of different colours and different patterns. Includes remote and spare remote.
Sockets: Double 240v socket in kitchen and bed area. Single socket in kitchen and under the fixed bed for when the 240v hook up is connected.
Bodywork: Excellent bodywork; a very well looked after van
Specifications:
300W solar panels
270 ah leisure batteries ( located in the white box area located under the fixed bed.
EDECOA 1500W Peak 3000W Pure Sine Wave Power Inverter DC 12V to 240V AC with LCD Display and Remote Controller
4 x 240v sockets from battery power
2 x 240v sockets from 240v hook up
Carbon monoxide and smoke alarm. Digital and shows the amount of carbon monoxide present.
Diesel heater
*The Camper has been photographed without the water tank in the van because it can be personalised depending on how much water you think you would use. We have 2 tank options for you to use that need strapping in or you can buy your own separately.
**We have gas bottles for demonstrating how everything works but we are unable to sell these with the van because you need to have your gas attached by someone qualified.
Collection only from Preston / Singleton area
Payment by Bank Transfer
Message me if you need any more info or photos
Conversion Description
Van is in fantastic condition
MOT runs out on October 2021
'We like the style' means that Quirky Campers would approve it for hiring but you must still check that the gas, electrics and weight were done properly. For some tips on what to look out for read this. If the listing has no Gas Safe certificate, no unladen weight and no electrical sign-off please proceed with caution!
Please note: Quirky Campers do not inspect the listings for accuracy or check campervans in person. We have asked sellers to provide evidence of certificates and paperwork however you MUST check yourself that the information provided is present and correct. You will need to exercise the normal due diligence when buying any vehicle.
Make and Model
Mercedes Sprinter MWB High Top 313 cdi
Current Mileage
129,000miles
Registered Vehicle Type
Panel Van (meets DOT standards)
Fixed double bed with 10″ memory foam mattress.
Maximum Weight (MAM or MTPLM)
3,500kg
Unladen Weight Verified?
NO - the vehicle has not been weighed since completion
Gas sign-off supplied
None