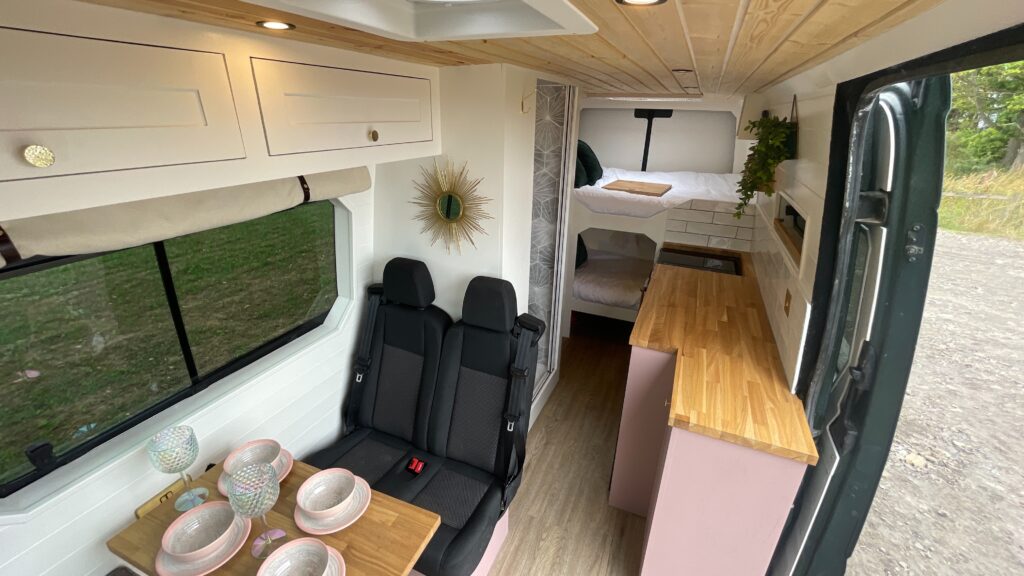 Waiting List
September (signature build) / November 2024 (full bespoke)
Northern Conversions Ltd specialise in building bespoke, handcrafted campervan conversions. We've got a real passion for building campervans so every single build is given the love and attention it deserves. We also sell come of the products we use in our own campervans, including Solar, heaters, fridges etc – check out our website for the info.
We're completely customer focused and believe that each camper should be unique to suit its owner – so every part of your campervan is fully customisable and you will receive regular progress pictures and communications to talk about the finer details throughout the journey. We have recently started to offer signature builds for customers who would prefer to choose a tried & tested layout – Check them out here
We're based in the north east of England, just north of Newcastle Upon Tyne, with our workshop set in a rural environment with a real rustic charm which helps to inspire our builds.
The team consists of 5 individuals, our master Campervan Craftsman (Marrick) comes from a background within the commercial motor trade, having years of experience repairing, restoring and maintaining various vehicles – from trailers and classic cars to welfare vans and HGV's. He has the relevant qualifications to work on vehicles and their electrical systems as well as working in carpentry for years. We've got 2 other full time campervan craftsmen, then there's Laura, who focuses on the design and operations, along with running the show & chipping in with the builds when she's free! and the part-time workshop dog, Charlie.
We currently build around 8-10 bespoke campervans each year, although only around half of these are full commissions. Our business was founded before Covid spiked interest in campers, so we've got a good foundation and knowledge of all aspects of campervan building – from hot water systems, to full bespoke carpentry, complete electrical systems and everything in between
A few of our previous conversions are available to hire through Quirky Campers below:
Cordelia – The first Quirky van with 6 berths and a shower! *Now retired, replacement coming May 2023*
Forrest – Cordelia's replacement. An epic 5 berth camper based on "The Blagdon" signature build which we offer, he's got plenty of social and sleeping space utilizing a new & never seen layout
Tyson – The first Quirky van with a shower which is heated using the engines wasted energy.
Tiny Tim – An awesome little camper using mainly recclaimed wood, giving it a beautiful rustic feel *Now retired, replacement coming Feb 2024*
Misty – A 4 berth camper based on "The Otterburn" signature build which we offer
We also offer complete partial conversions including installation of Autoterm diesel heaters (we're a registered warranty partner), windows, heating, gas systems, water systems, electrics and finishing off self build campers which have had their conversions halted for whatever reason.
Every full camper conversion will come with a 12 month warranty, Habitation certificate, full landlord gas safety certificate, weigh bridge ticket and is "Quirky approved" from standard, which also gives the ability to rent the camper out through Quirky campers!
Laura, Marrick and the Northern Conversions Team are great! Their sister company Northern Coampers have 3 campervans for hire on Quirky Campers and all are exceptionally popular with a very eye catching intiorors. They are very adaptable and are open to new try new ideas on a commission basis. We have no hesitation in recommending them as a business for people both looking for a personal bespoke campervan or to create a campervan to hire out.
✔ Quirky Approved:
Guarantees a top-quality conversion and exceptional customer service from a trusted business.
Membership Number:
QC221205
Landlords Gas Safe Certificate
Landlords Gas Safe Certificate
Guaranteed Appropriate Payload
DVLA Motor Caravan Registration
Electric Conversion Experience
Has experience with converting new electric vehicles.
Has experience with retrofitting classic vehicles.
No experience, but happy to take on an electric conversion.