Converting a Campervan: How to Get Gas Sign Off
Gas is one of the most important areas of campervan conversion to make sure you get right. In the UK there are clear regulations and you can get your installation signed off by a qualified GasSafe engineer to ensure that it is safe.
A gas safety certificate is proof that your gas appliances and system have been installed correctly, adhere to industry guidelines, and are deemed fit for use. Some campsites and events have been known to require a gas safety certificate to allow self-build campervans on site. They are very important if you are looking to sell your campervan, and if you want to rent it out they are absolutely essential. We recommend that all self-builders get their work signed off.
Types of Gas Certificate
Habitation
The NCC has a habitation check which includes a gas safety check. NCC approved workshops can carry out gas checks and provide a gas certificate but this does not equate to a landlords certificate from a GasSafe approved engineer and is not sufficient for rental purposes. Furthermore NCC workshops are only trained to work on factory fitted caravans and motorhomes and may not be able or willing to work on a self built campervan.
We do not recommend habitation certificate because the engineers are only qualified to check factory fitted systems
Gas Safe
GasSafe is the body that regulates all businesses installing and maintaining gas systems and appliances in the UK. It trains and approves engineers in a wide variety of systems and provides them with engineers with technical support if they have queries. GasSafe has an online directory of all its engineers with every business and engineer having a unique ID so their qualifications can be checked.
If you plan to hire out your campervan you will need a Landlord's certificate issued by a GasSafe engineer that is qualified to work on LPG (bottle gas) systems and specifically qualified to work on +Caravans (touring, static and park homes)
---
Types of conversion
The best approach is to find an appropriately qualified Gas Safe engineer (see below) early in the process. They can either install it for you or advise on exactly what you need to do to enable them to sign it off. There are several routes to arrive at the point of needing a Gas Safe certificate and the needs for each are slightly different:
Self-conversion from scratch: Find an engineer before you start to build and get them to do the work, or advise and then sign off.
Commissioning a conversion from scratch: Make sure you have in writing that the conversion will come with a Gas Safe Certificate when completed. If you plan to rent out, make sure they know that you need a Landlord's certificate; some converters may not be familiar with the requirements for rental vehicles.
Buying a finished self-conversion: Before you commit, ask to see a Gas Safe certificate, if it is not a Landlord's certificate this may still be possible to obtain. If there is no certificate at all you will most likely need to do some work. See the 'basic check' below to assess how extensive this might be.
Buying a professional conversion: This should come with a Gas Safe certificate but it will most likely not be a Landlord's certificate. As above, it should be possible to find an engineer to give this to you but it might be a good idea to get an engineer's assessment before you buy.
---
How do I find an appropriately qualified Gas Safe Engineer?
Gas Safe registration is a legal requirement for anyone carrying out gas work, but there are many different types of gas work a particular business may offer. All engineers need to hold a 'core' element to their qualifications – once they have this they can add categories for other types of work.
What type of engineer do I need?
To hire out your campervan you need a Landlord's certificate issued by an engineer that is qualified to work on LPG (bottle gas) systems and specifically qualified to work on LAV (Leisure Accommodation Vehicles).
How to search:
The best option is to go with a recommendation from someone who has been tried and tested: one of the resources you will have access to if you join our Campervan Conversion Book Owners Club is a list of recommended engineers.
Alternatively ask on the FaceBook group for people converting a campervan to hire and see who other people are recommending in your area. If that doesn't work then:
Go to GasSafe.co.uk
Click 'find an engineer'
Tick domestic
Type in your postcode and click find
Then click 'choose appliance'
And select Caravan from the dropdown
This will list the companies that have engineers with the correct qualifications by distance from you. Find the engineer with "+ Caravans (touring, static and park homes)"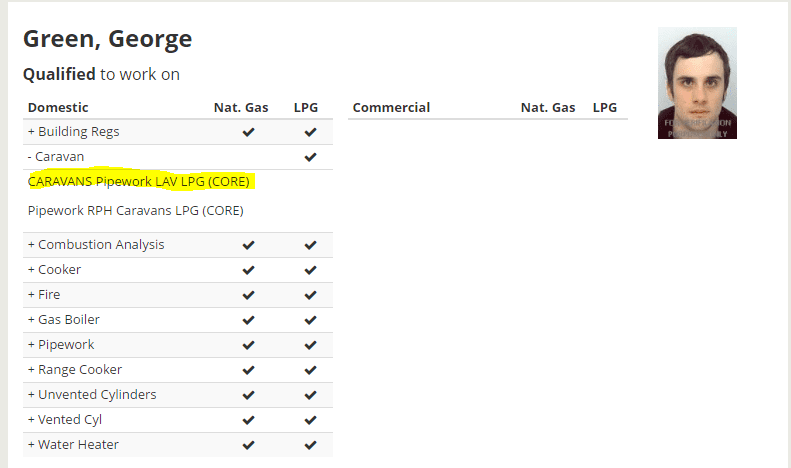 Note: The Gas Safe register is not completely up to date, engineers move around and the companies they work for don't always offer all the services they are qualified to do, so you will find that some companies you call will refuse to take a job even with the correct ticket.
---
Gas tests from a GasSafe Engineer
Gas installations should be retested every 12 months. The cost of the test will vary but typically range from £60 – £100. It will be higher if there is additional work needed. Retests are needed because pipes degrade and need replacing, regulators leak, burners clog up or rust and jets get blocked.
A GasSafe engineer will:
Carry out a visual inspection
Check the emergency control valve
Check fittings and pipework
Test your CO alarm is working and in the right place
Check the regulator working pressure
Write down your appliance locations as well as the make and model
Test your appliances
Check the ventilation of your vehicle
Then if it all passes: issue a certificate with their GasSafe Engineer's Id and details of your system and vehicle registration
Before your engineer comes out for the inspection, it is advisable to do your own leak test as well as send photos of your installation. This can save money and time by avoiding having to redo the test at a later date if it fails initially. You can buy gas leak detector spray for this purpose.
Remember, you will need to have a Carbon Monoxide (CO) alarm in place in order to get sign off.
---
What is a Landlord's Certificate?
The document you are supplied with should look something like this: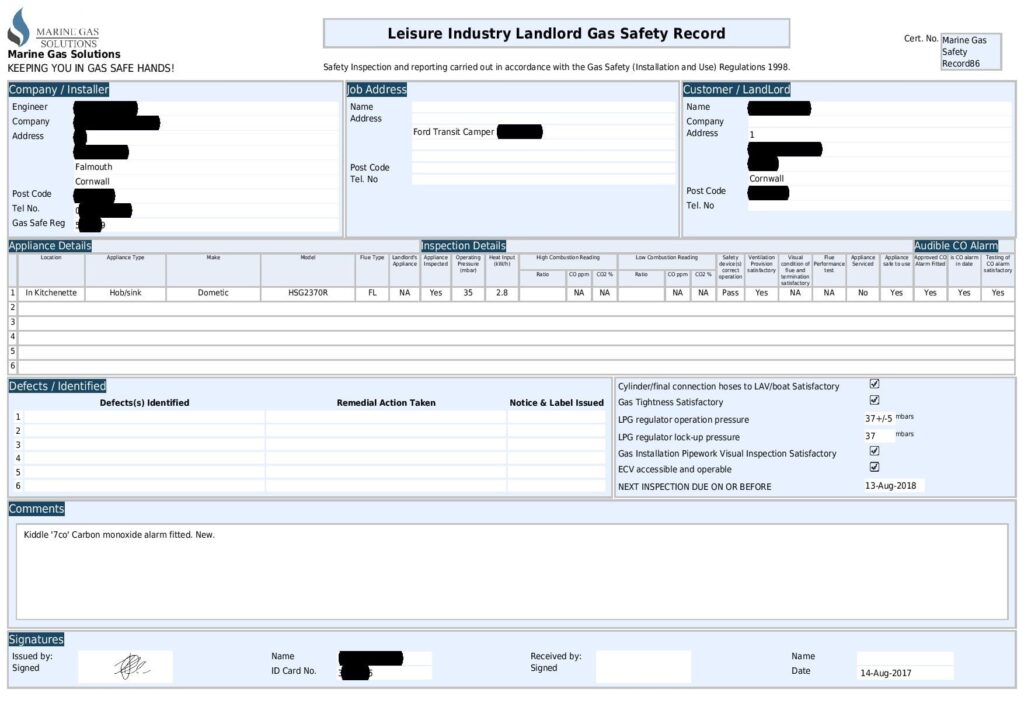 or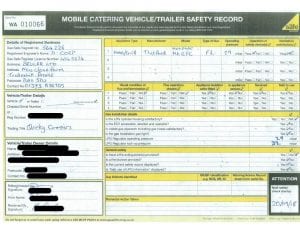 Both a Leisure Industry Gas Safety Record or a Mobile Catering Vehicle/Trailer Safety Record are fine for this purpose.
---
Some Basic Checks
If you are buying a converted campervan that doesn't have a Gas Safe certificate a few basic checks should give you some idea of how much work might be involved to get it up to standard. Please note: this is not a guide of how install a gas system properly.
The gas bottle must be housed in a sealed unit with a drop vent out the bottom of the vehicle.
An LPG sticker must be displayed on the outside of the vehicle
All pipework should be 8mm annualised copper pipe with compression fittings using only copper olives. The only flexible pipework allowed is inside the sealed gas locker.
There must be sufficient (xx cm2) low and high level ventilation which is permanently open. The required size of these depends on the total kilowattage of the appliance you have in the vehicle.
The flames on any burners should burn blue
It is best if all pipework is visible for inspection to as to allow an engineer to inspect without having to dismantle any furniture.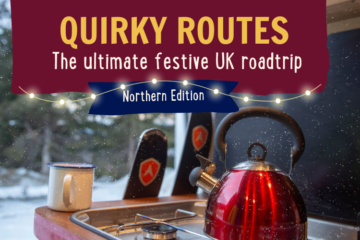 Are you a festive fiend or a grumpy Grinch? This season no matter what mood you're in, escape the normal and take yourself and …