5 Summer Essentials for Your Campervan
Let's face it, who doesn't love a bit of sunshine? It's one of the only times you could have an ice lolly for breakfast and no one would bat an eyelid. It's also true, there is no better way to spend your summer than travelling in a campervan. Waking up by the beach and jumping straight into the water, late night bbqs, that sweet breeze which feels like a warm hug. But the constant heat can at times make us feel, well…hot and bothered and all we want is that sweet relief!
We've combined the 5 essentials for your campervan this summer, along with tips to keep yourself and your pets cool, so all you have to do is pack your cozzies/trunks and hit the road.
Skylight fan
Whether you're inside a campervan or a house, it's hard to keep comfortable in the heat, especially when you're trying to get to sleep. On a scorching hot day or night, a skylight fan is a fantastic way to get air circulating in the van.
The Grizzly, Kanoa & Wheely's skylight fans enable cool air to sweep through the van.
---
Fridge-freezer
A fridge/freezer is a great addition to your campervan all year round but specifically in the summer months.Is there anything more satisfying than a cold beer on a hot day? Or a delicious bowl of ice cream after dinner? A fridge/freezer is a great addition to your campervan all year round but specifically in the summer months. You can even make your own frozen treats such as ice lollies or fruity ice cubes to add to your drinks – yummy!
Frida has the ultimate fridge/freezer setup
---
Outdoor shower
Experience what it's like to truly be at one with nature. If you're parked up in the forest seeking shade and have no water to swim in nearby, an outdoor shower is the most refreshing solution. Also for those who are by the beach, it can be used to rinse off sea water, wetsuits and sandy paws.
Many of our Quirky Campers have outdoor showers, including Emilia, Willow, Ida, & Embla.
---
Large water capacity
If you spend most of your time off-grid a large water tank capacity is a must. Water isn't accessible everywhere you go, so it's important to make sure you're not at risk of running out. In Scotland there are top up tap water maps so you can plan ahead. Fingers crossed a similar campaign will launch in England.
Zig and Mango have water tanks ranging from 82 to 90 litres.
---
BBQ
Cooking in the heat can feel like a chore, especially indoors. A BBQ or a campfire is a brilliant way to whip up dinner in the evenings. It doesn't have to be burgers and hot dogs everyday (although that would be pretty great!) There are so many things you can cook on the fire including paella and curry.
Hoots, Bear, Rosie, and Doris all have BBQs available to add on to your booking.
---
Quirky's top tips to keep you cool on the road
We've gone over what your campervan can do, now here's what you can do to stay cool on the road…
Pop your feet in a bucket
Most vanlifers don't have room to store an outdoor swimming pool, so instead we recommend grabbing a bucket or your washing up bowl to dip your toes into, especially if you've been working or exploring on your feet all day.
Keep blinds and curtains shut
This creates a barrier between the heat from the sun and your van. Insulated blinds or curtains are even more effective at keeping the sun shining directly through your window.
Drink a decaf brew
Yes you read that right. Drinking tea has been proven to lower your core body temperature. We recommend sticking to decaf as drinking too much caffeine in the heat will only dehydrate you more.
Place a wet towel around your neck
This option provides instant relief, helps to regulate your temperature and cools down the blood going to your brain. The perfect choice for those suffering from a heat headache.
Mini USB fans
Not every van has enough power to run an industrial fan but with the amount of people you usually take on a campervan trip, one isn't needed. Instead you can opt for a mini USB fan which uses less power and takes up less space. Another tip would be to place a bowl of ice or cold water in front of your fan at an angle, also known as DIY air conditioning.
Check out our Instagram reel to see the Quirky team putting these tips in action, along with a couple more tricks.
---
Quirky's top tips to keep your pets cool on the road
Keep your furry friends comfortable with these PAWsome tips…
Avoid midday heat
Stick to slow walks early in the morning and late in the evening, when the temperature is at its lowest. A good rule of thumb is if you feel the pavement and it's too hot for you, it's too hot for your dog.
Shower them with cool water
Fill up a bottle or a bucket with cool (not cold as this can lead to shock), pour it over your dog and rub it through their fur throughout the day.
Give them access to water regularly
Make sure they do have constant access to fresh water in a clean bowl (a clean bowl encourages them to drink more) and keep an eye on their water intake. They say a dog should drink 70ml per kg they weigh each day. So a cocker spaniel weighing 15kg would need approximately just over a litre.
Lay down a cool mat or wet towel
Whether it's in the shade or on the floor of a campervan, wherever your dog prefers to lay in the heat you should try and encourage them to rest on a cool mat or wet towel (just bear in mind you will need to replace the towel through the day when it feels warm). Never place a towel over your dog as this stops the heat from escaping their hair.
Seek shade
Park in the shade when you can and if there is no space in the shade, try and create some using an umbrella or bed linen. Set up camp underneath a tree or better yet invest in/or hire a van with an awning as these provide incredible shade for you and your pets right on your doorstep.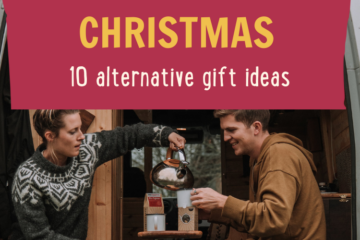 Are you looking for a different way to approach Christmas this year? Updated for Christmas 2023 The season of giving is upon us, and …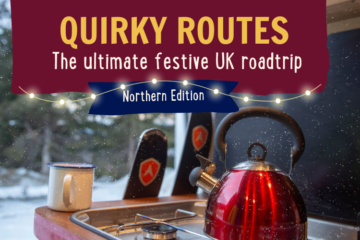 Are you a festive fiend or a grumpy Grinch? This season no matter what mood you're in, escape the normal and take yourself and …