Vauxhall Vivaro Camper Conversion
Our new Conversion book provides a start to finish guide on building your very own campervan
The story of Sylvester's Vauxhall Vivaro Camper conversion
Sylvester is a beautifully constructed Vauxhall Vivaro camper. Lovingly designed and well thought out we had to talk to Jon – Sylvester's owner to find out a bit more about the conversion, his experience and what tips and advice he would give to those setting out on their first van conversion. This is what he said…
Did you have a conversion plan when you first set out converting Sylvester? Why did you decide to convert Sylvester?
I had a very very basic plan. I used Adobe Illustrator, just a flat plan layout sort of thing. When I got Sylvester he had been part convened by his previous owner. He came with fully carpeted black walls and black carpet with white flecks. Quite a gloomy feel to it, also had a couple of Mazda Bongo seats that folded flat. They were fine but at full width they didn't allow for any furniture, so they had to go.
Having come from owning a VW T2 Late Bay we decided we wanted something a bit more modern this time. With heating AND aircon! So it was not so much a case of why I wanted to convert Sylvester, I had looked around a lot and settled on the Vivaro or Renault Trafic as big enough to suit our needs, without being too big.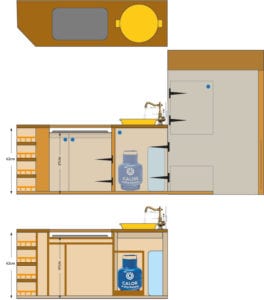 Did you have any prior experience of doing campervan conversions?
My very first vehicle was an Austin A35 Van. Tiny by modern standards but it was great fun as I had just passed my driving test aged 18. I painted it in a wild Lime Green colour and lined the back with Faux Fur. That worked well and allowed me to camp out in it a bit over the summer months. I guess the seed was sown way back then. My next campervan was a 42 year old VW Late Bay, a lovely looking vehicle. It was part converted with a rock and roll bed and a slide back "Paris" roof. I had a crazy notion of renting it out and maybe getting another two.
I did the conversion to a high standard, fitting the gas and electrics myself. That one was not quirky but quite smart and new looking inside. And I finished it off by fitting a pop top. By this time I had I fallen out of love with it as the pop top was of poor quality. It still cost me £2500! Yet it dipped badly in the middle after just a few weeks. Anyway, I put it up for sale and it sold! I didn't think I would get my money back after spending £8,000 on it but actually made a profit. Which went towards the towards the purchase of Sylvester.
What three main things did you have in mind when converting Sylvester e.g. making the most of space, extras, etc.
SPACE
Luckily the previous owner had fitted swivel front seats so that made a great difference to the space we have in there.
2. HEIGHT
I was very wary about buying another pop top in under a year but this time I had more to choose from and did LOTS of research. Looking at recommendations on forums, feedback etc. I settled on an "Austops" roof and I have to say it is brilliant! It is so well fitted and has lovely detail, such as fully paneled and carpeted sloped sides up to the edges of the roof. Carpeted roof panel with LED spotlights. I wasn't expecting any of that and so very pleased when I picked it up. It gives us great height, ventilation and light.
3. OFF GRID
The second thing that went in very early was the Propex Heating system so you can pitch up anywhere, without a hookup and still be warm. To that end I fitted a 150w solar panel on the roof with a high spec controller for optimum solar conversion rate. Just to point out to anyone fitting a Propex, it comes with a standard vent tube, aluminium lined and card outer. These are very noisy and hissy when running. I then learned about an acoustic tubing that Propex sell and that has made the world of difference!
Sample here: https://soundcloud.com/jon-shepherd-6/propex-before-and-after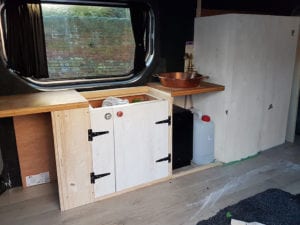 For those embarking on a DIY campervan conversion project what 5 pieces of advice would you give them?
Plan, Plan, Plan, Plan, Plan
Think about what you are converting the van for
Think about what you want the vehicle to do for you. Are you a day tripper?
Weekend holiday maker? Do you enjoy long trips? Do you need it to go off the beaten track (so maybe a four wheel drive) or are you looking to live full live time in it? Does it need to be able to carry things on the back – bikes, trailer or a roof rack? How tall are you? Will a pop top suffice? Allowing you to park in more areas than the larger vans can. Or are you happy to forgo ease of parking for more living and storage space etc.
2. Size of Van
Depending on the size of van you will then need to look at how the layout can work for you. Does it need to have space for a shower or toilet? With ours we felt it would be good to have a crash tested rock and roll 3/4 bed. So that dictated where everything else could go. On hindsight I might have not bought itt (at over £1,000) and simply gone for a handmade pull out bed solution… Still might 🙂
3. Computer CAD design
I have not used it but I hear Sketchup is a good programme to use. I would be tempted to start off simply with masking taped out areas on the floor and then progress to CAD design (Cardboard Aided Design). So make the van layout all out of cardboard boxes, see what space you have left and how light falls, where windows need to be etc.
4. Extras
Think about exactly which extras you would like to include. Do you want heating such as woodturning stove, diesel espacher, propex gas? What about a fridge or will a coolbox be sufficient? Is a shower or toilet important to include for you? Will the bed be fixed or a pull out? What about storage including including solar or is a 240v hookup going to be the route you take?
5. Insulation/Wiring
When you have mocked up the layout you can then think where lighting, 12v and 240v need to go. I didn't do it but plastic trunking is a great idea. You can also add extra wiring without ripping everything out again.
TOP TIP: A great tip is to run one, two or three trunking pipes across the width of the floor BEFORE you lay the floor. This way if you need to get additional electrics across from one side to the other then it's so easy. I SO wish I had heard that tip before I set to work and laid flooring.
Having done all that preparation work you can then start to insulate and fit moisture barriers, then paneling. There are so many differing opinions as to how to insulate vans. Solid foam with foil back. Rockwool. Sheep wool. Fibreglass. Etc. Personally if I was doing it from the start then I would probably go for Celotex foam with spray foam and topped off with bubble foil moisture barrier.
You can hire Sylvester for your own adventure from Nottingham
Commission your own bespoke campervan through our conversion matchmaking service