Travelling with a dog in a campervan
UPDATED February 2021 with guidance for travelling with pets post Brexit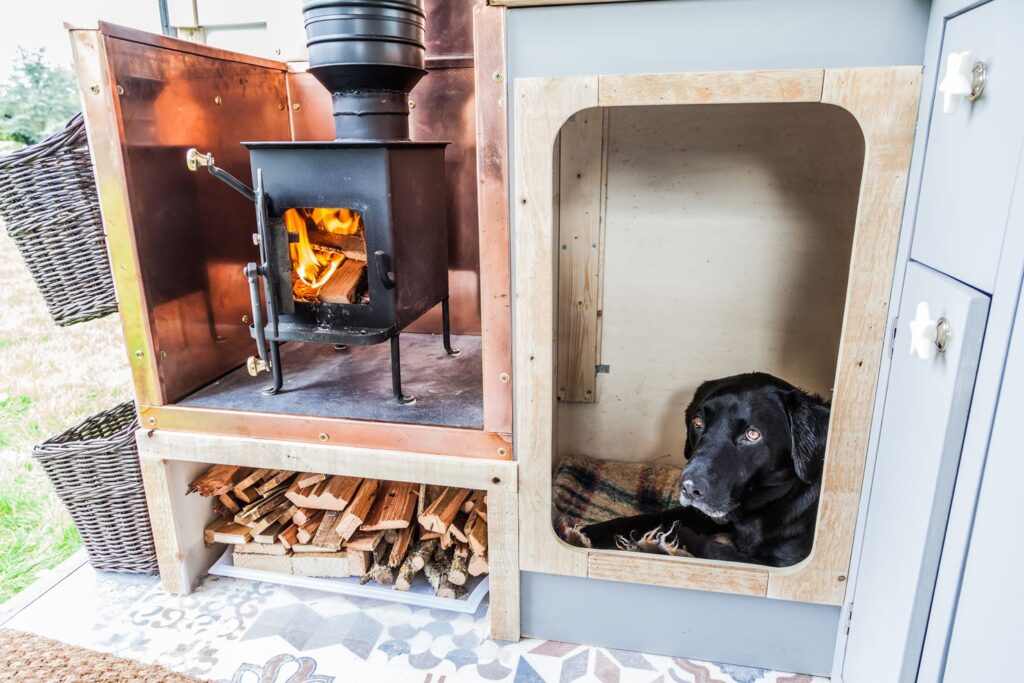 There are many various things that you will need to consider when taking your pet with you on a camper van holiday.  Of course, many of these things will wholly depend on where you're going, and what particular peculiarities your pet has.  You will know your pet and their requirements the best.  What we can impart, are handy hints and tips, plus a little bit of legal knowledge that might help make your camper van adventure with your four-legged friend as easy as possible.
TRAVEL SAFE
It's important that you remember the highway code when travelling with your dogs. Are they secure and restrained (if appropriate)? It might look cool to have a hanging head out of the window with a lolling tongue and flying ears, but it isn't the safest. So, make sure they travel in a designated area that complies with legal requirements!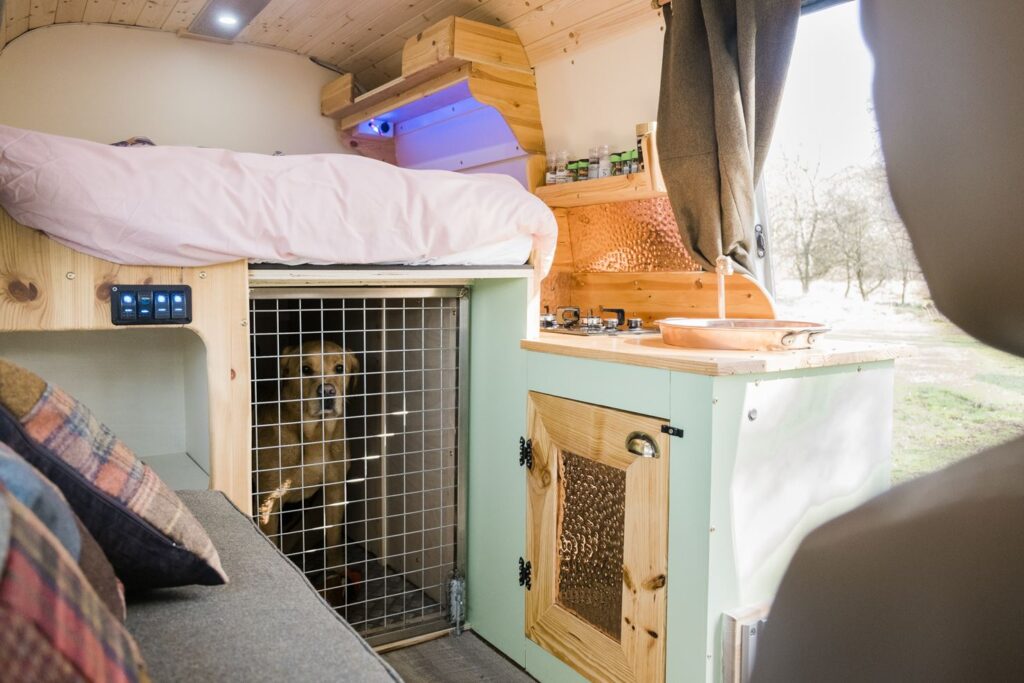 PACK FOR YOUR DOG
It sounds obvious, but make sure you plan your dog's suitcase requirements just as meticulously as your own. We've certainly fallen foul of this before, and ended up sacrificing a cereal bowl or two because we forgot their food bowls. A good quick checklist:
Bowls;
Food;
Any medication;
Dog towel;
Lead;
Bedding;
First aid kit;
There are some great travel friendly dog essentials available such as this stack-able Base Camp Dog Bowl or this handy lightweight Highlands Dog Bed that folds down into its own sack.
KEEP COOL
One of the most common concerns about camper van travel with dogs, is how to deal with extreme temperatures. Well, in the Summer months in Italy and France, we've faced temperatures of up to 38 degrees! Now, in Norway, it's mostly raining, but we definitely feel the chill at night.
Of course, you should always limit the amount of time that your dog is left alone in a camper van. We've found the following super-efficient for keeping our pup cool in the hot weather:
Thermal blinds / screens – This might sound nuts, but actually the point of thermal screens is to keep the sun out, as much as they work to keep the warmth in. Consider thermal screens in the front of the cab windows, or a screen across a bulkhead gap if you have one.
Roof vans – these are super effective as a way to keep the air circulating in the van, and draw the cooler air in. Depending on your battery setup, you are often able to keep these running whilst you are out of the camper van for an hour or so.
Cool jackets – these work by keeping the area around your dog's heart cool. Soak them in water, leave them in the fridge for a couple of hours, then pop it on before taking your dog on any kind of activity.
Pavement check – if it's too hot for your bare feet to stay put on the pavement for less than 5 seconds, then it's definitely too hot for little paws to be walking on. So, slip your flip flop off, and check it out before heading off on a walk.
TRAVELLING ABROAD WITH YOUR PET?
The requirements for travelling with your dog (cat or ferret) has recently changed due to Brexit. If you are travelling to an EU or a non-EU country read the latest guidelines to make sure you know what is required before you travel. In a nutshell, when travelling to an EU country or Northern Ireland, your pet needs:
If you're travelling to a non-EU country you'll need to get an export health certificate (EHC).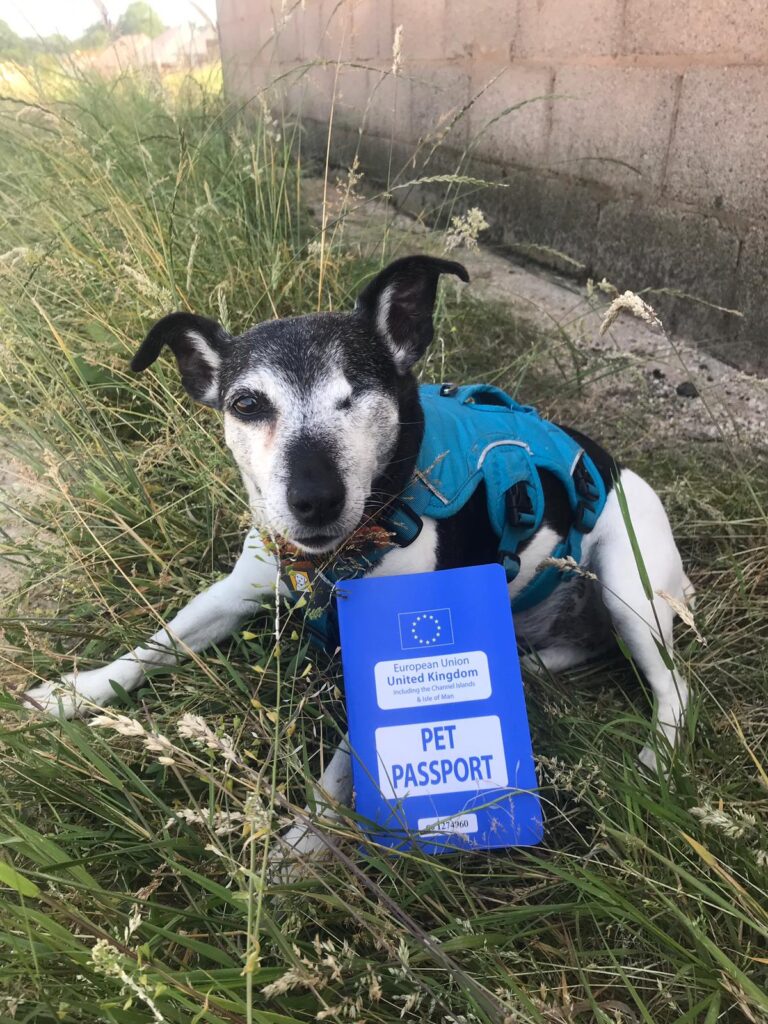 Your dog will need a passport and (possibly) a variety of injections administered by your vet before they will be able to travel to many countries. Additionally, you will often need to undertake more tablets or injections as you travel from one European country to the other. For example, Norway requires a specific worming tablet to be administered by a vet which is then stamped into the passport before you cross the border.
THE OLD ROUTINE
If you are hiring a camper van, this is a new space for your dog to be in. The chances are, they will feel right at home super quickly. But, to help settle them in, it's a good idea to keep their routine the same as it is at home.
If you can, try to keep feeding and walking times the same – this will definitely help them realise the only thing that has really changed is the view!
Also, if your dog is a bit territorial, we've seen a few people set up wind breakers outside of their camper van, so that their dog has his own space to maintain! Of course, this won't work as well when you're wild camping, but then again, you are less likely to encounter many other people if you are doing this.
KEEP IT CLEAN
In a small space, hair malting builds up quickly! We sweep out our camper van daily, and always make sure we dry Panda off if she's muddy before she gets in the van. This is one of the main reasons we had an outside shower installed – it's much easier to wash a muddy dog off outdoors, rather than attempt to transport her into an inside space!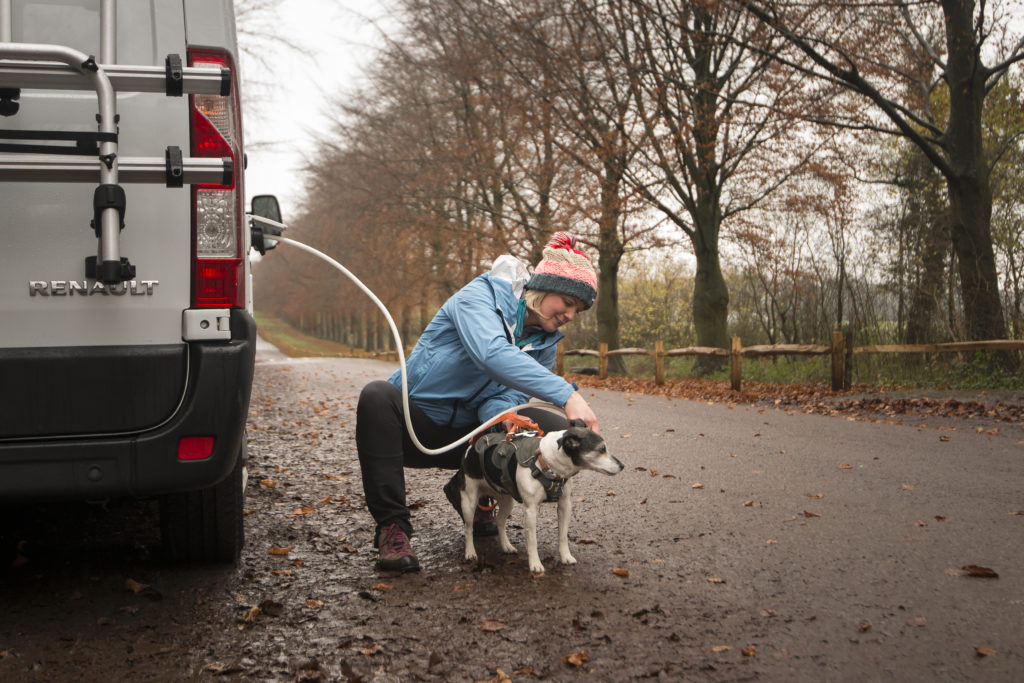 I can hear my mother's voice when it relates to housekeeping with a dog – little and often!
KEEP CALM AND CAMPER VAN!
It's easy to get stressed out about camper van travel with dogs. However, in my experience, they absolutely love it! If you are thinking about converting your own camper van, it's a good idea to try your dogs out on a trip first, so you know what will and what will not work. So, it's a good job so many of our Quirky van owners are pet friendly, and welcome you and your dog into their awesome rolling homes for an awesome camper van adventure!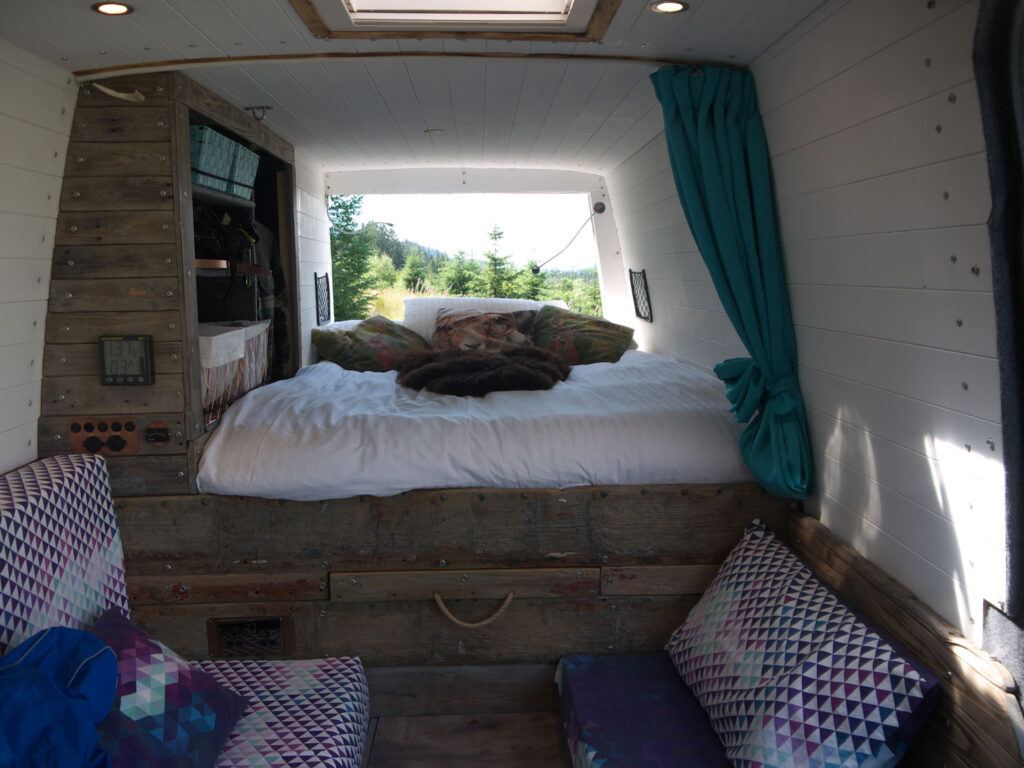 Want to take your dog (or other pet) on a campervan holiday?