Travelling with a dog in a campervan
When you're planning a trip away with your loved ones, the last thing you want to do is leave your furry companion behind. Dogs and campervans go hand in hand and together they make the perfect team. Both love adventure, freedom, discovering new places and meeting new people. There's nothing quite like sitting around a campfire or hiking up a mountain with your dog by your side.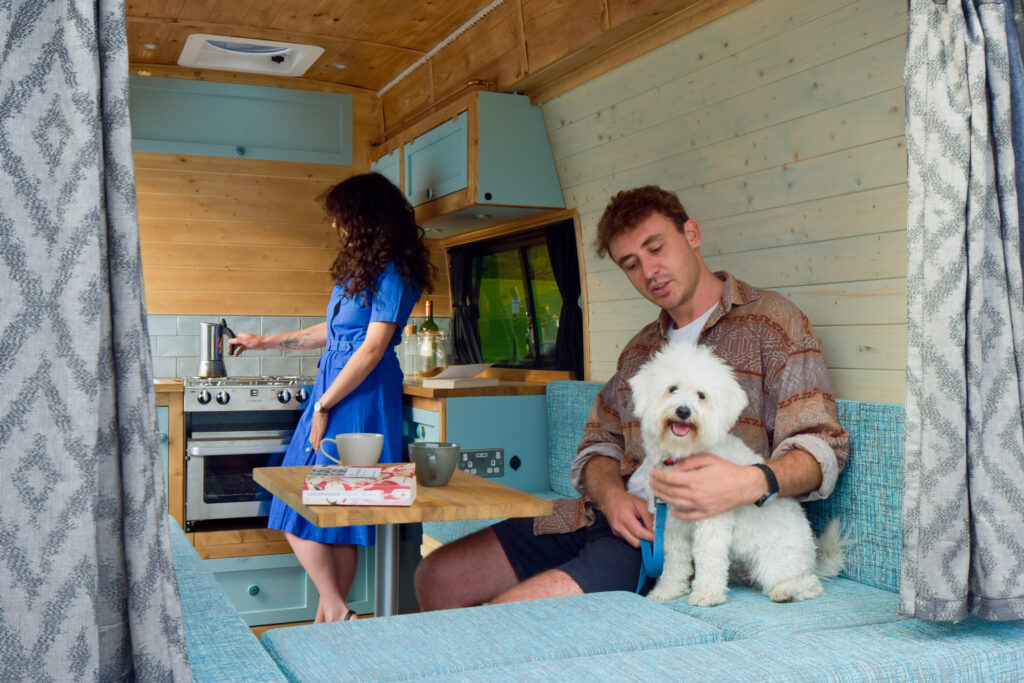 But you may be asking yourself 'How do I prepare?' 'What do I need to pack?' and 'where will your dog sleep?' Well, you've come to the right place for answers. Of course, many of these things will wholly depend on where you're going, and what particular peculiarities your pet has. You will know your pet and their requirements the best. Continue reading for handy hints and tips, plus a little bit of legal knowledge that might help make your campervan adventure with your four-legged friend as easy as possible.
TRAVEL SAFE
It's important to remember the highway code when travelling with your dogs. It might look cool to have a hanging head out of the window with a lolling tongue and flying ears, but it isn't the safest. So, make sure they travel in a designated area that complies with legal requirements! A few of our pet-friendly campers have secured crates in the rear.
Archibald has been purpose designed for dog-safe travel
Or if you'd like to have your dog riding in the front with you, you could opt for a doggy seatbelt.
This beautiful pup travels up front in Bumble.
KEEP YOUR DOG ENTERTAINED DURING THE JOURNEY:
Car journeys aren't often a dog's best friend. Some dogs can become agitated, confused, impatient or anxious. That's why it's always a good idea to provide them with something that they can channel their energy into, like a dog version of a human stress ball. Butternut Box have a wonderful selection of products to keep your dog relaxed on the road. Here are some of the yummy bits we'd recommend getting your hands on before your next road trip:
Yonks Bar – A long-lasting chew made from meadow milk that's guaranteed to keep your dogs occupied for hours.
Calming Supplemunchies – Used to help reduce anxiety and stress, Calming Supplemunchies are the perfect way to keep your pooch relaxed on the road. And the best bit? there are no nasty ingredients!
Pork Ultimate Training Treats & Naturally Tasty Chicken Tenders – Treats are essential for rewarding good behaviour on long journeys. All Butternut Box treats have high-quality meat and no nasties.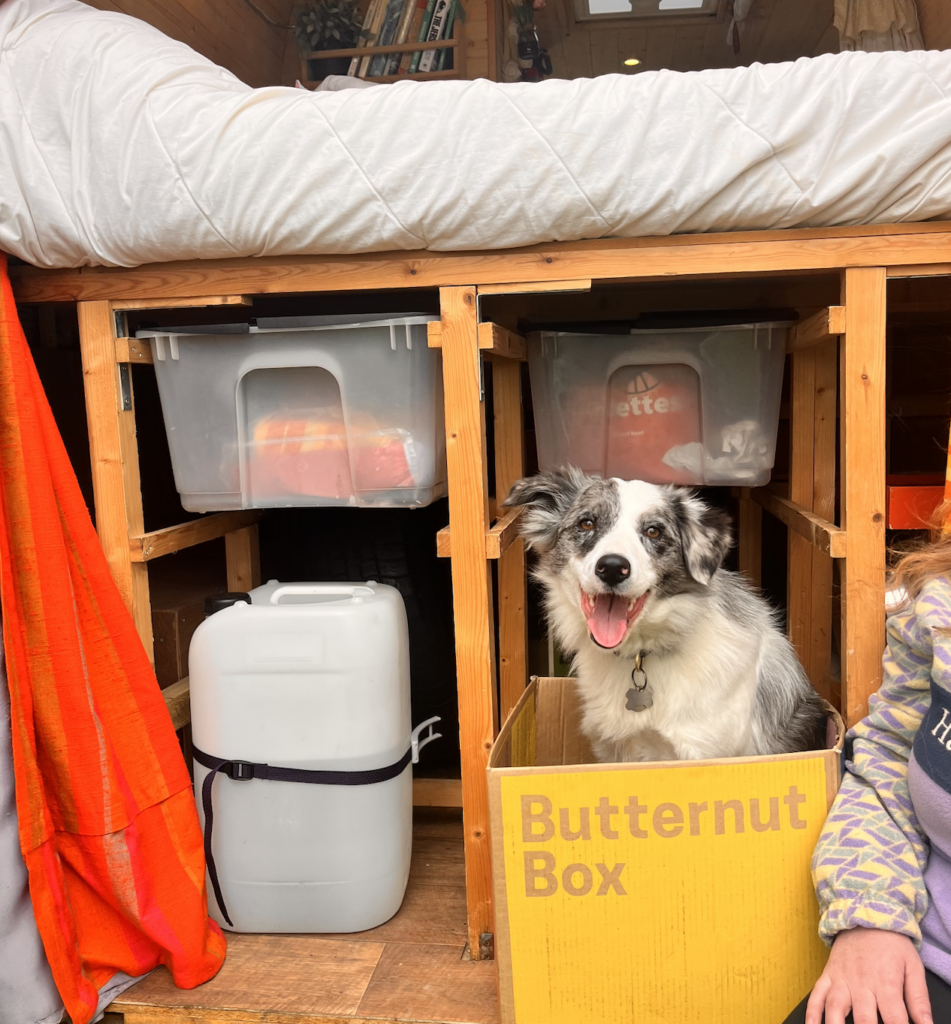 Click here to browse Butternut Box's full selection of fresh dog treats.
---
COSY BED
After a long day hiking and discovering all those new smells, your dog is going to want a cosy place to rest their paws. Plus, a comfortable bed will keep them from trying to stretch out all over yours. To help your dog settle into their temporary home on wheels, we recommend bringing their bed and blankets from home.
Archibald has a lovely bed set up in the rear
---
PACK FOR YOUR DOG
It sounds obvious, but make sure you plan your dog's suitcase requirements just as meticulously as your own. The last thing you want is to have to sacrifice one or two cereal bowls because you forgot their food bowls. Here's a basic checklist to get you started:
Bowls
Food (We recommend Butternut Box to keep your pup's tails wagging on the road. Butternut Box provides fresh dog food and treats available with a dog food subscription, so you're never in danger of running out. There's nothing more inconvenient than running out of dog food when you're in the middle of nowhere);
Any medication;
Dog towels;
Lead;
Bedding;
First aid kit;
There are some great travel-friendly dog essentials available such as collapsable dog bowls and portable beds and sleeping bags that fold down into a sack.
---
KEEP COOL
One of the most common concerns about campervan travels with dogs is how to deal with extreme temperatures. In the UK Summer months, temperatures can soar up to 38 degrees!
Of course, you should always limit the amount of time that your dog is left alone in a campervan. We've found the following super-efficient for keeping pups cool in the hot weather:
Thermal blinds/screens – This might sound a bit strange but actually, the point of thermal screens is to keep the sun out, as much as they work to keep the warmth inside. Consider thermal screens in the front of the cab windows, or a screen across a bulkhead gap if you have one.
Roof vans – these are super effective as a way to keep the air circulating in the van and draw the cooler air in. Depending on your battery setup, you are often able to keep these running whilst you are out of the campervan for an hour or so.
Cool jackets – these work by keeping the area around your dog's heart cool. Soak them in water, leave them in the fridge for a couple of hours, and then pop them on before taking your dog on any kind of activity.
Pavement check – if it's too hot for your bare feet to stay put on the pavement for less than 5 seconds, then it's too hot for little paws to be walking on. So, slip your flip-flop off, and check it out before heading off on a walk.
---
TRAVELLING ABROAD WITH YOUR PET?
The requirements for travelling with your dog (cat or ferret) has changed in recent years due to Brexit. If you are travelling to an EU or a non-EU country read the latest guidelines to make sure you know what is required before you travel. In a nutshell, when travelling to an EU country or Northern Ireland, your pet needs:
If you're travelling to a non-EU country you'll need to get an export health certificate (EHC).
Panda with her passport, ready to go on her European adventure!
Your dog will need a passport and (possibly) a variety of injections administered by your vet before they will be able to travel to many countries. Additionally, you will often need to undertake more tablets or injections as you travel from one European country to the other. For example, Norway requires a specific worming tablet to be administered by a vet which is then stamped into the passport before you cross the border.
---
THE OLD ROUTINE
This gorgeous pup feels right at home in Lennon
If you are hiring a campervan, this is a new space for your dog to be in. The chances are, they will feel right at home super quickly. But, to help settle them in, it's a good idea to keep their routine the same as it is at home.
If you can, try to keep feeding and walking times the same – this will help them realise the only thing that has really changed is the view!
Also, if your dog is a bit territorial, it may be worth putting a windbreaker outside of your campervan so that your dog has his own space to maintain! Of course, this won't work as well when you're wild camping, but, you are less likely to encounter many other people if you are doing this.
---
KEEP THEM CLEAN
If there's mud, your dog is guaranteed to find it and may even roll in it. Hiring or owning a campervan with an outdoor shower is the perfect way to rinse off all that muck. It's much easier to wash a muddy dog off outdoors, rather than attempt to transport them into a suitable inside space!
Plenty of our campervans have outdoor showers
---
KEEP CALM AND CAMPERVAN!
If you are thinking about converting your own campervan, it's a good idea to try your dogs out on a trip first, so you know what will and what will not work. Many of our Quirky van owners are pet-friendly and welcome you and your dog into their awesome rolling homes.
FIND YOUR PERFECT COMPANION
Here is a selection of some of our 'PAW'some campervans.
Ain't no mountain high enough to keep you and your dog from an epic holiday. Converted by Brown Bird & Co, who are passionate dog owners themselves, Blencathra has everything your dog needs to stay comfortable on the road including an outdoor shower, a heater and plenty of storage for their toys and food.
This next campervan is for all the pampered pooches and their well-behaved owners. There's an outdoor shower to rinse off muddy paws and a large amount of floor space for them to stretch out after a walk. And her large dining table is ideal for entertaining and there's plenty of space for your dog to snuggle up underneath the table or beside you.
Seeking a spectacular campervan to fuel your family adventures? Well, you're in luck. Located just a few miles from the Welsh border, you and your family could be cruising through Snowdonia in no time.
Ready to take your dog (or other pet) on a campervan holiday?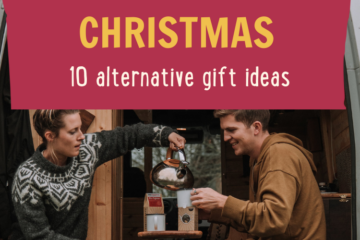 Are you looking for a different way to approach Christmas this year? Updated for Christmas 2023 The season of giving is upon us, and …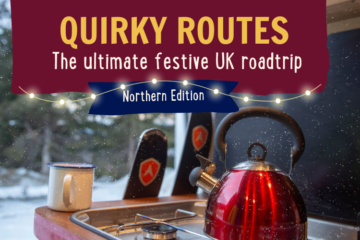 Are you a festive fiend or a grumpy Grinch? This season no matter what mood you're in, escape the normal and take yourself and …