Quirky Routes: The Ultimate Book Lovers UK Road Trip (Northern Edition)
Imagine stepping into the world of your favourite book, where you can see, hear and feel what the characters experienced. Sounds magical, right? Well, you don't have to imagine anymore, because we have created the ultimate book lovers UK road trip for you.
This book lovers route will not only take you to a number of book hotspots throughout the north of England, famous for their key links to well-known authors and their tales; you'll also discover quaint independent bookstores and peaceful campsites where you can kick back with…you guessed it, a good book.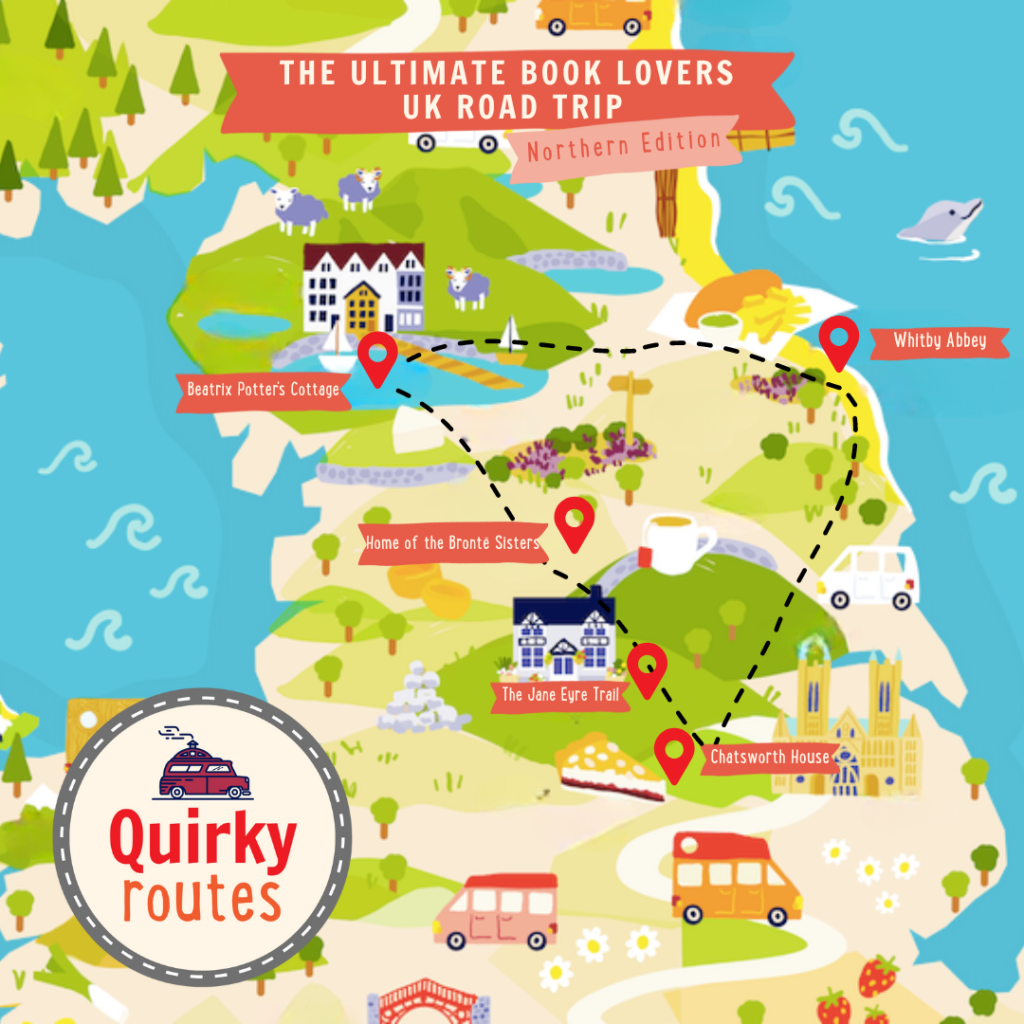 How long does the route take to complete?
Approximately 400 miles long, this circular route from start to finish takes around 10 hours to complete. We wouldn't suggest completing this route in a day, not only will you miss all the marvellous places to be discovered en route, but it would also be extremely tiring. To fully immerse yourself in this experience, we would recommend setting aside at least 7-10 days. As Aesop's fable, The Tortoise and the Hare would suggest, slow and steady certainly does win the race.
How much will it cost me in fuel?
A typical campervan will average around 20-35 miles per gallon which equates to about 4.39-7.69 miles per litre. To complete the whole circular route, you'll be looking to spend anything between £80-£150 on fuel, however, we always recommend setting aside an extra £50-£100 in your budget as there are some roads and rough terrain which may equate to a lower mileage per litre. RAC has a useful mileage calculator, so you can work out the cost for your specific vehicle.
What to bring
Hiking boots
Cash
Waterproof gear
Umbrella
Map
SPF
Umbrella
A camera
Books of course!
"There are darknesses in life and there are lights, and you are one of the lights, the light of all lights. –Bram Stoker – Dracula
The first tale you'll be walking onto the pages of is none other than Dracula. You may want to have your garlic and crosses ready for this one. In Stoker's novel over 130 years ago, Dracula arrived at the ruins disguised as a dog to wreak havoc and terror amongst the town. Since then Whitby Abbey has become a must-visit for horror fans along with St Mary's Church graveyard nearby, where you'll find some of the names that inspired characters within the book.
"She had never seen a place for which nature had done more, or where natural beauty had been so little counteracted by an awkward taste. They were all of them warm in their admiration; and at that moment she felt, that to be mistress of Pemberley might be something!" – Jane Austen – Pride and Prejudice
A classic for the literary traveller, and famously the setting of the BBC's adaptation of Pride and Prejudice for Pemberley, the extensive grounds of Chatsworth House are filled with rolling green hills and mediaeval woodland, that will transport you straight into Austen's novel. Keep your eyes peeled for Mr Darcy's diving spots, while you take in the stunning gardens, the tasty tea rooms, and the beautiful stately home.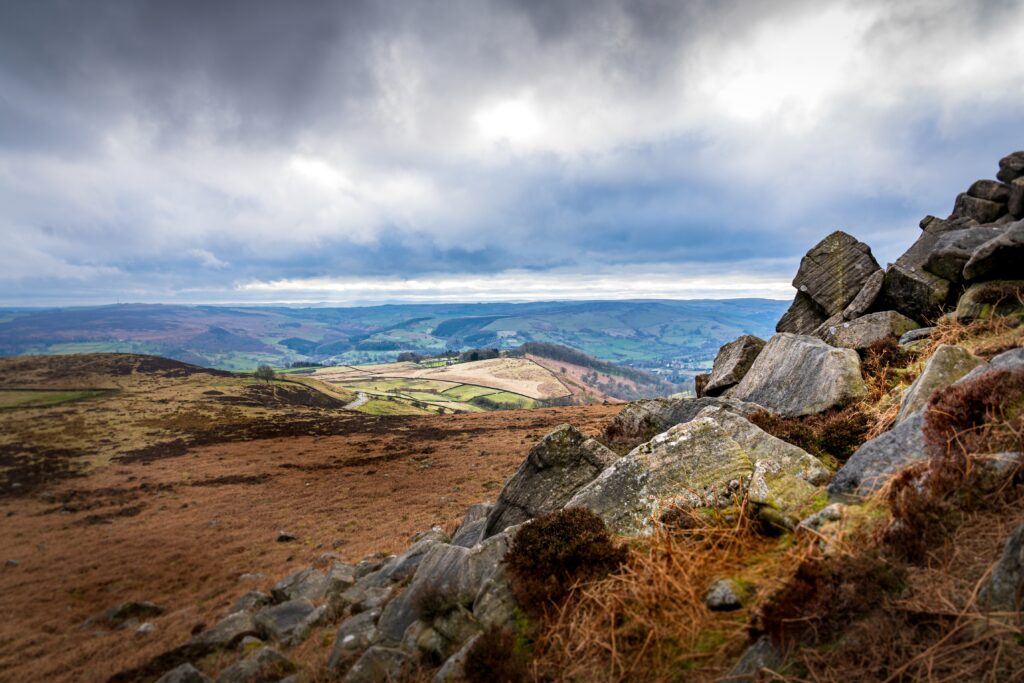 "I am no bird; and no net ensnares me; I am a free human being with an independent will, which I now exert to leave you." – Charlotte Brontë – Jane Eyre
What would a route designed for campervans be without a scenic hike? The Jane Eyre Trail is a circular route that takes you to places once visited by Charlotte Brontë and spots that appear amongst the pages of Jane Eyre. It's recommended that you allow for at least 3 hours to complete this 8 km hike, where you can also recreate the well-known scene from Pride & Prejudice above Stanage Edge.
"I cannot live without my soul! If he loved with all the powers of his puny being, he couldn't love as much in eighty years as I could in a day." – Emily Brontë – Wuthering Heights
The Bontë parsonage museum was the home of the Brontë siblings, including Charlotte, Emily and Anne, who famously wrote classics such as Jane Eyre and Wuthering Heights, and The Tenant of Wildfell Hall. The Brontë sisters lived most of their lives in the parsonage in Haworth. The home is now a museum where visitors can step into the rooms where the sisters wrote their novels and letters, see the clothes they wore and the drawings they once drew.
Beatrix Potter's Cottage, Hill Top House (Gardens of Peter Rabbit), Lake District (54.3517° N, 2.9706° W)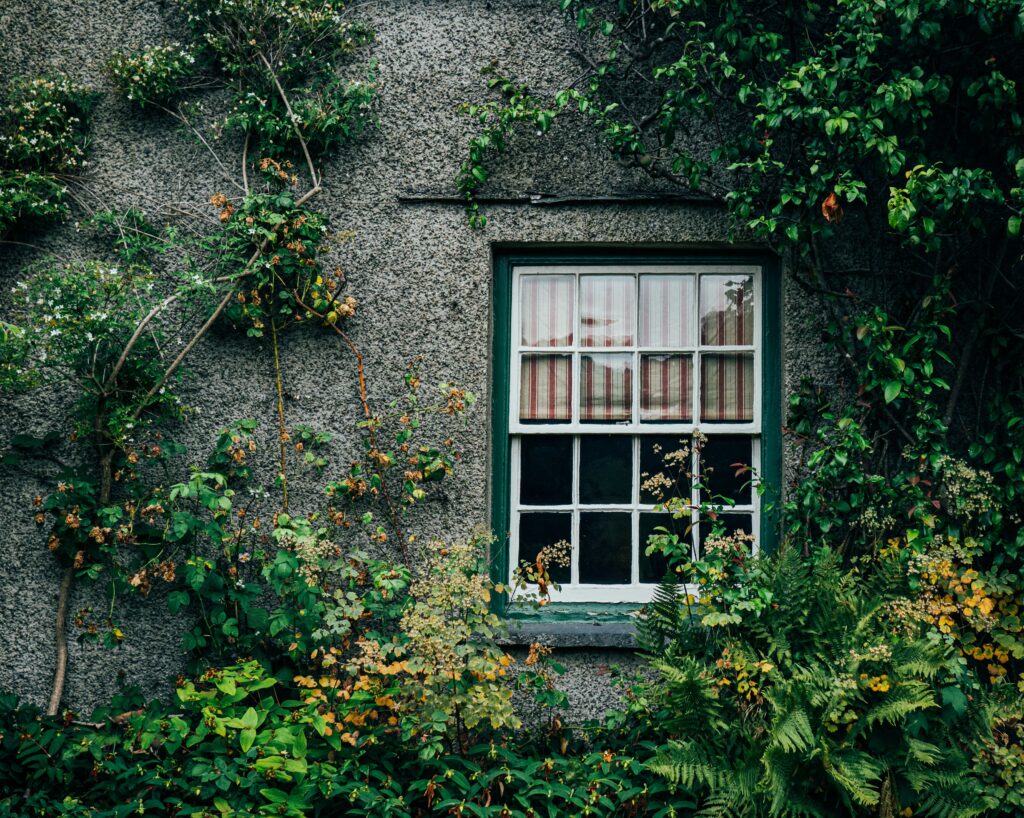 "If I have done anything, even a little, to help small children enjoy honest, simple pleasures, I have done a bit of good." – Beatrix Potter
Let the child within you run free as you visit Beatrix Potter's Cottage. The woman who filled so many children's hearts with joy by transporting them to the magical world of Peter Rabbit, along with many other loveable characters. Her beloved farmhouse inspired many of her tales and houses all of her favourite things. Time will simply disappear as you wander around her glorious garden, sip a cup of tea at the cosy cafe cabin and flick through pages at the second-hand bookstore on site. If you have time, spend a few more days walking in the local area which inspired her illustrations. Beatrix Potter had a passion for conservation and left 4,000 acres of her land to the National Trust when she died.
Independent bookshops to visit en route
Located on a street that was formerly known as Bookland Lane, Minster Gate Book Shop boasts an extensive collection of antiquarian and second-hand books. As general booksellers, they also specialise in children's and illustrated books. Its deep green entrance makes it hard to miss on this historic street in York.
Dracula fanatics unite! The historic and quirky town of Whitby is famous for being featured throughout the tale of Dracula. You may own a version of the Dracula book but we can guarantee you don't own all the ones this bookshop stocks. Not the hugest Dracula fan? With over 10,000 books on their shelves, you're guaranteed to find your next read at The Whitby Bookshop.
You could easily spend a whole afternoon at the High Peak Bookstore & Cafe. Start your visit by browsing their eclectic selection of books, old and new, gifts and puzzles, before heading into the cafe to dig into your new read with a hot drink and homemade cakes. The majority of their books are less than half the original price – result!
Situated in Hebden Bridge, a town known for its quaint and picturesque shops, The Book Case looks as though it's stepped off the set of a movie. This family and community-focused bookshop is considered a magical place for those who live in Hebden Bridge and those who visit. Be sure to check their website before your visit as they regularly host events and readings.
Wave of Nostalgia is a bookshop heavily themed on strong women, it's no wonder people travel far and wide to walk through its doors. Situated in the village of Haworth, the home of the Brontë Sisters, Wave of Nostalgia stocks a wide variety of suffragette, LGBTQI+ and feminist items as well as books written to inspire young and adult minds.
Fred's Bookshop sits in the heart of the Lake District. Describing themselves as small but mighty, they have an abundance of experience selling maps, guides and books. You can make use of their online ordering system and collect in-store on your visit or find joy in discovering new reads on the shelves.
Places to stay
Pets Welcome | Toilets | Showers | Laundry Facilities | Electrical Hook up available | Price; ££
Broadings Farm is a family and dog-friendly caravan park located in Whitby. With over 80 hardstanding pitches complete with electrical hook-up, it's a brilliant place to start or end your book lover's journey. They have a wide range of site facilities including laundry, toilets, showers and a pot washing area.
Pets Welcome | Toilets | Showers | Electrical Hook up available | Price; ££
This peaceful campsite is located just a 10-minute drive from the historic city of York where you'll find a number of independent bookshops, restaurants and impressive architecture. Set in 8 acres of Yorkshire countryside, you truly get the best of both worlds at Beechwood Caravan Park.
Pets Welcome | Toilets | Showers | Laundry Facilities | Electrical Hook up available | On-site shop | Price; £
Sitting at the foot of the Dark Peak, this secluded Camping and Caravanning Club site is a paradise for anyone looking to R&R (rest & read). Those exploring the book lovers route in a Quirky Camper get an exclusive 30% discount off all Camping & Caravan sites during their trip.
Pets Welcome | Toilets | Showers | Price; £
If you're seeking an intimate and secluded spot to read in peace then look no further than Valley View Caravan and Camping Site located in Huddersfield. Accessed off the beaten track, there are just 15 pitches available so you'll never feel too crowded. To the west you'll spy spectacular views over Colne Valley and to the south you'll spot Huddersfield's famous landmark Castle Hill.
Pets Welcome | Toilets | Showers | Price; £
Next up we have Ponden Mill Campsite. Situated next to a river and under the gaze of Scar Top Chapel, Ponden Mill showcases the true beauty of nature. Taking it back to basics, this site offers toilets, showers and epic views. Oh and of course it's dog friendly!
Pets Welcome | Toilets | Showers | Electrical Hook up available | Price; £
Orcaber Farm Camping is located near Settle, a scenic hotspot in the Yorkshire Dales. Its rural location and picturesque views make this the perfect spot to recoup and relax after a few hours of driving. There are plenty of local attractions nearby including Malham Cove, famous for its appearance in the 1992 film version of Emily Brontë's Wuthering Heights and Harry Potter and the Deathly Hallows.
Family Friendly | Dog Friendly | Toilet & Showers | Laundry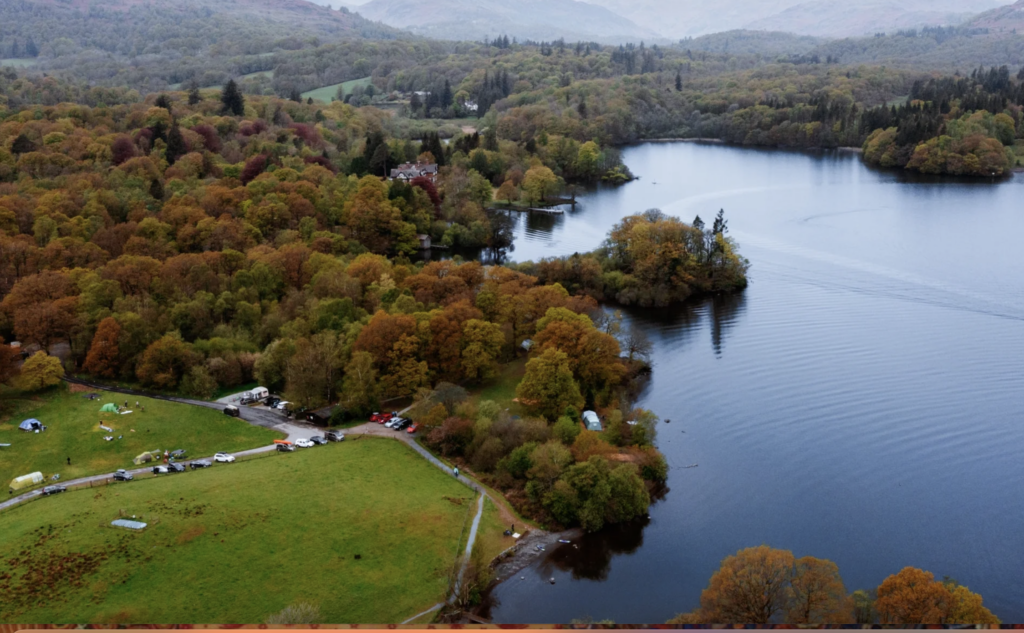 This national trust offers a wide range of awe-striking spots and facilities in the Lake District. There's everything you need to make your stay memorable including a shop, play area and waterfront views. Picture lounging by the lake with your favourite snacks and current read – dreamy!
Pets Welcome | Toilets | Showers | Electrical Hook up available | Price; ££
Last but certainly not least we have Bowfield Farm. This working farm is not only home to an abundance of wildlife, it's also home to a small family-run campsite boasting incredible views. Its intimate and cosy setting makes this the ideal place to stop off after completing the route.
Vans to take (all off-grid ready)
Belle, Sheffield
If, like Belle, you want adventure in the great wide somewhere, then you've come to the right place. The ideal place to get your nose stuck in a book, Belle has a hob and kettle so you can make yourself a brew or if you prefer to read with wine, Belle has a fridge so you can enjoy it chilled.
Misty, Sheffield
Sleek and stylish, magnificent Misty is the ideal choice for families looking to complete the book route. Equipped with double bunk beds, a large dining/seating area and an indoor bathroom, Misty is the true definition of a home away from home.
Ready for a scramble in Bramble? This 3 berth pet-friendly campervan is located in the Lake District, a place filled with plenty of independent bookstores. Whilst they say you should never judge a book by its cover, this time we encourage you to judge away as what's on the inside is just as beautiful!
Do we spy the perfect reading spot? Her large lounge area is an ideal place to pop your feet up and prepare for relaxation. Cleverly positioned to face the side door, you can spy spectacular views whilst digging into your next chapter. Or if books in bed are more your thing, this sofa easily transforms into a full-size double.
Go digging for gold and you may just discover a Sapphire. Based on Hebden Bridge, she is the perfect choice for couples, friends or a small family looking to complete this route. Her conventional oven means you can worry less about what's for tea or more about which book to buy next!
After all those hours spent exploring, you'll want a cosy bed to collapse in at the end of the day and that's where Django comes in. Thanks to his fitted sleeping pods, tall adults will be able to sleep comfortably. He also has an indoor bathroom with a heated shower and loo and a large sofa to curl up on.
Want to make your book lovers tour a planet-positive one? This classic Vdub is ready to take you on a journey through the classic tales. Showing you just how easy it is to be green, eDub Indie is fully electric, boasts 4 berths and has a fully functional living/cooking setup.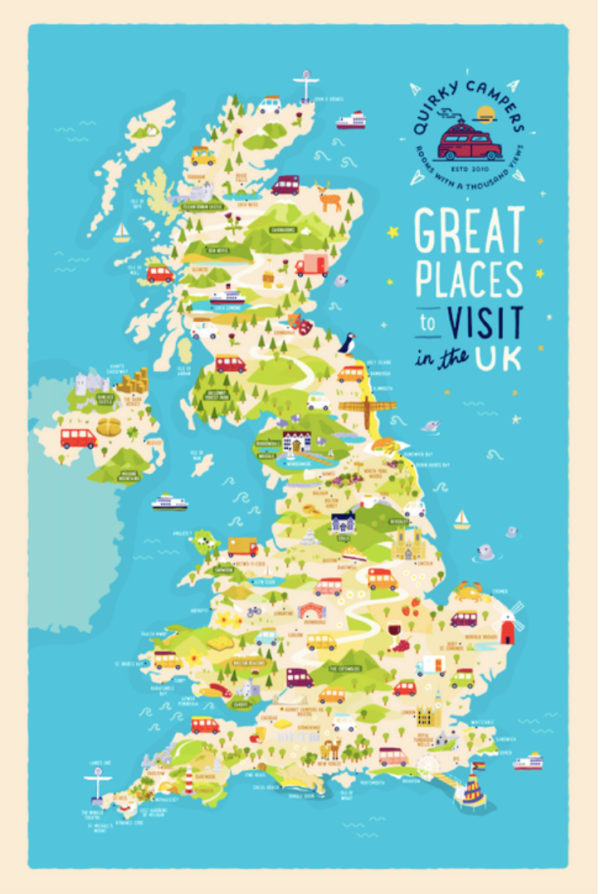 Ready to plan your own road trip? The official Quirky Campers tea towel is here! Find top UK road trip spots beautifully entwined within the design of our brand new tea towel that will look right at home in any kitchen or camper conversion!