Eddie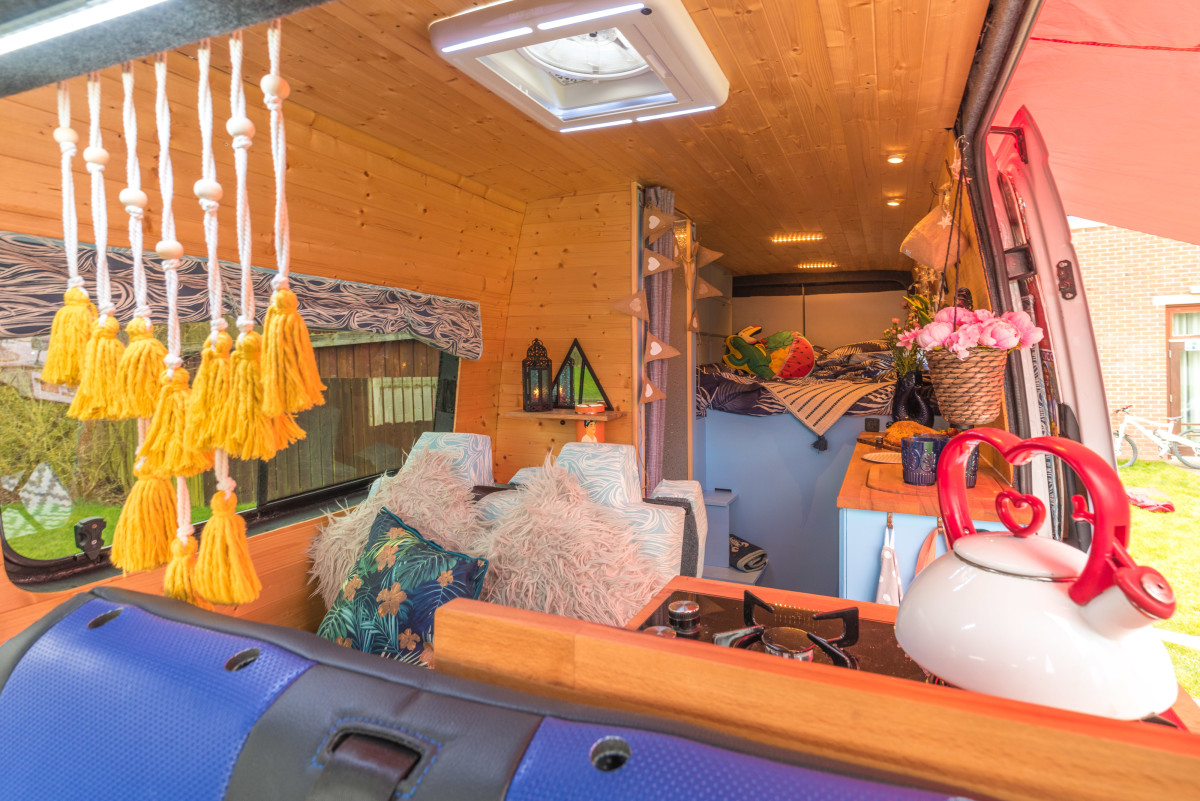 Melbourne, Derby
5 Belted seats 2 Adult berths 2 Child berths
Seeking a camper that not only oozes personality but also offers you the practical amenities you need? You can stop scrolling as your search is over! Show your family a whole new world in this culturally rich camper located in Derby. Eddie offers flexible and spacious accommodation with 5 belted seats, one fixed double bed and a small rock and roll bed for kids towards the front.

The conversion was carefully thought-out as the owners were determined to create a space where you could not only sleep well but eat well also; this is made abundantly clear by their fully-fitted kitchen which includes a two burner hob, small oven and fridge freezer - ice creams all round! Eddie is every breakfast lover's dream with his very own heart shaped kettle, cafetière and grill for you to knock out a big round of toast in the morning.

The whole gang can scrub up well before a big day out as Eddie is fitted with a shower and household sockets, allowing you to plug in hairdryers and straighteners. For families looking to venture off-grid, Eddie has been fitted with solar power and an inverter so no matter where you park up, you'll never have to worry about running out of juice. Rain or shine, the awning attached will provide you with shelter or shade and gives you that extra bit of space to entertain family or friends. A wide range of storage allows you to tidy away clothes, games and/or pet supplies.

So whether you're planning a relaxing family staycation or group gathering to a festival? Eddie is the ideal companion!

Essential Information
Hob
Heater
Oven
Refrigerator
Kitchen Sink
Inside Shower
Toilet
Ceiling Fan
Awning
Solar
Extra Storage
CD Player
Radio
Inverter
Pet Friendly
Double Beds: &nbsp1
Twin Beds: &nbsp2
Gas Capacity: &nbsp10 litres
Waste Tank Capacity: &nbsp55 litres
Water Tank Capacity: &nbsp75 litres
EU Travel Allowed
About the Campervan
Description of Beds:. Eddie has a fixed double bed for two adults and a small rock and roll bed for kids towards the front plus another bed can be set up on a platform across the front seats. Because the bed at back is raised it is lovely and warm in winter and has a window that can locked open a crack in summer and the roof fan will draw fresh air through. There is a maxx fan in the roof that runs silently at night and can be turned up to be very powerful during the day. All the windows and the roof have blackout curtains/screens.


Description of Seating: Three belted seats in the front (including driver) and two further belted seats in the rear. all 5 seats have three point belts.

About the area: Eddie lives just south of Derby near East Midlands airport and is also handy for both East midlands parkway train station, he is parked on a quiet cul-de-sac


Parking: If you drive to collect Eddie, you are welcome to leave your car parked on the driveway, if you come into East Midlands airport or arrive by train it is only a short taxi journey or there is a regular bus.

Cooking Equipment: for cooking there is a two burner hob and small oven, and a fridge that is bigger than average and freezer for ice or ice creams. Everything you need is provided, 4 dinner plates | side plates | bowls | cutlery | 4 proper mugs | 4 non-breakable tumblers and wine glasses | big salad bowl | stacking pans | a frying pan with a splatter guard | a folding colander | a cafetière | teapot | heart shaped kettle | bread knife | tin opener | burger flipper | cooking spoons | measuring jugs | tongs | bottle opener | chopping board | filtered water jug | dustpan and brush and a mini Dyson vacuum cleaner. You can do toast under the grill in the oven and there's loads of storage for dry food.


Water Facilities: Eddie has full running hot and cold water for washing in the main sink and for the shower, he has a 75 litre fresh tank and a 50 litre grey tank. The water heater runs on gas or electric.

Audio Equipment: Eddie has a standard head unit and with bluetooth hands free. There are plenty of usb charging points and household sockets to charge any gadgets.

Type of Heating: The heating and hot water is provided for with both gas and electric depending on whether you're on a site or off-grid, the gas is refillable Autogas so no need to exchange the cylinder if you run out (we'll start you off full) and bluetooth level indicator. The heater is on a thermostat and blows all over the van including into the cab area, you can run it high to warm up quickly or eco to be quiet at night.

Extras: There are household sockets to plug in hair dryers, straighteners and a small mirror.

Conversion Story: Eddie was the result of a long search for a van to convert so that his owners could travel to Triathlon events and holidays and short breaks, off grid or at campsites in the UK or accross europe. Our first outings were in a stipped back builders van with a blow up bed on the floor and surrounded by bikes and equipment.

It was important to us to be able to get cleaned up and to eat well, sleep well and have plenty of storage whether for bikes, SUPs, or just tables and chairs and somewhere to chuck wet clothes and this defined our layout with a hob and an oven, a big frdge and freezer, black out blinds and a shower.

Everything was done by Eddie's owners and the units are built from ply with solid worktops and masses of storage for food, clothes, equipment and wine. The themes are travel and beach which is where we love to be. Eddie can run off-grid thanks to his 24v 160amp (equal to 320amps at 12v) system that is 3-way charged while driving, from the 480 watt solar panels or plugged in to a hook up together with gas hob and the mixed power heater and hot water.
Pick up / Drop off Times
| - | Pick up | Drop off |
| --- | --- | --- |
| Sunday | 8:00AM - 7:30PM | 8:00AM - 7:30PM |
| Monday | 8:00AM - 7:30PM | 8:00AM - 7:30PM |
| Tuesday | 8:00AM - 7:30PM | 8:00AM - 7:30PM |
| Wednesday | 8:00AM - 7:30PM | 8:00AM - 7:30PM |
| Thursday | 8:00AM - 7:30PM | 8:00AM - 7:30PM |
| Friday | 8:00AM - 7:30PM | 8:00AM - 7:30PM |
| Saturday | 8:00AM - 7:30PM | 8:00AM - 7:30PM |
Note: Campervan Hire prices are per 24 hours. If you request pick-up at an earlier time than your drop-off time the owner will quote you for the additional hours. Typically this is £12.50 per additional hour.
When would you like to go?
Sorry, there was a problem...
Vehicle Spec
Vehicle Type: camper-van
Make: Mercedes-Benz
Model: Sprinter
Year: 2012
Vehicle Length: 7 metres
Vehicle Height: 2.9 metres
Length with hitch: 7 metres
Class / Floorplan: LWB
Max Laden Weight (MAM): 3500 kg
Payload: 290 kg
Transmission: manual
Fuel Type: diesel
Fuel Efficiency: 30 mpg
Registration: emailed when you book
Note: The hire of this vehicle is arranged by Quirky Campers ltd acting as the agent on behalf of Eddie's owners. We make every effort to ensure that all the vehicles listed with us are of a high standard but cannot guarantee the condition of the vehicle. If you experience any problems please notify us as soon as possible.