Bess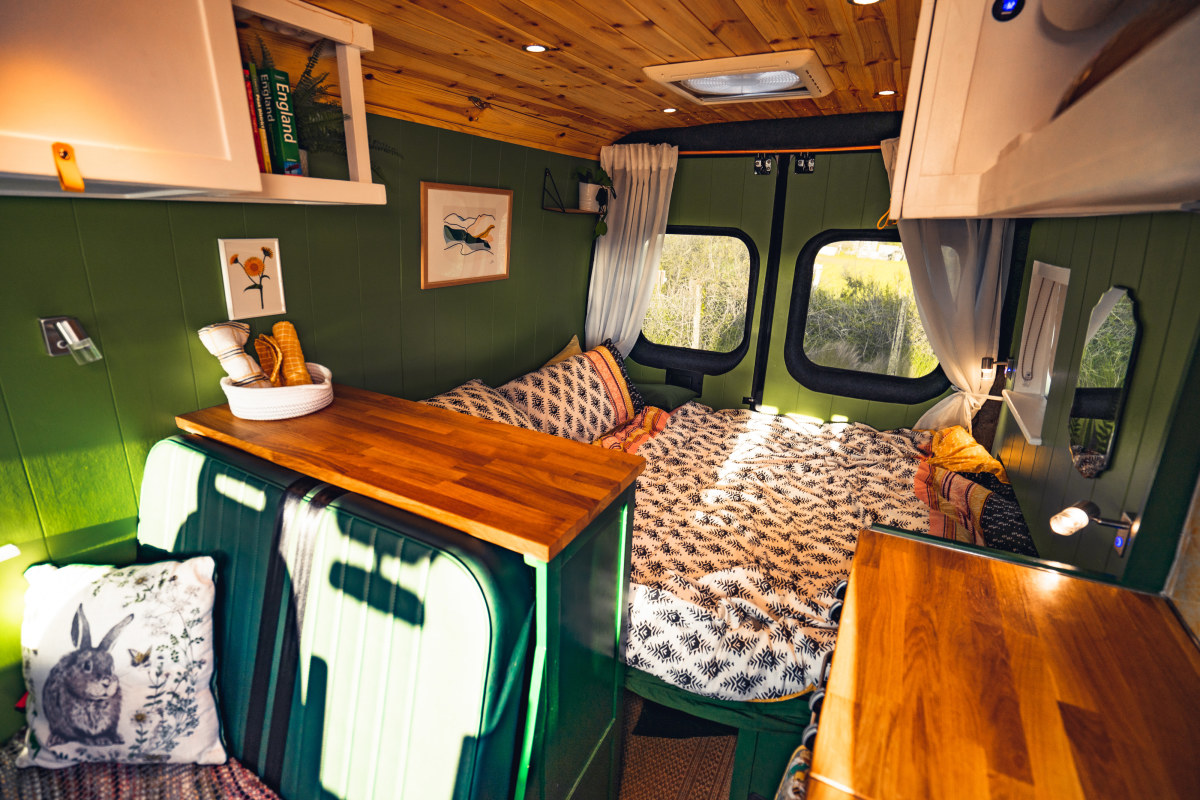 Manchester
4 Belted seats 3 Adult berths 2 Child berths
Bess is a beautiful contemporary cottage-style 5-berth campervan for hire in Manchester. She has a fabulously green design vibe which makes you feel totally connected to the countryside right outside your windows. Cleverly designed to provide a configurable sleeping and living arrangement, Bess feels really spacious in the daytime, and totally snuggly at night.

She has been freshly converted to a really high spec. Her custom-fit thermal-insulated blackout window covers and blinds on all sides will keep you cool in summer and cosy in winter and ensure you get a great night's sleep. Combined with the efficient gas heating, she is truly a van for all seasons! Bess is set up for off grid wild camping with a large water tank, a 250W solar panel and an inverter to power 240v appliances. 4G Wi-Fi is also available via a roof-mounted antenna.

If you're planning on having a family campervan adventure base or an outdoorsy couples getaway, then we think Bess is a perfect choice! She has a fully equipped kitchen, hot outdoor shower and loads of storage for wellies, rucksacks and hiking boots - great for the nearby Peak District! This super stylish camper has a full-length wind-out awning to give instant shade on sunny days or to provide a dry area in case of a rain shower. So, whatever the weather, the whole family will have an absolutely epic camper van holiday in Bess!
Essential Information
Hob
Heater
Dining Table
Oven
Refrigerator
Kitchen Sink
Outside Shower
Bike Rack
Toilet
Wifi
Ceiling Fan
Awning
Solar
CD Player
Audio Inputs
Radio
Inverter
Gas Capacity: &nbsp25 litres
Waste Tank Capacity: &nbsp63 litres
Water Tank Capacity: &nbsp82 litres
EU Travel Allowed
About the Campervan
Description of Beds: Bess sleeps up to three adults and two children. Two adults in the king-size bed at the rear, one adult in the full single rock-n-roll bed behind the cab and two children in the 'Cabbunk' beds over the front seats. There is room for a travel cot (if not using the rock-n-roll bed), which is available as an extra.

Description of Seating: Two belted seats in the front with head rests (including driver) and two further belted seats directly behind. All have three-point belts. All three passenger seats are suitable for a child car seat using the belt. The front seats swivel to provide extra seating when parked up.

About the area: Bess lives on a residential street in Chorlton, South Manchester, close to the town centre and a 20-minute drive from Manchester airport. Manchester Piccadilly train station is only 15 minutes away in a taxi or can be easily accessed by Metrolink tram. The stunning Peak District National Park can be reached in 40 minutes and the equally beautiful Yorkshire Dales or the Lake District within 90 minutes. Even closer to home, there are great campsites in lovely Cheshire to the South.

Parking: If you drive to collect Bess, you are welcome to leave your car as there is plenty of free on street parking nearby.

Cooking Equipment: Bess is well equipped for all of your culinary needs, with two gas hobs and a gas oven and grill, electric fridge with freezer compartment, and ceramic sink. She has pots, pans and all the necessary cooking utensils, crockery, cutlery, glasses, china mugs and a cafetière. Oven gloves and tea towels are provided. We supply some tea, coffee and sugar to get you started, as well as washing-up and cleaning supplies. Children's cutlery, cups and crockery are also available on request.

An external BBQ running off the van's gas supply is also available if required, for an additional fee.

Water Facilities: Hot and cold water is supplied via a pump to the sink and to the external shower at the rear of the van (for which a privacy tent is available). There is an 82-litre refillable fresh water tank and a 63-litre waste tank located under the van. A 7-litre hot water heater and the 25-litre refillable gas tank that supplies it are also located on the underside of the van. A portable chemical toilet (with a privacy tent) is available as an optional extra.

Audio Equipment: Bess has a DAB radio and CD player in the cab. USB plug-in and blue-tooth are both available too so you can play your own music.

Type of Heating: A gas-fired blown-air heater supplied from the same refillable underslung gas tank as the cooker and hot water.

The Toilet: The toilet is available as an extra. It is a portable chemical toilet that comes with a privacy tent. If you're spending all your time on campsites you may not feel you need it. If you do decide to take it we ask that it comes back empty and clean inside and out.

Conversion Story: Bess started life as a delivery van and her owner Steve was very timely in collecting her on his way back from a ski trip just weeks before the UK went into full lockdown! He and Holly have always dreamed of owning a campervan, both of their parents having had VW campers in the 80s. Steve loves a project and Bess has kept him busy during every available break whilst working from home throughout most of the past year. For the decor, Holly took her inspiration from the English countryside - she and Steve wanted for their guests to be able to look out of the window and find what you see reflected inside the van. They have an adventurous little boy who loves camping and know that Bess will provide their guests and their own family with many a happy holiday to come!

Extra information: Bess is fully off grid with a large water tank, a 250W solar panel, 230Ah of Lithium (LiFePO4) batteries and a 2000W inverter to power 240v appliances. She also has numerous 12v sockets and USB charging points around the accommodation and can be connected to mains power where available. 4G WiFi is also available via a roof-mounted antenna. Bess has sat-nav built in.

Bess has great ventilation due to her two electrical ceiling fans (equipped with blackout blinds). A blackout curtain is also provided which can separate the cab from the accommodation. When used with the rear blinds a 'stealth' appearance is created for greater privacy giving Bess the appearance of a plain black van from the outside.
Pick up / Drop off Times
| - | Pick up | Drop off |
| --- | --- | --- |
| Sunday | 9:00AM - 6:00PM | 9:00AM - 6:00PM |
| Monday | 9:00AM - 6:00PM | 9:00AM - 6:00PM |
| Tuesday | 9:00AM - 6:00PM | 9:00AM - 6:00PM |
| Wednesday | 9:00AM - 6:00PM | 9:00AM - 6:00PM |
| Thursday | 9:00AM - 6:00PM | 9:00AM - 6:00PM |
| Friday | 9:00AM - 6:00PM | 9:00AM - 6:00PM |
| Saturday | 9:00AM - 6:00PM | 9:00AM - 6:00PM |
Note: Campervan Hire prices are per 24 hours. The default pick up and drop off time is 2pm. If you request a pick up or drop off outside of this, the owner will quote you for the additional time. Typically this is £12.50 per additional hour.
When would you like to go?
Sorry, there was a problem...
Vehicle Spec
Vehicle Type: Campervan
Make: Citroen
Model: Relay
Year: 2018
Vehicle Length: 6 metres
Vehicle Height: 2.65 metres
Max Laden Weight (MAM): 3500 kg
Payload: 486 kg
Transmission: manual
Fuel Type: diesel
Registration: emailed when you book
Note: The hire of this vehicle is arranged by Quirky Campers ltd acting as the agent on behalf of Bess's owners. We make every effort to ensure that all the vehicles listed with us are of a high standard but cannot guarantee the condition of the vehicle. If you experience any problems please notify us as soon as possible.