Skye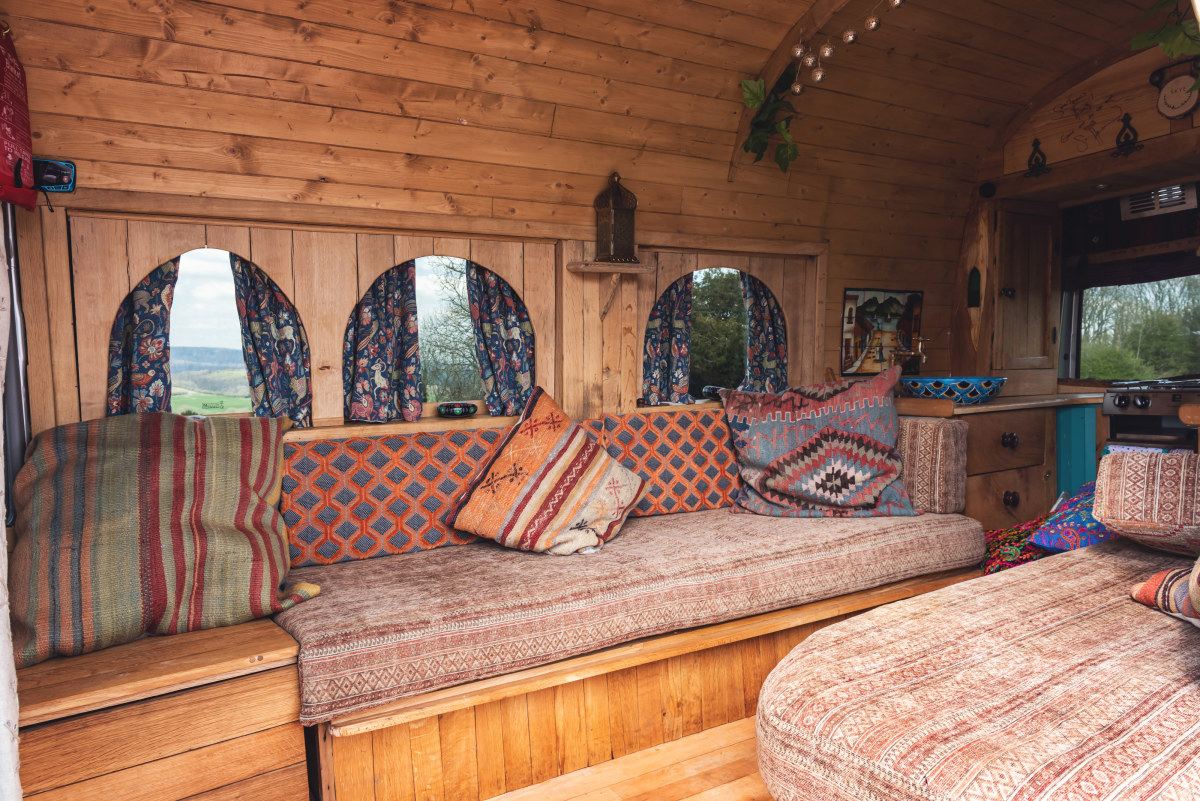 Petersfield
3 Belted seats 2 Adult berths 1 Child berths
Skye is nothing short of spectacular. With her eccentric and mesmerising charm, she is quite arguably one of the most eye-catching campers in our collection. Whilst located in the scenic South Downs National Park near Petersfield, her owners describe her as a 'Highland lass' through and through. This camper oozes personality, from her recycled gymnasium flooring to her gothic window in coloured glass. Skye's owners have created the perfect balance between rustic simplicity and bohemian style; with her natural and reclaimed wood, craftsmanship and colourful interior.

This camper sleeps two adults and 1 child, and has been designed with socialising in mind. There are two sofas, creating the perfect space to kick back and relax with a few friends in the evening.

For those looking to go off-grid, Skye offers you a unique and practical base. Panoramic views can be enjoyed all day through her back and side windows. There is a portable toilet situated behind the driver's seat and cleverly hidden inside an oak topped box. With an abundance of underfloor storage and space, there is plenty of room to pack up your wetsuits and your hiking boots for an action packed trip. Skye has been fitted with a full voyager 4500 cooker with grill and oven, so whether you're looking to cook a full banquet or no fuss dinner, Skye's got your back. For those needing digital connectivity, a 4G router, with antenna can be hired, along with a portable powerpack for additional power off grid

If you're looking to shut yourself off from reality and enjoy some peace and quiet in the great outdoors, there is really no camper better suited, than Skye.
Essential Information
Hob
Heater
Dining Table
Oven
Refrigerator
Kitchen Sink
Toilet
Wifi
Awning
Generator
Solar
Reversing Camera
Extra Storage
Radio
King Beds: &nbsp1
Twin Beds: &nbsp1
Water Tank Capacity: &nbsp49 litres
About the Campervan
Description of Beds: Skye sleeps 2 adults, either in twin beds using the fixed couches, or converting the couches into a king size bed, which fits the entire width of the van. The whole process takes just a couple of minutes. Mattress protectors are provided. The king size bed can also accommodate a small child. Alternatively, a small child could sleep on the front double seat.

Description of Seating: Seating for around 8 is possible. The 2 couches can seat 3 and 4 respectively. This is a great van for socialising with friends and there is plenty of room for children to play.

About the area: Skye lives at a farm cottage nestled beneath the hills in the stunning South Downs National Park, between Petersfield and Chichester, approximately just over an hour south of London. The South Downs Way, a long distance footpath through chalk escarpments, rolling hillsides and picture postcard villages is literally only minutes away. The location is around 10 minutes to the A3M, the motorway from London to Portsmouth.

We are situated around 20 minutes from the coast and 30 minutes from the hovercraft to the Isle of Wight. The New Forest National Park, with its sprawling wilderness and ponies that roam wild, is just over an hour's drive. The Jurassic coast, a world heritage site, is just a little further. Southampton airport is around 45 minutes drive with both Gatwick and Heathrow airports approximately 1 hour and 10 minutes away. Perfect for those flying in for the 'Outlander Experience'. Transfers can be arranged from Rowlands Castle and Petersfield train stations.

Parking: You are welcome to leave your car off road at our farm cottage.

Cooking Equipment: Skye has been designed for the discerning chef! There is a full voyager 4500 cooker with grill and oven. Everything you make at home can be cooked on this. There is a hidden deep sink, as well as the lovely decorative one for handwashing. There is a compressor fridge for your beer, wine and essentials. There is also a portable BBQ available. Skye has a well equipped kitchen: Kettle | Cafetiere | Saucepan with steamer | Sauté frying pan | Range of quality chef knives | Kitchen utensils | Kitchen scissors | Can opener | Corkscrew | Range of stackable tupperware | Range of bowls and colanders | Oven tray | Oven dishes | Chopping board | 2 dinner plates | 2 small plates | 2 bowls | 2 wine glasses | 2 tumblers | 2 mugs | Cutlery | Oven gloves | Tea towels | Kitchen bin | Rubbish bin | Dustpan | Washing up items | Kitchen roll | Complementary Condiments | tea/coffee/sugar.

Water Facilities: Water is held in the garage in a large 25 litre container. Additionally, the beautiful hand washing sink has 2 bottles below which hold 12 litres each

Audio Equipment: Skye has a CD/radio in the cab.

Type of Heating: Diesel Heater. Touchpad system is very user friendly. Skye has been used in sub zero conditions and the heater warms the van very quickly and effectively.

Power and Wifi Electric hook-up, 3 socket cable provided free of charge. For those needing to work off grid, or who simply require additional charging capabilities off grid, aside from USB, we have available for hire, a Powerpack 450+ which delivers AC and DC power. This is enough to charge your laptop, phone, tablet, camera, light, router etc for a few days. The powerpack can be charged via the cigarette lighter socket as well as traditional socket. Also available for hire, is a 4G dual sim router (Teltonika RUT950 plus Poynting antenna. You can use your own sim , purchase a pay as you go, or purchase as an add on additional to the hire - a Vofafone network data pack. You will need to check data coverage in the area you plan to travel yourself.

Availability From the 6th September until 22nd October , Skye is only available for weekly bookings from this location. However, you can book her for 3+ night bookings from Dorset where she will be staying during this time.

https://www.quirkycampers.com/uk/campervan/216793/?wb-currency=GBP

Conversion Story: Skye is a Highland lass through and through! Her name is aptly chosen - inspired by the magical misty Isle of Skye. A beautiful place that transports you to another world, much like Skye herself. Designed for off grid camping, Skye commenced her journey in the Highlands of Scotland, where she was lovingly created by 'Rustic Simplicity' who are fast becoming well known for developing exquisite, magical tiny homes. Skye is no exception. It is clear she evolved from a labour of love and creativity.

Skye was created during the 2020 Covid 19 lockdown. She went on through a strange set of circumstances to be involved in the 'Men in Kilts' series released in 2021, which is the story of a road trip around Scotland starring two of the Outlander stars: Sam Heughan who plays Jamie Fraser and Graham McTavish who plays Dougal Mackenzie. It's just two guys travelling around the beautiful Scottish highlands, discovering the people and places in Skye, the very van you see here! The van features their signatures and a little hand written message from each of them on the top cupboard by the back doors. This can be seen in the photos. In addition, this van featured in a story about the Men in Kilts series, in the Scottish Field magazine. So if you are an Outlander fan, this is a fantastic opportunity to hire the actual van that took Sam and Graham on the trip of a lifetime!

Pick up / Drop off Times
| - | Pick up | Drop off |
| --- | --- | --- |
| Sunday | 8:00AM - 6:00PM | 8:00AM - 6:00PM |
| Monday | 9:30AM - 5:00PM | 9:30AM - 5:00PM |
| Tuesday | 9:30AM - 5:00PM | 9:30AM - 5:00PM |
| Wednesday | 9:30AM - 5:00PM | 9:30AM - 5:00PM |
| Thursday | 9:30AM - 5:00PM | 9:30AM - 5:00PM |
| Friday | 9:30AM - 5:00PM | 9:30AM - 5:00PM |
| Saturday | 8:00AM - 6:00PM | 8:00AM - 6:00PM |
Note: Campervan Hire prices are per 24 hours. If you request pick-up at an earlier time than your drop-off time the owner will quote you for the additional hours. Typically this is £12.50 per additional hour.
When would you like to go?
Sorry, there was a problem...
Vehicle Spec
Vehicle Type: camper-van
Make: Nissan
Model: NV400
Year: 2014
Vehicle Length: 6.1 metres
Vehicle Height: 2.8 metres
Length with hitch: 6.1 metres
Max Laden Weight (MAM): 3500 kg
Payload: 720 kg
Transmission: manual
Fuel Type: diesel
Registration: emailed when you book
Note: The hire of this vehicle is arranged by Quirky Campers ltd acting as the agent on behalf of Skye's owners. We make every effort to ensure that all the vehicles listed with us are of a high standard but cannot guarantee the condition of the vehicle. If you experience any problems please notify us as soon as possible.