EX - Rhapsody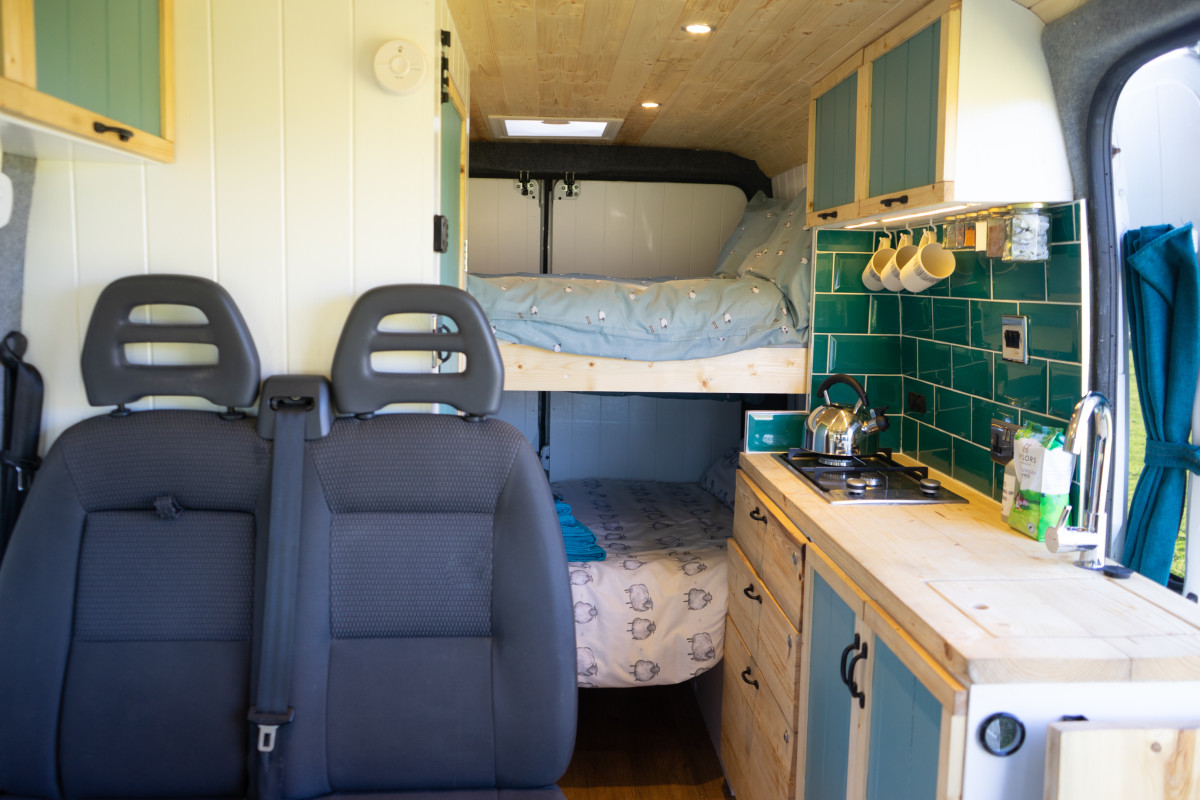 Ceredigion
4 Belted seats 4 Adult berths
Vocal cords at the ready, this camper will leave you singing for joy! Rhapsody is an adaptable 4 berth family camper with 4 belted seats. Located in the idyllic Ceredigion countryside on the edge of the Cambrian mountains and just 30 minutes drive from the popular seaside towns of Aberystwyth or Aberaeron, you will not have to travel far to provide your family with the ultimate staycation. After a day of exploring with your little scouts, you'll be able to wash off any mucky or sandy feet in the outdoor shower. There will be no faffing at bed time as both double beds are fixed and ready for you to fall into. The bottom bunk is also removable and the top bunk can be lowered to create extra headroom and storage, perfect if it's just the two of you.

Bark-B-Qs at the ready, this pet friendly camper is ready to host the whole gang! Envisage cooking burgers on the grill with a seaside backdrop - just be sure to keep the sausages out of dogs' reach! For those colder nights, you have the option of feeding the tribe inside with his spacious dining area and a 2 ring gas hob, there are enough tools to create the cosy family dinner you desire. A diesel heater has also been fitted to take your homely night in with the fam to a whole new level.

There is a great deal of storage to pack away all your home comforts such as blankets, children toys and board games. If you're looking to show your children the benefits of the great outdoors, Rhapsody is the ideal off-grid camper to accompany you with solar power, indoor shower and toilet, you'll be able to connect to nature in the day and feel at home at night!

Essential Information
Heater
Dining Table
Refrigerator
Kitchen Sink
Inside Shower
Outside Shower
Toilet
Ceiling Fan
Solar
Reversing Camera
Extra Storage
Audio Inputs
Radio
Inverter
Pet Friendly
Gas Capacity: &nbsp12 litres
Waste Tank Capacity: &nbsp65 litres
Water Tank Capacity: &nbsp67 litres
EU Travel Allowed
About the Campervan
Description of Beds:. Rhapsody is versatile, he can sleep 4 in his 2 double bunks. However, if he is only housing two, the lower bunk can be removed and the upper bunk can be lowered to mid-height, making more head space up top while leaving enough space below to store 2 bikes! Alternatively, the top bunk can be removed entirely, leaving the bottom bunk as your fixed bed. It's entirely up to you!

Description of Seating: There are 4 belted seats, 2 in the front and a double bench seat behind the driver's seat, all of which have headrests and 3 point seatbelts. The driver and passenger seats swivel round to the living area while not in transit to make a great social or dining space.

About the area: Rhapsody lives just outside of Tregaron; a beautiful market town deep in the Ceredigion countryside and on the edge of the stunning Cambrian mountains. We are just a 30-minute drive from the popular seaside towns of Aberystwyth or Aberaeron, which themselves are excellent points to jump on the stunning 60 mile Ceredigion coastal path. If you are after an all-Wales adventure, Snowdonia National park is just 1 hour north, the Brecon Beacon National park is just 1 hour south and the Pembrokeshire Coast National Park is just 1.5 hours south.

Parking: If you drive to collect Rhapsody, we have ample parking for a car or three! If you take the train, pickup can be arranged from Aberystwyth train station or anywhere within a 20-mile radius.

Cooking Equipment: Rhapsody has everything you would need to eat like a prince. Featuring a 20l fridge, which can also be set in freezer mode for your perishables or even ice cream, a powerful twin gas hob, and an extendable work surface. Additionally, Rhapsody has a bamboo crockery set for 4, as well as 4 bamboo mugs and 4 glasses. There is one large frying pan, 2 saucepans, a stovetop kettle and a chopping board. In the cutlery drawer, you can find the bottle opener, corkscrew, tin opener, cheese grater an assortment of cooking knives and plenty of cutlery.

Water Facilities: There is hot and cold running water feeding the kitchen sink, indoor shower and outdoor shower. This is supplied by a 55l fresh water tank, and a 12l hot water tank. The wastewater is collected in an underslung 65l tank. The toilet has a 20l removable black water tank.

Audio Equipment: Up front, there is a head unit with Bluetooth and Aux connectivity for use while driving, in the back, there are USB ports for charging the Bluetooth speaker.

Type of Heating: Rhapsody has a 5kw diesel heater installed and has been designed to withstand the harshest of alpine winters. As such, she is fully winterised and ready to take on any weather, be it – 20°C or +40°C.

Conversion Story: Rhapsody started life as a builders van and her conversion became something of a winter lockdown project. I bought him with the view of converting and living in for the winter ski season in the French Alps, leaving him unoccupied during the summer months. As such, Rhapsody has been designed to withstand the harshest winter temperatures at utmost comfort thanks to the diesel heater, hot running water and internal shower. Rhapsody and also features a massive 500w solar array on the roof which enables him to function 100% off-grid, though hookup is still available. Rhapsody's conversion was completed in early May 2021 and I wanted him to be light and airy, drawing on influences and colours from the beautiful Cardigan Bay on the Ceredigion coast.
Pick up / Drop off Times
| - | Pick up | Drop off |
| --- | --- | --- |
| Sunday | 8:00AM - 10:00PM | 8:00AM - 10:00PM |
| Monday | 8:00AM - 10:00PM | 8:00AM - 10:00PM |
| Tuesday | 8:00AM - 10:00PM | 8:00AM - 10:00PM |
| Wednesday | 8:00AM - 10:00PM | 8:00AM - 10:00PM |
| Thursday | 8:00AM - 10:00PM | 8:00AM - 10:00PM |
| Friday | 8:00AM - 10:00PM | 8:00AM - 10:00PM |
| Saturday | 8:00AM - 10:00PM | 8:00AM - 10:00PM |
Note: Campervan Hire prices are per 24 hours. The default pick up and drop off time is 2pm. If you request a pick up or drop off outside of this, the owner will quote you for the additional time. Typically this is £12.50 per additional hour.
Vehicle Spec
Vehicle Type: Campervan
Make: Citroen
Model: Relay
Year: 2010
Vehicle Length: 6 metres
Vehicle Height: 2.62 metres
Box Length: 6 metres
Max Laden Weight (MAM): 3500 kg
Payload: 580 kg
Transmission: manual
Fuel Type: diesel
Registration: emailed when you book
Note: The hire of this vehicle is arranged by Quirky Campers ltd acting as the agent on behalf of EX - Rhapsody's owners. We make every effort to ensure that all the vehicles listed with us are of a high standard but cannot guarantee the condition of the vehicle. If you experience any problems please notify us as soon as possible.
Reviews
This van hasn't yet received any reviews.