Calvi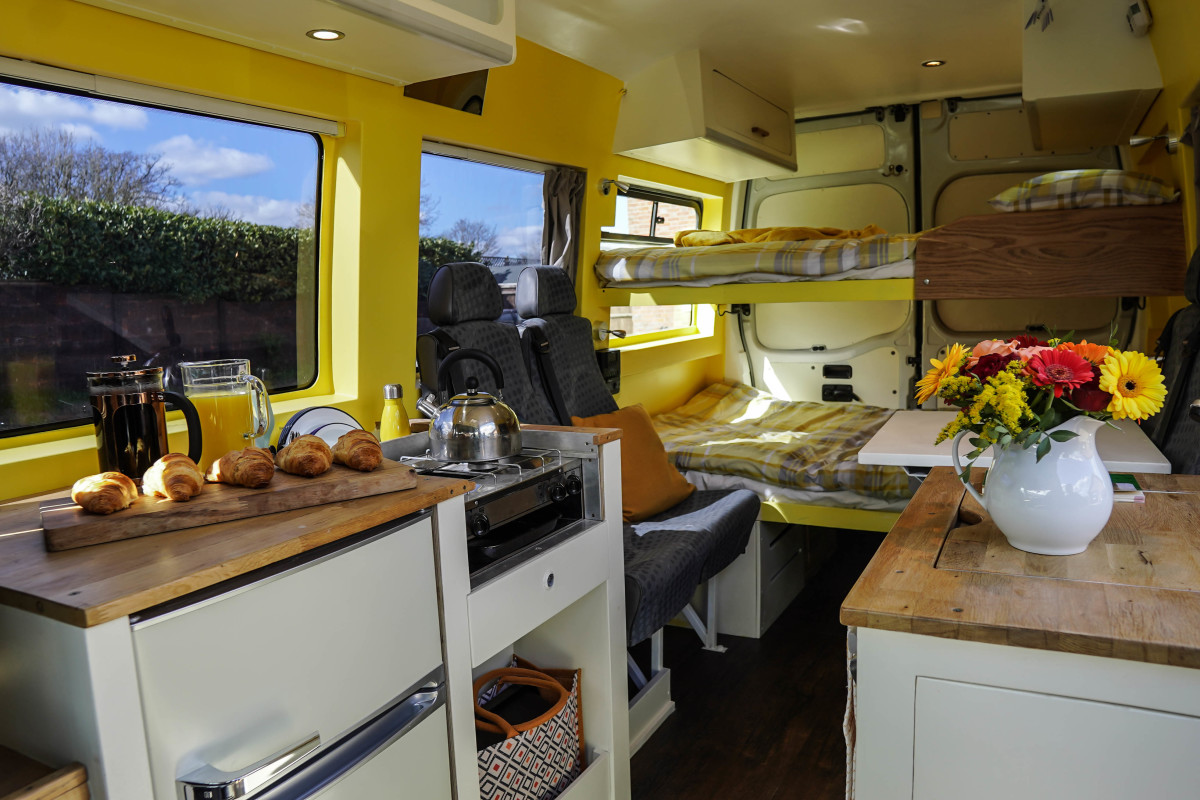 West Grinstead
6 Belted seats 4 Adult berths
Say hello to Calvi; your very own chalet on wheels, on hand to add a little bit of luxury to your getaway ! This bold and beautiful 4 berth camper is ready to whisk you and your family to an adventure of a lifetime. Originally a people carrier, Calvi boasts plenty of windows, providing you with panoramic views all day, everyday. Fitted with 2 fixed small double beds. Spend less time faffing and more time relaxing after a long day of exploring. Incredibly adaptable and versatile, Calvi boasts 6 belted seats, perfect choice for socialising, whether you're heading to a festival with friends or would simply like to invite some pals over for dinner - there is room for the whole gang.

Breakfast with a view has just been given a whole new meaning. With a 2 ring gas hob and grill underneath, the options are endless - Bon-e-petite! Will you be enjoying a cup of coffee in bed with the backdoor wide open or around the sliding table, planning a hike for the day ahead? Either way you have the option to be blessed with a droolworthy backdrop.

Calvi is ready for all types of adventures; appreciate the security of a campsite or relish in the freedom of a wild park up. With an abundance of solar power, toilet and refrigerator - you have all the ingredients to cook up a trip to remember!
Essential Information
Heater
Dining Table
Refrigerator
Kitchen Sink
Outside Shower
Toilet
Awning
Solar
Leveling Jacks
Radio
Inverter
Pet Friendly
Double Beds: &nbsp2
Gas Capacity: &nbsp20 litres
Toilet Capacity: &nbsp10 litres
Waste Tank Capacity: &nbsp10 litres
Water Tank Capacity: &nbsp40 litres
About the Campervan
Description of Beds: Calvi sleeps 4 people. There is 2 fixed small double. 190cm long x 125cm wide.

Amazingly Calvi has 6 belted seats so is ideal for socialising. 4 rear seats face each other with a large sliding table. This table can slide underneath bed when not in use. There is a front passenger seat that swivels to face the rear.

Electrical Set Up: Two 12v batteries (total 200amp hours). These can be charged 3 ways. 1 is via a split charger when the car engine is on, the second is for when you are at a campsite with a 240v hook up via cable which uses a battery charger or best of all, the third is a 260 watt solar panel on the roof for all electrical items on board. This is ideal for real off-grid camping. There are 2 USB points which can be used 24/7.

Location: West Sussex. Happy to pick up for free if required from Horsham mainline train station. parking for up to 2 vehicles on the driveway for the duration of rental.

Cooking Equipment: Kitchen provides a 2 burner gas hob with grill underneath. Ideal for breakfasts. Large stainless steel deep sink. Below the sink are 2 x 20 litre fresh water portable containers. Calvi has utensils and all cooking equipment required for tasty meals.

Water Facilities: 1 X 20 litre grey water container. Thetford cassette toilet.

Audio Equipment: Bluetooth radio with usb point.

Conversion Story: Calvi was originally a people carrier. This made an ideal base for conversion as it came with many fitted windows. These windows now have custom made removable covers for the rear sleeping part of the van and sliding curtains for kitchen and cab areas. This layout makes for a bright spacious layout ideal for adventures to come. Expert workmanship and quality items were used to transform Calvi into an ideal small home ready to go anywhere.
Pick up / Drop off Times
| - | Pick up | Drop off |
| --- | --- | --- |
| Sunday | 8:00AM - 6:00PM | 8:00AM - 2:00PM |
| Monday | 8:00AM - 6:00PM | 8:00AM - 2:00PM |
| Tuesday | 8:00AM - 6:00PM | 8:00AM - 2:00PM |
| Wednesday | 8:00AM - 6:00PM | 8:00AM - 2:00PM |
| Thursday | 8:00AM - 6:00PM | 8:00AM - 2:00PM |
| Friday | 8:00AM - 6:00PM | 8:00AM - 2:00PM |
| Saturday | 8:00AM - 6:00PM | 8:00AM - 2:00PM |
Note: Campervan Hire prices are per 24 hours. The default pick up and drop off time is 2pm. If you request a pick up or drop off outside of this, the owner will quote you for the additional time. Typically this is £12.50 per additional hour.
When would you like to go?
Sorry, there was a problem...
Vehicle Spec
Vehicle Type: Campervan
Make: Vauxhall
Model: Movano
Year: 2010
Vehicle Length: 6 metres
Vehicle Height: 2.5 metres
Length with hitch: 6 metres
Max Laden Weight (MAM): 3500 kg
Payload: 900 kg
Transmission: manual
Fuel Type: diesel
Registration: emailed when you book
Note: The hire of this vehicle is arranged by Quirky Campers ltd acting as the agent on behalf of Calvi's owners. We make every effort to ensure that all the vehicles listed with us are of a high standard but cannot guarantee the condition of the vehicle. If you experience any problems please notify us as soon as possible.