Dotty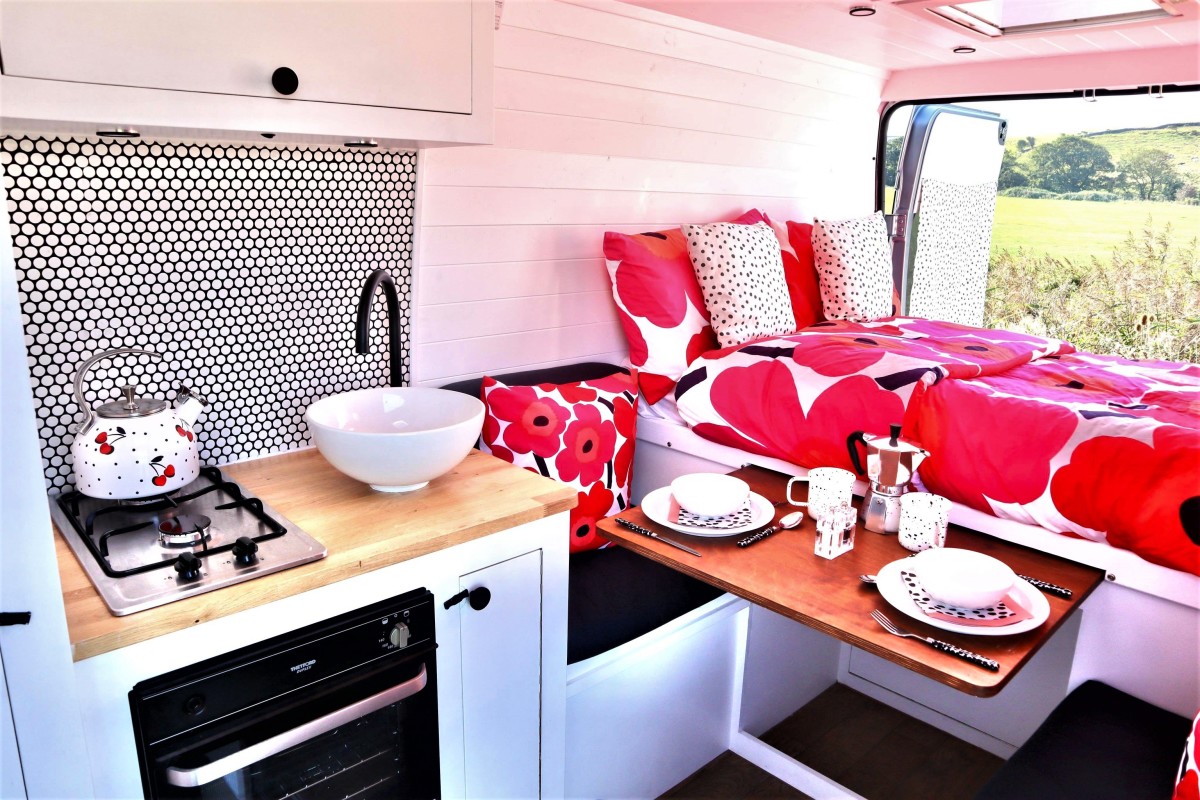 London
3 Belted seats 3 Adult berths
Connect the dots in this campervan and you will piece together a luxurious home on wheels. Dotty is an ever so stylish, London campervan for hire.

Dotty about design? Then Dotty is the campervan for you. A brand new 2021 professionally converted London campervan for hire, Dotty is dog-friendly and a stylish retreat from life on the road: the ultimate host for an absolutely fabulous boutique wheel adventure.

A beautiful light, bright, modern, Scandi style campervan, Dotty the campervan's modern interior is fresh and inviting, combining monochrome decor with dots, dashes of colour and designer touches. Sleeping up to three guests in a fixed double bed with an additional single bed converted from the dining area, this is a fully self-contained London-based campervan for hire, complete with onboard shower and toilet facilities, solar power, plenty of charging sockets, heaps of storage space, a tow bar to take the bikes along and even a doggy cubby hole.

Dotty has less than 1000 miles on the clock and comes with all mod cons both for driving and cooking up a campervan feast. Fitted with an oven and 2 ring gas hob, you can decide whether to whip up a Michelin inspired meal or fire up a gourmet pizza in the oven.

Perfect for year-round hire, Dotty's toasty diesel heater will keep you warm in the winter months, whilst solar power extends the life of off-grid summer adventures. Whatever the weather, Dotty is the perfect host, eager to aid and abet your escape from the city in a boutique hotel on wheels!

Essential Information
Hob
Heater
Dining Table
Oven
Refrigerator
Kitchen Sink
Inside Shower
Toilet
Tow Bar
Solar
Leveling Jacks
Radio
Inverter
Pet Friendly
Double Beds: &nbsp1
Waste Tank Capacity: &nbsp60 litres
Water Tank Capacity: &nbsp100 litres
About the Campervan
Description of Beds: Dotty sleeps up to three guests comfortably, with a fixed double bed (122cm/4ft wide x 182 cm/6ft long) and a separate single bed (92cm/3ft wide 182cm/6ft long which converts easily from the dinette area. Add designer bedding and pillows as an extra to complete the boutique hotel on wheels experience.

Description of Seating: Dotty has three belted seats, all of which have three point belts, in the cab, which is separate to the living space. In the living area, the dinette area seats two comfortably, with the option to add a stool to accommodate a third person. The table retracts to give more space when not in use, or fits three for a fancy feast.

Description of Electrical Setup: Dotty comes complete with plenty of charging points for both USB and three point power (inverter). Outside she comes complete with electric hook up for when you can plug in to power, at a campsite, or if visiting friends, as well as a 160W solar panel to benefit from additional power to extend your off grid touring time.

About the area: Dotty lives in South West Central London in Oval, equidistant between Stockwell (Victoria Line) and Oval (Northern Line) stations, 5-10 minute walk. Alternatively, Vauxhall mainline station is approx. a 20 minute walk.

Parking: If you drive to collect Dotty, you are very welcome to take advantage of resident's parking outside our house. You just need to pre-book this with us in advance and the charge is £6 per day. If you come by tube, (Stockwell or Oval), Dotty's owners will provide walking directions depending on whichever station you are coming to.

Cooking Equipment: Dotty has a fully equipped kitchen, complete with a sink, two burner gas hob, oven and 50L fridge freezer, which we will always make sure comes complete with ice cubes so you can enjoy a cold drink on arrival at your first stop! Dotty contains everything you could need to cook up a feast, including: 2 traditional tin camping mugs | 4 china mugs | 4 bamboo plates | 4 bamboo bowls | stainless steel cutlery for 4 | 2 glass wine glasses | 2 glass champagne flutes | 2 tall glass water glasses | 2 small water (or gin) glasses | 2 bamboo large beakers | 2 plastic champagne flutes | 2 plastic pint glasses | 2 Joseph Joseph chopping boards | whistling stove top Kate Spade kettle | RidgeMonkey frying pan/steamer/toaster | 2 saucepans (large & small) and colander. Moka pot (for fresh coffee brewed on the stove top!).

There are wooden & silicone spoons, silicone spatulas and tongs, large and small sharp knives, a can opener, corkscrew/bottle opener, grater, kitchen scissors, barbecue tongs (for use on external BBQs). Dotty also has a small dustpan and brush, mini vacuum cleaner and a 12V hair dryer that you can use in the van.

Water Facilities: Dotty carries a 100 litre fresh water tank on board that supplies hot and cold water to the kitchen and washroom. Dotty has an onboard wash and toilet facilities, contained in the shower room. A hot water internal shower and a flushing porta potty toilet make off-grid adventures make for complete off-grid adventures.

Type of Heating: Dotty has a toasty diesel heater, ensuring you never need to get chilly.

Audio Equipment: Dotty has a DAB Radio with USB and Bluetooth handsfree connections, meaning that you can play your own music in the cab and a portable Bluetooth speaker for use in the living area.

Extra Information: Dotty is a brand new campervan and a brand new conversion for 2021. Set for autumn adventures with onboard toilet and shower facilities, an oven, diesel heater and even a pooch pad to give your furry friend his/her own space. Converted by Studley Campers, this is their very much tried and tested Oxwich model, with just a few modifications – extra windows, a tow bar to attach the bike rack to, the dog nook and some extra shelving, as well as some boutique hotel on wheels touches. Dotty offers pet-friendly campervan hire for well-behaved pets. The cleaning fee does become a required charge when your pet comes too. A second pet on board is at our discretion and potentially subject to an additional charge. Please let us know at the time of booking and feel free to ask any questions.

Conversion Story: Dotty was born out of a desire to roam, without compromise on comfort: A dream to create a boutique hotel on wheels experience, combining relaxed travel and a beautiful space to call home, whilst exploring the World.

Un-enamoured with the cliches of prefab motorhome travel and inspired by Quirky Campers, we commissioned Studley Campers to convert a brand new 2021 Citroen Relay transit van into Dotty: a practically designed space, complete with en-suite facilities, and as much comfort as you can get in a 6 metre long vehicle.

It was important for us to start with a brand new vehicle, eliminating any unnecessary anxieties around mechanics, and we wanted a vehicle that wouldn't obviously be identified as a campervan, whether we were in it or not, both for security and for wild camping opportunities.

We were keen to design a space that was light and bright: a fresh, monochromatic space, enlivened with splashes of colour, pattern and texture; and drawing maximum natural light with skylights and additional windows.

Having a place to 'lounge' was very important to us, as well as lots of storage, which the fixed bed layout is brilliant for. Being able to be fully off-grid, and being fully self-contained with on-board shower and toilet facilities was also a must. In lockdowns, with campsite and public facilities often closed, in our other van, Rudy, we had so many more options being self-contained, so this was a must for Rudy's little sister, and for future longer trips with off-grid opportunities, enhanced by solar power and a toasty diesel heater.

Lastly we wanted a cosy nook for our little Muttley and your furry friends, to have a home within a home to call their own. We are very excited to hit the road in Dotty, our second van, and very own boutique hotel on wheels, which is built to share with your guests and their furry friends.
Pick up / Drop off Times
| - | Pick up | Drop off |
| --- | --- | --- |
| Sunday | 9:00AM - 7:00PM | 9:00AM - 7:00PM |
| Monday | 9:00AM - 7:00PM | 9:00AM - 7:00PM |
| Tuesday | 9:00AM - 7:00PM | 9:00AM - 7:00PM |
| Wednesday | 9:00AM - 7:00PM | 9:00AM - 7:00PM |
| Thursday | 9:00AM - 7:00PM | 9:00AM - 7:00PM |
| Friday | 9:00AM - 7:00PM | 9:00AM - 7:00PM |
| Saturday | 9:00AM - 7:00PM | 9:00AM - 7:00PM |
Note: Campervan Hire prices are per 24 hours. If you request pick-up at an earlier time than your drop-off time the owner will quote you for the additional hours. Typically this is £12.50 per additional hour.
When would you like to go?
Sorry, there was a problem...
Vehicle Spec
Vehicle Type: camper-van
Make: Citroen
Model: Relay
Year: 2021
Vehicle Length: 5.99 metres
Vehicle Height: 2.6 metres
Length with hitch: 6.3 metres
Transmission: manual
Fuel Type: diesel
Registration: emailed when you book
Note: The hire of this vehicle is arranged by Quirky Campers ltd acting as the agent on behalf of Dotty's owners. We make every effort to ensure that all the vehicles listed with us are of a high standard but cannot guarantee the condition of the vehicle. If you experience any problems please notify us as soon as possible.