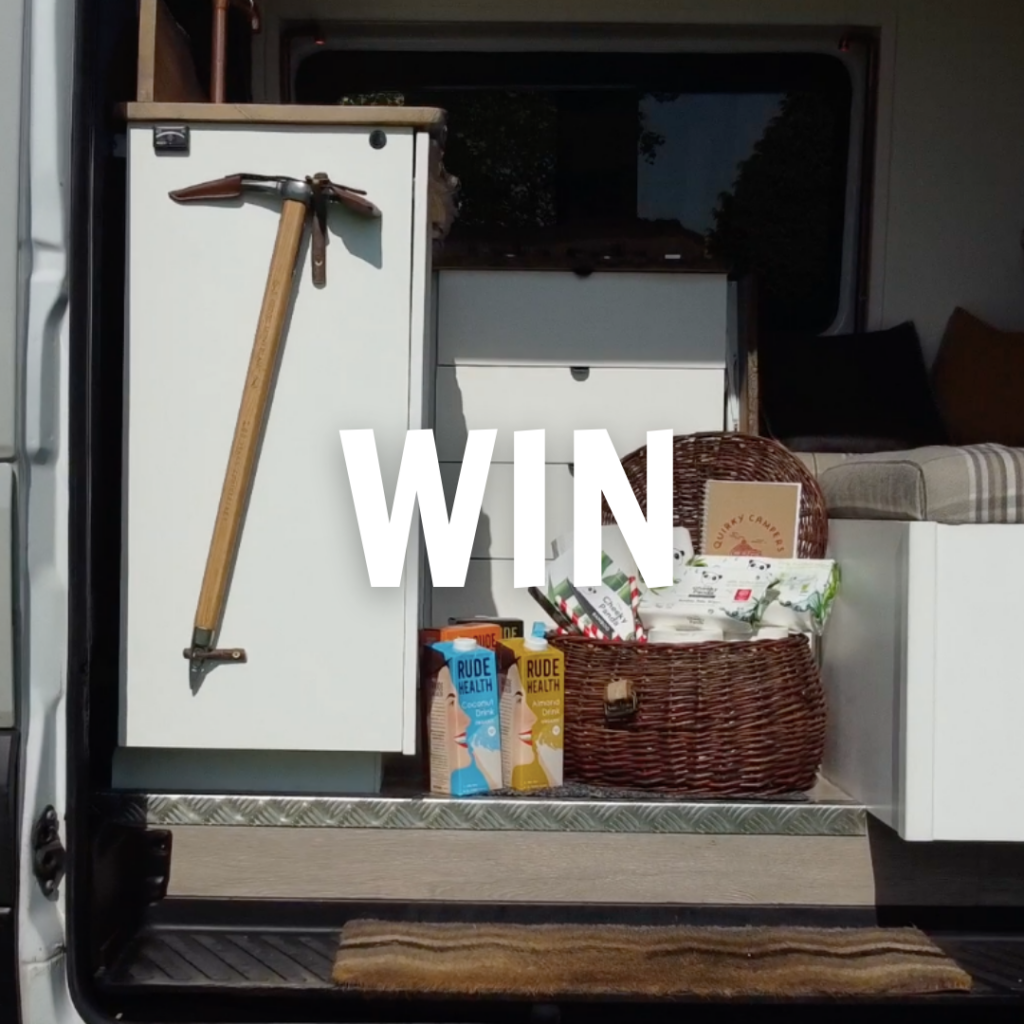 Hit the open road this summer. With temperatures soaring and countries being taken off the corridor list quicker than you can say double-shot Almond Drink cappuccino, there's only one thing on everyone's mind. The Great British staycation. That's why we've partnered with Rude Health and Cheeky Panda to bring you the ultimate "campervan essentials" bundle, filled to the brim. Set off on your voyage knowing you have all bases covered: breakfast, bog roll and a bed to sleep in.
The competition will run from 16th June – 30th June 2021. Good luck!
One lucky winner will receive the following:
£350 Quirky Camper gift voucher
£350 Rude Health bundle
Over £300 worth of Cheeky Panda products (toilet & kitchen roll, wipes & more!)
View the choice of Quirky Campers here
How to enter
This competition is now closed. The winner will be announced week commencing 5th July 2021.
T&Cs
The prize includes a £350 Quirky Campers voucher towards campervan hire and must be redeemed by 31 August 2021; a £350 voucher from Rude Health and the following bundle from Cheeky Panda: 2 Bulk Boxes of 48 Toilet Rolls (29.99 each), 1 Bulk Box of 10 Kitchen Rolls (19.99), 1 Bulk Box of 24 Baby Wipes (45.99), 1 Bulk Box of scented Facial Wipes (45.99), 1 Bulk Box of 10 Dry Wipes (59.99), 1 Bulk Box of 6 Antibac Wipes (35.99), 1 Bulk Box of Flat Box Facial Tissues (23.99), 1 Box of Bamboo Shake Straws (14.49). The chosen campervan will need to be collected and returned to where it is located. Prize includes a voucher only and will emailed to the winner. The prize does not include fuel or flights. The winner must be over 18 and drivers must be over 23 years of age and with a full valid driving licence; drivers must provide proof of address and if they have a UK license, provide Quirky Campers with a DVLA check code. Prize will be subject to Quirky Campers' usual booking conditions, which include providing a security deposit of £500 to secure against any damage to the vehicle and accepting insurance excess which will range from £750- £2000 depending on the age of the driver(s). If you cancel your trip within 28 days of booking, you will not be able to rebook and the voucher will become invalid.