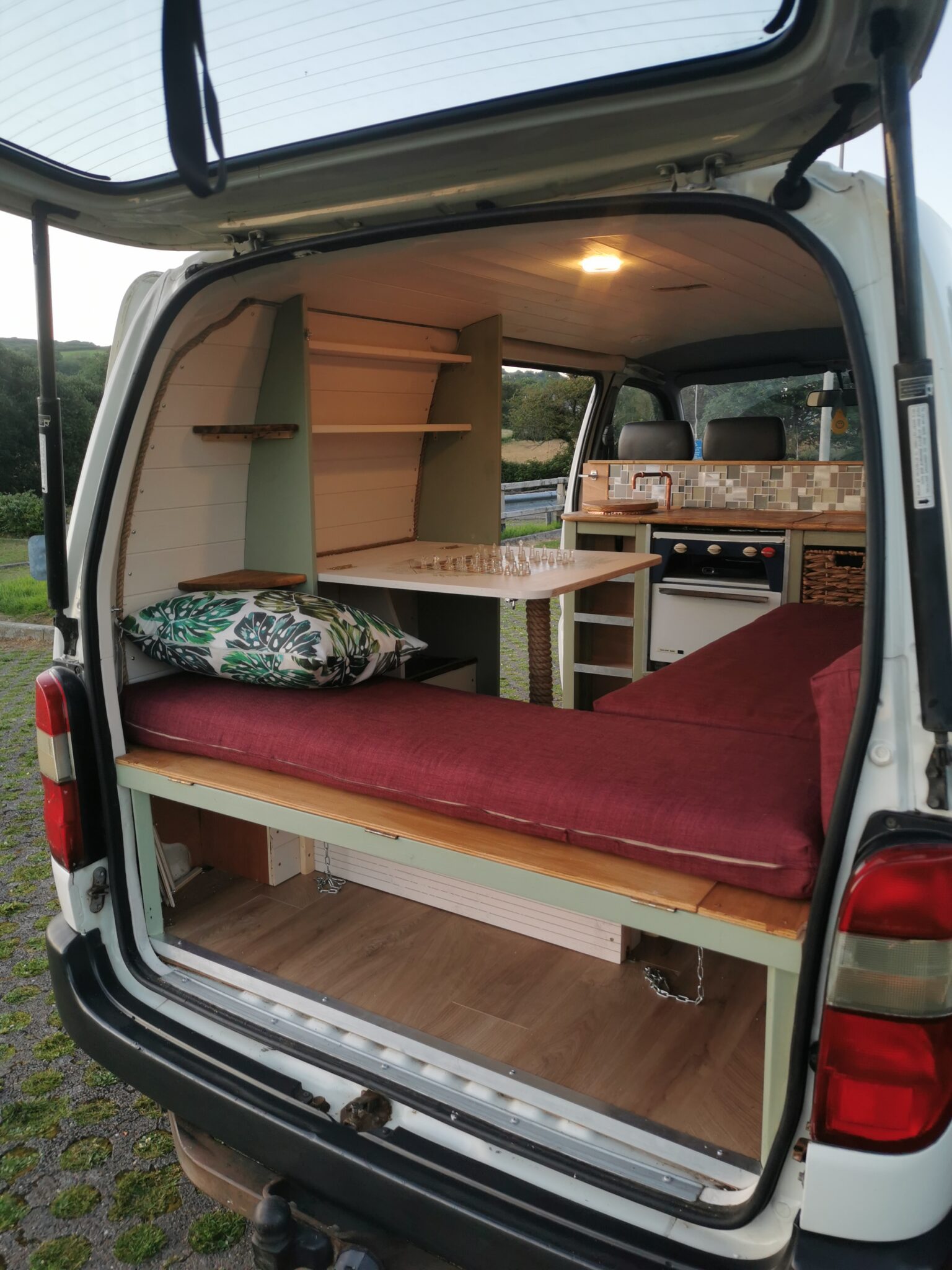 Vehicle Description
Diesel 2446cc Manual 5 gears.
Engine in excellent condition,
Bodywork in Excellent condition
Service history
Good MoT history
12 months MOT to 14th July 2022
Brand new service
New Timing belt
Conversion Description
Professionally converted by Woodhacker in Wales. Welcome to Eirin, my latest conversion..
This is the super reliable diesel 2.5 Non Turbo Toyota engine with low mileage at 124k these vans will do half a million miles if looked after. The base van is in excellent condition for its year. The cab is in excellent condition also(however there is a tear in the drivers seat which is really common and has been mended)
The van has only driven a few thousand miles each year and has been well looked after. It has service history and good MOT history. The timing belt was done at the required 90k miles however I have had it done again while it was in for a service as it was a few years ago. There was also 6 months MOT left on it but I have had a brand new MOT put on it for peace of mind.
It is a manual with 5 gears. It has 3 belted seats in the front (middle seat has a lap strap)
About the van and me.
This is a stunning, one of a kind, beautiful rustic brand new Toyota Hiace campervan conversion. Professionally converted to a 2 berth campervan. I convert Toyota Hiaces into campervans as I love the Hiaces. The engines are rock solid and built to last, easy to maintain and go on forever. I take time looking out for vans with good mileage and MOT and service history, as I do not want to be putting my energies into a van that hasn't been looked after and driven well. My last few conversions were sold by word of mouth from previous customers. Each build I do is unique and has it's own quirky character
I have been driving it while doing the build and can guarantee that it runs perfectly and starts on the key every time. I also drove it from Cambridge back to Wales from it's previous owner and it didn't miss a beat.
The layout is designed to incorporate as much storage and functional living space as possible so that it works for long trips away from home with lots of stuff in a van. It is also small enough to be used as an everyday run around or for a quick stealthy escape for a night or two on a weekend, it is easy to drive and easy to park. One of my previous customers is currently living in hers full time in Ireland.
The van is fully insulated with a vapour barrier and has been clad in Tongue and groove which has been painted in Eggshell. The interior has been built with new and reclaimed timber to a high standard. The L shaped seating area makes it feel very roomy for a small van. The table drops down on hinges and has a hand painted chess/draughts board painted on it's surface. When not being used the table is raised and becomes the door to shelving above. Below there is further storage.
The seating is spacious so that 2 adults can lounge stretched out on the seats with plenty of room. The back bench is fixed and has a lift up lid to access storage inside the van, this area is also accessible from the back outside and the seat flips out 180degrees so that it an be used as a table outside underneath the tailgate supported with chain ..perfect for outdoor dining/drinks etc
The other bench slides out easily to create a double bed that is 6′ long by 4'6 wide using the seating cushions. The cushions are foam with a layer of memory foam and are covered with fire retardant upholstery fabric.
There is also lots of storage underneath the pull-out bench which can be accessed from inside, this storage area is also accessible from the back door and runs the full length of the bench seat so that longer things can be stored.
The kitchen has a full-length reclaimed pine worktop. The cooker sits under a section that is removed when in use. Another section hinges upwards to access storage below and to access the gas bottles and leisure battery.
The van is designed to be Off grid with a solar set up. There is a 100W Solar panel which charges the 110ah Leisure battery. 3 x LED spot lights, touch sensitive and dimmable. USB charging points and a cigarette lighter socket for the cool box which run off of the solar and further USB points and cigarette lighter charger in the front to use when driving. It comes with a 12V 14 litre Cool box.
It has 10 litre fresh and 10litre waste water on-board that is easily accessible. And a copper tap operated by a Whale foot pump.
It has a rare retro vintage B600 Calor gas cooker with 2 hob, grill and oven that works perfectly. 2x 4.5 kg Butane Calor gas bottles so that there is back up if you run out while camping. (The gas has not been tested)
She is a real head turner, cosy, homely and ready for her adventures.
Please call me if you have any further questions 07772471417
Please note: Quirky Campers do not inspect the listings for accuracy or check campervans in person. We have asked sellers to provide evidence of certificates and paperwork however you MUST check yourself that the information provided is present and correct. You will need to exercise the normal due diligence when buying any vehicle.
Current Mileage
124,000miles
Registered Vehicle Type
Panel Van (does not meet DOT standards)
pull out double bed 6′ x 4′
Maximum Weight (MAM or MTPLM)
2,800kg
Unladen Weight Verified?
NO - the vehicle has not been weighed since completion
Gas sign-off supplied
None