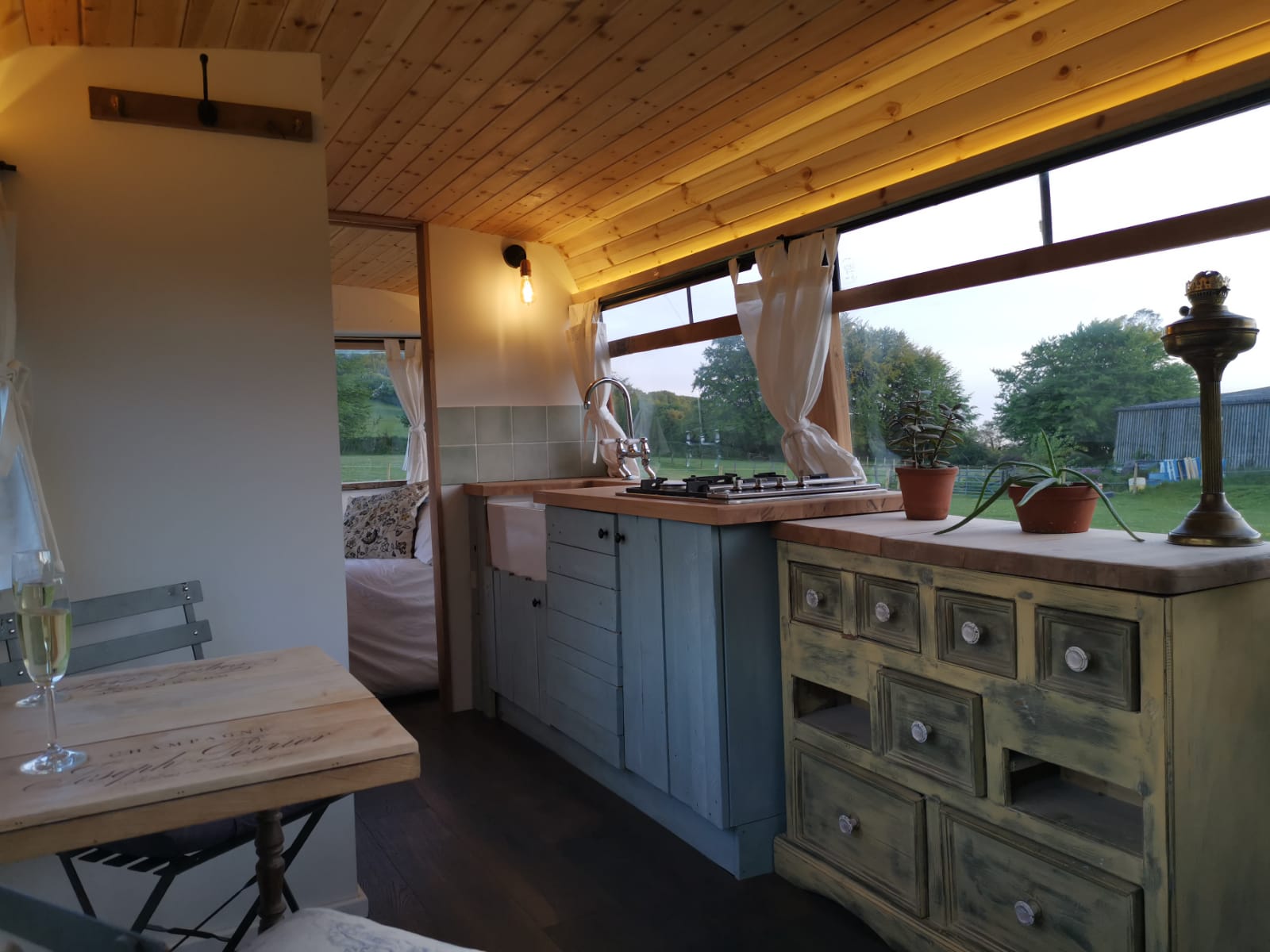 Vehicle Description
Mercedes 814 – 2000 – 4.2L diesel engine . Fully automatic.
Fixed bodywork from dents from previous owner.
Full service history.
Starts first time, every time, reliable Mercedes engine
Recent full service from me, including oil and gearbox filter change and new batteries.
12month MOT
Conversion Description
Big Blue has been converted meticulously from an old 30 seater bus into a classy rustic campervan bigger than many London flats! The Bus has been converted to feel like you're living in rural hideaway, with modern fittings but a plethora of locally sourced wood throughout giving it a cosy feel. The bus has been constructed with locally sourced ash, cedar, larch, oak and pine. The bus berths 2 people with a cosy double bedroom in back, which feels like youre in a tree house. In the main room of the bus, there's a double ottoman sofa placed in front of the wood burning stove, to keep you warm during the cold winter nights. The wood burner sits on a a slab of Somerset slate and is backed but slate tiles as its heat shield. The breakfast table is made from a reclaimed champagne box and comes with two fold out chairs that can moved around the bus or even outside on a lovely evening. The chairs fold away and are stored behind the sofa during transit. The kitchen is fitted with an original Twyford Belfast sink on a Oak worktop next to a gas cooker. The hot water for the sink and wet room is heater by a 15L undersink water heater. The wet room is tiled with in a Moroccan mosaic and the chemical toilet is stored in the tiled box away from sight.
The bus starts first time on the key, is has extremely low millage for a bus of its age. It has a full service history from its time working for the Scottish council and the daffodil farm in Cornwall, which are its only two previous owners. Recently had a full service under my ownership, which included new oil and gearbox filter change and new batteries. The Bus is very big, more of a static caravan that can move, so it doesn't accelerate to top speed fast, however it can easily hold 70mph on the motorway all day long.
Specific specs:
2 x 110aH leisure batteries with power inverter
2 x 100W solar panels.
Spilt charge relay
15L water heater, 100L fresh water tank, 100L waste water tank.
LED lights throughout and mains power sockets
Fridge and gas hob
Double Ottoman bed and ottoman sofa for extra storage.
Wood burner.
Porta Potta chemical toilet.
Completely offgrid!
90,000 miles on the clock, Recently fully serviced, MOT booked for Thursday 3rd of June
Please note: Quirky Campers do not inspect the listings for accuracy or check campervans in person. We have asked sellers to provide evidence of certificates and paperwork however you MUST check yourself that the information provided is present and correct. You will need to exercise the normal due diligence when buying any vehicle.
Current Mileage
90,000miles
Registered Vehicle Type
Motor Caravan - approved
A standard double (135 x 190cm) for two adults. It is a ottoman bed on hydraulics, so extra storage underneath.
Maximum Weight (MAM or MTPLM)
7,500kg
Unladen Weight Verified?
NO - the vehicle has not been weighed since completion
Gas sign-off supplied
None