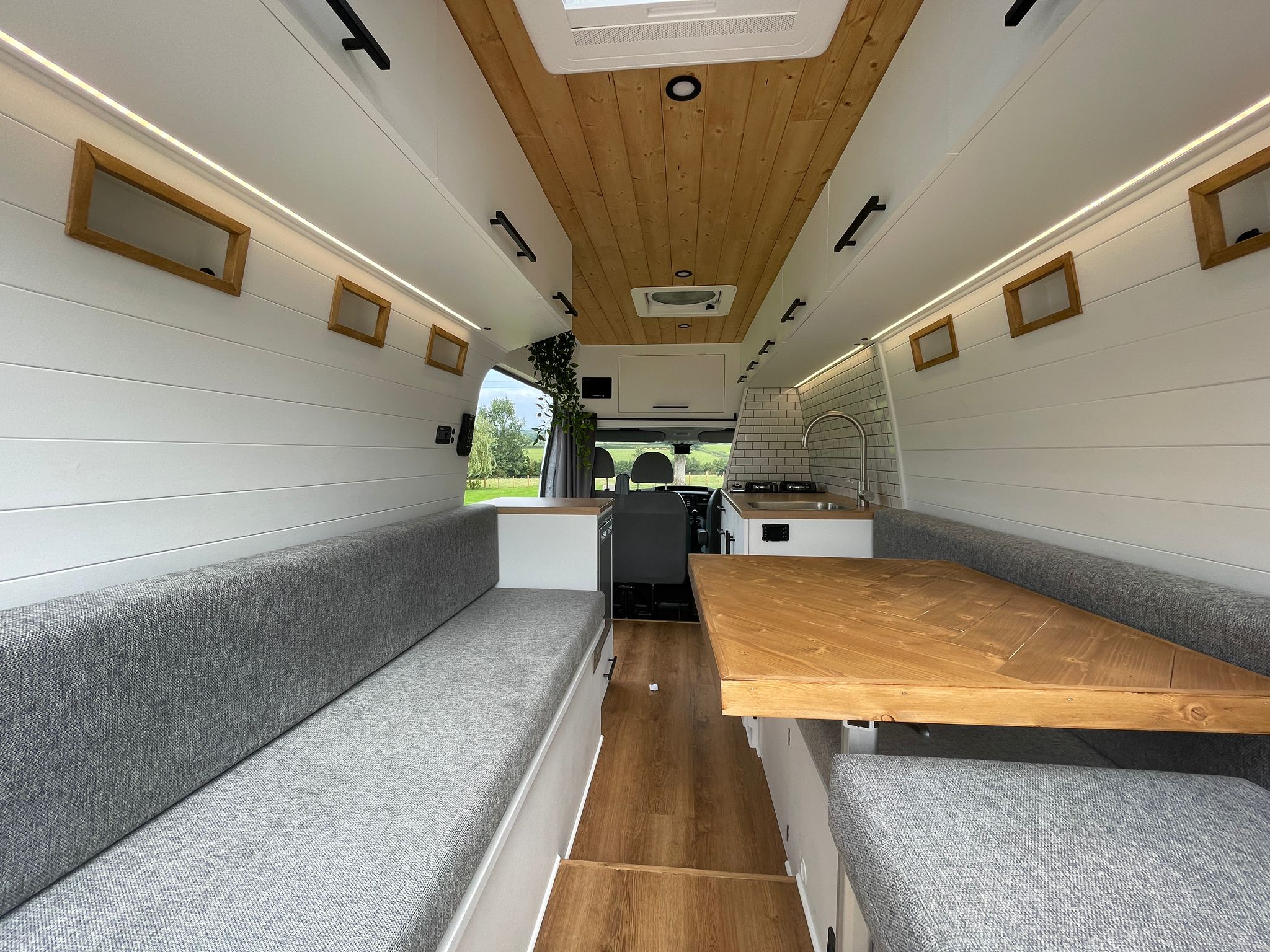 £29,500
Ford Transit 125 T350 RWD High Roof Long Wheel Base
133,488 miles
Vehicle Description
We are open to all sensible offers on this beautiful campervan! Fully equipped with hot water and heating to keep you warm through those chilly evenings adventuring.
This van is a 2014 high roof, long wheel base Ford Transit that drives like a dream with good acceleration, aircon, reverse camera and comfy seats. The van was maintained in-house by the company who owned it as a works van in its former life – it was well looked after and it shows. It's MOT history is all in order and show no major problems. Its last MOT was in November 2020.
The LWB Transit is a shorter van than long wheel bases of other models (e.g. Sprinters), which we prefer for the convenience and ease of parking and getting around the UK's winding back roads. The internal layout of this conversion manages to fit a lot in whilst maintaining an open, spacious feel.
Mk7 Ford Transit
Air conditioning
3 belted seats
Tow bar
Black steel wheels
133,488 miles
Previously owned by a company, maintained in-house
MOT until November 2021
Max weight 3500kg
Diesel
2198cc engine
Very good MOT history
Reverse camera
6 speed gear box
2 axel rigid body
Conversion Description
This Scandi inspired camper is ready to take you on long, leisurely trips and adventures. Cupboards are ready to be packed with gear, a fridge ready to be stocked with food and a sofa/bed area ready for you to rest your head after days of exploring.
From the initial design all the way through the build, we've focused on making the van a comfortable place. It's a sanctuary with everything you need for travelling and living on the road, including luxuries like hot running water, a diesel heater and an outdoor pull-out table. We've poured endless care and pride into the professional-standard conversion and have used tried and tested products that we've loved in our van, from the Truma Ultrastore boiler and Dometic CRX50 fridge to the ThermaQuilt insulation.
The white furniture and walls keep a beautifully light and open feel, whilst the oak coloured ceiling, countertop and LVT flooring help to ground the interior. Throw in the black metal hardware and you've got a perfect balance, an Instagram ready aesthetic and a comfy, cosy home.
All the furniture is sturdy and well-made, with plenty of storage room – a must for living in a small space. There's even a dedicated spot ready for the toilet of your choice and oak trimmed cubby holes above the sofas for those quick-access items.
Overhead cupboards span the entire length of the right side of the living area. On the left-hand side, there are three overhead cupboards and a corner shelf that was quite literally made to house beautiful trailing plants. All the cupboards are super roomy – ideal for books, games and clothes.
At the front of the van, you'll find a fully equipped galley kitchen, with a two-burner LPG hob, a large sink/tap and counter space on one side, and an island unit on the other that houses the fridge. There are three drawers throughout the kitchen, a three-shelf cupboard and the water system – complete with a Truma Ultrastore 10 litre boiler, Shurflo water pump and Seaflow accumulator.
The convertible bench sofa configuration and the galley kitchen keep an open feel to the van, with a clear walkway from front to back. The sofas easily seat seven people – it's a perfect spot for socialising around the removable, swivel-mounted table and an additional cushion turns them into a U-shape sofa for when it's time to put your feet up. With the addition of bed slats that easily store away in the benches, the sofas turn easily into a full king-size bed.
With a great electrical system, you can live fully off-grid. The 200 watts of solar panels on the roof feed the 200ah lithium battery bank, which powers everything in the van – the lights, the fridge, the fan, the charging ports, the diesel heater. For when the sun isn't shining, there's the Renogy 20A DC to DC charger, which fills up the battery bank when you're driving. The lithium battery capacity is equivalent to over 400ah of lead-acid batteries. They have a much longer life span too! We've also included a 2000W Renogy inverter which powers 2x 230v plug sockets, ideal for charging laptops and powering blenders.
The van is fitted with three tinted glass windows – two in the back doors, one in the sliding door – and an opening SkyMaxx rooflight and a MaxX Air Deluxe fan, which can bring fresh air in or extract air from the van. The cab is also open to the living space, meaning there's plenty of ways to let the daylight in. At nighttime or when you need to regulate the temperature, the cab can be separated from the living area with a grey thermal curtain. For the colder climates, a 2kW diesel heater is fed by the van's diesel tank which means that, as long as you have fuel in the tank, you can heat the van.
The two water tanks are fitted securely to the underside of the van, saving precious space on the inside. One is for fresh water and the other is for grey water (drains from the sink), both holding 70 litres each. The grey water tank is connected to a mechanical ball valve drain – all you need to do is drive over the dump point, hit the switch from the driver's seat and your water will drain away. There are two water level gauges located in the kitchen overhead cabinets so you can constantly monitor how much fresh water you have and how full your grey tank is. All cabling and pipes under the van have been safely housed in flexible conduit to protect them from the road.
Outside the van, you'll find the fill point for the Gaslow system (which you can easily fill at petrol stations with Autogas pumps really cheaply), the fill point for the fresh water tank, the Truma Ultrastore exhaust and – most importantly – four infrared security cameras that keep watch around the van. This means you can always see what's going on around you, even in the middle of the night, for ultimate peace of mind.
ELECTRICS
– 200ah lithium batteries (LiFePo4) – equivalent capacity of 400ah leisure battery as you can deplete the lithium batteries completely without damaging it, as opposed to approx. 50% depletion of lead-acid batteries
– 200w Renogy solar panels
– Victron 75|15 MPPT solar charge controller
– Renogy 20a DC to DC charger (charges your house battery whilst driving)
– Victron 15a Blue Smart Charger – to charge from mains power
– Victron SmartShunt battery monitor – Bluetooth monitoring of batteries
– Renogy 2000w pure sine wave inverter
– 2x 12v fuse boards
– 4x dimmable LED puck lights in the ceiling
– 3x dimmable LED strip lights
– Touch sensitive, dimmable light switches
– Fresh and grey water tank level gauges
– Double 240v plug socket
– USB C fast-charge port
– 3x USB fast-charge ports
– Diesel heater – draws straight from van's diesel tank
– Maxxair Maxx Fan Deluxe
– 4x exterior security cameras with infrared night vision – 360-degree coverage of outside the van and can be viewed from inside
KITCHEN
– Dometic CRX50 12v fridge
– Double ring LPG Gasland hob with ignitor
– Large stainless steel sink
– Stainless steel mixer tap
– Oak laminate countertop
– Mini subway tiled splashback
– Truma Ultrastore 10L boiler (heats 10L of water in approx. 15 minutes)
– Shurflow Trail King water pump and Seaflo accumulator
– 70L underslung fresh water tank, with external filling point
– 70L underslung grey water tank with mechanical ball valve for drainage (switch located in the cab)
– Gaslow 6kg refillable LPG tank in gas locker
– External gas refill point
– Plenty of storage, including 3 large overhead cupboards
LIVING AREA
– 2 large bench sofas and option U-shape – converts easily into king size bed with bed slats
– 3 large storage areas under the bench seating
– 1 storage area under bench seating accessed via a door, perfectly sized for many popular toilets, including Thetford porta potti, Cuddy composting toilet
– Bespoke cosy, grey foam cushions
– Removable large table on a convenient swivel mount
– Waterproof Oak luxury vinyl click flooring
– Large pull out table, perfect for outdoor dining and lounging
– Thermal curtain between cab and living area
– 6x oak trimmed cubby holes
– 6x large overhead cupboards, including small shelf
– Skymaxx roof vent
– Large storage above cab – perfect for storing bedding during the day
– Sliding door tinted window
– 2x rear barn door tinted windows
Beds Description
The bed is made up of 2 bench seats which when combined with the slats create a wider than kingsize bed. It can comfortably sleep two or three.
Registered Vehicle Type
Panel Van (meets DOT standards)
Base Vehicle Condition
Used
Converter Type
Self Build - Handcrafted Expert
Maximum Weight (MAM or MTPLM)
3,500kg
Unladen Weight Verified?
YES - the vehicle has been weighed since completion
Gas sign-off supplied
Landlords Gas Safe Certificate
Please note: Quirky Campers do not inspect the listings for accuracy or check campervans in person. We have asked sellers to provide evidence of certificates and paperwork however you MUST check yourself that the information provided is present and correct. You will need to exercise the normal due diligence when buying any vehicle.