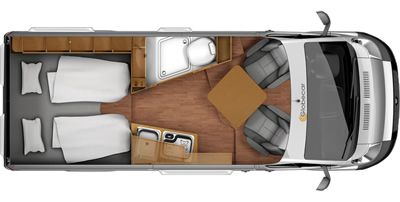 Vehicle Description
Perfect van for 2 – no space wasted on sofas means maximum space for cooking, sleeping and a full WC/shower. There's a large garage beneath the full size fixed mattress, all in an easy to handle <6m van.
PHOTOS COMING!! These are of the Van, but just what I already had.
2.3L 150HP MultiJet Diesel, 6 Speed Automatic with cruise control, Traction Plus and Hill Assist.
Under 6 meters and under 3500KG
Reversing Camera
Tow Bar with electrics
Cab Airconditioning
Grade 3 winterized (With internal water tank)
100L Fresh Water, 90L Grey water
2x 90Ah Leisure batteries and MPPT Solar system for true off grid capabilities.
Thetford Cartridge Toilet with SOG system (no need for chemicals, no smells!)
Trumo Gas (and/or) electric heater and 10L hot water system
Gaslow 2x11L refillable gas bottles with contents gauges and full set of Euro adaptors.
5x windows and 2x Skylights, all Double glazed, opening, and fitted with flyscreen/blackout blinds
60L 12V compressor Fridge/Freezer (Just works, driving, Solar or plugged in – don't fret about gas usage etc.)
Good size bathroom with toilet, sink and shower.
Electric hookup for Wall sockets, battery charger (Leisure and engine) and heating/hot water.
300w Inverter for small mains items while on battery power.
Thule Omnistor Awning
Security Deadlocks on all hinged doors
Integrated Alarm/Immobiliser system
Electric Step
LED lighting throughout
New cambelt and front tires July 2020. MOT July 2021. Habitation Certificate and new gas installation July 2020.
Drives great, minor dent forward of right rear wheel and decals have come off, There's a hole in the plastic of the right hand wingmirror – otherwise in great condition externally.
Conversion Description
Factory original Globecar D-Line G2 Relax, built and registered as Left Hand Drive Motorhome for the UK market.
Please note: Quirky Campers do not inspect the listings for accuracy or check campervans in person. We have asked sellers to provide evidence of certificates and paperwork however you MUST check yourself that the information provided is present and correct. You will need to exercise the normal due diligence when buying any vehicle.
Make and Model
Fiat Ducato Globecar D-Line G2 Relax
Current Mileage
46,000miles
Registered Vehicle Type
Motor Caravan - approved
Transmission Type
Automatic
Maximum Weight (MAM or MTPLM)
3,500kg
Unladen Weight Verified?
NO - the vehicle has not been weighed since completion
Gas sign-off supplied
Habitation Certificate