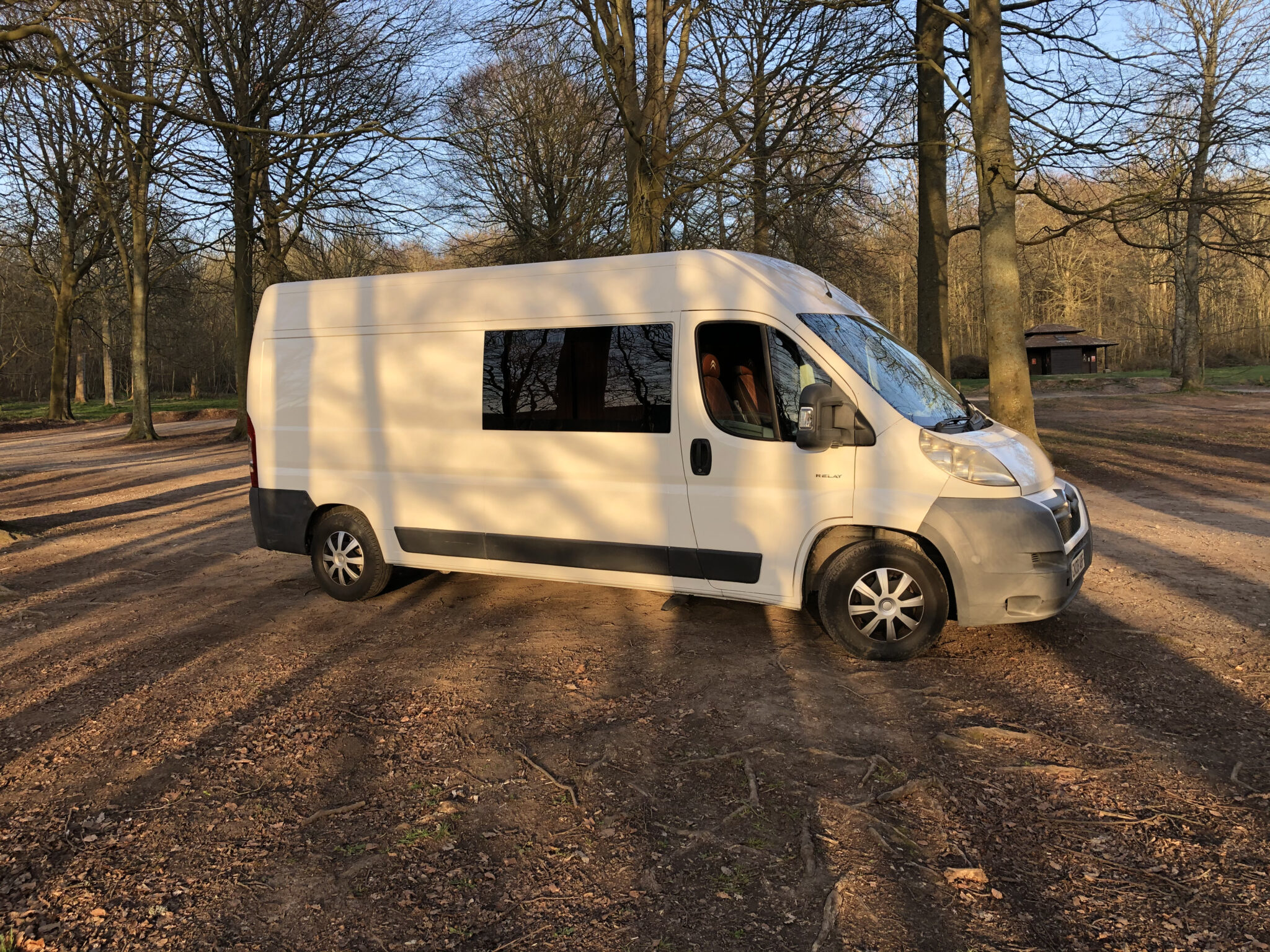 Vehicle Description
Loui is a superb FAMILY CAMPER VAN great for a family of 4
For living and sleeping:
4 berths – 1x double bed + 2x single bunk beds. Kids love sleeping in their bunks, and for adults, the bed is super comfortable.
2x Front swivel chairs
2x tables front and back
Matching seat, wheel, roof upholstery
Beautifully crafted design and well thought out layout
LED strip lights throughout
Plugs for charging computers/phones other equipment
Leisure battery
Converter
Water tank under the bed, grey water tank under the sink
For cooking and eating:
Microwave
Fridge
Ceramic sink
Drawer for a cooker that allows cooking outside, saves all those frying smells for the outdoors.
Super great storage: plenty for anything you might need
2x storage spaces under the beds for those camping chairs, BBQ, and any other camping gear,
2x kitchen cupboards, plenty of space for plates, pots and pants and food
1x full-height wardrobe inc special shoe storage
2x above head storage spaces
Loui has MOT till the end of July 21. He drives smoothly and comfortably.
We had it for 3 years and looked after it well, changed and serviced many parts. including:
full engine service each year for 3 years
new battery
side mirror
rear lights
new tyres
full service on breaks
installed a front/rearview camera: so great to be able to use it as a rearview mirror while driving and a reverse camera.
Fully resprayed in November 2020
We changed Loui as a Camper on the DVLA registration.
We had some lovely adventures in Louis and enjoyed it so much. We hope you will too. He's a great companion for an awesome family adventure.
Conversion Description
Loui is a very unique camper conversion carried out by master craftsmen in Italy.
The interior is fully upholstered including all chairs, wheel, gear stick, roof, sleeping mattresses and matches the beautiful dark wood furniture.
The floor is a light wood effect laminate in the back and soft carpet on the driver and passenger seat.
All furniture is made out of matching dark brown (walnut) effect wood.
Loui was fully resprayed in Nov 2020.
Doors: passenger, driver, sliding side door, and back door.
There is an outside shower installed powered by the leisure battery.
A bespoke privacy curtain that goes over the back doors. Useful for privacy while showering or if you wanted more al-fresco sleeping on a hot summers night.
The kitchen comes with a microwave, fridge, ceramic sink. There is an outside drawer for a gas cooker, which helps to keep cooking smells out of the van.
The storage is second to none: enough for all your things
2x cupboards in the kitchen
1x full height wardrobe with a cupboard for shoes at the bottom
2x under bed storage
2x above head cupboards
A comfortable ride, super comfortable sleep and all-around great van for a family!
Please note: Quirky Campers do not inspect the listings for accuracy or check campervans in person. We have asked sellers to provide evidence of certificates and paperwork however you MUST check yourself that the information provided is present and correct. You will need to exercise the normal due diligence when buying any vehicle.
Current Mileage
135,000miles
Registered Vehicle Type
Motor Caravan - approved
1 double bed for adults (bigger and more comfortable than our king size bed at home:)
2 bunk beds for kids (same size as a standard single)
Maximum Weight (MAM or MTPLM)
3,446kg
Unladen Weight Verified?
NO - the vehicle has not been weighed since completion
Gas sign-off supplied
Gas free