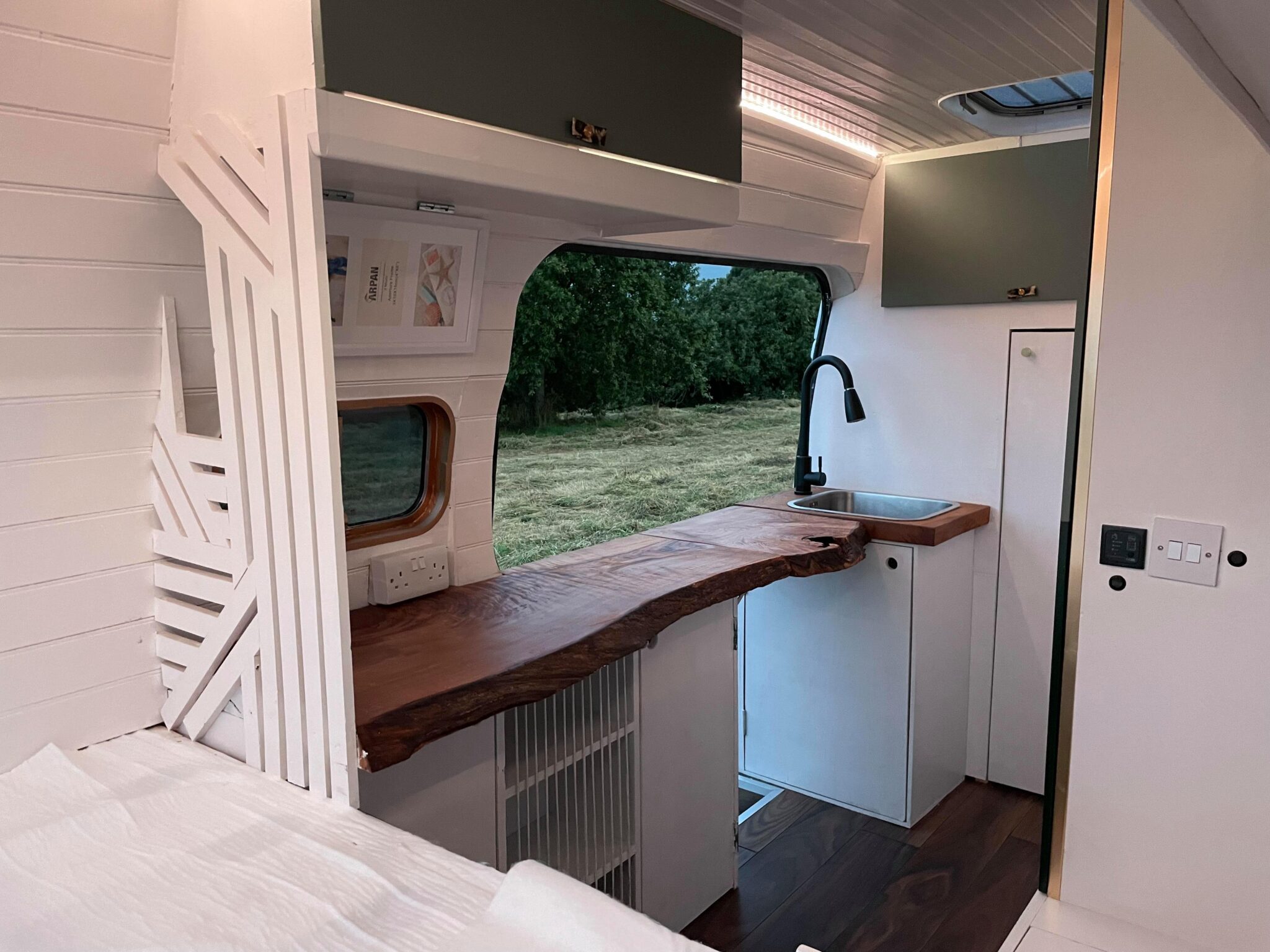 Vehicle Description
2011 MK7 Ford Transit, 2 berth
RWD, manual, 137,000miles
2.2litre diesel engine with 6 speed gearbox
Long wheelbase, high roof, max weight 3.5tonne
All electric kitchen and bathroom –
Easily adapted for gas.
Off-grid level conversion by professional carpenter
Speed limiter at 72mph
Cam-chain not cam-belt
Previously owned and maintained in-house
All maintenance work done by professional garage.
New EGR valve – December 2020
4 new all season tyres – December 2020
New starter motor – June 2021
New turbo regulator – June 2021
New battery – June 2021
New exhaust system – June 2021
12 month MOT – July 2021
Full service – July 2021
Luxury full respray – August 2021
Brand new, colour coded bumpers
3 custom made, tinted windows
50x50cm Houdini Hatch
Fiamma 28 roof vent
Fiat skylight
Beds Description
Small queen size bed frame (1170×1800), lined with breathable fabric for maximum air circulation.
Fits us both in perfectly, my partner is 5ft 11 and lies comfortably.
We have also used our custom sized sofa cushions along the floor space as a guest bed.
They fit perfectly between the cupboard and sofa to make a comfortable night sleep – just add pillow and duvet!
Conversion Description
FOR SALE £26,000
@lovannalife on Instagram for more photos & videos
Panel van – only needs camper-style graphics and awning to meet DOT standards!
Looking for a quick sale to help us move onto our next steps.
Reluctantly selling due to unfortunate change of circumstance.
Michelangelo (the van) was converted into a totally sustainable, off-grid haven over the summer of 2020 by a fully qualified carpenter, professional mechanic and decorated by myself.
Equipped with incredible balance of storage and living space, small queen size bed, custom fit sofa seat, all electric kitchen and bathroom with hot running water, remote controlled LED lighting and cab access.
Designed with a refreshingly modern colour scheme – bold whites, forest green and a soft sage to tie it together. A range of live-edge woods throughout to bring the outdoor views into the home. Gold accents that reflect the summer sun but also promote rich, warm accents in the winter.
We've had some amazing trips in our short time together and really made sure it was perfect for its purpose. Since circumstances have changed, we have revamped him for the next lucky owners so the practicality that comes with 'tried and tested' doesn't affect that brand new feel to your camper!
More in depth specifications are listed below, please get in touch for any further information or to arrange a viewing.
All electric – Victron energy
3x 105amp batteries
2x 100w solar panels
Split charge relay
Charge controller with 2 USB ports
Leisure Battery monitor
5x 240v plug sockets installed
2 belted seats in the cab
Original radio with AUX and CD
Custom map print cab ceiling
Matching sun visors.
Revamped black interior for a sleek and stealthy style
Cab access through swing door
Walnut laminate flooring
Sofa seat with custom cut foam cushions
Lined and breathable small queen bed (1170×1800)
Under bed and sofa storage
3x overhead cupboards
4x under worktop cupboards
Shelving wrapping around the van
Custom built pantry to save space
Extra hidden storage
1x2000W induction cooktop.
Dometic 31L fridge
Black 360 mixer, pull out tap
Single bowl sink
Sea Flo 12v 4.3lpm water pump
2", locally sourced chestnut worktops
Solid oak interior and exterior table
Thetford Porta Potti flushable toilet
Shower and bath tap for easy use
72 litre fresh and grey water tanks
Water tank level monitor
Switch controlled electric water heater
Again, please message to request any more photos/videos or to ask any questions.
Open to offers as we're looking for a quick sale to help us move onto our next steps.
Located in the sunny south Devon, a perfect place to start your epic VanLife adventure!
Don't miss your opportunity to take this magnificent beast with you on your post-lockdown freedom!
Can come with our full Scotland itinerary for a perfect Autumn/Winter get away – we'll only be 100% jealous…
Registered Vehicle Type
Panel Van (does not meet DOT standards)
Base Vehicle Condition
Refurbished
Converter Type
Self Build - Handcrafted Expert
Converter Condition
Used - Excellent
Maximum Weight (MAM or MTPLM)
3,500kg
Unladen Weight Verified?
NO - the vehicle has not been weighed since completion
Gas sign-off supplied
Gas free
Please note: Quirky Campers do not inspect the listings for accuracy or check campervans in person. We have asked sellers to provide evidence of certificates and paperwork however you MUST check yourself that the information provided is present and correct. You will need to exercise the normal due diligence when buying any vehicle.