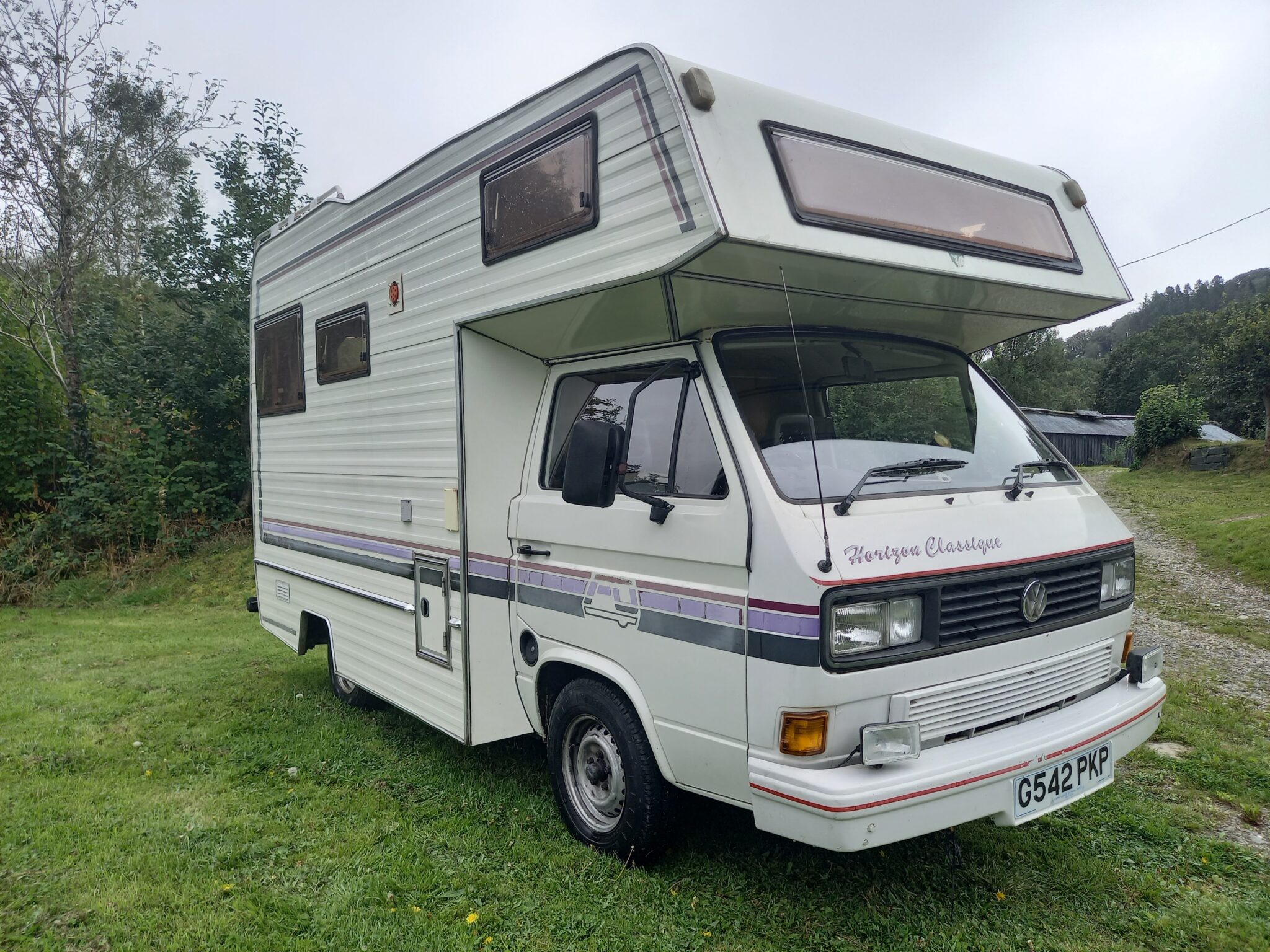 Vehicle Description
This lovely vehicle is a 1.9L petrol engine, 4 gears. It is in amazing condition for it's 31 years especially as almost everything is still original! Having been stored inside most of it's life by it's owners when not being used there are no bodywork or rust advisories at all, there is surface rust obviously. I have a large folder of paperwork to go with the VW, instructions for all the utilities; boiler, heater, toilet, control panel etc, and some history of work carried out. In the year I have owned it, I have fitted a brand new petrol tank and replaced all the hoses and seals as part of that, I have replaced the whole Cascade boiler and rear coil springs and rear wheel bearings. MOT'd until 31st August 2022 with only 3 advisories one being the brake pipe which is only because it has grease on it.
It has a wind out awning as shown in photos below. Selling because I need something bigger but REALLY sad to see it go, it makes me smile every time I see it!
Beds Description
This would comfortably sleep 2, 4 would be quite squashed but that is what it was meant for originally. There is a bed above the cab accessed via a ladder with windows on 3 sides, 2 of which open, all of which have curtains and 1 skylight that opens. Another curtain covers the gap you climb through so it feels private. The lounge area converts into another bed that could sleep 2.
Conversion Description
When I bought this I was told it was only one of 20 that were converted to this spec, the internet has varying numbers but either way there are not many of these about! Right in front of you as you come in is the kitchen with a 3 burner gas hob, a gas grill and a gas oven. The sink has a lovely old brass mixer tap. There is a section of worktop that comes down to the left of you as you stand in the kitchen that gives you extra space when cooking. The fridge and a (very!) small freezer is under the sink. To the right is the bed above the cab, in front of that the toilet with a shower and a fold down sink. To the left is the surprisingly spacious lounge, I have had 5 people sit around the table for a meal in there! The table is also the bridge between the chairs to make your bed up. All the windows have fly screens, black out blinds and curtains. Another thing that surprised me about this is the amount of storage, cupboards everywhere and the space under the seats in the lounge.
Registered Vehicle Type
Panel Van (meets DOT standards)
Base Vehicle Condition
Used
Vehicle Height
282.00meters
Vehicle Width
208.00meters
Converter Type
Professional - Factory Fit
Converter Condition
Used - Good
Maximum Weight (MAM or MTPLM)
2,800kg
Unladen Weight Verified?
NO - the vehicle has not been weighed since completion
Gas sign-off supplied
None
Please note: Quirky Campers do not inspect the listings for accuracy or check campervans in person. We have asked sellers to provide evidence of certificates and paperwork however you MUST check yourself that the information provided is present and correct. You will need to exercise the normal due diligence when buying any vehicle.