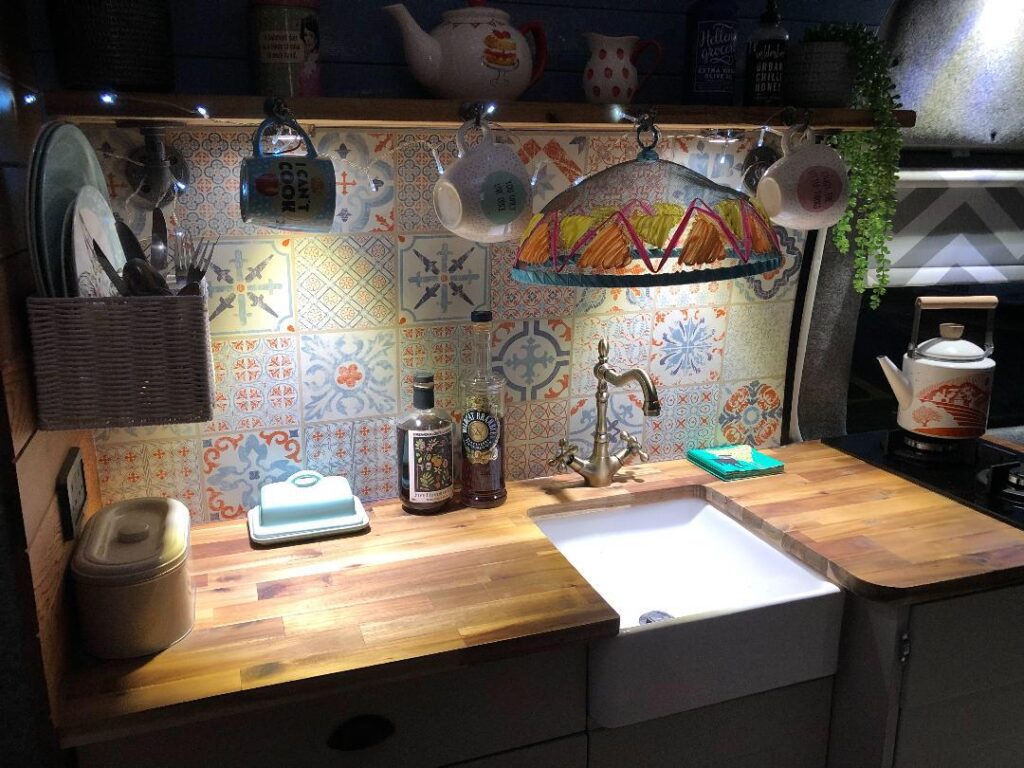 £31,000
MERCEDES SPRINTER 310 CDI – LWB 2143 cc
Used
240,000 miles
2 Berths
Vehicle Description
* MOT valid till June 2023
* RAC Inspection and Oil Analyses Report available 2020
* Rear Camera
* Handcrafted by Expert Joiner
* Fully insulated cladding
* Gas Heating if needed
* Upgraded Door locks
* Rear exterior plated for added security
* Bolted down safe for valuables/passports
* Hidden roof mounted lock box for spare key
* Smoke Alarm and Fire Extinguisher
* Starter Battery New January 2022
* 265W Solar Panel, 100ah Life PP04 Lithium Battery, Smart Bluetooth Regulator
* 220/240 sockets, 12V sockets, USB sockets
* 4G Smart Compact Wifi extender – fitted 2021
* Samsung Data Sim Box fitted 2021
* 24″ TV on fitted elbow
* Underslung 30Kg LPG gas with dash-mounted gauge, filler point for garage top-ups plus UK/EU adapters
* LED mood/hidden lighting
* 2 Ring Interior Gas Hob / 2 Ring exterior fitted hob for outdoor fry-ups
* Waeco Dometic CRX50 45 litre Fridge/Freezer
* Roof mounted Thule Force XT Large storage box / Thule folding ladder
* Thule 4.35 6,300 fixed side awning
* Numerous Thule Sunblocker /Rain awnings and Thule Floor cover to fit
* Chemical Toilet interior / Bespoke aft shower room /shade canopy
Millie is a joy to own!
She offers a warm, cosy and calm atmosphere for getaway holidays and weekends, or for a more permanent nomadic lifestyle. She is eco-friendly using solar energy to capacity.
Her Mercedes engine starts every time, and drives and handles well. Her mileage is no concern for an engine of her calibre. She is mechanically extremely clean with excellent pull up hills, 6 speed manual gearbox, and great traction being a rear wheel drive.
Whilst her body is now 10 years old, she's still in good shape! External Decals identify her as a fun vehicle to hang out in. Her beautifully handcrafted yet practical interior conversion comprises unbeatable comfort and practicality along with lovingly handcrafted features. She provides a perfect combination of space and comfort, ample kitchen area, and tons of storage.
Features like her huge amount of solar energy, wifi extender, data-sim box, underslung gas supply, freezer box and fridge make for a luxurious experience whilst still capturing the simplicity and freedom of life on the move.
Beds Description
Raised Double bed in a fixed position for all day naps! New Bespoke mattress with Mattress Cover and linens. Additional berths can be made using the Thule Awning and rain tent outside the van
Conversion Description
* Fully insulated.
* Cladding professionally done in Cedar Wood oiled and some painted Pine panels
* Rustic industrial metals, wood and copper finishes to shelves
* Bespoke Cabinetry. Hanging clothes closet. Large storage compartment above man cab, under-seat storage, above bed storage and under bed storage
* Fully fitted kitchen: spice rack, hanging holders for glasses, large utensil drawer, cupboards and shelves
* Fitted enamel sink bowl with rustic design tap
* Round, removable drinks interior table
* Large locker storage compartments accessed from the rear and interior
* Water pump valve controlled to sink, external water connection with 50 litre water container
Registered Vehicle Type
Panel Van (meets DVLA standards)
Converter Type
Professional - Handcrafted
Conversion Condition
Used - Excellent
Belted Seats
2 Belted Seats
Vehicle Length
7.35 meters
Vehicle Height
3.05 meters
Maximum Weight (MAM or MTPLM)
3,500kg
Unladen Weight Verified?
NO - the vehicle has not been weighed since completion
Gas sign-off supplied
Habitation Certificate
Please note: Quirky Campers do not inspect the listings for accuracy or check campervans in person. We have asked sellers to provide evidence of certificates and paperwork however you MUST check yourself that the information provided is present and correct. You will need to exercise the normal due diligence when buying any vehicle.