Renting a Campervan Guide For Beginners
So you've decided to quench your thirst for adventure and hire a campervan? Maybe you're wanting to have a little taste of van life before committing to buying a campervan of your own. Perhaps you'd just like to escape the hustle and bustle of everyday life. Whatever your reason, we're here to make it happen!
Hitting the road in a camper is a quick and easy way to feel free and be at one with nature, whilst still holding on to those homely comforts. There really is nothing quite like parking up, opening the doors and having breathtaking views on your doorstep.
With any trip or unfamiliar experience comes questions and perhaps a little dash of nerves. Which is why we've put together this handy guide for first time campervan renters. Below you will find top tips, FAQ's and Quirky's very own jargon buster.
How do I rent a campervan?
See below a step by step guide on renting a campervan.
Choosing a campervan
First things first, you should start by picking the rough dates you'd like to go and check availability. This is easy to do from our hire a campervan page, as you can filter results by exact dates. It's good to be flexible to ensure you get the right campervan for you.
How many people do you need to sleep/seat? Many vans will have different berth and belted seat numbers for e.g a campervan with 4 belted seats may only be 2 berths. If you're travelling with a big group or family, an option would be to hire multiple campervans or sleep some people in a tent.
As most of our campervans are individually owned, they are often located at the owners property. When choosing a campervan, it's a good idea to check it's located close to your starting location or final destination. Another option would be to pick it up en route.
When do you plan on going? If you're considering hiring a campervan in the height of winter, it may be an idea to rent a camper with a heater installed. If you're wild camping, you may want to consider a camper with toilet and shower facilities.
Another thing to consider when booking a campervan that the bed may be a little smaller than you are used to. Some vans have been equipped with king size beds and in this case, height should not be an issue but if the bed is fixed and built width ways across the rear of the van, your trip may come up a little short.
If you're considering bringing your four-legged buddy, you will need to make sure the campervan you book is pet-friendly. You can browse all of our pet-friendly campervans here. You will also need to make sure there is enough room for dog essentials such as food, toys and a bed. 
The majority of our campers have a minimum night requirement, so it's worth checking this before booking. In peak seasons, many will have a minimum requirement of 5 nights, whilst at other times in the year they may require a 3 night minimum. You can check the minimum night requirement for each van on our campervan hire page. See below.
Bear in mind that some campers require a special license. For the majority of our campervans a standard category B license is acceptable. However, there are a number of campervans, weighing over 3500kg that would require a C1 License.
---
Booking a campervan
The good news is booking a campervan has never been easier and it can all be done online, from choosing your van to adding on additional extras, but we are here to help. You can email us at bookings@quirkycampers.co.uk or alternatively, call us on 0330 133 1121.
Like any other holiday, there is a booking deposit required, this is usually 20% of your overall booking. Please note if you're booking last minute, the full amount may be payable upon booking.
Once you have booked you can reply to any booking emails to contact either quirky or the owner.
What is the cancellation policy? Here at Quirky, we understand things happen and due to unforeseen circumstances, you may need to cancel. Whilst booking deposits are non-refundable, you may be able to get some of the overall booking amount refunded depending on when you notify us, or under some circumstances a credit note may be provided. For covid related cancellations, you can refer to our Covid Policy here
How does insurance work?
All our campervans come with specialist comprehensive campervan hirer's insurance. Please see the 'Insurance, Breakdown & Drivers' section on the individual campervan pages for specifics but generally this will cover up to 3 drivers aged between 23 and 75 at no cost. The excess (maximum you pay in the event of damage) varies depending on the vehicle and the drivers and can be between £750 and £2000 (most hires are £750 see below for details).
How do I pick up the campervan?
You can pick up the van by car or public transport. Owners will be able to inform you of the closest bus stop/train station. Some owners will offer collection from a local station or delivery to a location for an additional fee.
The majority of our owners are happy to allow customers to park their car in the campervans space.
Upon arrival you will receive a detailed handover of the campervan before setting off on your journey.
It's important to remember to bring your paperwork with you. This involves 1 x proof of ID, driving license and 2 forms of POA (proof of address)
When it comes to driving the campervan, here are a few tips for a comfortable and stress-free journey:
Leave yourself extra time to get to your destination.
Know the size of the vehicle and check that there are no low bridges or obstructions on your route.
Use your passenger, if your vision is limited or you need help getting into a parking space, let them guide you.
You can find more driving tips on our blog Driving a Motorhome or Campervan for the First Time.
What should I pack?
There may not be space to include everything here but a few of the essentials:
Hoodie for chillier evenings round the campfire, clothes for warm weather, swimming stuff, walking shoes and wellies in case you get caught out in the rain.
Gear for outdoor sports you love e.g. surfing/climbing/cycling
Games and books to keep you and your fellow travellers entertained.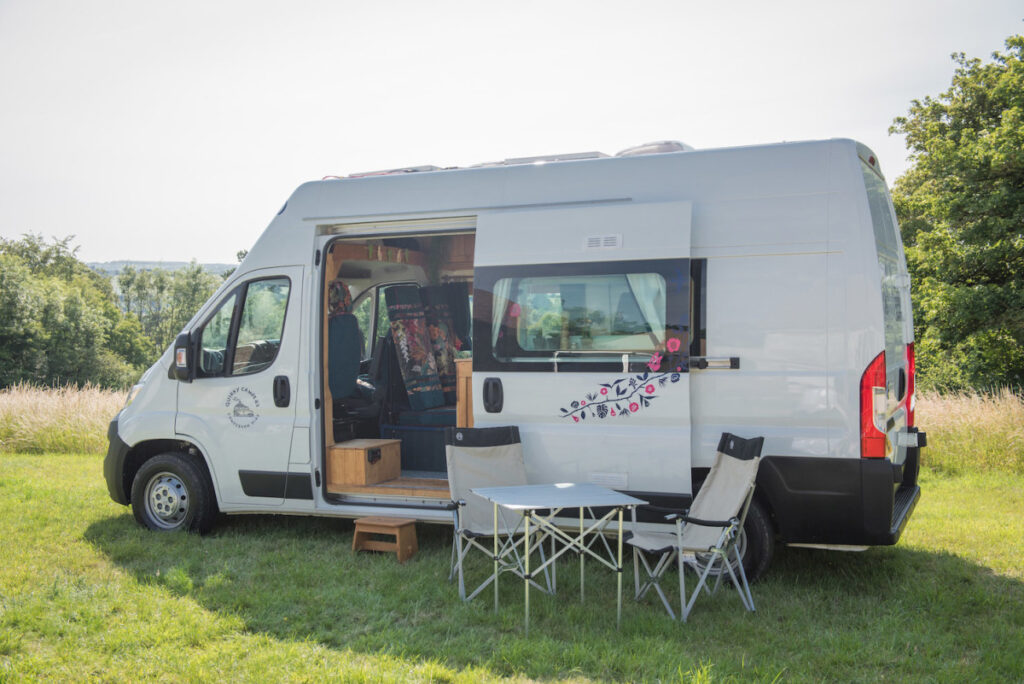 Where can I stay?
Most campsites will accept motorhomes and campervans, however, it is always worth checking beforehand; this information should be available on their website. If you're booking a van with no toilet/shower facility, this may be the best option for you.
One of the most beautiful things about vanlife is spontaneity and sometimes the best adventures happen off-grid. Plenty of our vans have 'off-grid' capability with toilets, showers and electricity. Please just bear in mind if you opt for off-grid, to do so safely, do not trespass on somebody else's land and to leave the area better than you found it. There are a number of ways to find beautiful and camper friendly park ups, one being the app Park4Night. To gain a better understanding on finding campervan park ups and campsites, you can visit our blog post 5 Ways to Find the Best Campervan Campsites and Park Ups.
How do I manage the campervan while I have it?
The owner of the campervan you hire will talk you through everything you need to know about the van you choose to hire, common things include:
The size of the water tank and where to refill
The power setup and how it is recharged, whether it's charged whilst driving or via a solar panel. They will let you know if the camper has electric hook-up capabilities and how to hook this up at a campsite.
How to empty the toilet if there is one.
What happens if I damage the campervan?
A security deposit of £500 (1 per booking) will be taken 2 days prior to the booking start date. This will be released 1 week after the booking end date, providing the vehicle is returned safely and in the same condition as it was at the start of the booking.
If the campervan or any of it's items have been damaged, it's best to let the owner know prior or upon return. Depending on what has been damaged, they will then retain quotes. If the cost is below the £500, the difference will be refunded to you, if the cost happens to be above £500, we would communicate this to you and arrange for the additional amount to be charged from the same debit/credit card used to secure the booking.
Charges are not punitive but just to return the camper to its original state.
---
Top tips from experienced vanlifers
Do your big food shop on the first day
We recommend filling up those food cupboards on the first day and if possible, plan your meals in advance. This eliminates the risk of overspending or coming up short and having to extra spend money eating out. It also means your trip doesn't have to be planned around supermarkets, so you can spend more time exploring freely than searching for your nearest Tescos.
Take advantage of facilities en route
For those venturing off the beaten track with no toilet or shower facilities, it's always a good idea to take advantage of any facilities you pass. Even if you're not sure you need to go, always worth giving it a try to avoid being caught out later. Some service stations even have shower facilities.
Bring torches and lanterns
If you're planning on charging multiple devices off-grid, it may be an idea to conserve electricity by switching off the main lights and opting for fairy lights and lanterns. We'd also recommend a torch to use outdoors, don't want to have to feel your way to the loo at a campsite in the dark.
Roll up your clothes to save space
One of the best space saving hacks (especially for those who would like to pack a bit more than the essentials) is to roll up your clothes as you pack them away.You'd be surprised how much you can fit in doing it this way. It leaves more room for games, food or…wine.
Bring plenty of activities for a rainy day
Even if you plan on travelling in the height of summer, thanks to the unpredictability of great british weather, you could still find yourself in the midst of a storm. We recommend that you bring plenty of indoor activities to avoid cabin fever such as books, games, colouring books.
Stock up on plenty of snacks for long journeys
An essential part of any road trip is plenty of delicious snacks. Driving long distances can be tiring for all involved, especially when travelling with children. It's important to have a number of delicious and healthy treats on hand to keep everyone happy. No one wants a hangry passenger.
---
Jargon Buster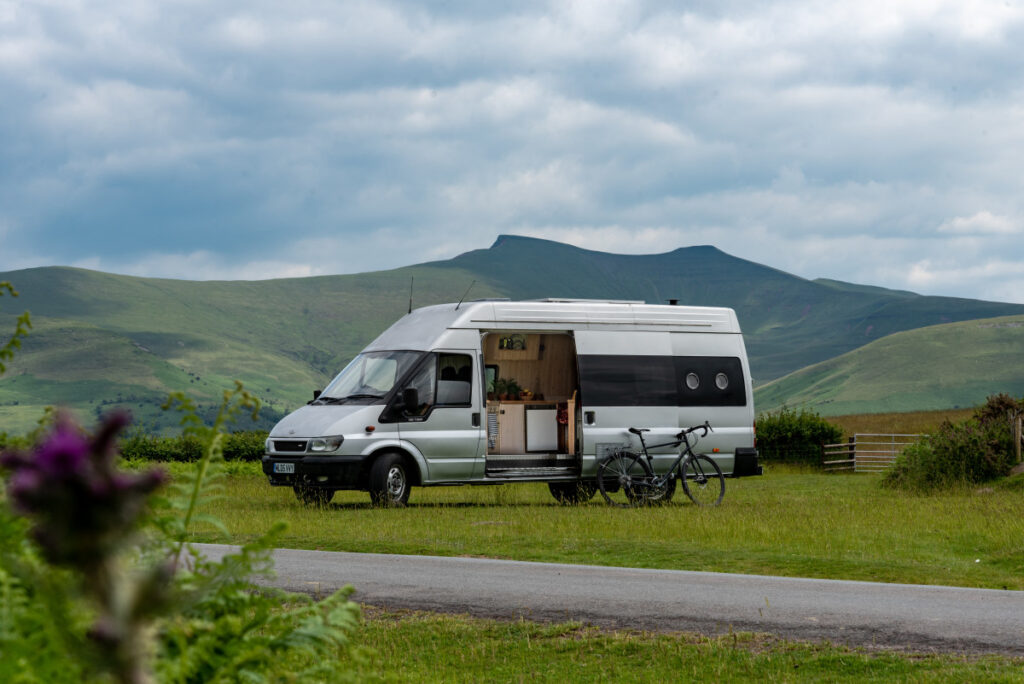 Berth – each berth is a sleeping space, 2 berths means there is enough room to sleep 2 people, 3 berths would be for 3 people and so on. 
Off-grid – this generally refers to wild camping with limited or no facilities. Pulling up somewhere in the van roadside, in the forest or by the beach. If you plan on doing this please make sure you leave the area better than you found it.
Belted seats – The number of seats available in the van with seatbelts.
Leisure battery – A battery installed in the van, often offering enough power to charge phones etc. These are often charged via solar panels or the van engine when driving.
Split Charger – This allows the leisure battery to be charged by both solar power and van engine.
LWB, SWB AND MWB – Referring to the size of the vehicle, these abbreviations stand for long wheel base, short wheel base and medium wheel base. Short wheel base being the smaller vehicle, long wheel base being the larger vehicle.
Awnings – There are many different types of awnings which you may have heard of. The main styles you'll usually use with campervans are the driveaway, canopy and retractable.
The driveaway awning is a tent-like fixture which can stand alone when detached from your camper; it usually has 4 walls, a floorsheet and a window.
The canopy awnings are not stand alone however are connected with guide ropes, similarly to the drive away; they usually curve round to create two half walls on either side.
The retractable is a permanent fixture to a camper and simply retracts from above the campervan door to provide shade.