Top Of The Class: Best Campervans of 2021
As the year comes to a close, it's a great opportunity to look back at some of the best campervans available to hire. 2021 has been the year of staycations and what better way to explore the UK, than in your very own rolling home? The quality and facilities within campervans continue to evolve. From heated showers to triple bunk beds, these Quirky Campers will never cease to amaze!
So without further ado, here are the best Campervans of 2021…
Most Popular Camper of the Year

Curtsies at the ready, you're looking at the campervan with the most number of bookings for 2021. With an indoor bathroom, three double beds and a tele to watch your favourite films, we're not surprised this pet-friendly camper takes the crown for the most popular camper of the year!
---
Most Photogenic
You'll certainly be the talk of the campsite in our next camper. It's not always easy to capture the true essence of a campervan but Floyd does this effortlessly. His sleek whitewashed design, solid wood and soft furnishings are breathtakingly beautiful behind and in front of the lens.
---
Best Winter Van
Picture this – you're parked up by a lake, cloud like fog sweeps across the water, as you enjoy a steaming hot coffee in front of a roaring fire, sounds like a dream right? Well, you can make your dream a reality in Ike. Fitted with a woodburner, heated indoor shower and an underslung heater, Ike is the perfect companion to any winter getaway.
---
Social Butterfly
Meet our influencer of the year, the star of the grid…Ola. Proving to be the most popular campervan on social media, she is the epitome of luxury and style. Located in London, Ola benefits from a large double bed for a great night's sleep, ample seating to host friends and a diesel heater to keep you warm on those colder nights.
---
Best Kitchen
Step aside Nigella Lawson, there's a new chef in town. Cook up a storm in this country cottage kitchen area, no microwavey needed. Juniper comes fully equipped with a 3 burner hob, grill and oven. There is also plenty of storage space to tidy away your dry goods and drinks and a spacious dining area to host all your family and friends.
---
Most Clickable

Ziggy A.K.A the champion of clicks is a lovingly-crafted 2 berth camper. In a former life, this Ford transit was a beer delivery van, but the only deliveries he makes these days are incredible adventures.
---
Longest Trip of 2021
This campervan has everything a family would need to venture off-grid, so much so that's exactly what someone did. A lucky traveller drove away in Frida for a whole 3 months! So, if you're looking to try out vanlife or tour the UK at your own pace, then Frida is the camper for you!
---
Most Pawsome Campervan
All dogs and their well-behaved owners are welcome within this camper. With plenty of space for a dog bed and an outdoor shower to wash off any muddy paws, Endeavour is an ideal base to return to after a long dog walk. There's an awning so you can stay dry if your dog wants to spend time outside and plenty of storage to house dog food, bowls and towels.
---
Home Office on Wheels
Over the last 2 years many of us have experienced what it is to work from home, but have you ever experienced what it's like to work from a campervan? Trust us, it's golden. Captain's Rest is the ultimate travelling office, with a designated desk, WiFi, and backdoor windows for you to enjoy views – working from this van could only be described as paradise.
---
Celebrity Camper
The skies are blue and our hearts are wrapped up in clover when we look at you, Etta. With a fixed double bed, bunk beds and a fully equipped kitchen, this camper certainly has star quality.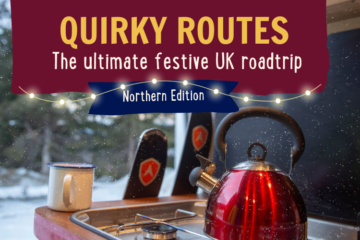 Are you a festive fiend or a grumpy Grinch? This season no matter what mood you're in, escape the normal and take yourself and …