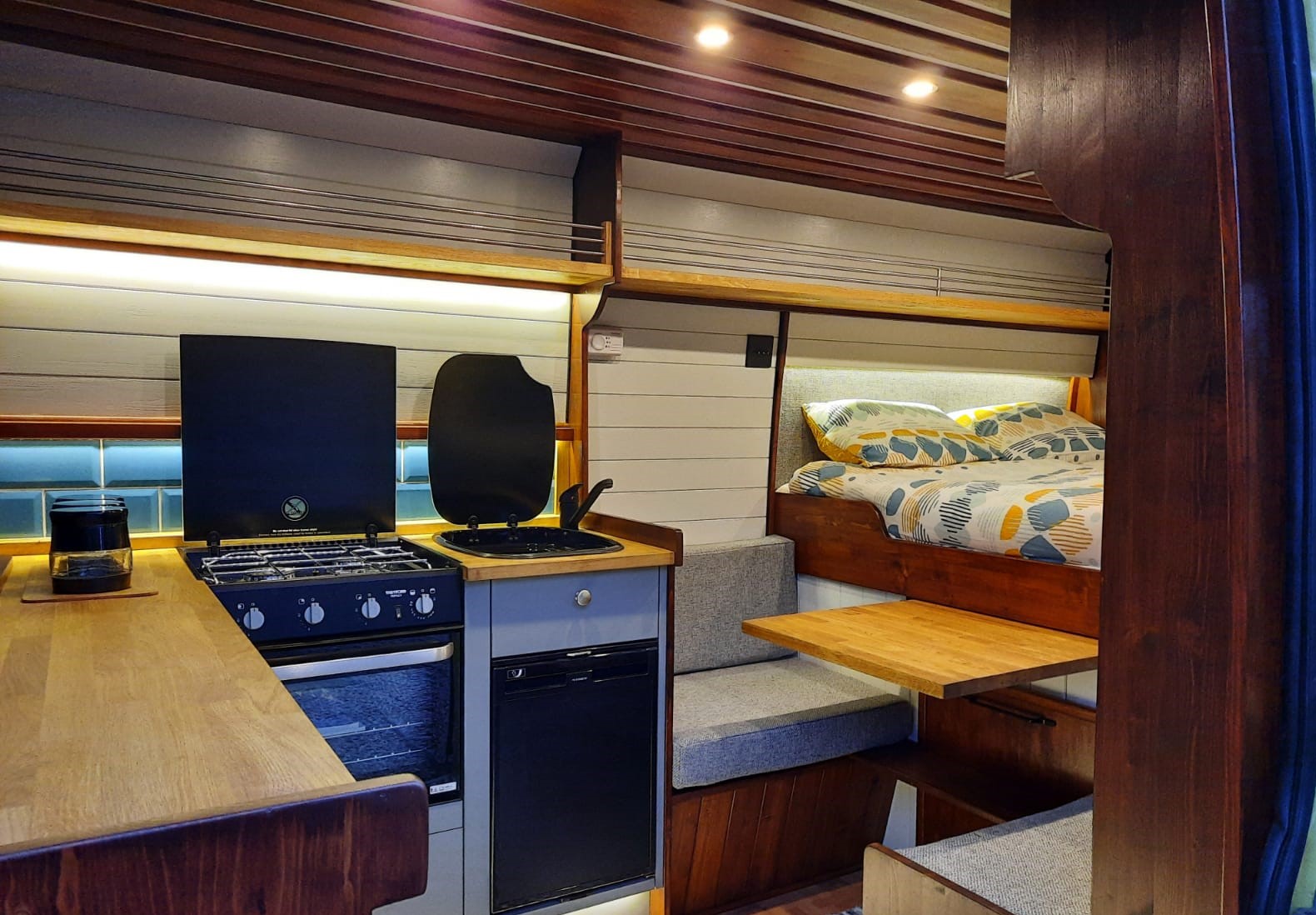 Vehicle Description
The base vehicle was a L3H2 66 Plate Citroen Relay with 72500 miles on the clock, runs beautifully and has full service history with only 1 previous owner. The van has a 2.2litre HDI engine, 6 gears, good bodywork and is MOT'd until the end of November 2021.
Conversion Description
With this brand new conversion, our aim was to create the perfect space for heading to the coast or into the wilderness at any time of the year. This quality conversion has been handcrafted to offer a unique high end finish with all the comfort you need to get away and create trips to remember. It is expertly crafted to offer a balanced smooth drive combined with luxury living to enhance all of your future adventures.
This as a 3 berth camper with 3 seats in the front, offering a full size fixed double bed in the rear and the possibility to make up third bed if required in the seating/dining area area using the provided cushions and bed extension. The wooden interior has all been finished and fitted with longevity in mind and with incredible attention to detail. Coming from the Highlands we appreciate the temperamental conditions that camper life brings and have equipped this conversion to handle them all. With modern closed cell thermoliner and dacron polyester combination insulation throughout, Truma Combi Air and Water Heating system to keep you cosy and Fiamma Awning to extend the space when possible, this van is set up for travel at any time of the year.
The kitchen is stylish and highly functional with a gas oven, grill and multiple hobs, a 50L 12v fridge/freezer and sink with hot or cold running water as well as plenty of storage space. The worktops, retractable dining table and shelving are all in solid oak and treated to last for many years. The shelves have a unique handcrafted stainless steel retaining system which creates excellent storage space while keeping the inside of the van open and spacious while showing off the roof which has been created with meticulous detail for a seamless and beautiful finish.
The living quarters are finished in cladding which has been prepared and fitted to last as long as the van with multiple coats of water based varnish to give a fantastic soft touch and feel and will remain beautifully white (light grey tint) for many many years. The seating area contains 2 seats (which can make up a third bed) with a slide out table between and storage cupboard for the Thetford 365 toilet which is on a retractable shelf for easy use or can be removed if preferred. Under the seats are housed the electronics system (Batteries, Fuse Box etc) as well as a fresh water indicator and battery charge meter to make life as simple as possible. With 2 leisure batteries (210ah combined) and 240v hook up available , you will have plenty of power for however long you travel. The batteries will be charged by the split charge relay system while driving or the roof mounted 150 watt solar panel while stopped, making it easy to stay off grid for as long as you want!
The camper comes with a gas certificate which means there is potential of renting out the van, if desired. Gas is available through a bottle situated within a sealed gas box with the required vents and has a 6kg capacity which is suitable for many days off grid cooking and heating or air and water when required. If 240v hook up is available then the same heating and hot water system can be used with electric. Fresh water is supplied from the underslung 66 litre tank and the waste tank is also underslung for convenience. Fresh water is filled via a hose and both tanks have easily accessible taps to drain when required. A simple drain down system is also installed for winterizing the van if necessary.
The rear compartment holds the hot water shower, lots of storage, access to the gas locker, Truma Combi and the possibilty to remove the toilet which would offer the potential for storing very long items for travelling.
We have also installed a discreetly positioned safe for storing valuables upto the size of a laptop which is securely mounted within the van and hidden away.
Based 30 miles south of Inverness Airport and on a direct train route, so if you have ever dreamed of travelling the Highlands or completing the NC500 then getting to us to start the first of many epic adventures couldn't be easier.
Please send me (David) any questions via phone or whatsapp on 07511026732 or by email. I am happy to arrange a video call to show the van in more detail and go through the finer details with you.
Features
⦁ Truma Combi Air and Water Heater – Works on both Gas and Electric
⦁ Spinflo Triplex Gas Cooker – 3 Burner Hob, Oven and Grill
⦁ Dometic Waeco 12v Compressor Fridge Freezer
⦁ Thetford 365 toilet
⦁ Full Sized Fixed Double Bed
⦁ Fiamma F45s Awning
⦁ 150W Roof Mounted Solar Panel
⦁ Split Charge – Battery Charging System
⦁ 2 x 105AH Leisure Battery
⦁ Custom Made Soft Furnishings
⦁ Underslung Fresh and Waste Water Tanks
⦁ Hot Water Shower
⦁ Retractable Dining Table
⦁ Multiple USB Charging Points
⦁ Steel Gas Storage Box
⦁ Lots of Storage
The Van
⦁ Citroen Relay L3H2 Enterprise
⦁ 72,500 miles
⦁ MOT – Valid until November 30th 2021
⦁ 2.2 Diesel engine
⦁ 6 speed gear box
⦁ Cruise Control
⦁ Sat Nav (Subscription Service)
⦁ Reverse sensors
⦁ Bluetooth
'We like the style' means that Quirky Campers would approve it for hiring but you must still check that the gas, electrics and weight were done properly. For some tips on what to look out for read this. If the listing has no Gas Safe certificate, no unladen weight and no electrical sign-off please proceed with caution!
Please note: Quirky Campers do not inspect the listings for accuracy or check campervans in person. We have asked sellers to provide evidence of certificates and paperwork however you MUST check yourself that the information provided is present and correct. You will need to exercise the normal due diligence when buying any vehicle.
Make and Model
Citroen Relay L3H2 – 2.2litre HDI
Current Mileage
72,500miles
Registered Vehicle Type
Panel Van (meets DOT standards)
Full Sized Fixed Double Bed and Convertable Seating Area to create a third bed.
Maximum Weight (MAM or MTPLM)
3,500kg
Unladen Weight Verified?
YES - the vehicle has been weighed since completion
Gas sign-off supplied
Landlords Gas Safe Certificate