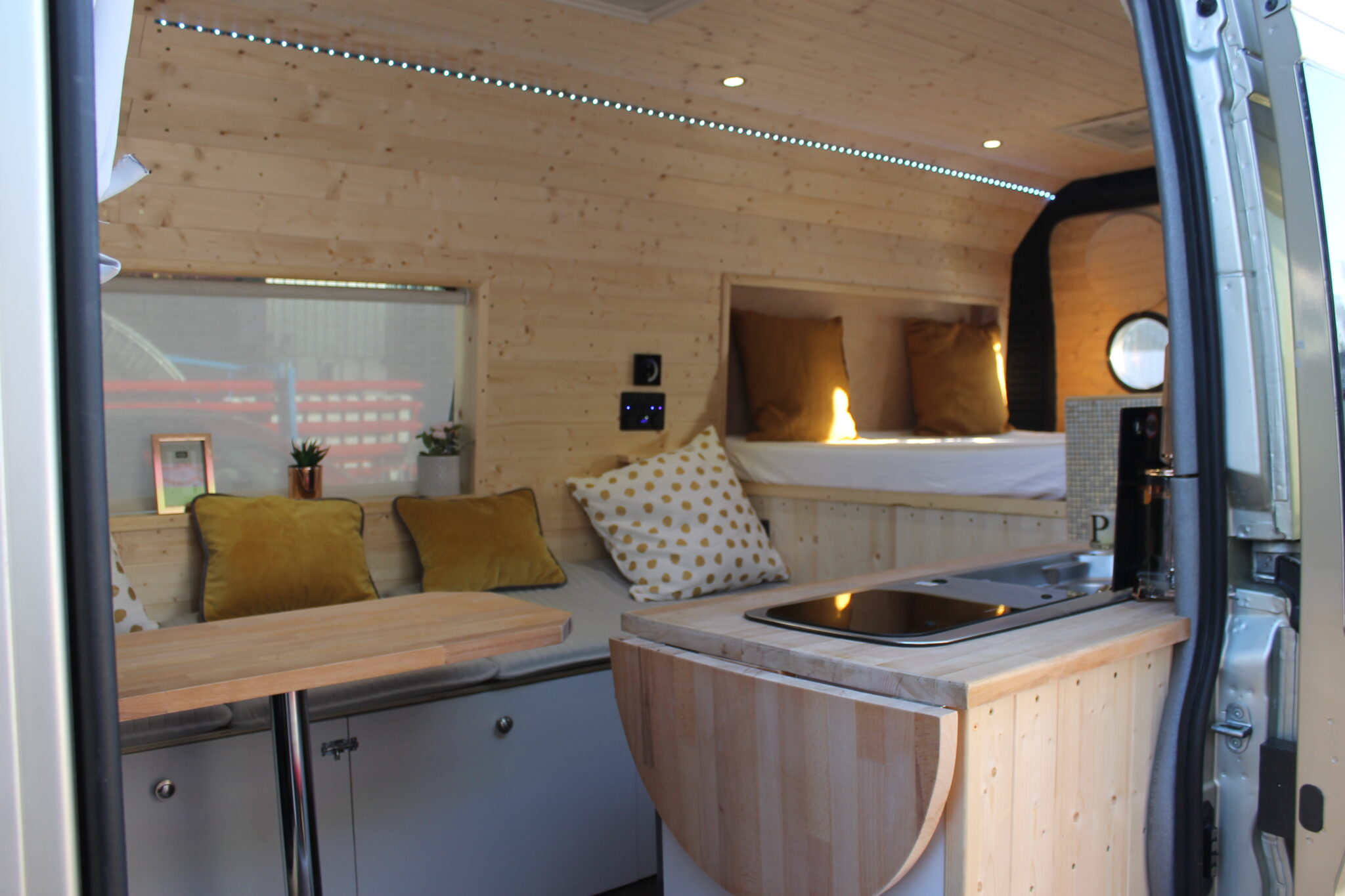 £33,000
Peugeot Boxer 335 pro L3H2 Blue HDI , LWB high roof
101,000 miles
Vehicle Description
2018 Peugeot Boxer 335 pro L3H2 Blue HDI , LWB high roof
6 Speed gearbox
1997cc
Excellent Bodywork
Reversing Camera
Brand new Mot (12 months)
Newly Serviced
Drives as new
Beds Description
Bed 1- 183 cm long X 140 cm wide. fixed
Bed 2- 190 cm long X 140 cm wide. foldout sofa bed
Conversion Description
Brand New
Scandinavian Style Camper van Conversion
*Ulez Complient*Euro 6 Engine*New MOT, Newly Serviced
*air conditioning*rear reversing camera & sensors*cruise control*
*off grid capability*solar panels*independent heating*
Fully integrated sound system , bluetooth ,dab radio
Sleeps 4
3 Belted Seats (4th brand new un-clippable belted seat fits in rear can be added for £500)
(Similar camper van conversions, older ,not euro 6 engine, not ulez compliant, for sale, for up to 40k plus )
We are proud to offer our brand new, Fresh & Fabulous campervan conversion
Lovingly hand built by the specialist team at
the Cosy Camper Van Company in Kent
www.cosycampercompany.co.uk
All materials used are high quality and responsibly sourced everything is brand new and freshly installed
Having travelled all over Europe we decided to share our love of the great outdoors by creating this fabulous camper van you can cherish and enjoy for many years to come
This Camper is equally at home off grid in the wild (with its solar power charging capability) on organised sites or in the city centre
We used natural materials (pine cladding, Oak worktop & dining table ) to create a beautiful space to enjoy, hang out, eat ,sleep and relax
We maximised the interior space fitting two large security side windows in the main cabin, two roof vents plus two cool porthole windows in the rear, we insulate and seal the whole camper before fitting out.
Living Space :
The main living area is surprisingly spacious (everyone says this !)
The Sofa bed will seat 4 comfortably
You can also seat 4 around the dining table
There's ample space for preparing food entertaining and enjoying your camper van
The floor is covered in wood effect heavy duty lino so is durable, easy to maintain and keep clean
Sleeping:
We maximised the sleeping space, for that extra comfort this conversion comes with 2 double bed spaces .
The Beds: One main fixed double bed along the rear of the camper which measures 6ft 1 by 4ft 6 with a 8 inch thick memory foam mattress.
(We created two porthole windows in the rear and added wooden shutters which when opened lets the morning light flood in )
The second double bed is even larger (6ft 4 x 4ft 8 ) and is made by folding down the large sofa ,four folding legs drop down and lock in to place, extra bedding is stored above the cabin at the front, it can be made and unmade in less than a minute.
We have also added two bedside folding shelves for your cup of tea in the morning or your glass of wine in the evenings !
Cooking :
Set in the Oak worktop is a large Smev stainless, 2 burner gas hob & sink with fold down taps and built in glass backsplashes, which fold down after use, we've also tiled a backsplash surround.
We have added a large fold down chopping area on the end of the worktop.
Food storage is a 20 litre Dometic ice box cooler which can operate on 12/24 0r 230 volts ,it stores up to 30° C below ambient temperature and up to 65° If you wish to keep food warm , it carries A++ energy rating is continually charging ,its stored in the end cupboard under the kitchen sink.
Dining:
We created an Oak dining table that you can either leave in place or store in the garage when not in use, it attaches to floor next to the sofa in seconds when you wish to use it , it can seat 4 comfortably.
Power:
When living off grid a 4000 watt inverter powers all your needs, a heavy duty leisure battery charged by a smart charger, provides power to the refrigeration, heater, water pump, LED spotlights, strip lighting and USB charge points. This is continuously charged by the two large solar panels on the roof.
The battery is also charged when the engine is running
An external 230 volt mains electric hook up allows you to use mains power when on site, this also charges the leisure battery.
A pop up mains socket (3 x 230 volt sockets and 2 x USB charging points) is fitted into the kitchen work top so you can charge your phones laptops etc and pops back down when not in use
A control panel is set in the wall next to the bed , this shows a digital read out of your leisure battery power as well as providing 2 more USB charging points along with all the control switches
The 6 LED downlights are controlled by separate touch sensitive dimmer switches.
The LED strip light has its own remote control for reading at night ,which you can set at any colour to suit the mood !
The campervan is fully insulated by celotec , rockwool & thermafoil to keep the heat out in the summer and the heat in during those colder months, the camper van is really great in all weathers having a great independent
Storage
We have built in storage units under kitchen unit and placed two more above the bed
There's also ample storage under the sofa , 3 separate spaces , accessed via doors
Plus you have the storage above the front seats
Heating:
There's an 4 kw fixed diesel air heater which can operate in temperatures down to -40 degrees ,the self -contained unit is stored in the rear for easy access. it comes with an LCD display, a timer function and is wirelessly remote control
The heater warms up within a few minutes and makes the space toasty & warm !
Garage /Storage compartment:
(Lit by led lights, fixed under the bed frame )
As anyone who goes away knows lots of storage is a must , we have managed to provide over 2600 litre capacity for all your luggage, bikes , golf clubs , dog cages , barbecues , parasols etc
There's also a handy shower unit that attaches to the back door, it plugs into the control panel and is fed by a separate foldable water tank also stored in the garage, we also supply a full height foldable shower tent which also in the garage.
Not forgetting the thetford cassette toilet (porta potti) which can be accessed from inside the camper via a door under the bed.
Fabrics
A thermal curtain separate's the cab from the living space, there's a roller shutter fitted on the fixed window
The Sofa bed padded cushions are un zippable and can be removed for washing .
There are also four cushions to add colour and comfort and two pillows for the main bed, the 6 inch memory mattress is covered in a fitted cotton sheet.
Everything is included and comes with your camper
The Vehicle
The vehicle we used is top choice choice for camper conversions
It's a 2018 Peugeot Boxer 335 pro L3H2 Blue HDI , LWB high roof, with its strong reliable engine, the engine is a euro 6 so that means low emissions , the camper can drive anywhere without fear of any charges, as more and more places become ultra low emission zones , London Oct 2021, many other cities and towns will follow.
its Economic to run with 6 gears, drives like new and being turbo pulls like a train , it's like driving a saloon car and has 3 very comfortable seats and a great driving position, it's in fantastic condition as can be seen from the photos.
We photograph all around so you can zoom in and see for yourself
It's just been serviced, oil changed and fitted with new filters and brake pads
Electric windows, fully integrated steering wheel with phone bluetooth connectivity ,reversing camera and sensors, cd player, the vehicle also has cruise control and is a joy to drive
Mileage is just 101k , which is nothing for one of these, they will go for hundreds of thousands of miles if looked after and serviced every 25-30k
Safety
All work has been carried out with care and diligence , we manufactured a sealed gas bottle safety box with drop vent for the rear garage compartment, installed all the correct regulators ventilation drop outs (floor vents),pipes ,wiring and fuse boxes and consumer unit, gas work has been inspected, signed off and come with a new gas safety test certificate.
It also comes fitted with a new CO2 & Smoke alarm along with a fire extinguisher
Dimensions/Weights
INTERNAL.
Height – 191 cm.
Bed 1- 183 cm long X 140 cm wide.
Bed 2- 190 cm long X 140 cm wide
Garage – 155 cm deep X 92 cm high X 185 cm wide (approx 2600 litres capacity)
EXTERNAL.
Length – 600 cm
Height – 248 cm (roof vents closed)
Width – 225 cm (withmirrors folded in)
WEIGHT.
Unladen weight – 2580 kilo
Max weight – 3500 kilo
Payload – 920 kilo
This fabulous campervan is ready to go on many exciting adventures !
Its the perfect vehicle to travel in, safe & secure .
It's also great investment and will hold its value as they are very rare and can be rented out for up to £1000 per week in high summer
Its also a bargain , we prefer to price sensibly , Similar Camper vans sell for upwards of 40k
There are more photos available upon request
Any questions, inspections are welcome, we are situated in Brighton, East Sussex and Keston, Kent
Photos can be provided so the new owner can register as a campervan (for cheaper insurance)
We are happy to deliver contact us for quotes
Any questions or viewings please contact us on 07967157321
Thanks for looking !
Registered Vehicle Type
Panel Van (meets DfT standards)
Base Vehicle Condition
Used
Converter Type
Professional - Handcrafted
Maximum Weight (MAM or MTPLM)
3,500kg
Unladen Weight Verified?
NO - the vehicle has not been weighed since completion
Gas sign-off supplied
Gas Safe Certificate
'We like the style' means that Quirky Campers would approve it for hiring but you must still check that the gas, electrics and weight were done properly. For some tips on what to look out for read this. If the listing has no Gas Safe certificate, no unladen weight and no electrical sign-off please proceed with caution!
Please note: Quirky Campers do not inspect the listings for accuracy or check campervans in person. We have asked sellers to provide evidence of certificates and paperwork however you MUST check yourself that the information provided is present and correct. You will need to exercise the normal due diligence when buying any vehicle.