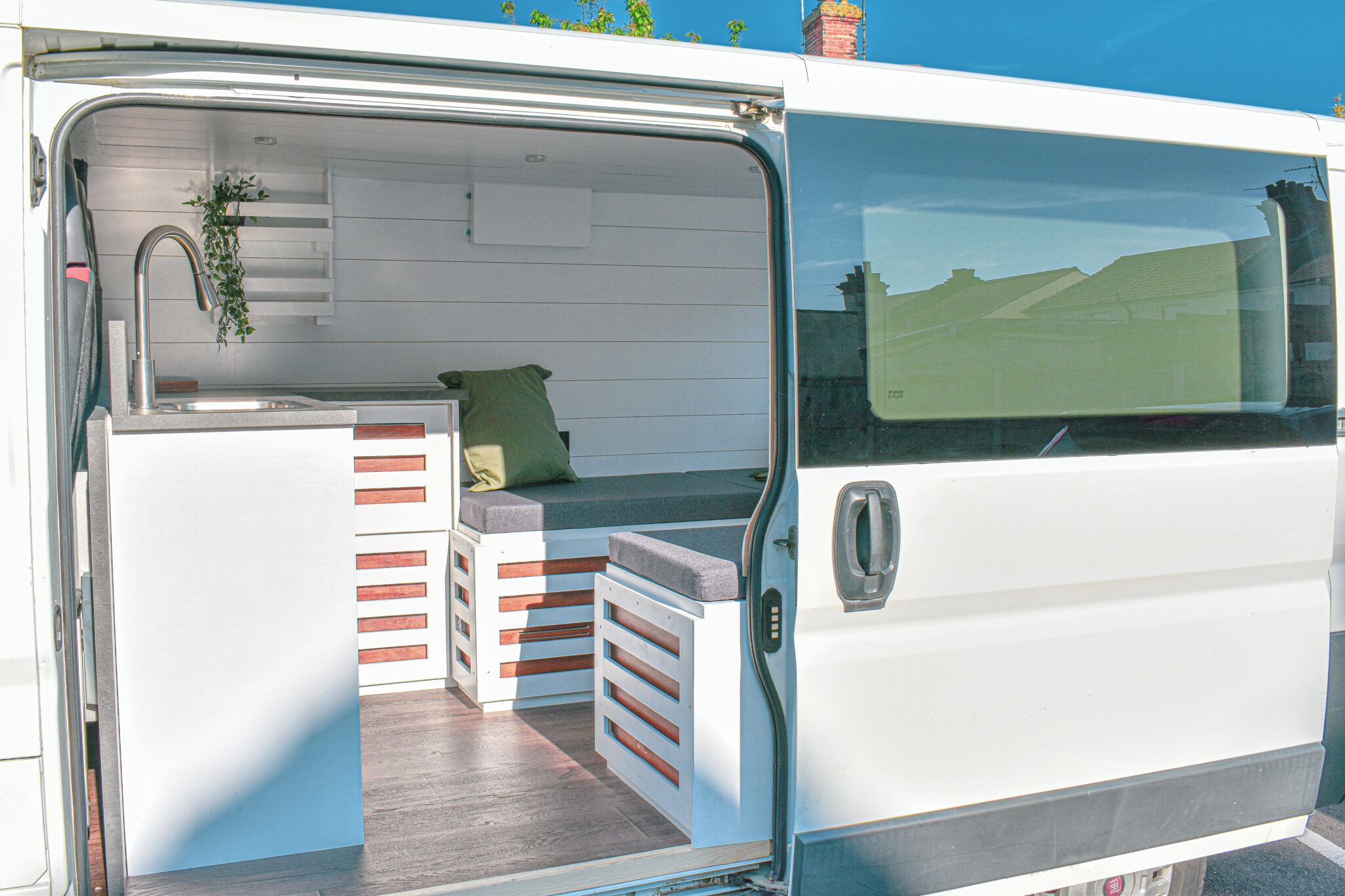 Vehicle Description
POWERFUL 2.3L TURBO DIESEL MULTIJET
FULL SERVICE HISTORY
6 GEARS
BLUETOOTH
HANDSFREE
SAT NAV
Conversion Description
We are pleased to offer this brand new conversion to the market with FULL SERVICE HISTORY and only 137k miles! This highly insulated van is perfect for a couple or a small family of 3. The layout features a simplistic design with a large spacious lounge/seating area and fully rotational/removable dining table. The van drives immaculately and feels weightless as we prioritise in reducing unnecessary weight. the body work is also in beautiful condition, the front windscreen is also brand new due to small chip on previous.
Our favourite feature is the very cosy atmosphere that the LED strip lights produce, these lights also have a motion sensor option perfect for saving power. The LED spot lights on the ceiling also have a dimmable features.
SEATING/BED CUSHIONS: made from 3 inch luxury foam, professionally upholstered in a light grey textured upholstering material, sewn with heavy duty bonded nylon thread. Each cushion is fitted with zips and fitted with an underlining material called Nautolex, designed to provide breathability and allow moisture to escape.
BED: transform from day mode to bed mode within 30 seconds. This layout also allows for in optional sleeping directions without feeling cramped, measurements: approximately 185cm x 185cm in total, the back section of the bed measures approx 1metre in width and can easily sleep one person without the need to transform the dinette system but also perfect for lounging during the day!
INSULATION: High quality noico sound deadening throughout, cosy wool in wall cavity, spray insulation foam in impossible to reach areas. 50mm Celotex insulation board behind walls and ceiling, 25mm Celotex underfloor. Walls have been completely sealed with foil tape and reflective YBS thermawrap insulation material for vapour barrier, this also keeps the van cool in the summer and warm in the winter.
ELECTRICAL:
A BRAND NEW Goal Zero Yeti 1500x edition Solar station truly is incredibly powerful that outputs both 12v and 240v and comes with a 1 year manufacturer warranty. This unit allows the capability of being fully off grid for long periods of time. The in-car charging kit is also to be included. To simply explain; they contain everything you would typically find in a camper-van electrical set up but in one solid and safe unit. GOAL ZERO are the leading brand in terms of these particular power station, this unit alone is worth £2199. Please take a look at Goal Zero online to gather a better understanding. We were sold on going for this option instead because it's safer, simpler and incredibly reliable. The unit can be charged in three different ways; by the wall, whilst driving via 12v Cigarette lighter socket or via solar panels (solar not included). Additional batteries can also be purchased and connected for even longer extended wild camping during cloudier days.
FRIDGE: BRAND NEW, very economical DOMETIC TCX 35 powered by 12v or 240v. Variable settings, chest style for keeping the cold inside.
COOKER: Campinggaz Camp Bistro 2 (we found this to be a safer option than carrying gas bottles) 4 gas canisters will be included.
TOILET: Brand new Thetford 365 PORTA POTTI.
STORAGE: HUGE storage is found under the entire seating/bed area, also housing fridge and toilet system. This can be accessed by three individual lift up lids without having to open the rear doors.
KITCHEN: modern design with 3 large draws, a cupboard with shelving, under the sink is another cupboard housing the water system. The lower right compartment cupboard is the electrical system.
WATER SYSTEM: two 19l grey/fresh water containers below sink. Water is fed by a submersible water pump powered by 12v. Faucet provides two setting and extends out.
FLOORING: Luxury vinyl flooring, fully waterproof with a durable hard wearing layer
CONS: two tiny circular holes in passenger seat fabric but shows no signs of tearing or threading.
The vehicle has undergone a thorough health check and passed with flying colours and nothing to recommend!
If you have any questions please get in touch!
'We like the style' means that Quirky Campers would approve it for hiring but you must still check that the gas, electrics and weight were done properly. For some tips on what to look out for read this. If the listing has no Gas Safe certificate, no unladen weight and no electrical sign-off please proceed with caution!
Please note: Quirky Campers do not inspect the listings for accuracy or check campervans in person. We have asked sellers to provide evidence of certificates and paperwork however you MUST check yourself that the information provided is present and correct. You will need to exercise the normal due diligence when buying any vehicle.
Make and Model
FIAT DUCATO L1H2 130 MULTIJET
Current Mileage
137,000miles
Registered Vehicle Type
Other - see description for explanation
Maximum Weight (MAM or MTPLM)
3,000kg
Unladen Weight Verified?
NO - the vehicle has not been weighed since completion
Gas sign-off supplied
None