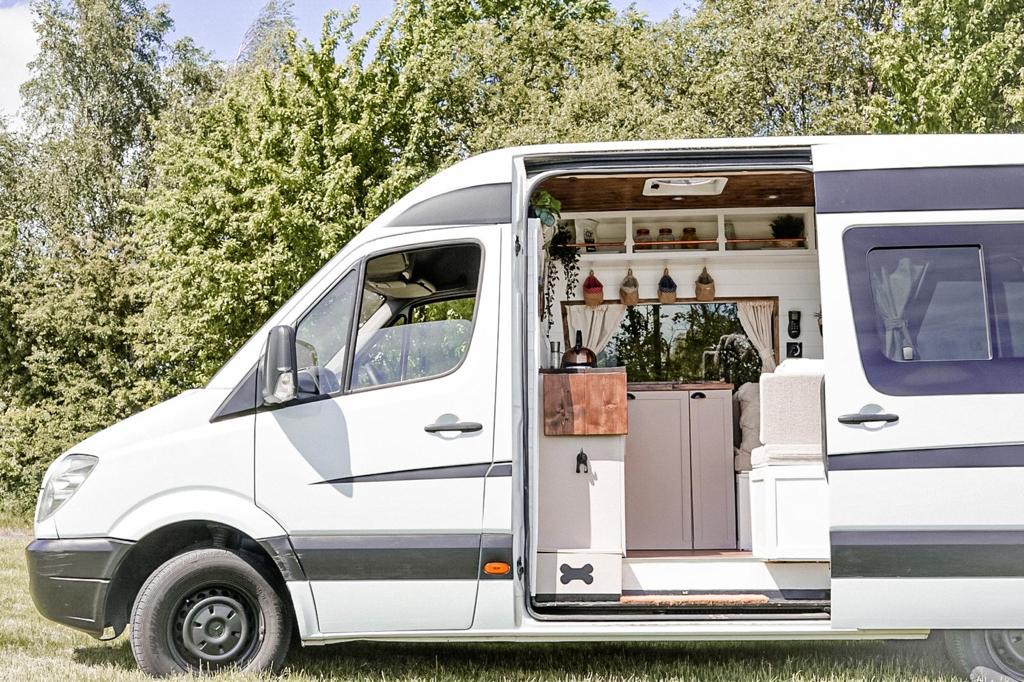 £21,950
Mercedes Sprinter 313 CDI – MWB
129,000 miles
Vehicle Description
PRICED FOR QUICK SALE – White Mercedes Sprinter 313 MWB van. 2143cc diesel six speed manual gearbox. MOT till Aug 2022. No service history unfortunately, priced accordingly.
Serious buyers only.
Beds Description
1 fixed double bed (137cm x 190cm)
1 single bed which converts from seating area (61cm x 190cm)
All beds are suitable for 3 adults.
Conversion Description
A modern and newly converted Scandi style campervan custom built with a fresh feel and earthy tones used throughout.
OUTSIDE:
When converting this van we wanted a very light and airy space. We have four large windows fitted, one each side of the vehicle and two to the rear of the vehicle. Both side windows can be opened to cool and allow fresh air throughout. In addition a skylight/deluxe Maxxair fan has been fitted in the roof. This provides 30% more light into the van as well as great ventilation, both in and out of the van. Along with the Maxxair fan a 180watt solar panel is located on the roof, provide plenty power for off-grid adventures. All tyres are in great condition and newly changed. The steel wheels are newly refurbished and resprayed in black Raptor paint finished in matt black. Matt black decals are on both sides of the vehicle giving it a real stand out classy look. To the rear of the vehicle is a large step with tow bar.
INSIDE:
The van walls, ceiling and floor have been extensively insulated throughout, with the addition of Dodo sound deadening used on all vehicle panels. Pine tongue and groove cladding has been used throughout, stained and treated with Danish oil. Any remaining exposed metal inside the van has been covered with carpet further helping prevent any condensation.
KITCHEN:
A spacious handcrafted L-shaped kitchen area, complete with bespoke units and storage using light-weight materials. Functionality and storage have been taken into account during the creation of this space. Storage includes large cupboard space, drawer unit and overhead shelving. To make best use of the space, there is a large countertop with folding/extending bench top near the gas hob, aiding in cooking and preparation. A dual ring gas hob and sink, along with spice rack and magnetic knife bar finishes the kitchen space off nicely.
The kitchen includes;
– 27.5L chest fridge
– Sink with electric pump
– Dual ring hob
– Chopping boards
– Magnetic knife rack and knife set
– Spice rack above hob
– Plenty under sink storage
– 25L fresh water container
– 25L bin
– Door catches to stop doors opening during transit
– Solid wood counter tops finished with Danish oil
SHOWER:
There is a collapsable shower located in the bottom drawer of the kitchen – the drawer itself is pulled out to reveal the shower tray, and is plumbed in to take waste water directly out of the van. All plumbing is neat and done in such a way no pipes are exposed and offer full flexibility for the shower tray to open and close. Once the tray is open you simply hang the shower curtain from some discreet hooks purposely located around the ceiling extractor fan to prevent condensation. The shower is supplied from a refillable water source, and works via a submersible pump. The shower curtain and shower fold away and stored out of sight whilst not in use. This has offered a great use of space and the additional bonus of having a fully functioning shower enclosure within the van, but not permanently taking up much needed space.
LIVING SPACE:
Spacious seating area with two bespoke upholstered bench seat cushions, this seating area folds out into a single bed, with memory foam seat cushions which make up the mattress. A large solid wood pullout table is located between the two seats, very simple to pull out and push closed when not in use.
Under both bench seats offer a large space (60cm x 60cm) for extra storage.
SLEEPING:
Full size double bed (138 cm x 190 cm), slatted bed frame complete with memory foam mattress.
The bench seat (61 cm x 190 cm) is large enough to sleep a third person.
ELECTRICS:
Electrical system includes:
– 1 x 110 Ah leisure battery,
– 180watt Solar panel
– 240 V mains charger hook up installed discreetly in the garage area
– Inverter with 2x 3 pin plug socket and double USB ports
– 12 V double USB port which includes a battery voltage monitor.
– 8 x 12 V ceiling spot lights on dimmer switch.
– 1 x 12V strip light within bed recess on dimmer switch.
– Large 75L Dometic fridge freezer
– 27.5L Electric cooler 12V
The electrical system is compact and tidy, located within an electric cupboard in the garage area. Easily accessible from the rear doors.
WATER:
Under the sink houses one 25 litre fresh water tank and one 25 litre waste water on quick release for ease of filling, emptying and cleaning.
The water tank is extremely practical as this can be quickly removed and filled directly from a source of water and is easier to clean than a fixed tank.
GAS:
The gas bottle has a tie down strap to stop any movement whilst driving, and the required drop out vent.
GARAGE STORAGE AREA:
This conversion was built with storage in mind. Under the bed, accessed from the rear doors, is a huge garage area which could house bikes, outdoor equipment, inflatable kayaks or paddle boards, etc.
ADDITIONAL STORAGE:
Above the bed are three cupboards ideal for clothes, books and other items you may want quick access to. Under the two bench seats in the living area is additional storage as well. All of this storage allows your items to be stored in an organised and practical way.
SAFETY:
Carbon monoxide and smoke alarm. As well as fire extinguisher located in the kitchen. A seatbelt cutter and window break is located in the drivers cabin within easy reach.
The Mercedes Sprinter van is in excellent condition and considered to be the best and most reliable and sought after van on the market. The van is super clean, fresh and and ready to go on any adventure you have in mind!
ADDITIONAL EXTRAS AND ACCESSORIES:
– 25 metre mains hook up lead (with storage reel),
– Kitchen items including plates, kettle, utensils, Knife set, jars, storage boxes
– Seat Cushions
– Curtains
– Levelling blocks
– Mattress, duvet, pillows and sheets.
Additional photos can be provided on request.
PRICED FOR QUICK SALE
For more information please don't hesitate to contact Dan at:
dan_hails@hotmail.co.uk
Registered Vehicle Type
Panel Van (meets DVLA standards)
Base Vehicle Condition
Used
Converter Type
Self Build - Handcrafted Start-up
Conversion Condition
Used - Excellent
Maximum Weight (MAM or MTPLM)
3,500kg
Unladen Weight Verified?
YES - the vehicle has been weighed since completion
Gas sign-off supplied
None
'We like the style' means that Quirky Campers would approve it for hiring but you must still check that the gas, electrics and weight were done properly. For some tips on what to look out for read this. If the listing has no Gas Safe certificate, no unladen weight and no electrical sign-off please proceed with caution!
Please note: Quirky Campers do not inspect the listings for accuracy or check campervans in person. We have asked sellers to provide evidence of certificates and paperwork however you MUST check yourself that the information provided is present and correct. You will need to exercise the normal due diligence when buying any vehicle.