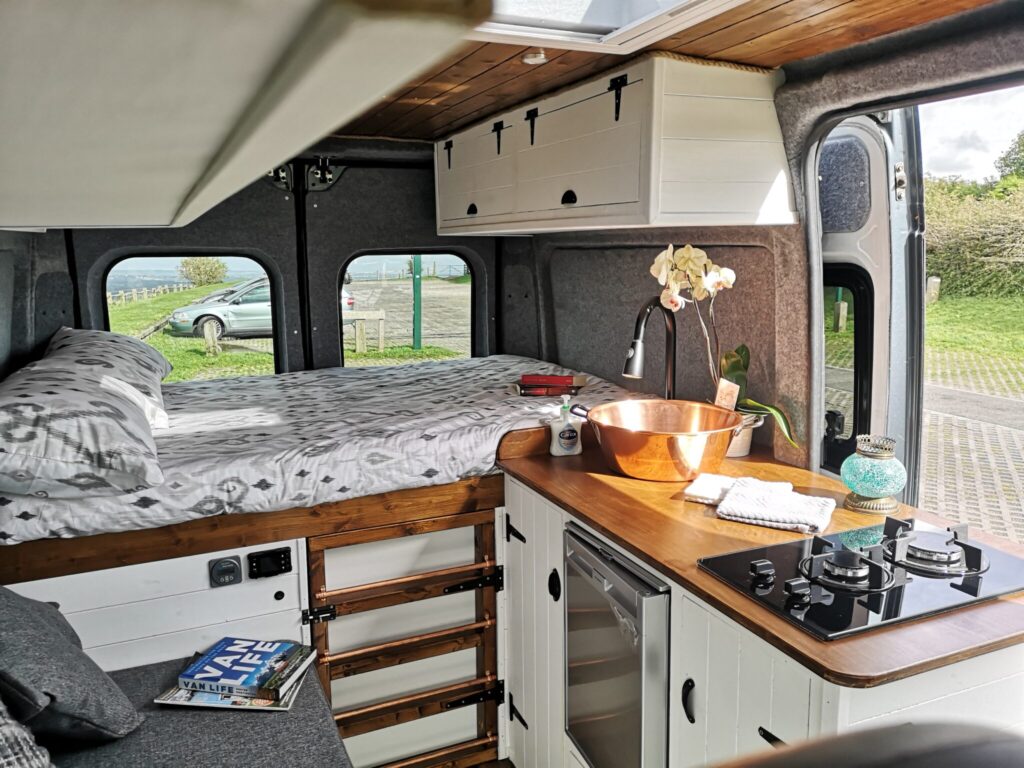 Sold
£23,500
Used
105,314 miles
3 Berths
Vehicle Description
59 Plate Fiat Ducato grey/blue. BRAND NEW MOT. Recent service and fully inspected by garage. 105314 miles on the clock. 6 gears. Electric windows. DRIVES LOVELY! Signs of age on body work, few dents and scratches all cosmetic and does not affect the drive of the vehicle.
Beds Description
The van has a 6.5ft long 4ft wide small double fixed bed which sleeps two adults. It also has a 6.3ft long sofa which can sleep an adult
Conversion Description
Lovely converted Fiat Ducato with unique rustic touches. The van has a spacious well lit feel with a mix of white units and warm oak stained features. The van also has cosy carpeted areas in the bed area. With four top quality windows fitted and a huge 500×700 skylight installed into the stained cladded ceiling, these all allow plenty of light to enter the van during the day. During the night the van has four warm white/yellow spot lights in the ceiling and two directional reading lights with USB ports on them for charging your devices by the head of the bed.
The main fixed bed is a 4ft wide small double but 6.5ft in length. Below the bed accessed by the rear doors of the van or through the internal integrated spice rack/shelves/door is a huge storage garage. With a length of 6.3ft the sofa could also sleep an adult however currently the van only has two belted seats to allow quick entry in and out of the cab without having to go outside. The sofa has a mass of storage underneath including a curtained area which was built to house the Thetford porta potti 145 (not supplied). Also, under the sofa is a 5kw Diesel heater which is tapped into the van's main diesel tank. This heater allows the van to be an all season campervan. The sofa foam has been very well covered and fabricated with a rugged and tough lovely looking fabric which can be unzipped and removed for washing. Underneath this fabric the foam also has had a fire retardant material fabricated onto it.
The kitchen comprises of two large and one small cupboards with the Dometic CRX50 12volt compressor fridge at the center. These fridges are considered the most economical to use. The cupboard under the black glass two burner hob has been designed with the idea to hold the gas bottle (not provided) among other things for feeding gas to the hobs above. The cupboard underneath the copper jam pan sink houses two water tanks, one for sink wastage and one which has a submersible Whale pump to feed water to the black shower headed removable tap. Underneath the fridge has a smaller but useful storage cupboard. The kitchen worktop has been stained and treated with a food grade oil and has plenty of workspace to prepare meals.
From start to finish, this conversion has been fitted with extremely good branded products. We used Dodo products for insulation and sound deadening materials. These included sound deadening, thermo liner and recycled plastic woolen insulation, all covered with a shiny bubble wrap vapour barrier. The floor has been insulated with 25mm Celotex/Kingspan type insulation again covered with a vapour barrier. The top quality windows have a privacy tint to them, the two big side windows can also both slide open for ventilation.
The garage below the bed stores the electrics, this van has a fully off-grid 12volt electrical system which mostly comprises of Victron components which are considered the go to best electrical parts for campervans/motorhomes. This van has two 175watt Victron Solar panels giving a total of 350watts which is boosted in the 100/50 MPPT Victron solar charge controller to give you free electricity for life. The van also has a 30amp Victron Orion DC-DC smart charge controller which also charges the two 130ah AGM leisure batteries while you drive. Again from Victron the van has the BMV 712 battery monitor to keep an eye on your battery levels. All of these Victron components have Bluetooth so you can monitor the entire electrics of this van from your phone.
Whether you're looking for part time travelling or full time living this van needs someone to take it away and have some adventures, will this be you?…..
Registered Vehicle Type
Panel Van (does not meet DVLA standards)
Converter Type
Self Build - Handcrafted Start-up
Belted Seats
2 Belted Seats
Vehicle Length
5.30 meters
Vehicle Height
2.40 meters
Maximum Weight (MAM or MTPLM)
3,500kg
Unladen Weight Verified?
YES - the vehicle has been weighed since completion
Gas sign-off supplied
None
'We like the style' means that Quirky Campers would approve it for hiring but you must still check that the gas, electrics and weight were done properly. For some tips on what to look out for read this. If the listing has no Gas Safe certificate, no unladen weight and no electrical sign-off please proceed with caution!
Please note: Quirky Campers do not inspect the listings for accuracy or check campervans in person. We have asked sellers to provide evidence of certificates and paperwork however you MUST check yourself that the information provided is present and correct. You will need to exercise the normal due diligence when buying any vehicle.