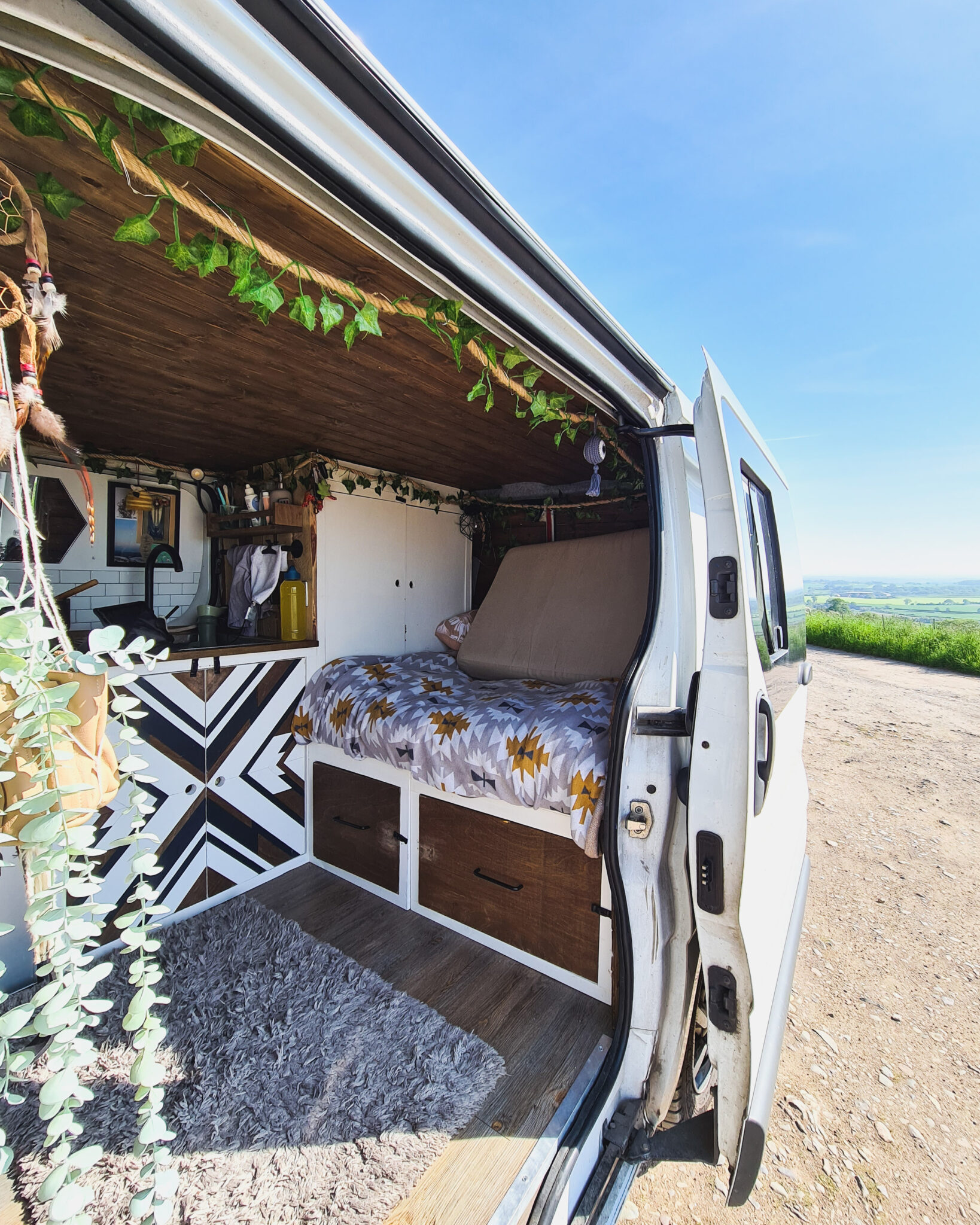 Vehicle Description
£15,000 ONO
• Vauxhall Vivaro SWB 2009
• 118k miles
• 2lt engine
• Good-service history – all documents and receipts will be provided and available upon viewing
• MOT until 6 June 2022
• 3 seats in cab
• 2 keys (1 doesn't work electronically)
• Brand new Agilis Cross Climate tyres and wheel trims in April 2021
• Twin sliding doors
• 6 gears
• Roof rack – only back 2 bars in use for solar mounts
• Gross vehicle weight 2770kg
• Payload: TBC
Beds Description
• 108cm x 190cm pull out sofa bed with custom memory foam cushions (3 inch firm foam, 1 inch memory foam). The bed has 3 different ways it can be positioned in, sofa, corner sofa and bed.
• Mattress/Sofa cushions are upholstered with 100% cotton fabric with zip fastenings
• Bed height: 40cm +10cm with foam mattress
• Foam to ceiling height: 84cm
Conversion Description
DESCRIPTION
This conversion was built to be entirely off grid and for full time living. I have used top quality sustainable materials including FSC certified woods, recycled plastic wool and environmentally friendly paints and stains and fitted top of the range features including 200w worth of solar, Webasto Cruise 49lt fridge/freezer, twin hobs, 6kg Gaslow refilliable gas cylinder, diesel heater and a 120ah AGM Leoch leisure battery. It really is a home away from home.
I have gone for a cabin style interior using Antique Oak Osmo wood stain and finished off the look with accents of Farrow & Ball 'All White' and 'Railings' paint.
I have lived full time in this van for just under a year so it really is perfect for anyone looking to start their full time van life adventure with a smaller rig or looking for a weekend companion to escape in. The build comprises of a split charger, 25lt clean water tank, 10lt waste water tank, 6kg LPG refillable gas tank, 200w solar, 120ah AGM Leoch leisure battery and a diesel heater so you can be off grid escaping the crowds and enjoying what nature has to offer all year round.
There is plenty of storage; 2 huge draws under the bed, a wardrobe storage unit to the side of the bed, garage space under the bed, the kitchen cupboards and plenty of other nifty areas.
To watch a virtual tour of the van head to https://youtu.be/LMcWNd6Pi18. Please note some things have changed since e.g. addition of a diesel heater etc so please read the description for the full details. To see further details on each item please head to https://www.nicroams.co.uk/my-van-vauxhall-vivaro-swb/.
I have looked after this van as it was my home therefore it is in good condition. It comes with good service history and all paperwork and receipts. To check it's MOT use the gov uk checker, registration plate is LL58 MMF.
Please let me know if you have any questions or require any further photos.
VIEWINGS & COLLECTION
Viewings are available asap and collection date will be confirmed upon purchase agreement.
ELECTRONICS
• 2 x 100W monocrystalline solar panels attached to the roof rack
• 120AH AGM Leoch Adventurer leisure battery
• 800/1600w Inverter
• 10A MPPT solar charge controller
• Split charge kit (So your Leisure battery will charge as you drive)
• 12V fuse box
• Lighting is a lamp running on mains
• 1 x twin fast charge USB socket
• Diesel Heater
• Battery level monitor via the diesel heater
PLUMBING
• Huge Sink
• 25lt freshwater tank
• 10lt wastewater tank
• 12V submersible pump
GAS
• 6kg Gaslow Refillable Cylinder
• Carbon monoxide detector
• Gas is used only for the hobs
INTERIOR
• 108cm x 190cm pull out sofa bed with custom memory foam cushions (3 inch firm foam, 1 inch memory foam). The bed has 3 different ways it can be positioned in, sofa, corner sofa and bed.
• Mattress/Sofa cushions are upholstered with 100% cotton fabric with zip fastenings
• Osmo Antique Oak stained cladded walls. Farrow & Ball 'All White' and 'Railings' paint used throughout for detailing too
• Self-adhesive vinyl flooring
• Wardrobe (L: 85cm, W: 54cm, H: 79cm)
• Storage: 1 x wardrobe to the side of the bed, 2 x large drawers under the bed, kitchen cupboard storage, under the seats in the cab, behind the drivers seat and a garage section.
• Garage sections – One: (L: 91cm, W: 31cm, H: 35cm) Two: (L: 51cm, W: 27cm, H: 44cm)
KITCHEN
• Twin LPG hobs
• Webasto Cruise 49lt Fridge/Freezer
• Stainless steel sink
• Black kitchen tap
• Dimensions L: 118cm, W: 54cm, H: 74cm
• Worktop 52cm deep
• The kitchen is the right hight for cooking outside too
EXTERIOR
• Opening tinted window on side door
• Reversing sensors
INSULATION
• 25mm rigid board on the ceiling
• Recycled plastic wool insulation on walls and throughout all cavities
• Foil insulation on the floor
• Foil insulation and tape used to create a seamless vapour barrier all round
DIMENSIONS
• Internal overall: L: 225cm, W: 158cm H 135.5 – 132cm as the ceiling is curved
• Bed height: 40cm +10cm with foam mattress
• Foam to ceiling hight: 84cm
• Floor space: L: 130cm, W: 112cm, H: 135.5cm
RECENT MECHANICAL WORK
• Brand new clutch – on the advisories it notes a potential oil leak, this has been checked since and confirmed that it is all clear. The clutch was installed on 19.3.21 and has 1 years warranty.
THINGS TO NOTE
• If selling as is, the back doors are dented, the van rolled in to the corner of my friends house ☹. The vehicle is water tight and has been checked by my mechanic therefore I never got them fixed however in the long run I think it would be best to do so
• Back door does not open from the outside as the hook inside keeps slipping. This is an easy fix however as it would have been sorted with the new door, I left it outstanding
• Drivers door makes 2 loud clicks when opening, this has been checked by my garage but no conclusion
• Drivers seat foam damaged on the right side
• Missing side trim on petrol cap and new clips to be added to trim on drivers door too
Registered Vehicle Type
Panel Van (meets DOT standards)
Base Vehicle Condition
Used
Maximum Weight (MAM or MTPLM)
2,770kg
Unladen Weight Verified?
NO - the vehicle has not been weighed since completion
Gas sign-off supplied
None
'We like the style' means that Quirky Campers would approve it for hiring but you must still check that the gas, electrics and weight were done properly. For some tips on what to look out for read this. If the listing has no Gas Safe certificate, no unladen weight and no electrical sign-off please proceed with caution!
Please note: Quirky Campers do not inspect the listings for accuracy or check campervans in person. We have asked sellers to provide evidence of certificates and paperwork however you MUST check yourself that the information provided is present and correct. You will need to exercise the normal due diligence when buying any vehicle.